Turboant X7 Pro Review
About Turboant X7 Pro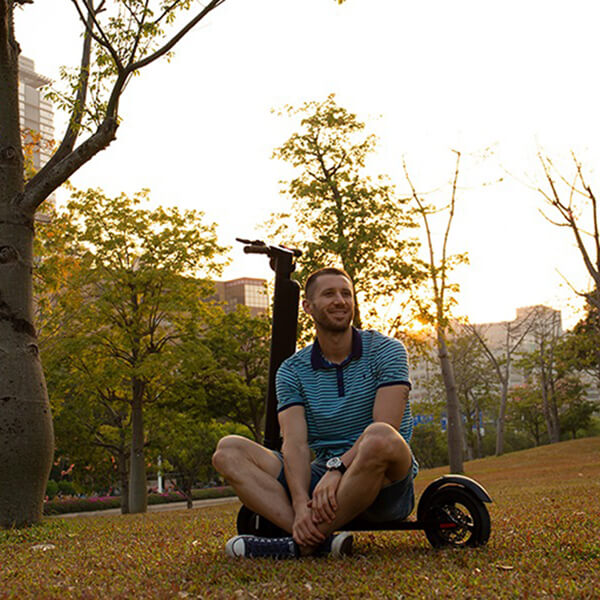 Imagine you're assembling a list of everything the ideal work commute would include. It'd be effortless, stress-free, affordable, environmentally-friendly, fast, and reliable.
How many of those qualities do you usually find when you think about taking the subway to work? While riding a bicycle gets a bit closer to hitting the mark there's still the issue of storing the bike in a safe place. That can be another headache in-and-of-itself.
The Turboant X7 Pro Electric Scooter seems to check off all those aforementioned boxes. It's a compact yet powerful electric scooter produced by one of the world's biggest electric scooter companies.
The brand's following stands strong with over 2k Instagram followers, more than 2,500 Facebook fans, and nearly 500 subscribers on YouTube. They've also graced the pages of publications like Wired, Tech Advisor, T3, Heavy., eridehero, and electrek.
You may be wondering why one's of the world's leading electric scooter producers has a relatively modest social media following. In this Turboant X7 Pro review, we'll show you that quality is more important than quantity by covering the brand's history, their products, their customer reception, and more.
Overview of Turboant X7 Pro
The Shenzhen-based transportation company got their start in 2014. Their products look to answer many peoples' woes about stressful work commutes.
Furthermore, their scooters and bikes are great ways to get outside and explore your surroundings. Fittingly, Turboant believes that transportation isn't just about getting from point A to point B; sometimes the journey is more important than the destination.
That's why they want people to adopt greener and healthier modes of transportation. Riding a Turboant electric scooter can do the planet and your body good.
That mindset has helped slot the company as one of the most interesting bike and scooter manufacturers of the past decade. They combine stellar product design with lightweight technology and all-purpose functionality.
Before we get deeper into the details in our Turboant X7 Pro review, let's take a quick second to touch on some highlights about the brand:
Highlights
Offers an effervescent collection of electric scooters
Free shipping for orders totaling over $49
Ships to the US, Canada, and the EU
Financing options available with Klarna
30-day return policy
Warranties range from 6 months to 24 months
While this Turboant X7 Pro review will primarily focus on the electric scooter, Turboant isn't a one-trick pony company. They produce other electric scooter models as well as electric bicycles and accessories.
Turboant X7 Pro Review
This next portion will explain everything that the titular scooter has to offer. Furthermore, we'll cover some additional accessories the company provides. You might learn how you could pimp your ride without calling Xzibit and the West Coast Customs team.
Turboant X7 Pro Electric Scooter Review
When a company recommends that you wear a helmet then they're all but guaranteeing a wild ride, and our Turboant X7 Pro review team is inclined to agree in this case.
While the Turboant X7 Pro Electric Scooter might not be a bucking bronco of a scooter, it has enough stand-out features to make you jump for joy.
The scooter is formed by a philosophy to make it as easy to maneuver as possible. That's why it only weighs 33 lbs, can be folded for easy storage, and can support passengers up to 275 lbs.
The Turboant X7 Pro Electric Scooter can reach speeds up to 20 mph, meaning it's faster than the fastest man on the planet, Usain Bolt.
It can also transport users up to 30 miles on a single charge. Don't worry if you're in a time crunch with a dead battery as this scooter's battery only takes 6 hours to reach full power.
You can also detach the battery and charge it separately, meaning you could keep an extra battery charging at home while you're scooting about town.
We just said that the Turboant X7 Pro Electric Scooter has a maximum speed of 20 mph, but in the case that you want to take things as slowly as a teenage romance then know that there's also the beginner speed of 6 mph and the eco mode, which propels the scooter at 10 mph.
You can hop aboard this product for $550.
Turboant 10-Inch Outer Tires for X7 Pro Review
The Turboant 10-Inch Outer Tires for X7 Pro do more than just keep the wheels spinning. Their thickness protects the scooter – and by extension the rider – from uneven surfaces like concrete and gravel.
These tires absorb shocks and bumps like a sponge. Their size also allows the scooter to carry heavier passengers than most other electric scooters on the market.
Each additional Turboant 10-Inch Outer Tire for X7 Pro costs $20.
Turboant Motor Controller for X7 Pro Review
This replacement accessory for the Turboant X7 Pro Electric Scooter will come in handy if you begin experiencing any issues with the battery or the scooter's performance.
The Turboant Motor Controller for X7 Pro is available as either a round battery connector or a blade battery connector. The battery system your electric scooter uses will determine whether you should purchase the former or the latter option.
This handy replacement part is available for $35.
Turboant Throttle Kits for X7 Pro Review
A scooter without a throttle is like a shoe without a sole: useless. While the scooter already comes with a built-in throttle, it's a good idea to get a spare piece in the event of a malfunction.
The Turboant Throttle Kits for X7 Pro includes one replacement throttle kit. The red silicone casing makes for a great protective shell as well as an eye-catching detail.
This item can be yours for $15.
Turboant Front Display for X7 Pro Review
Given that most of the Turboant X7 Pro Electric Scooter's information is delivered to the user via a digital screen, you wouldn't want to be stuck without a working display.
Otherwise, you would have to decipher through raw instinct how fast you're going, your scooter's battery life, and what mode the scooter is currently using.
Cut yourself some slack by grabbing an extra Turboant Front Display for X7 Pro for $10.
Turboant Headlight for X7 Pro Review
Most other drivers don't respect electric scooters are vehicles. They consider them high-powered pedestrians. That mentality can put you at risk if you don't have a good set of headlights for nighttime cruising.
You can illuminate your path and increase your visibility by purchasing a Turboant Headlight for X7 Pro for $10.
Who Is Turboant X7 Pro For?
While writing this Turboant X7 pro review, we've developed the opinion that the scooter is best for people living in busy cities where public transportation isn't always reliable. Biking is a great idea, but most bikes aren't as convenient nor as fast as the Turboant X7 Pro Electric Scooter.
Turboant X7 Pro Reviews: What Do Customers Think?
Do you know why everyone wanted to start skateboarding in the late 1990s and early 2000s? It was because skateboarding was co-signed by the cool kids in the neighborhood. They approved of it, and since they were cool, skateboarding must – by logical extension – be cool too.
It's this same line of reasoning that informs this section of our Turboant X7 Pro review. The only thing worse than being stuck with a defective scooter is being stuck with a lame scooter.
There are more important things in life than being cool, like how much customers loved their Turboant products. Our Turboant X7 Pro review writers have assembled the more notable average scores of some of the items we've covered in this article:
Turboant X7 Pro Electric Scooter: 5/5 stars based on over 230 pieces of customer feedback
Turboant 10-Inch Outer Tires for X7 Pro: 4/5 stars based on 1 piece of customer feedback
With regards to the scooter, customers touted it as a speedier alternative to public transportation. It revitalized their perception of their morning work commute.
One 5/5 star reviewing-penning customer commended the vehicle for its convenience. Check out their thorough comment:
"Very happy with the scooter so far. It is fairly easy to carry up 3 flights of stairs or through screening and to the freight elevator at the office. It tucks in right next to my desk. I like the 3 modes and switch between them depending on where I'm riding. Sport mode is great for the bike lane on the road, intermediate is perfect for sidewalks. Brakes are responsive."
That review hits upon something else people loved about the Turboant X7 Pro Electric Scooter, its versatility. They liked how the scooter's various modes performed best in different circumstances.
Once again, convenience was among the best features of the Turboant X7 Pro Electric Scooter, as this customer points out in regards to the item's battery:
"I love the fact that the battery comes out easily for charging and portability. You can take it to your office, lock the scooter up and you are charging your battery. The weight is not too heavy. I love the speed because it actually gets 20 miles per hour."
We also took into account what customers said about Turboant on Trustpilot. The brand earned an overall score of 3.7/5 stars from more than 50 customer reviews.
Most common among the customer praises was how portable the scooter was thanks to its foldability.
If you're worried that the scooter isn't powerful enough to be a good replacement for standard transportation, then this review should convince you otherwise: "The riding experience is great and the motor is strong and you can obviously feel the power when accelerating."
Finally, our Turboant review writers were impressed by the brand's 3.9/5 stars score on Facebook. More than 50 fans left reviews of the company there, with many highlighting how stellar Turboant's customer service was.
So what does all this amount to? Allow our Turboant X7 Pro review to condense all this information into three key customer takeaways:
The Turboant X7 Pro Electric Scooter is fast
The Turboant X7 Pro Electric Scooter stores easily and is lightweight
The Turboant X7 Pro Electric Scooter is a great alternative to conventional forms of transportation.
With all of that in mind, it sounds like Turboant has really found something special with the likes of their electric scooter. While not for everyone, scooter enthusiasts or simply those looking for an alternative mode of transportation cannot go wrong with the X7 Pro Electric Scooter and all of its accessories.
Is Turboant X7 Pro Worth It?
If you're looking for a better way to get to work then we believe you could do much worse than purchasing a Turboant X7 Pro Electric Scooter.
As many of the Turboant X7 reviews have pointed out, this scooter is ideal for navigating bustling cities where traffic often gets congested. You can easily keep it safe in your office or apartment since it's easy to fold and light enough to carry.
Turboant X7 Pro Promotions & Discounts
Our savings radar is going off the fritz. We're picking up a powerful promotion emanating from the brand's website at the time of this Turboant X7 Pro review.
The company is currently offering a $140 discount on many of their best-selling products like the Turboant X7 Pro Folding Electric Scooter, the Turboant X7 Pro Electric Scooter Bundle, and the Turboant X7 Pro E-Scooter & 10 Ah Backup Battery Bundle.
These New Years' savings all run until the final day of January.
Where to Buy Turboant X7 Pro
In spite of the fact that we'd love to recommend purchasing Turboant scooters from second-hand markets like Kijiji and eBay, the most reputable dealer is ultimately the company itself.
You can buy Turboant X7 Pro electric scooters from the brand's website, turboant.com.
FAQ
Who owns Turboant X7 Pro?
Apologies to those looking to directly contact Turboant X7 Pro's owner, as we were unable to find any reliable sources of information about the owner.
We can only assume that the company doesn't wish to publish this information for business reasons.
Does Turboant X7 Pro ship internationally?
Like a doting mother who ensures all her children are adequately fed, Turboant makes strides to deliver their products to customers across the globe.
These are all the regions our Turbant X7 Pro review writing staff found can receive the brand's products:
All 48 continental states in the US
Canada
All countries in the EU
The United Kingdom
What is Turboant X7 Pro's Shipping Policy?
It's always a good sign when the first thing you can mention about a brand's shipping policy is that free shipping is readily available.
If you're lucky enough to call any country in the European Union, the United Kingdom, or any of the lower 48 United States home, then you can receive free shipping on Turboant orders over $49.
The company reports that it takes them about 1 to 5 business days to process their orders. On top of that, it'll take 5 to 10 business days for Turboant products to reach their American and European destinations.
Even more, Canadian and United Kingdom customers will have to wait 7 to 10 business days to get their Turboant X7 Pros.
What is Turboant X7 Pro's Return Policy?
Here's all that our Turboant X7 Pro review writing staff were able to find about the company's return and refund policies.
Firstly, you'll have 30 days to send back any Turboant good that doesn't absolutely blow your mind. However, these items must be either unused or brand new. Though you'll have 30 days to return it to the company, you have to notify them within 14 days of receiving the item that you wish to return it.
In fact, Turboant explicitly states that you contact the company before you try to return any products. They must've grown tired of walking out of their offices to see unmarked packages of Turboant X7 Pro electric scooters blocking their driveways.
How to Contact Turboant X7 Pro
It's time for us to conclude this Turbant X7 Pro review by telling you how to contact the company regarding any questions you may still have. You can reach out to the brand through either of these methods:
It usually takes Turboant one to two business days to respond to emails. If you decide to call them, make sure it's between 9:00 am and 5:00 pm EST any day between Monday and Friday.
---
Check out similar brands you might like:
Get Access to Exclusive Deals
Subscribe for free to get exclusive deals in your inbox. 100% privacy