Typology Skincare Review
About Typology
Typology is a skincare brand known for its minimalist approach to its beauty products and marketing. The brand's ingredient-focused structure attracts people of all genders, and it has garnered attention from publications like Forbes, Refinery29, and TechCrunch.
With 194k followers on Instagram, Typology's direct-to-consumer model is becoming an industry standard, joining other ingredient transparent brands.
But does Typology live up to the hype? Hopefully, we can answer that question for you.
This Typology skincare review will take an in-depth look at the company, its products, customer testimonials, and more to help you decide if you should add them to your self-care routine.
Overview of Typology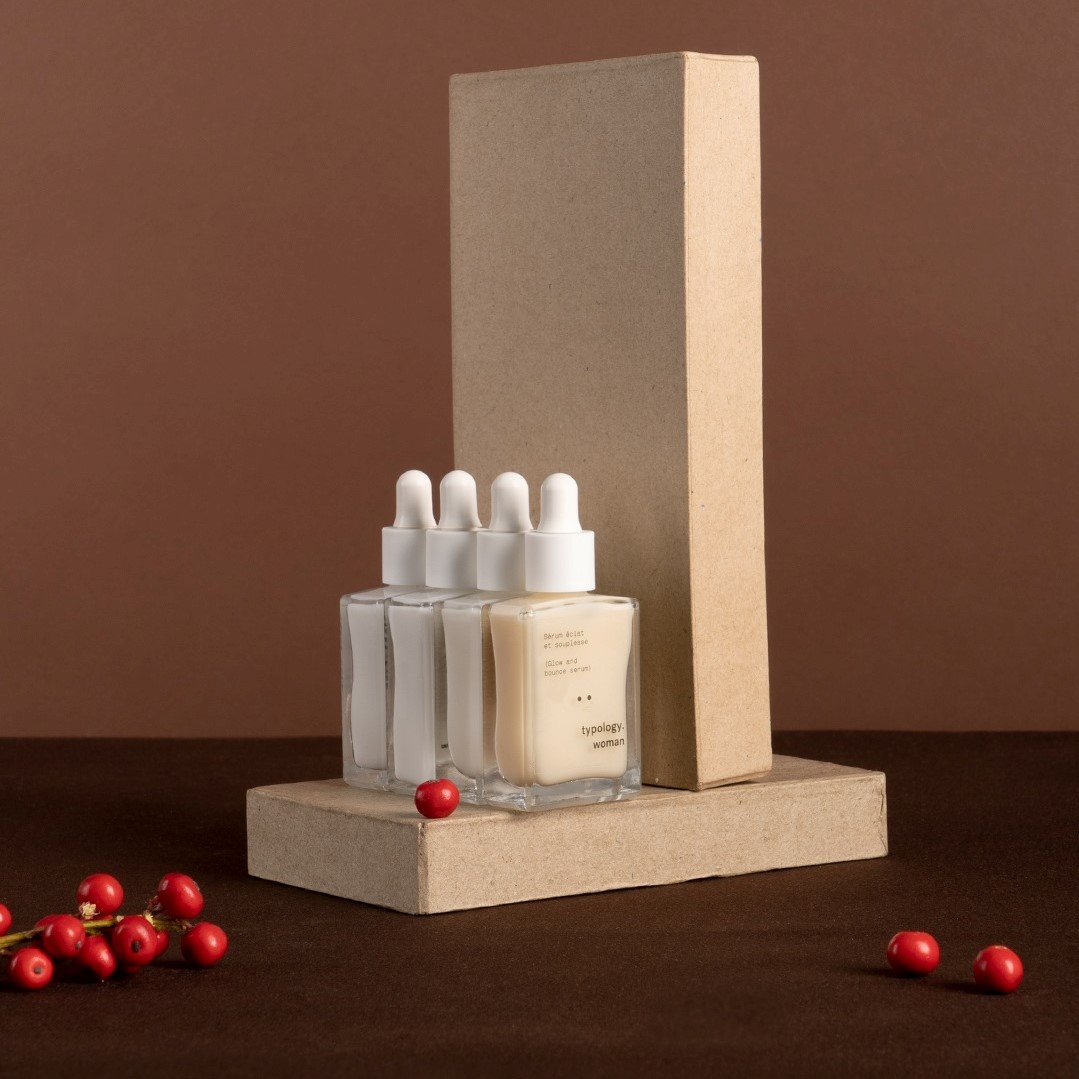 Typology is a new company, launching in 2019. Its founder, Ning Li, "wanted to create a radical new skincare brand." One that focused on simple and quality ingredients at affordable prices.
Based in Paris, France, the brand says its formulas are purely French. In addition to its transparent model, the company is committed to sustainability. Its packaging is made of recycled materials, and it is made smaller so packages can "leave a lower carbon footprint."
It aims to make skincare easy, effective, and accessible. Basically, Typology doesn't want you to have to look up the ingredients you're putting on your skin. After all, skin health is essential, and knowing what works for you can make or break your routine.
Before getting into this Typology skincare review, let's go over a few pros and cons.
Pros
Wide variety of chic-looking, effective products, including serums, moisturizers, toners, sunscreens, face masks, facial peels, and more
One of the first brands to offer serums designed to help a woman's skin during her menstrual cycle
Offers a diagnostic test to figure out the best products for your skin
Certified vegan and cruelty-free
Paraben and sulfate-free
Worldwide shipping
You can receive a complimentary gift for orders over $75
Free US shipping for orders over $60
Cons
A bit pricier than other minimalist skincare brands
Only a 14-day return policy
This brand has everything you need for a glowing complexion, from serums and creams to cleansers and makeup removers. The company also carries Typology organic hemp botanicals. Self-care is essential nowadays, and these products might help put your mind and skin at ease.
Typology Skincare Review
The science surrounding skincare is intimidating. Luckily, these Typology best-sellers get rid of any guessing, making your routine less complicated.
Don't know where to start? Don't worry, this Typology skincare review has you covered. We'll take a look at the top serums, moisturizers, and makeup removers, so you know exactly what you're looking for.
Typology Vitamin C Serum Review
Vitamin C-infused products have become a staple in skincare routines for a reason. Mainly used to brighten the complexion, this ingredient can also minimize scars and pigmentation spots.
This Typology Vitamin C Serum is no exception. The key ingredient is 85% naturally derived and includes a silk tree extract with restorative properties. Plus, Typology claims that it's suitable for all skin types.
For the best results, use 3 to 4 drops of this serum in the morning after cleansing. Follow-up with any other serums and your favorite moisturizer. To really get that glow, try using this product consistently for a month.
Additionally, this Typology skincare review recommends using a sunscreen every day with this serum, as it can make you more sensitive to the sun's harmful rays.
This serum comes in two sizes, and the price varies depending on which option you choose:
Typology 7-Ingredient Micellar Water Review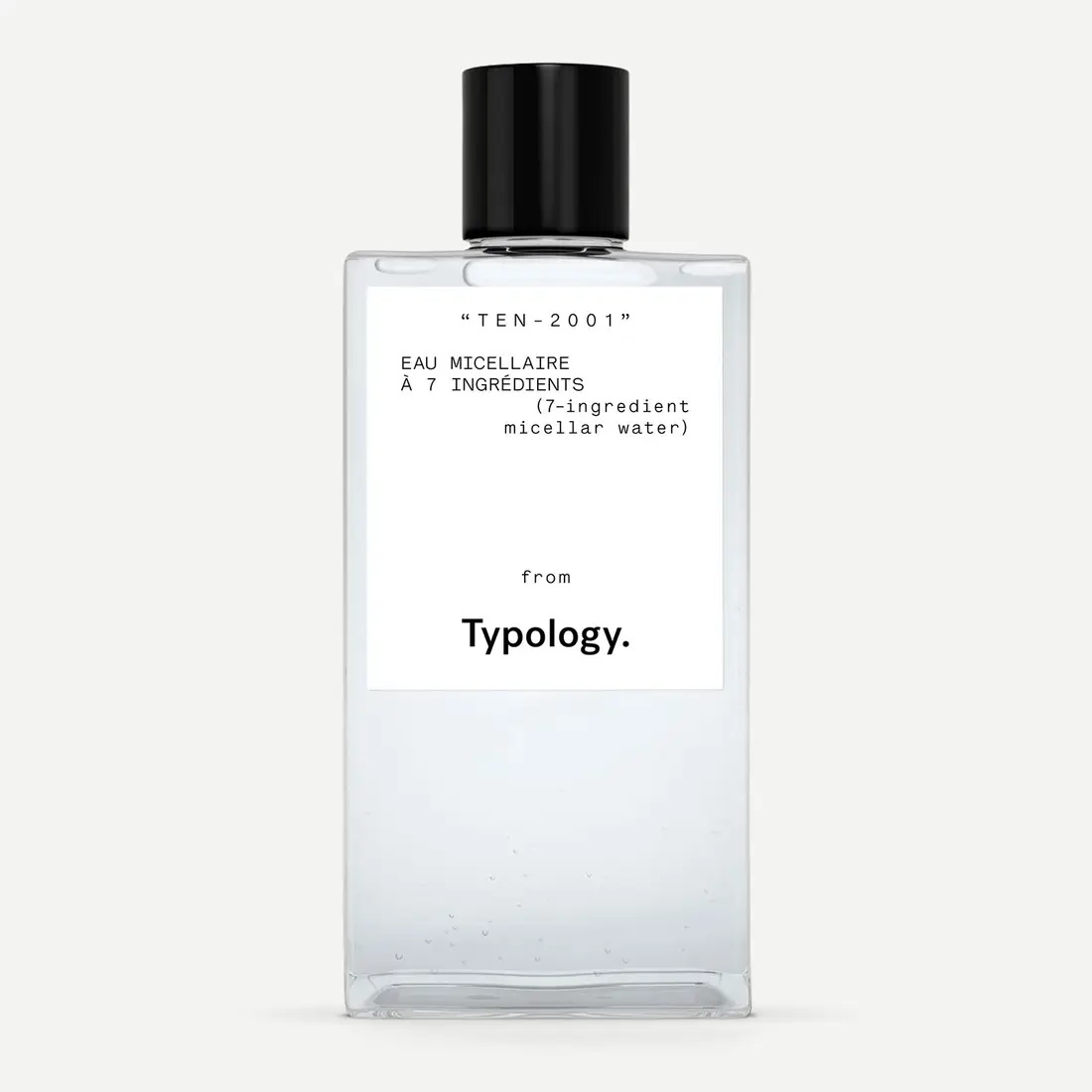 If you're looking for an effective makeup remover, the Typology 7-ingredient Micellar Water could be a great option for you. It's a significant first step in removing makeup and impurities, followed by your favorite cleanser to really finish the job.
As the name suggests, there are only seven ingredients in this micellar water, including glycerin, which moisturizes the first layer of your skin. Without any additives, the Typology micellar water ingredients are gentle enough for sensitive skin.
Dissolve your makeup and your worries with this product, which retails for $16 (200ml).
Typology Tinted Serum Review
If you're looking for lighter coverage, the Typology Tinted Serum is a great option. With its six different shades, this product offers a natural finish. Plus, it is infused with hydrating ingredients, which leave the skin looking dewy and fresh.
This tinted serum's three main ingredients are vitamin C, squalane, and aloe vera. Squalane and aloe vera are hydration hard hitters. Aloe vera soothes and hydrates, while squalane nourishes and smoothes the skin.
To apply the product, you can use a brush or your fingers. Typology recommends using 3 or 4 drops to apply to both the face and neck. If you're worried about skin sensitivity, don't sweat it. This $35 serum (30ml) can work for all skin types.
Typology Caffeine Serum Review
Sometimes, we need a little caffeine boost to get through the day. Of course, we usually get that through coffee, but maybe a facial product can do the same thing. The Typology Caffeine Serum is an eye serum that can help eliminate those pesky dark undereye circles.
Caffeine and niacinamide are the star ingredients in this serum. Caffeine helps with puffiness and dark circles, while niacinamide improves blood circulation. So, when you're feeling and looking fatigued, this serum can give you that extra boost.
Typology states that this serum works for all skin types, but the brand also cautions you to stop using the product if you have any adverse reactions. The following are the size options and their prices:
Typology Squalane Serum Review
Next in our Typology skincare review is the 100% Squalane Serum. This vegan product can be your holy grail for dry skin. The olive-derived formula helps repair your skin barrier, prevent dryness, and improve fine lines.
The Typology squalane serum is suitable for all skin types but especially dry skin. Squalane penetrates the skin and helps with nourishment. It's also great for hydration and reducing the feeling of tightness.
It's recommended for both morning and nighttime use. Because it acts as a serum, it's ideal to use after cleansing. Then, seal in this $19 serum (15ml) with your favorite moisturizer on top.
Typology Salicylic Acid Serum Review
Now, we all get the occasional blemish. But, sometimes, it can become a more prominent issue. With the Typology Salicylic Acid Serum formula, your spots can be well taken care of.
Typology describes this product as "a blemish serum," as it's made with actives that help fight acne breakouts. Additionally, it's recommended for spot treatments and not the whole face.
Salicylic acid is a holy grail ingredient for people with oily skin or acne-prone skin. It's an exfoliator that's effective in getting rid of and preventing breakouts. So, if you feel a pimple coming on, pop one drop of this serum on the spot after cleansing your skin.
This is another product in this Typology skincare review that comes in two sizes:
30ml: $28
15ml: $15
Typology Facial Moisturizer Review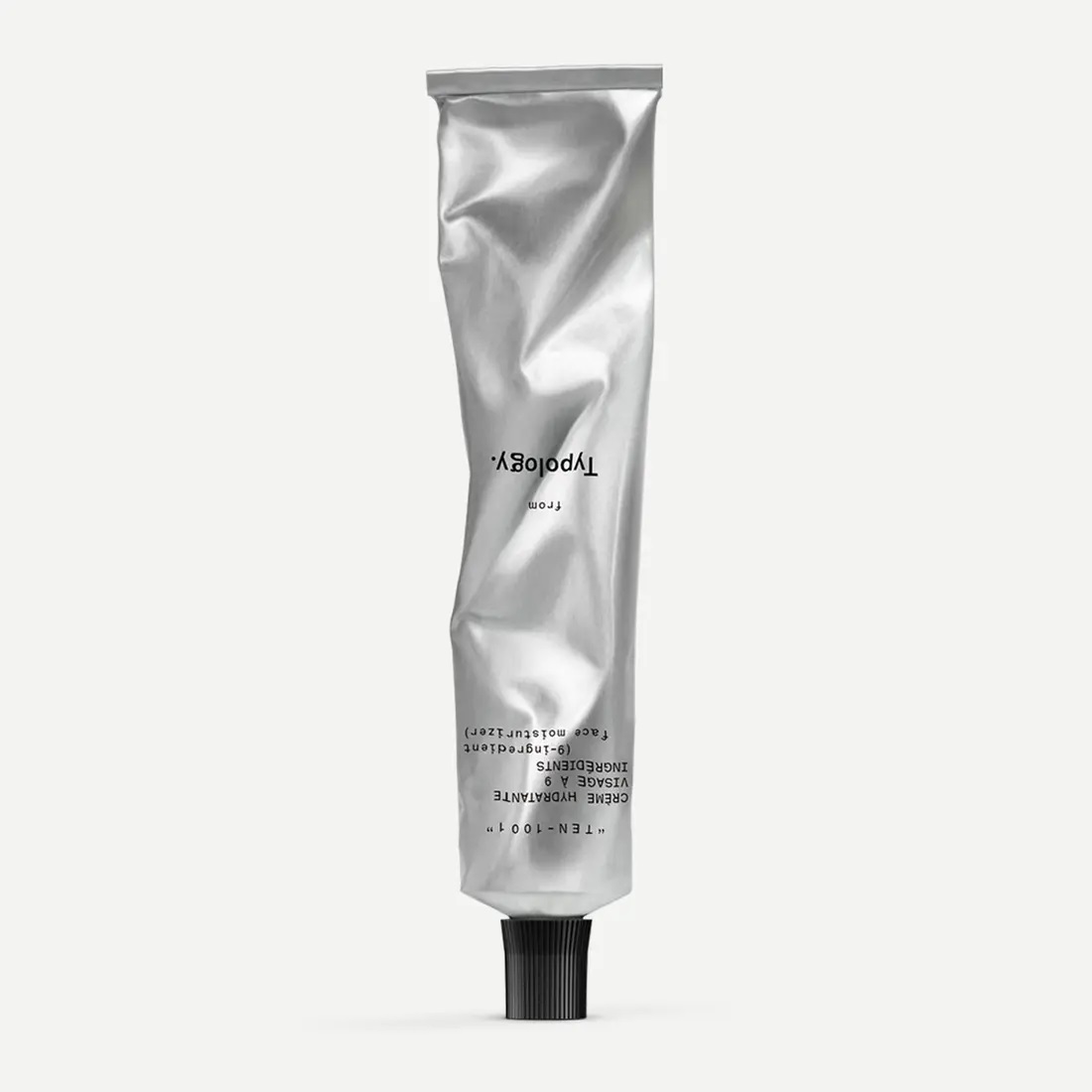 Moisturizer can really make or break your skincare routine. So if you're looking for a no-fuss option, Typology's Facial Moisturizer can be a staple in your skincare routine. With a total of nine ingredients, you'll be getting all of the essential hydration you need.
This Typology face moisturizer's most prominent ingredient is hyaluronic acid. It's a highly hydrating ingredient that works to make your skin look smooth and plump. There isn't much to dislike about this moisturizer with the added benefit of organic coconut oil and other hydrating ingredients.
Typology recommends this moisturizer for normal to combination skin, including sensitive skin types. But, the company doesn't suggest using it if you have oily skin. You can get a 50ml vial of this product for $25.
Typology Reusable Make Up Remover Pads Review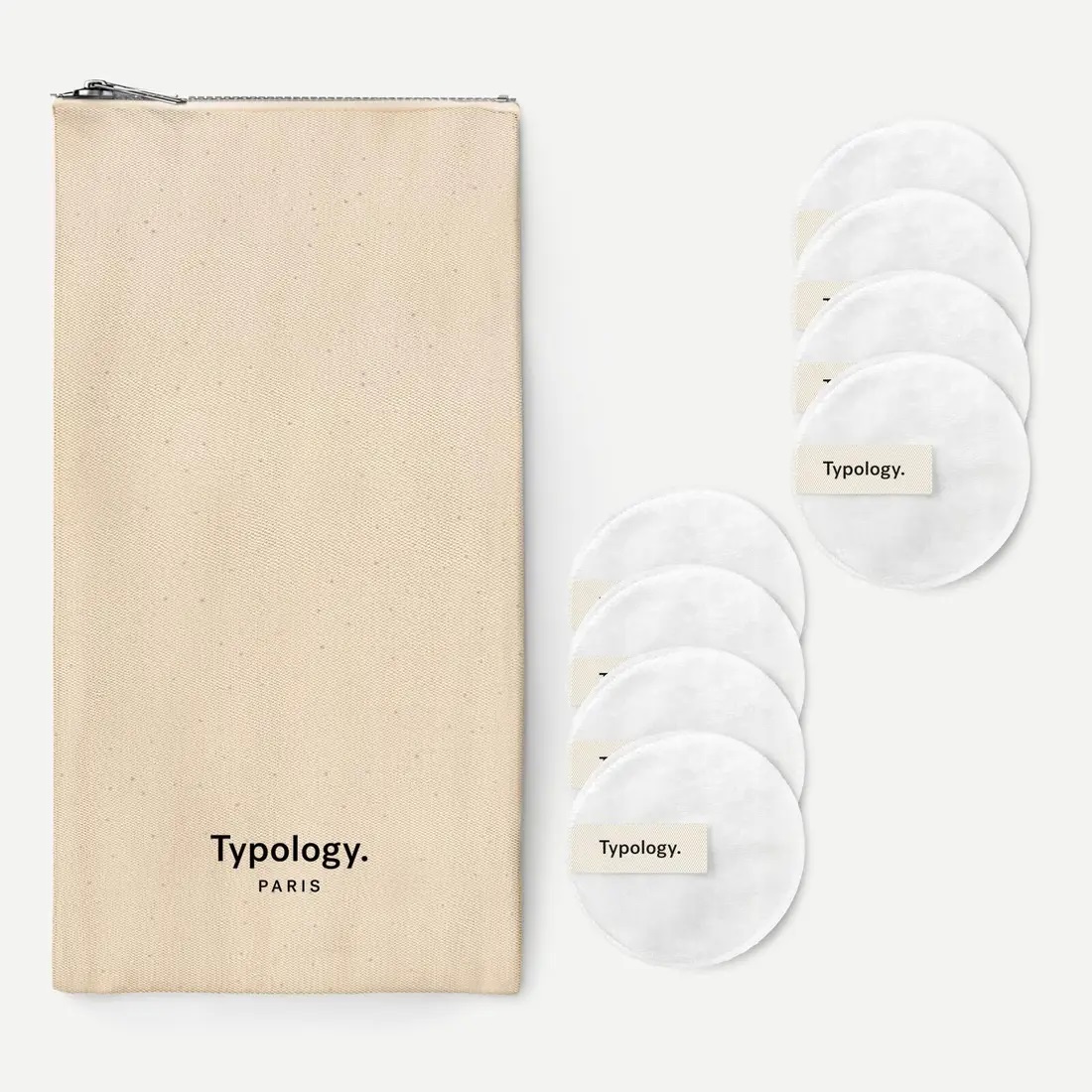 Makeup removing wipes and cotton pads can produce waste and make for a larger carbon footprint. With the Typology Reusable Makeup Remover Pads, it's a step closer to an eco-friendly skincare routine.
These pads are made up of bamboo and cotton fibers. Bamboo can soak up extra oil while the cotton fibers soothe the skin. To use them, add your favorite makeup remover onto the pad and use circular motions to dissolve your makeup.
After using them, you don't have to toss them in the garbage. Instead, you can launder these pads in hot water and then air dry them. For $17, you get eight bamboo pads and a pouch for easy storage.
Is Typology Skincare Natural?
Typology skincare does use almost all-natural ingredients, and all of its products are vegan. Additionally, they're paraben and sulfate-free.
Who Is Typology For?
Typology's minimalist branding ensures that its products are suitable for all ages and genders. The company's marketing doesn't really specify age groups. Mainly, there's an emphasis on the simplicity of its skincare products, both formula-wise and packaging-wise.
Typology has gentle enough products for younger teens first getting into skincare and older adults looking to minimize fine lines and dryness. So, at the end of the day, this minimalist skincare approach gives access to all people.
Comparison: Typology vs. The Ordinary
Typology skincare launched as France's answer to other minimalist skincare brands, including Canada's The Ordinary. They're both 100% vegan and cruelty-free, and they have a similar no-fuss approach.
Additionally, they're both pretty affordable brands, but Typology is a bit more pricey. For example, both companies have a caffeine serum for brightening, but Typology's version is more expensive at $16 (15ml) compared to $6 (30ml).
Still, Typology and The Ordinary are much cheaper compared to high-end skincare brands.
There aren't many differences between the two brands besides their price points. You'll be getting the same minimal formulas no matter which company you prefer.
Typology Reviews: What Do Customers Think?
So, we're at the point in this Typology skincare review where we talk about customer reviews. Typology is well-loved on its website. There aren't many external reviews, but customers enjoy the brand's aesthetic packaging and the products' effectiveness as far as we can tell.
There are a few criticisms, but let's save that for later. Here's how the products in this review rate on Typology's website:
Vitamin C Serum: an average of 4.4/5 stars from 1k ratings
7-ingredient Micellar Water: an average of 4.4/5 stars from 439 ratings
Tinted Serum: an average of 4.4/5 stars from 529 ratings
Caffeine Serum: an average of 3.8/5 stars from 1.4k ratings
Squalane Serum: an average of 4.5/5 stars from 243 ratings
Salicylic Acid Serum: an average of 4.2/5 stars from 905 ratings
Facial Moisturizer: an average of 4.4/5 stars from 1.5k ratings
Reusable Makeup Remover Pads: an average of 4.7/5 stars from 271 ratings
In terms of Typology's Vitamin C Serum, there aren't many people who aren't enjoying the product. One reviewer writes, "Effective! I have noticed my skin complexion has definitely gotten better, as well as some of my dark spots. It also looks smoother and seems to be a tad softer than usual!"
A four-star reviewer states, "I am using it every morning. My hands are a bit sticky when I finish the application, but it improves the complexion of my skin."
The company's Salicylic Acid Serum gets similar reception: "This is the best product I've ever used. I've been recommending it to everyone I know – it clears up any spot so quickly. Overnight, my spots are less red, less big, and less angry looking. And as you only need one drop per spot, it's very cost-effective. If I could give this 6 stars, I would."
This Typology skincare review also found a Reddit thread where someone claimed, "It has worked with hydrating my skin and reducing fine lines, which were my two concerns."
Other Redditors cite good experiences with the French brand, saying it does wonders for the skin. Plus, Typology's Chanel-Esque packaging adds some elegance to their skincare collections.
On the flip side, the brand does occasionally receive negative feedback. For example, the Caffeine serum is the lowest rated in this review. Most customers on its website complain about the lack of results they get. These customers don't see any noticeable differences in their dark circles with the product.
But, when looking at the brand's collection, these negative sentiments were incredibly rare. We all have unique skin, so why would the same product work for all of us?
On TrustPilot, the company has a "Great" rating of 3.8/5 stars from 30 individuals. There are primarily French reviewers on the page, but a few English testimonials are included.
Here, we learned that the brand's "shipping was super fast" and "the products were well packaged." These two details are important when it comes to skincare, particularly the latter, because it's good to know that this brand does not skimp on delivery to keep prices affordable.
Overall, this Typology skincare review learned that this new company has already garnered a positive reputation online. To conclude, shoppers report effective products that are of good value, have aesthetically-pleasing packaging, and arrive quickly.
Is Typology Worth It?
Minimalist skincare is slowly becoming an industry standard. People want to know what they're putting on their skin and how they can achieve glowing complexions. Typology is one of those brands that are ingredient-driven for the best results.
Based on this Typology skincare review, we think that its products are definitely worth a try. The company is incredibly transparent about what kinds of ingredients it uses. Aside from being ethically and sustainably made, its packaging is also pleasing to the eye.
The company also receives positive feedback from its customers, who praise the products' effectiveness. The company does its job at "demystifying" skincare, making it more accessible and less complicated for skincare beginners and enthusiasts alike. And, if you aren't sure what to get, you can take the online diagnostic test.
But, shoppers should note that this company is relatively new and doesn't have many external reviews. We hope that as Typology grows, more people will leave their honest feedback.
Typology Promotions & Discounts
Unfortunately, Typology does not offer any active promotional codes. You can stay up to date on restocks or possible promotions by signing up for the newsletter.
Where To Buy Typology
The brand's products are available on its website, US.Typology.com.
FAQ
Where is Typology made?
Typology Skincare is made in France.
Is Typology vegan and cruelty-free?
Yes, Typology is certified vegan and cruelty-free.
What is Typology's Shipping Policy?
Typology offers worldwide shipping from France. Orders made in the United States ship within 3-5 business days. You also qualify for free shipping with orders over $60. If you're from the UK, express delivery can take between 2 to 3 days.
Any customs charges will vary depending on your location's policies. These fees are also the customer's responsibility.
What is Typology's Return Policy?
Typology has a 14-day return policy. To initiate your return, contact its customer service team by email. Provide them with your order number, the products you're returning, and your reasoning.
The return label will be emailed to you, and the fees will be deducted from your refund. Processing your refund may take about two weeks. Your products must be unused and unopened to qualify for a return.
How to Contact Typology
Do you have any questions beyond this Typology skincare review? You can reach its team via email: [email protected]. The brand's office hours are Monday through Friday, 10:00 AM to 6:00 PM. Its team typically responds within 24 hours.
---
Looking for more ethical skincare brands? Check out these options below:
Get Access to Exclusive Deals
Subscribe for free to get exclusive deals in your inbox. 100% privacy