2023 New Year Gift Guide
2023 New Year Gift Guide Roundup
So, the holiday season is over and streets are suddenly darker at night with the absence of multicolored lights. If your spirits are dropping, don't worry. You don't need a birthday, anniversary, or event to buy yourself a little treat. If anything, now's the right time.
My 2023 New Year Gift Guide can be the pick-me-up you're looking for this January. Below, I've rounded up some top brands across various categories. Happy shopping!
#1 CARIUMA
If your resolution is to walk more, elevate your style, or start taking better care of your feet, I've got just the brand for you to check out.
CARIUMA wants you to "start your year on the right foot." The company makes sustainable sneakers for men and women inspired by skate style. The collection is casual, comfortable, and innovative.
You'll find their signature green logo on various parts of the shoe, as well as their cork footbed and rubber toe. For an environmentally and well-designed shoe, they're quite affordable as well.
Highlights:
Great range of stylish sneakers for women and men
No break-in period
Ethically-made with sustainable materials
Transparent about practices
Certified B Corporation
Low-cost and practical for most day-to-day activities
Elegant and minimal design
Two trees planted for every pair bought
Related: Read our full Cariuma Shoes Review.
#2 Transformer Table
You might've ended the year dining for one, but who knows, you might meet someone new in 2023. And when that day comes, you're going to set an extra place at the table.
Luckily, the Transformer Table stays true to its name—it's a table that you can customize to fit your space. The assembly is super easy, you don't need to be a pro to put it together. The pieces snap into place! The brand also sells chairs, a couch, and outdoor furniture.
When selecting your preferred finish for the Transformer Table, you'll have to choose between oak, birch, acacia, and mahogany.
Highlights:
A versatile solution that caters to various space limitations
Offered in four beautiful finishes
Easy to set up
Positive customer reviews
Ships quickly
Comes with a 1-year warranty
Related: You can read the full unboxing process in this Transformer Table Review.
#3 Honeylove
Let's face it, sooner or later we all get tired of trying to find last-minute solutions when zipping up that party dress. If you want to save yourself the headache, I'd suggest finally investing in some quality shapewear.
Honeylove has created a line of lifting, compressing, and toning shapewear they like to call "sculptwear." Each piece is specially designed to ensure it compresses, shapes, and lifts targeted areas, all while staying in place.
The brand tests every design to ensure utmost durability. The sculptwear comes in a variety of cuts, including capris, briefs, shorts, and thongs.
Highlights:
A variety of high-quality shapewear & style options
Gives back to its industry & community
Smart compression panels to ensure comfort and a seamless fit
Size inclusive line ranges from XS to 3X
Many positive reviews found online from reputable sources
30-day fit guarantee, free returns
Related: See what customers are saying in the full Honeylove Shapewear Review.
#4 Calibrate
Calibrate is a virtual weight loss program that uses one-on-one coaching, goal setting, and FDA-approved medication to help you reboot your metabolism and grow out of old habits. Their approach is based entirely on science.
The program relies on behavioral change and educates you on all the variables involved in adopting a healthier lifestyle.
This program makes you more aware of your diet, sleep routine, and exercise patterns, and also your emotional health. You can benefit from personalized plans on the app, as well as guidance from coaches and doctors.
Highlights:
Uses a "metabolic" approach to tackle weight loss
Accessible, completely e-based
Personalized plans delivered via an app
One-on-one video calls with coaches and doctors
Payment options available through Affirm
Can use insurance for medication and lab tests
Compatible with FSA & HSA
Offers refunds
Related: Don't forget to browse the Calibrate Weight Loss Review.
#5 Prose
This new chapter is all about putting yourself first. Prose formulates hair products that are tailored to your specific needs, so you never have to walk aimlessly down the shampoo ever again.
Their consultation process takes into account the texture of your hair, as well as your lifestyle, goals, and even your location. They have a wide line of products from shampoos and conditioners to curl creams and hair oils.
The cherry on top? It's a cruelty-free brand that packages its products in a cute apothecary style.
Highlights:
A sustainable and ethical company committed to reducing their carbon footprint
Custom hair care products developed to your specific hair needs
Cruelty-free, paraben-free, sulfate-free, non-GMO, phthalate-free, & alcohol-free products
Customers associate hair loss prevention with Prose products
Users report softer, shinier, healthier hair
Free US shipping
Related: Learn more about the brand with the Prose Hair Care Review.
#6 Ritual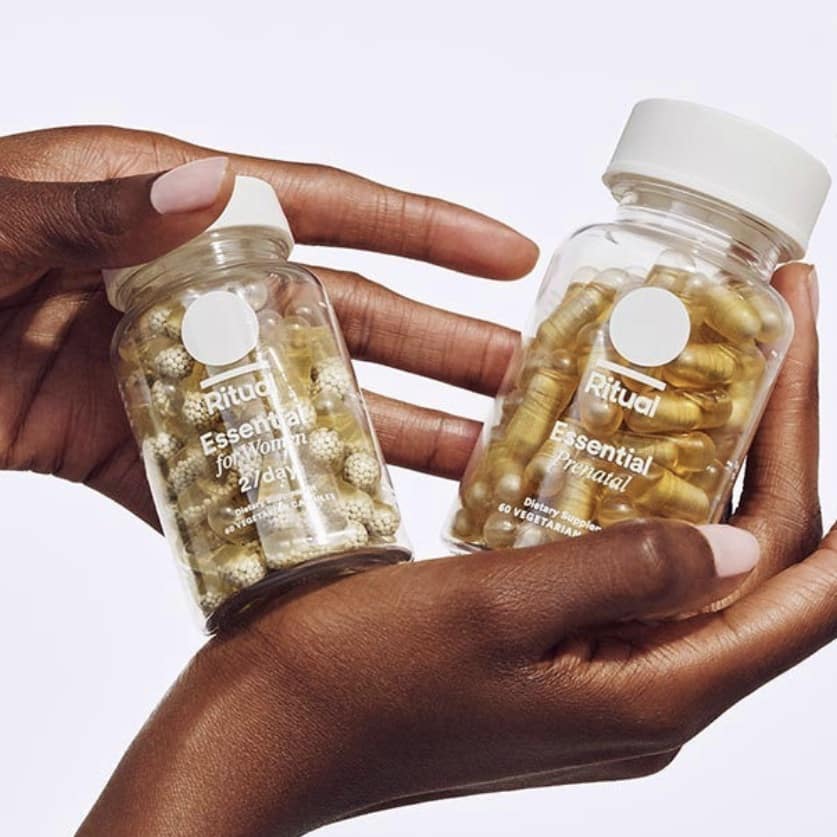 Multivitamins can help you feel more energetic and boost your overall health. Ritual is a start-up specializing in supplements for women who are 18+, 50+, and prenatal.
The brand puts an emphasis on the importance of traceability and sustainability in their line of vitamins, educating women on where their products are sourced from, their environmental impact, and associated health benefits.
Hailing from Saskatoon, Canada, their partnered manufacturer is Algarithm Ingredients Inc. Ritual uses vegan algal oil instead of fish oil. Algal oil comes from the fermentation of microalgae, a process that results in minimal environmental contamination.
You can download the app to keep daily track of your multivitamin use. There is no subscription fee and you can cancel anytime!
Highlights:
Multivitamins are vegan certified, gluten and allergen free, non-GMO, with no colorants or synthetic fillers
Supplements have a pleasant mint or lemon taste
No-nausea capsule design
Products are backed by extensive research and a Scientific Advisory Board
Full transparency on where vitamins are sourced from and their suppliers
Encourages customers to create a daily supplements ritual through the Ritual app
Highly positive customer feedback
Free shipping aside from handling fees
Related: Check out the Ritual Vitamins Review.
#7 Caraway
If you're moving into a new home or you want to take up cooking as a serious passion, Caraway Cookware is the perfect addition to your kitchen. Offering easy-to-clean pots, no-fuss lid storage systems, and thoughtful design elements like wide grip handles, this brand will make your life much easier.
Caraway Cookware is made from ceramic with an aluminum core, and works on electric, gas, and induction stovetops. Diverting from boring black or silver pans, Caraway pots and pans are still practical but come in visually appealing neutral colors. They also include smart design elements.
Highlights:
Cookware is made of ceramic, which is friendlier to the earth as it releases less CO₂ during its production than other non-stick materials
Shipped in recycled cardboard and biodegradable cork trivets, no styrofoam
Free of harmful chemicals like PTFE, PFOA, and PFAS
Brand partners with ethical manufacturers
Easy-clean non-stick surface allows food to slide off easily
Lower prices than other high-quality designer pans
Helpful and prompt customer service
Free shipping on US orders over $90
Free returns
Related: We also wrote a complete Caraway Cookware Review.
#8 Liquid IV
Combating dehydration should be on top on your to-do list, and Liquid I.V. is here to help achieve that goal! Their electrolyte drink mix shoots hydration and nutrients directly to your bloodstream using something the brand calls Cellular Transport Technology.
With its blend of sodium, potassium, glucose, and other nutrients, the drink mix hydrates cells faster and more efficiently than water alone. Liquid I.V offers delicious options that promote additional benefits like energy, sleep, and optimal wellness.
Highlights:
Variety of products to choose from based on flavor and nutritional value including energy, sleep, and immune-boosting multipliers
Hydrates cells faster than water alone
Non-GMO, gluten-free, soy-free & dairy-free
Responsible and innovative packaging
Sources ingredients and partners with sustainable farms where possible to reduce the carbon footprint of their transportation and distribution centers
For every purchase, Liquid I.V. provides a serving to someone in need, with over 20 million donations made to date
Members receive credits for each referral they make
Free domestic shipping
Related: Check out this fun comparison: Liquid IV vs Pedialyte Review.
#9 Ka'Chava
Ka'Chava is a brand from Nevada that brings you a full spectrum of vitamins and minerals, along with protein, digestive enzymes, antioxidants, and probiotics in its all in one meal replacement shake.
Providing total body nourishment, the vitamins, minerals, probiotics, adaptogens, and more included in its formula can have a positive effect on everything from your digestive system and brain function to the health of your skin and hair.
Highlights:
Vegan, soy-free, and gluten-free protein powder
Formulated from natural ingredients
Provides a complete source of nutrition
Transparent brand
Money-back guarantee
Related: Read customer experiences in the Ka'Chava Review.
#10 Brilliant Earth
If you're planning on starting the year off on a bold note, Brilliant Earth is here to supply you with some of the most beautiful, ethically sourced jewelry to gift a loved one (or yourself!).
Brilliant Earth sells Beyond Conflict-Free™ diamonds, engagement rings, and fine jewelry that can also be customized through an easy-to-use interface online.
There is no cutting corners with this company—they even incorporate recycled materials into their designs to keep things eco-friendly.
Highlights:
Wide range of diamond rings, necklaces, and earrings
Highly ethical practices that only source from humane and environmentally responsible communities
Offers both natural diamonds and artificial diamonds
Many customization options to create the ideal ring
Donates 5% of their profits to nurturing damaged rainforests and building healthy mining communities around the world
Payment instalment options through Affirm cuts down on upfront costs
Excellent 30-day return policy
24/7 customer service
Related: Read our full Brilliant Earth Engagement Rings Review.
Get Access to Exclusive Deals
Subscribe for free to get exclusive deals in your inbox. 100% privacy