60 Billion Probiotic Review
About 60 Billion Probiotic
60 Billion Probiotic is a dietary supplement that targets a bunch of goals, including your digestion, immunity, and more. If you're looking for a product that gets your insides feeling healthy and replenished, this may be what you've been searching for.
Created by Physician's Choice, this brand is well-known on all forms of social media. The company has an impressive 86.5k Instagram followers and 20k followers on Facebook. Their online presence is furthered by the high levels of reviews and ratings posted all over their website and other partner retail sites.
Without getting too bogged down by the nitty-gritty details, I'll now dive straight into the product's effectiveness, brand, customer ratings, promotions, and more to help you decide if you want to buy 60 Billion Probiotics for your health needs.
Overview of 60 Billion Probiotic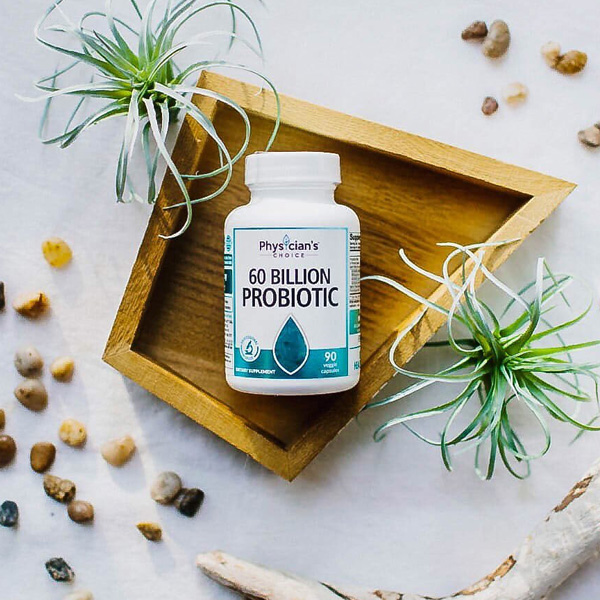 60 Billion Probiotic is created by Physician's Choice, a health and wellness brand with a focused, clear mission and a transparent culture. Their products are mainly health supplements, created with research, sustainability, and purity in mind.
Their mission of "providing safe and high-quality supplements" relies on using clean ingredients backed by science and facts to provide their customers with the best supplements on the market.
The company wants everyone to live a healthy life, with access to the highest quality supplements. They are centered around health and well-being and ensure that their employees and their products follow this goal.
With that inspiring dedication in mind, here are a few main highlights of the product and brand:
Highlights
100% clinically studied and natural ingredients
10 powerful probiotic strains
100% vegetarian capsules
This product does not contain soy, dairy, gluten, eggs, wheat, nuts, shellfish, NAPA, and additives
Non-GMO
Sold at many stores
Positive customer reviews
60-day money-back guarantee
60 Billion Probiotic Review
Your body deals with a lot of stress, especially within your digestive tract. This can range from eating greasy and unhealthy food to inhaling environmental toxins that disturb your stomach. Sometimes it can get tough for your body to clear the bad stuff from your system without a little bit of extra help.
Enter 60 Billion Probiotic! Digestive supplements like this can help you tackle many problems. The brand has used scientifically researched ingredients, all of which have an essential role in fixing your gut function and providing you with the healthiest intestinal environment.
Each bottle comes with 30 capsules meant to last you for 30 days. You also have the option to buy 60 Billion Probiotics as a one-time purchase or as part of an ongoing subscription. Currently, the supplement is available for the following prices on the brand website:
One-time purchase: $26
Subscription: $21
You can also find this supplement available in a variety of different online and retail partner stores, including the following:
Amazon: $22
iHerb: $23
Walmart: $26
Who Is 60 Billion Probiotic For?
60 Billion Probiotic is made for adults over the age of 18. Any children interested in taking this supplement should have specific instructions from their doctor to do so, due to the fact that this digestive supplement includes many ingredients that may be too strong for them.
60 Billion Probiotic can be for anyone who is interested in boosting their digestive tract and improving their health. If you are looking for extra support in your weight loss and health journey, this may be the product for you!
What Are The Benefits Of 60 Billion Probiotic?
With a focus on digestion and overall well being, there are plenty of 60 Billion Probiotic benefits. Primarily focused on digestive health, the benefits[1] range from aiding with simple discomfort to serious problems. By taking this supplement, you can expect[2] the following key benefits:
Digestive health support
Immune support
Promoted regularity
Boosted nutrient absorption
Reduction in bloating and gas
How Does 60 Billion Probiotic Work?
As you take a capsule of 60 Billion Probiotic, you will be releasing a ton of scientifically proven ingredients into your system, including 10 probiotic strains and an organic prebiotic blend.
The probiotic strains will release microorganisms into your system that will clear out the bad bacteria and replace it with good bacteria in your intestines. This will help your gut health flourish, and over time improve your entire digestive tract.
Meanwhile, the prebiotic blend will aid in improving[3] any negative symptoms that you may be experiencing. It will also help you absorb, use, and store your energy, aiding with food consumption and weight regulation.
With the combination[4] of the probiotic and prebiotic components, your digestive tract will reach the ultimate balance, helping your body work in a clean and efficient manner.
What Are The Ingredients In The 60 Billion Probiotic?
60 Billion Probiotic has the following main ingredients:
Probiotic Blend of 10 powerful strains
Organic Prebiotic Fiber Blend
Probiotic strains are an essential component of digestive supplements, as they contain the microorganisms that help you get your gastrointestinal tract in order, as shown here[5]. They can help your body on many different levels, including:
Prevention and treatment of certain[6] pathologic conditions
Modulation[7] of the gastrointestinal system and encourage weight loss
Increased metabolism[8]
Strengthening[9] the immune system
The prebiotic blend is an important part of the supplement because of its importance in providing further relief to your digestive tract. Once the healthy bacteria have been released into your system, the prebiotic blend will help transport[10] probiotics to where they need to go.
Some other positive features of prebiotics include:
Prevention[11] of disease to maintain long term health
Development of the immune system[12]
How to Take 60 Billion Probiotic And Dosage
You should take one capsule of 60 Billion Probiotic a day with water. You don't need to take the supplement with food, and you can take it any time during the day. To see the best results, you should make sure to take the capsule every day for the full 30-day period.
60 Billion Probiotic Side Effects
60 Billion Probiotics, like many other dietary supplements, come with certain side effects that are a result of the strong probiotic and prebiotic elements as shown in this study[13].
Some possible 60 Billion Probiotic side effects include bloating, constipation and gas, nausea, and stomach cramps.
60 Billion Probiotic Reviews: What Do Customers Think?
60 Billion Probiotic has gained a great deal of positive attention from all sorts of online platforms, including its parent company's website, Amazon, Walmart, iHerb, and more. y
My 60 Billion Probiotic review will explore the many satisfied customer reactions that this supplement has received.
The ratings of the supplement from the multiple websites were all glowing:
Physician's Choice: 4.8/5 stars from 5,354 reviews
Amazon: 4.5/5 stars over 94,640 global ratings
iHerb: 4.7/5 stars from 236 reviews
Walmart: 4.9/5 stars following 5,366 reviews
A reviewer on the brand website mentioned that this supplement is the best they've tried out of many others: "I have tried many probiotics in the past, but these are simple (1 tablet per day) and effective. I now have minimal problems with loose stools and gas. Others have not worked as well."
Another happy customer on Amazon mentioned that their symptoms had improved noticeably: "I have had chronic constipation pretty much my entire adult life, 25-30 years. I have tried a multitude of fiber supplements. The Physician's Choice probiotic is the first one that has actually made a difference."
I also checked out Influenster, where one customer wrote: "Physician's Choice probiotics is the best one I have used. I take this once daily to relieve discomfort and bloating. You just need to be consistent with taking these to see the full benefits."
With the slew of positive reviews flooding multiple websites, as well as their social media platforms, I can gladly conclude that this supplement is well-loved.
Is 60 Billion Probiotic Worth It?
From what I've read, I can easily conclude that 60 Billion Probiotic is one of the best digestive supplements around, and if you're considering purchasing a product that heals you with the best ingredients, this is the one of the best choices you could make.
Most importantly, the science behind the supplement is backed by solid research that has gone over all possible benefits and risk factors of each ingredient.
The simplicity of using two main ingredients that work to replenish your intestinal bacterial health sounds too good to be true, but the website clearly describes each function of the supplement with clarity.
60 Billion Probiotic Promotions & Discounts
One advantage of ordering 60 Billion Probiotic digestive supplements is that if you subscribe monthly to the product, with the ability to cancel the subscription at any time.
I also found that if you sign up for the Physician's Choice newsletter, you can save 25% off your first purchase! This promises to come with other discounts in the future.
Where to Buy 60 Billion Probiotic
60 Billion Probiotic can be purchased from the following online and retail stores:
Physician's Choice
Amazon
iHerb
Walmart
FAQ
How many 60 Billion Probiotic should I take daily?
You should take one capsule of 60 Billion Probiotic anytime throughout the day. You will see the best results if you follow the recommended dose and take it daily for 30 days.
Should I take 60 Billion Probiotic with food?
It is not necessary to take 60 Billion Probiotic with food, but it must be taken with water.
Is 60 Billion Probiotic vegan?
Unfortunately, no this supplement is not vegan. However, 60 Billion Probiotic is made with 100% vegetarian ingredients.
Is 60 Billion Probiotic gluten-free?
Yes, 60 Billion Probiotic is a gluten-free product. Anyone with such dietary restrictions is safe to consume the digestive supplement.
What are the supplement facts of 60 Billion Probiotic?
60 Billion Probiotic has a serving size of one capsule, with 30 servings per container. It contains a variety of ingredients, including 220mg of a probiotic blend featuring 10 different strains, with 60 billion CFU.
Physician's Choice also uses 150mg of a prebiotic blend for a total of 150 mg. This blend is made up of 50mg each of organic Jerusalem artichoke root, organic acacia senegal, and organic chicory root.
What is 60 Billion Probiotic's Shipping Policy?
60 Billion Probiotic offers free standard shipping on all orders, and currently only ships within the US. The delivery times of your product can depend on your location.
What is 60 Billion Probiotic's Return Policy?
Physician's Choice has a 60-day return policy that offers you the option to try out a supplement without being stuck with it. If you've passed the 60-day deadline, you can only return your supplement if it's unopened.
If you are unhappy with what you've bought, you simply have to contact their customer service team through phone at 877-395-2707, or email them at [email protected].
How to Contact 60 Billion Probiotic
For any further questions that I didn't answer in this 60 Billion Probiotic review, you can contact them directly using one of the below:
They are available Monday to Friday from 7:00 am to 4:00 pm MST.
---
Check out similar brands you might like:
Get Access to Exclusive Deals
Subscribe for free to get exclusive deals in your inbox. 100% privacy