Angela Scott Review
About Angela Scott
Although women have been an important part of the workforce for many years now, the shoe industry is only recently slowly adapting to this trend.
Traditionally, women had two choices for work footwear: high heels and nurse shoes. One is comfortable, while the other is beautiful. The Office of Angela Scott creates and sells shoes that are both. So if you're on the hunt for a pair of shoes just like these, you're in luck. In this Angela Scott review, I'll go over everything you need to know about this brand.
With 29k followers on Facebook, 82k followers on Instagram and some celebrity attention, Angela Scott has been gathering a devoted following. Powerful women known to sport these shoes are Julia Roberts, Taylor Swift, Busy Philipps, Ellen Degeneres, Maye Musk, and Cate Blanchett.
Notable media platforms featuring Angela Scott products include InStyle, Forbes, WWD, Harper's Bazaar, and WhoWhatWear. And this is just a smidgeon of what's out there about the brand and its mission of women empowerment.
My Angela Scott review will help you decide whether this brand is right for you before you buy their products. I'll do this by checking out the brand's promotions, mission, footwear, plus their customer reviews and rankings. 
Overview of Angela Scott
With three brothers and having started out in construction and estates, Angela Scott is used to being a woman in a male-dominated world. While working, she saw a lack of appropriate footwear for women on the job. So, launching in 2012, The Office of Angela Scott set out to make comfortable, yet beautiful, shoes to empower women.
Angela Scott shoes are handmade in Portugal by a multigenerational family of cobblers and are resoleable. This is both environmentally sound and means that your shoes can last a lifetime, even if you wear them regularly. The shoes are designed by women for women to be comfortable enough for everyday wear, and yet look good enough for work or dressing up.
Before we check out some of the company's shoes, my Angela Scott review will take a look at several highlights of the brand.
Highlights
Shop Pay financing
Free shipping in the US
Resoleable footwear 
Women empowerment mission
Comfort and beauty in one
High-quality shoes you can work in all day long
Wide sizes available on some shoes
Limited edition boots
Angela Scott Shoes Review
Angela Scott shoes take traditional men's styles of shoes and shake them up to be more feminine and more comfortable than their male counterparts. All the shoes come in sizes 5-13. The brand's variety of Oxford shoes are their bestsellers—a few of which I'd like to discuss in this Angela Scott review. 
Angela Scott Ms. Jane Oxford Review
Featuring a black kiltie, the Angela Scott Ms. Jane Oxford takes the classic Oxford from humdrum to eye-catching. This kiltie, usually placed between the laces and the leather of a logger's boot, sits over the laces in this case. This adornment is removable for versatility, as wide as the shoe, and is leather, tasseled, and dressed with small metal studs.
Like all Angela Scott shoes, the Ms. Jane Oxford has a cork midsole that shapes to your foot and is moisture absorbent without odor. The shoes come in a wide version, and they run true to size to narrow. You can step into a pair of these shoes in black or navy for $695.
Angela Scott Mr. Logan Oxford Review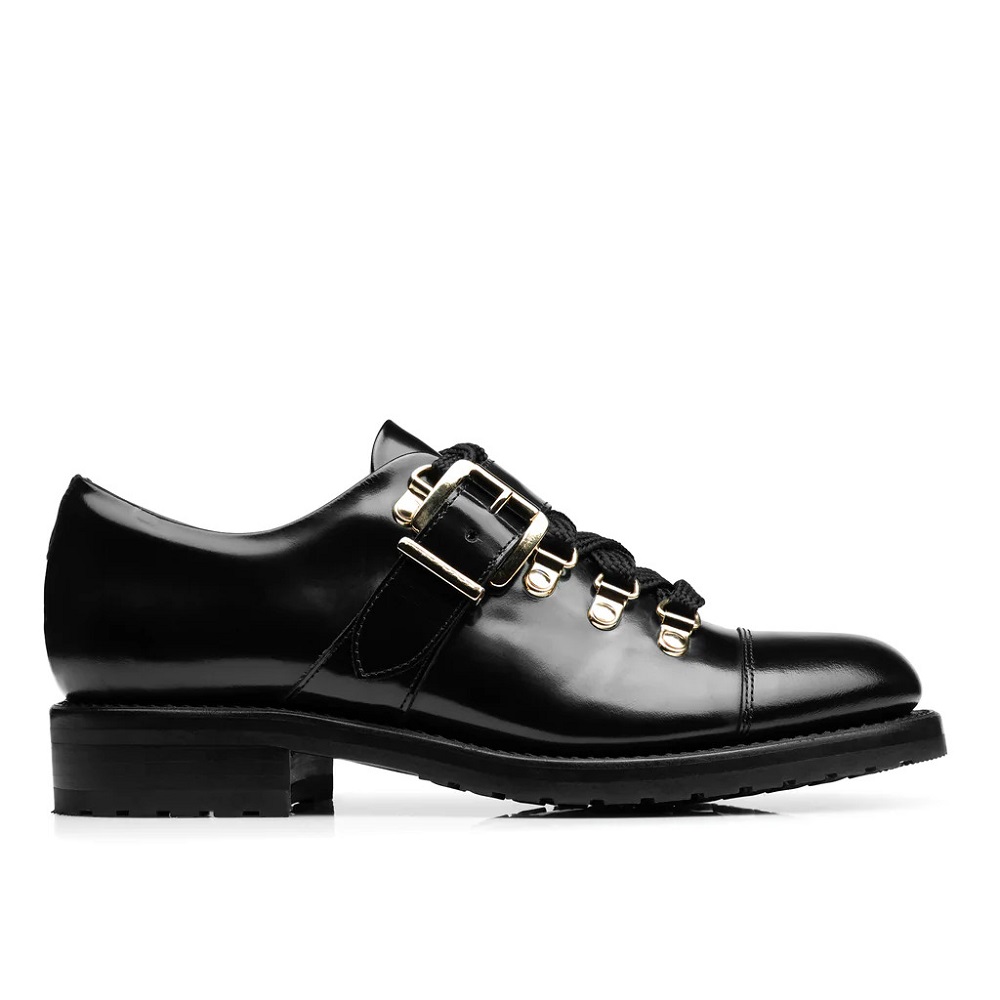 The Angela Scott Mr. Logan Oxford are traditional 'Oxford meets baby doll' shoes. The baby doll look is achieved by covering the top of the laces with a buckle and polishing the leather to a shine. To change up the look, you can wear the bow under or over the buckle. This versatile shoe comes in black leather, tan, suede, or tobacco-embossed leather.
They have the same replaceable rubber soles as most of the Angela Scott shoes. They are hand stitched and beautifully engraved, making it almost a shame to walk in them. You can slip your foot into these shoes for $595.
Angela Scott Mr. Doubt Oxford Review
Wingtips aren't just for men anymore with the Angela Scott Mr. Doubt Oxford. This style of shoe is probably the brand's most fun and fashionable, especially if you choose the plaid color block hue. This option's colors are layered tan, black, and medium blue, with a plaid patch on each side.
The Mr. Doubt Oxford also comes in black and silver, sorbet, as well as cognac, black, and white. These shoes are just as good for work as for play. They are reminiscent of clubwear from the Jazz Age, but these shoes are great for modern nightclubs. They are stylish, comfortable, and flexible enough to dance in.
You can boogie into these wingtips for $550.
Angela Scott Mrs. Angela Boot Review
For their tenth anniversary, Angela Scott created the limited edition, Mrs. Angela Boot. The boots are one of the exceptions to the signature engraved sole, since a lug sole with tread is more useful here. The upper is walnut striped in color. The darker stripes have a punched-in circular pattern for a creative flair.
Besides the pattern on the stripes, what I like most about the look of this boot is how it tapers at the bottom of the upper instead of dropping straight into the sole. This boot can be yours for $795. 
Who Is Angela Scott For?
Angela Scott shoes are for women who want to be comfortable and look good while they work or play. This footwear isn't made for running in, but it is made to be flexible enough to move around in all day long. This is a luxury brand, so it's by no means the cheapest option, yet the shoes are worth saving your money for due to their quality alone.
Women sensitive to the environment should be fans of the resoling option and quality materials used. This means that Angela Scott's long-lasting shoes shouldn't end up in the dump for many years to come, especially with proper care. This footwear is handmade by the family of a long line of cobblers who use the Goodyear Welt method that allows for resoling.
Angela Scott is all about female empowerment. This includes being a woman-owned and run company and making shoes that help women to stand tall. Let's face it, no woman can stand tall and proud when her feet hurt or she feels unattractive.
Women who prefer a more modest shoe will probably like Angela Scott's footwear, since the shoes are in styles that completely cover your foot and the highest heel is a block mid-heel.
Angela Scott Reviews: What Do Customers Think?
To see what people are saying about the brand, for this Angela Scott review I dug around the net but was not able to find too many customer reviews.
Before I get into it, let's check out some Angela Scott reviews and rankings from customers on the brand's website:
Angela Scott Ms. Jane Oxford – 5/5 stars– from 19 reviews
Angela Scott Mr. Logan Oxford – 5/5 stars from 120 reviews
Angela Scott Mr. Doubt Oxford – 4.9/5 stars from 207 reviews
One of the things that help Angela Scott to stick out from the crowd is the comfort and versatility of the brand's shoes. This customer left a glowing review about the Ms. Jane Oxford: "These are my favorite pair of Office of Angela Scott shoes! I have gotten so many compliments on them, particularly when worn with the kiltie."
"Essentially they are three shoes in one and can be worn quite simply or dressed up very stylishly. Well made and comfortable, these shoes will continue to stay in my heavy rotation."
Social influencer Eva Monroe (113k YouTube subscribers) discovered Oxfords a bit ago and found out that men seem to love them more than heels on her. Her favorite brand is Angela Scott for both look and comfort. She describes the shoes as comfortable, "an investment," and something that can be passed on to future generations.
This Angela Scott review is from a customer on Reddit who wanted his girlfriend to get an Oxford-style shoe, confirming that men do like women in these shoes. He also likes that the shoes are made to be comfortable and can be resoled. He explains:
"On The Office of Angela Scott website: 'We are proud to preserve traditional shoemaking, using a resolable construction to create timeless and beautiful women's shoes.' I can get behind that."
"I'm glad this brand exists, I'm glad these styles exists, and I'm thankful that they seem to really take into consideration some things to help people who just might not be used to these kinds of shoes feel good about their purchase. Things like the suede heel pad, cork heel cup and more "puffy" components to give the shoe some comfy squish."
To summarize this segment of my Angela Scott review, I didn't find a single bad thing said about the brand. There are zero complaints about them on the Better Business Bureau website and no Angela Scott reviews on Trustpilot. 
Is Angela Scott Worth It?
Before my Angela Scott review answers the question of whether or not you should buy these shoes, you need to make sure that you can afford them. In deciding this, you should keep in mind that these shoes are likely the most comfortable and durable of any luxury footwear brand, so they should last you far longer (hopefully a lifetime) than a cheaper pair of shoes would.
Whether a high heel or Oxford, women's shoes do not typically fit comfortably and can't be worn for work and when dressing up. The fact that this brand has no complaints or bad reviews and is worn by some very strong, proud, and powerful women—such as Taylor Swift, Julia Roberts, and Ellen Degeneres—says a lot about it.
From everything that I found out about the brand during this Angela Scott review, you can feel good about spending your money on their products. These shoes are versatile and comfortable enough to be worn with most outfits at any time of the day (or all day long). 
Angela Scott Promotions & Discounts
Angela Scott has some great promos and discounts for customers:
Win $500 gift card on first entry
Join the email list for $50 off your first purchase
Free shipping in the USA
Where to Buy Angela Scott
The best place to find Angela Scott products is on the brand's website. Alternatively, they can be found in department stores and shoe stores like Nordstrom and Neiman Marcus. They aren't available on Amazon.
FAQ
Who owns Angela Scott?
Founder Angela Scott still owns the brand. She is also the creative director.
Does Angela Scott ship internationally?
Yes, Angela Scott ships internationally through the brand's website at https://theofficeofangelascott.com. All orders ship through their New Jersey shipping facility. There are two options for international shipping: standard shipping (6-14 business days) and express shipping (2-6 business days). International orders are processed in 2-3 business days.
What is Angela Scott's Shipping Policy?
Angela Scott provides free shipping in the USA. You can have your purchase expedited for an extra fee. US orders process within one business day and take 5-14 business days to ship.
What is Angela Scott's Return Policy?
Angela Scott accepts returns and exchanges for refunds, store credit, or exchange—as long as the return package is postmarked 14 days from your purchase. All returns must be in unused condition, with the original packaging, including the dust bag. Angela Scott handles the costs for return shipping.
If you need to do a return, here are the steps to follow:
Visit returns.theofficeofangelascott.com to print out your prepaid shipping label.
Print the label and attach it to the box.
Drop your package off at UPS location.
Receive email confirmation for return processing.
Allow 14-21 days from time you mail the returned item.
For more information on Angela Scott's return and exchange policy visit: https://theofficeofangelascott.com/pages/returns-exchanges
How to Contact Angela Scott
I hope you enjoyed this Angela Scott review! If you need to get in touch with their customer service team, there are a few ways to reach out.
Phone: 1-805-845-4350 or toll-free at 833-243-8752
Email:

[email protected]

Text: via "Contact Us" drop-down menu
Online chat feature on website
The company's customer service hours are Monday through Friday, 9:00 am – 5:00 pm (PST).  
---
Check out similar brands you might like:
Get Access to Exclusive Deals
Subscribe for free to get exclusive deals in your inbox. 100% privacy