7 Best Mushroom Coffee Brands
Finding the Best Mushroom Coffee Brands
Mushroom coffee is taking the wellness sector by storm, guzzled down in liters by health nuts and those looking for a cleaner kind of buzz.
For those who haven't hopped on the fungi train yet, thinking about the (what we could only assume to be) earthy, brown mushroom-like soup doesn't exactly involve the same comforting imagery that our daily java does.
And yet, the concept of a beverage that can boost performance without the jitters is ultra appealing. That's especially true for people like us who are confronted with the daily choice of forgoing our morning caffeine habit for the sake of afternoon sanity (we're a little sensitive over here).
"Since mushroom coffee is essentially medicinal mushroom extract powders blended with instant coffee, it usually contains about half as much caffeine as a cup of caffeinated coffee," said Theresa Gentile, a certified nutritionist and dietician.
"Mushroom coffee averages about 40mg of caffeine per cup, so, for those sensitive to the effects of caffeine, it should not give you that jittery effect."
Meet the Expert: Theresa Gentile, MS, RDN, CDN
With over 13 years in nutrition, Theresa Gentile offers individual and group counseling at her private practice in Brooklyn, NY and specializes in home enteral nutrition at Maimonides Medical Center.
Theresa earned her Master of Science degree at CUNY Brooklyn College and completed her Dietetic Internship at New York Presbyterian Hospital. She is co-chair of the Cultural Foods Committee of the Greater NY Dietetic Association and has worked on the "Let'sMove!" campaign led by First Lady Michelle Obama.
She is a former adjunct faculty member of the Health and Nutrition department at CUNY Brooklyn College.
If you're new to the whole mushroom coffee trend, there's one thing you should know before you start reading this best mushroom coffee list: it actually tastes pretty good.
"Mushrooms are a suitable alternative to regular coffee beans as their earthy taste blends well with the bold, roasted flavor of coffee beans," Gentile said.
"Coffee aroma changes depending on the processing method and manufacturers have been able to maintain the original coffee aroma without incorporating the off flavors from mushrooms."
It's nothing like the chalky beverage I imagined—the one that's taste is akin to a fresh cup of dirt (that's one myth busted). For the most part, it just tastes like coffee. Because it is, but with less caffeine and a hefty dose of mushrooms.
7 Best Mushroom Coffee
Whether you're here to read about the best mushroom coffee on the market because of its touted health benefits, because you're seeking a calmer, cleaner focus, or because you simply want to cut out caffeine (yes, it comes in decaf too), you've come to the right place.
This list will take you through our top seven picks for the best mushroom coffee on this side of the earth, made by those who know and love fungi the most. By the end, I hope you've found your new favorite brew. Let's get to diggin'.
#1: Laird Superfood Mushroom Coffee
Surfing fan? You've probably heard of Laird Hamilton then, the founder of Laird Superfoods. Created to offer healthy, plant-based foods to amp up your coffee, the brand is perhaps best known for its creamers, along with its commitment to sustainability.
Laird Superfoods offers medium and dark roast brews made from organic Peruvian coffee. Hand-picked and slow-roasted, the brand's small-batch beans are blended with chaga, lion's mane, and cordyceps mushrooms to boost wellness and enhance performance.
In a review published by The International Journal of Molecular Sciences, preclinical studies showed that the Chaga mushroom's hepatoprotective properties are probably related to its phenolic components.
Moreover, in-vitro studies found that ergosterol peroxide from chaga mushrooms has antitumor activity against colorectal cancer cells. The authors also described an animal study in which Chaga mushrooms showed prebiotic effects modifying the gut microbiota.
Lion's mane has bioactive components that may provide several benefits to human health. In an in-vitro study, it was proven that some components of this mushroom (phenols, flavonoids, and ascorbic acids) have antibacterial, antioxidant, and antitumoral properties.
In addition, a preclinical study published in The International Journal of Medicinal Mushrooms found Lion's mane extracts to have antioxidant and antihyperglycemic activity. Plus, lion's mane appears to have neuroprotective effects.
An in-vitro study conducted at the University of Malaya found that lion's mane extracts have anti-inflammatory and neuroprotective effects on neurons and microglia cells.
Another preclinical study published in bioRxiv showed that Lion's mane enhanced nerve regeneration and improved recognition memory in mice.
Cordyceps mushrooms are rich in proteins and essential micronutrients and may also provide several health benefits. A review published in Molecules explored the positive effects of the bioactive components in Cordyceps mushrooms.
The results? Cordyceps mushrooms were found to have anti-diabetic activity and they improved cholesterol profiles (reduction of LDL, total cholesterol, and triglycerides).
Cordyceps provide anti-inflammatory and antioxidant effects, anti-tumoral activity, and the capacity to modulate the immune system.
What does this mix of mushies taste like? Bold, nutty, and smooth with a low acid profile. The taste is one of the things sippers love most about the brand's brews, along with the pleasant boost of energy it provides. A 12 oz bag of grounds costs $16.
Related: For more information view our full Laird Superfood Review
Highlights
Contains three types of beneficial mushrooms
Low acidity
Coffee is roasted in small batches
Organic
#2: Teonan Mushroom Coffee
A small but potent brand, Teonan's quirky graphics and creativity make it stand out from the crowd.
The brand mixes its Colombian Arabica coffee with what they call "the 6 Protectors"—a special blend of mushrooms picked to supercharge immune function and includes Chaga, turkey tail, lion's mane, maitake, reishi, and shiitake.
Turkey tail's bioactive components appear to boost the immune system. As described in a review published by The International Journal of Medicinal Mushrooms, preclinical studies showed that Turkey Tail extract was found to support the immune system, have antiviral activity, and reduce cholesterol levels.
Moreover, some clinical studies showed that Turkey tail improved the quality of life of patients with cancer and appeared to extend their lifespan by 5 to 10 years. However, clinical evidence is still limited and further research is needed.
Maitake mushrooms may enhance immune response against viruses and tumors while reducing the risk of cardiovascular diseases.
A review published in Discovery Medicine describes that beta-glucans from Maitake mushrooms have proven anticancer, antiviral, and immunomodulatory effects in preclinical studies.
In addition, beta-glucans were shown to lower blood sugar levels, improve the cholesterol profile, and reduce blood pressure in mice.
Moreover, Maitake mushrooms have prebiotic properties and the potential to modulate the gut microbiota. However, as usual with mushrooms, further clinical research is needed.
Reishi mushrooms have bioactive components such as polysaccharides, triterpenes, and proteins responsible for several benefits to human health.
A pharmaceutical review by S.W. Chan and colleagues proved that reishi can lower blood pressure, blood sugar, and cholesterol levels in animal models. However, evidence in humans is limited.
Shiitake mushrooms contain beta-glucans, polysaccharides with immunomodulatory and antitumor properties.
In a study conducted at the National University of Singapore, researchers found that oral administration of lentinan, a purified beta-glucan from shiitake, inhibited the growth of tumors in mice. It also boosted their immune response by activating lymphocytes.
All in all, Teonan is all about bringing you health, but making attaining it as attractive as possible. How do they do that? By focusing on how their products taste just as much as what's inside of them.
You'll find a blend of probiotics, adaptogens, and mushrooms, all of which are organic, gluten-free, and vegan.
What else sets this brand apart from other best mushroom coffee companies is what kind of mushrooms are inside its beverages.
Selecting strong "fruiting body dual extracts," its coffees contain higher levels of triterpenes (bioactive components that may modulate the immune response and have anti-inflammatory properties) than coffees made from mycelium alone.
Teonan Mushroom Coffee tastes just like regular coffee and promises a boost of energy and clearer focus. You can get a 2 oz pack (15 servings) for $19.
Highlights
Six potent mushrooms
Organic
All-natural
No added sugar
#3: Four Sigmatic Mushroom Coffee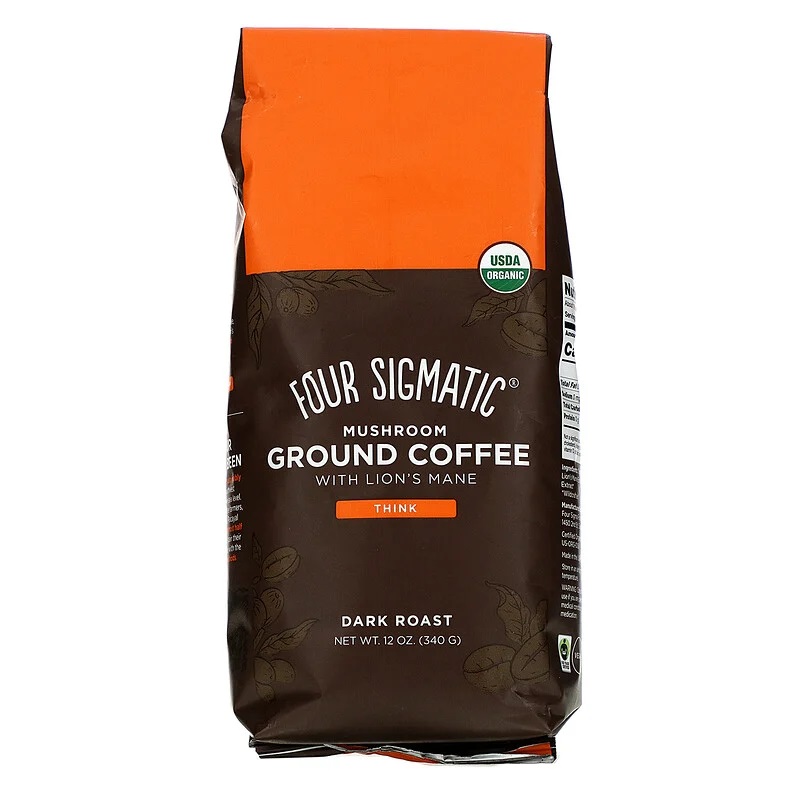 Here's a name you may have already heard of. Four Sigmatic is quickly becoming a grocery store brand, loved for its delicious taste and accessible, approachable coffees.
The name itself, "Four Sigmatic" nods at the most nutrient-dense foods on the planet, a hint at what its products are made of.
Created in Finland, the brand's concept stemmed from its founders' grandparents who turned to brewing mushrooms when they couldn't get coffee in WWII. One of the varieties they used, Chaga, is actually a four-sigmatic food and is the ingredient you'll find in their Mushroom Coffee.
Served up in six different types, Think, Defend, Chill, Perform, Balance, and Immune Boost, you'll find this best mushroom coffee in grinds or pods fit for your Keurig machine making it an easy pick for lovers of convenience.
On Amazon, 11k+ shoppers rated it 4.5/5 stars, with the majority writing of a pleasant, earthy taste that becomes truly addictive.
Made with fair trade, single-origin coffee, its blends use real reishi and Chaga mushroom extracts (not mycelium) and have a slightly sweet, nutty taste. Pick up a 12 oz bag for $20, a pack of 24 pods for $36, or a 10 pack of the instant mix for $15.
Related: For more information view our full Four Sigmatic Mushroom Coffee Review
Highlights
Fair-trade, single-origin coffee
Made with two types of functional mushrooms
Available in Keurig pods, instant mixes, and grinds
#4: RASA Mushroom Coffee
There's definitely a traditional medicine-like vibe to RASA, as if its products are carefully made for real results. The brand's blends are formulated by a clinical herbalist, promising effects that range from calm to happy with special blends packed within colorful, decorated bags.
RASA was developed by Lopa van der Mersch after a very stressful year as a new mom. Searching for something that didn't leave her feeling tired and anxious, she used her 10 years of knowledge in practicing Ayurveda, brought a herbalist on board, and developed a solution.
RASA Mushroom Coffee is designed to give you steady energy, a balanced mood, improved sleep, and lower stress levels. These positive effects are all thanks to its potent, pure, and effective botanical ingredients sourced from some of the cleanest and safest locations around the world.
You won't find endangered species in its formulas which are all tested for heavy metals and toxins to guarantee they're safe for consumption. Revered for its quality, RASA sourced fair or direct trade ingredients, some of which contain coffee, others that don't.
Organic, sustainable, and packed with nine different adaptogens (schisandra, shilajit, gynostemma, etc.), its extracts are full-spectrum to give you powerful results. Speaking of schisandra, these mushrooms may decrease stress while reducing fatigue and increasing exercise performance.
In a preclinical study published in Evidence-Based Complementary and Alternative Medicine, researchers found that a glycoprotein present in schisandra mushrooms has antifatigue and antioxidant activity. Moreover, in animal studies, schisandra chinensis is known to have anti-stress effects.
As highlighted in an article by S.J. Stohs, shilajit was found to have antioxidant and anti-inflammatory properties. It also boosts the immune response, improves the cholesterol profile, enhances physical performance and reduces stress.
As mentioned before, these are promising preclinical results. However clinical studies in humans are needed to validate these findings.That said, customers report a smooth taste and a clean feeling of energy. Get an 8 oz bag (30 servings) for $38.
Highlights
Organic & non-GMO
3rd party tested for purity and safety
Complex formula (contain nine adaptogens)
Made by a clinical herbalist
Nice variety of options (caffeinated & decaf)
#5: La Republica Superfoods Mushroom Coffee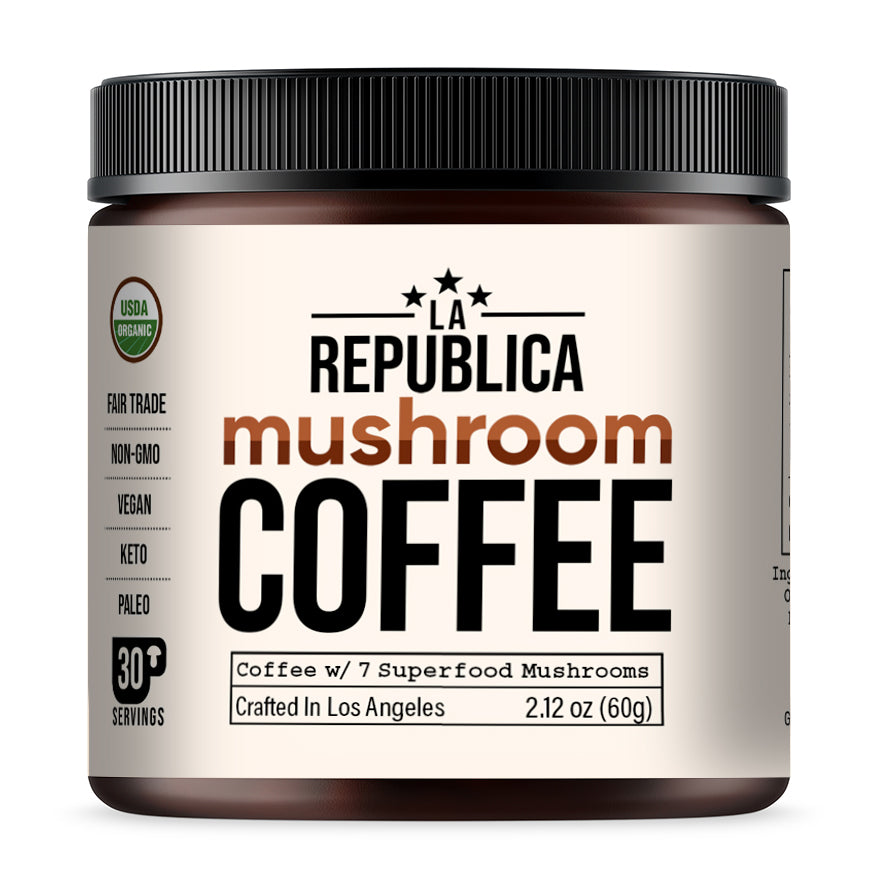 Based in Los Angeles, La Republica Superfoods prioritizes using the cream of the crop when it comes to ingredients. Its products are completely organic, fair trade, and vegan, and are packaged in BPA-free jars or compostable bags.
La Republica uses sustainably-sourced Arabica coffee locally grown in California. That's then blended with a mix of seven different foraged, organic whole fruiting bodies of mushrooms that help lower the caffeine content and deliver a steady stream of energy.
Love options? La Republica has a variety including regular, decaf, and instant, all made with chaga, maitake, cordyceps, shiitake, lion's mane, reishi, and turkey tail mushrooms.
They claim the ingredients address a wide range of issues and provide benefits such as increased energy and improved allergies.
Is there anything mushrooms can't do? Grab a 2.12 oz jar (30 servings) for $22 (normally $24).
Highlights
Locally and sustainably-sourced
Packaged in BPA-free recyclable jar
Seven different mushrooms
Offered in regular, decaf, and instant versions
Organic
#6: PowerPlant Superfoods Mushroom Coffee
PowerPlant Superfoods guarantees "no B.S." You can see it in its simple, clean website and product lineup.
Offering two different types of ground and instant mushroom coffee, you'll pick from Chaga or Lion's Mane, both of which harness the full power of a single 'shroom and combine it with sustainably sourced 100% arabica coffee.
The brand's mission is to "turn everyday foods into superfoods," which is exactly what it's done with the ritualistic brew that is coffee. Promising the purity of organic mushrooms without additives and preservatives, a 12 oz bag of the Mushroom Coffee clocks in at $26.
More of the instant-type? You can get a 3.5 oz bag for $20.
Highlights
Uses organic mushrooms
Offers two different types of mushroom coffee
Sustainably-sourced coffee
#7: Om Best Organic Mushroom Coffee
Om stands for Organic Mushrooms, so without much thought, it's clear that this brand is a stickler for quality. Founded by health and wellness expert Sandra Carter (M.A. MPH, Ph.D.) and mycologist Steve Farrar, the brand was sprouted from a love for mushrooms.
Rooted in spirituality and hope for mankind, Om's aim is to help people live their best lives, starting with personal wellness. It believes that success starts with the right frame of mind and that it can be achieved by consuming the right things.
Om is perhaps known best for the way its staff cares about the mushrooms it grows, and reviews online gush about its quality.
Customers report benefits that range from better sleep to lifted depression, though the Best Organic Mushroom Coffee is formulated to assist with focus, energy, and the immune system.
It does so by using 2000mg of lion's mane, cordyceps, turkey tail, and reishi mushroom extracts along with ginkgo biloba.
The latter is included for added memory support and increased focus. However, evidence regarding the positive effects of ginkgo biloba in the Central Nervous System is inconclusive.
Those extracts are then blended with sustainably harvested 100% Arabica coffee beans to create a delicious, bold brew worthy of your favorite cup. Grab a 6.24 oz canister (30 servings) for $38.
Highlights
Certified organic
Made by a mycologist and wellness expert
Range of beneficial mushrooms + ginkgo
Uses sustainably-harvested coffee
First Off, What Is Mushroom Coffee?
Mushrooms are certainly having their moment in the wellness world. Adored by those seeking to uplevel their daily coffee habit, in its most basic form, mushroom coffee is exactly what it sounds like: coffee mixed with mushrooms or a coffee-tasting beverage made entirely from mushrooms.
Of course, there's a little more to it than that—don't worry you won't be sipping chunks of raw button mushrooms along with your tasty, robust brew.
The best mushroom coffee (and all mushroom coffees for that matter) is a mixture of ground mushrooms with coffee beans. The result? A smooth, enjoyable sip with added health benefits.
Your best mushroom coffee pick may have one or a few varieties of medicinal (read: traditional, not psychedelic) mushrooms like reishi, cordyceps, Chaga, and turkey's tail.
When eaten alone, these mushrooms have a slightly earthy, nutty, or sweet taste, and blending them with coffee makes for a delicious-tasting beverage that's not so unlike your regular morning brew.
Mushrooms have been used in traditional medicine for centuries and are known as adaptogens: things that assist in survival during stressful events. Drinking mushroom coffee may have a range of benefits, and that's exactly why people are going crazy for the fungi-filled beverage.
To be consumed in place of coffee, alongside it, or even mixed in with your favorite beverage of choice, the best mushroom coffee will come in instant or ground form that you can easily scoop into hot water or place in your regular coffee machine.
Acting just like coffee, most consumers say that the brew tastes just like regular coffee just with a slightly earthy spin.
Is Mushroom Coffee Really Good For You?
Not every mushroom has amazing health benefits, but the ones in the best mushroom coffee certainly have more than your average stir-fry essential. Using concentrated amounts of beneficial mushrooms (like lion's mane, turkey's tail, and cordyceps), the blends in this list give you a potent dose of goodness.
The debate of whether or not mushroom coffee is as good for you as the trend suggests varies depending on who you talk to. Some evidence says, "of course," while others say that more research is needed.
When looking at what's inside certain types of mushrooms, it's clear that, at least in some way, consuming them will be beneficial.
In general, mushrooms are packed with polyphenols, polysaccharides, vitamins, and minerals, which may play an important role in immune system support and function.
This reason alone makes mushrooms beneficial for your health, and packing them in potent doses within a coffee may increase the likelihood of your experiencing positive effects.
When looking at mushroom coffee from the angle of the coffee itself, since mushroom coffee typically has less caffeine than regular java, it won't give you the jitters. And speaking of caffeine, since you're consuming less of it, the best mushroom coffee may actually improve your sleep cycle as well.
Better sleep leads to faster recovery and thus increased performance. It's a simple chain reaction that may all result from a simple reduction in caffeine.
While we're at it, another claimed benefit of mushroom coffee comes from fungi's adaptogenic qualities. Adaptogens are known to help combat the effects of stress, and some evidence suggests that they can help to improve the way your body responds to it.
In addition to mushrooms and caffeine content, mushroom coffee often contains other beneficial elements that may boost your health as well. Things like ginkgo, probiotics, and certain botanicals have all been linked to an increase in wellness, so you have that working for you as well.
Looking at the science, it seems evident that mushroom coffee would truly be good for you. But there is some question of whether or not certain blends that don't use the full fruiting body of the mushroom have the same positive effects as those that do.
This may be where you want to pay close attention to the quality of a brand when making your final decision, as certain companies prioritize what part of the mushroom they get their extracts from, where others don't.
Does Mushroom Coffee Get You High?
The best mushroom coffee blends included in this list are made to make you feel good, but not high—unless you count feeling high on life. The brands mentioned here aren't made with psychedelic shrooms, but they have been used for centuries in traditional medicine.
Instead, you'll find varieties like reishi, maitake, and lion's mane—mushrooms known for their health and wellness-boosting effects and neuroprotective properties.
With that said, you may experience a buzz from some. Though the best mushroom coffee is all about friendly fungi, there is also coffee (and caffeine) in most of our picks.
With lower caffeine levels than regular coffee, mushroom java shouldn't make you feel anxious, jittery, or frenzied—the typical effects reported from a caffeine "high." Now with that said, if you're sensitive to caffeine, you may still experience those effects depending on how much you drink.
If you have a low caffeine tolerance and a coffee buzz isn't what you want to sign up for, opt for a decaf version or a brand that skips out on the coffee altogether. Mushrooms alone make a pleasant brew.
How Does Mushroom Coffee Make You Feel?
In short, mushroom coffee is made to make you feel good. There isn't much feedback out there that says otherwise either. Its effects range from increased focus to calm to plain old happiness.
Many of the picks in this best mushroom coffee list include therapeutic amounts of mushrooms. This means they contain enough to treat a specific condition.
There are a few different blends out there designed to bring about certain feelings (energized, relaxed, balanced, etc.), but in general, the fungi brews are all about feeling good without the anxiety and jitters that come with coffee.
Some drinkers report feeling more focused in a matter of days while others say just one cup can help them instantly feel more balanced and positive.
Since there's much less caffeine in mushroom coffee than there is in regular java, you shouldn't experience a frantic "high," but results vary depending on how much you drink—most blends still contain the stimulating drug.
Choosing the Best Mushroom Coffee: Things to Consider
This best mushroom coffee list exists to make your life easier. We've already done the digging, but choosing the right type can still be tricky—especially when so many awesome brands exist.
For a little further help with zeroing in on the perfect pick, check out these tips we've included that cover everything from sifting through ingredients to weighing out price.
Brand
Chances are you've heard of a few of our choices for the best mushroom coffee that landed on this list. Brands like Four Sigmatic and Laird Superfoods are huge, and if you feel more comfortable trying out a coffee from a trusted and popular company, either of these is an easy go-to.
With that said, recognizing a brand name isn't everything. Some of the highest quality can come from small, lesser-known businesses, so names you haven't heard of before are definitely worth checking into.
We've included the basic specs on each above so that you can get a feel for what kind of company you'll be supporting.
Ingredient Quality
Even though the majority of the best mushroom coffee is made with the same varieties of mushrooms, not all mushrooms are created equal.
If it's the wellness benefits you're after by glugging back a cup of this somewhat earthy brew (as we assume it is), then ingredient quality is something you're going to want to pay close attention to.
Some brands are entirely organic while others are non-GMO only. Some focus on locally grown 'shrooms while others source meticulously from abroad. And since it's mushroom coffee we're talking about here, you'll find that certain brands prioritize fair trade where their competitors don't.
If you're a stickler for quality, be prepared to pay a slightly higher price for your healthy, mushroom-dosed cup.
Quantity
As you read through the best mushroom coffee products, you probably noticed that they come in different sizes. Here, size is important when looking at price, but more so, you'll want to find out how many servings come in each bag.
A 6 oz bag may have 30 servings, but a 12 oz bag may have 30 too. Because of this, you can't really compare the weight of each bag, you'll need to look into serving size instead.
Considering the best mushroom coffee is something you'll want to include in your diet daily, first, figure out how much you'll drink per day and then do the math.
There's no sense buying a small bag if you have a big coffee habit, so just keep size in mind as you browse.
Added Benefits
You will, of course, find a simple mushroom and coffee mix amidst this best mushroom coffee selection, but you'll also discover many more brews that promise added benefits. One of the things we love about mushroom-centric wellness companies is that they're all about boosting health.
Improving focus, reducing inflammation, and upping happiness levels seem to be a given with mushrooms like Chaga, cordyceps, and lion's mane. But for some of the names on this list, mushrooms aren't the only beneficial ingredients you'll find in the grinds.
Certain brews include additional perks like increased energy and better digestion (thanks, probiotics!), whereas others add ingredients like ginkgo biloba, which is claimed to boost concentration and focus.
"Although regular coffee appears to have some anti-oxidant and anti-inflammatory effects on the gut, it can also trigger some gastrointestinal issues. Mushroom coffee, on the other hand, should produce less GI issues, as it contains half the amount of coffee," Gentile said.
"Mushrooms contain significant amounts of polysaccharides that act as prebiotics in our gut. These help increase the growth of good bacteria in our gut microbiome, mainly lactobacili."
If you're looking for an extra pep that's not caffeine-related in your coffee, be on the lookout for added beneficial ingredients.
Price
Price is a no-brainer when it comes to selecting a product. Something out of your range isn't exactly worth skipping out on, but considering the best mushroom coffee is something you'll want to include in your daily routine (and maybe multiple times per day), you'll want a coffee that easily fits within your budget.
Like we touched on earlier, the quality, quantity, and added benefits of each mushroom coffee come into play when we talk about the price. An organic, local, fair trade product with probiotics and adaptogens certainly has a higher value than a simple, mushroom-coffee mix, and the price will reflect that.
That's the reason you may see a 2 oz bag of grinds with a price tag comparable to one with 12 oz in it. Keep this in mind as you browse through the brands and their products above, the price is often a reflection of value.
Final Thoughts
The best mushroom coffee is called the best for a reason. All of the names on this list prioritize quality and delivering the right effects, but as you've seen, they're all incredibly different.
Some products are more straightforward than others, and if you came looking for something simple and uncomplicated, then we know you'll leave happy.
If you were more interested in packing as many benefits into your morning brew as physically possible, we're sure you found a few that piqued your interest.
Since we've now reached the end of this listicle, we hope you're leaving with at least one or two promising picks, along with a greater understanding of what mushroom coffee is all about.
---
Looking for other top brands? Check out these curated lists below:
Get Access to Exclusive Deals
Subscribe for free to get exclusive deals in your inbox. 100% privacy