RYZE Mushroom Coffee Review
About RYZE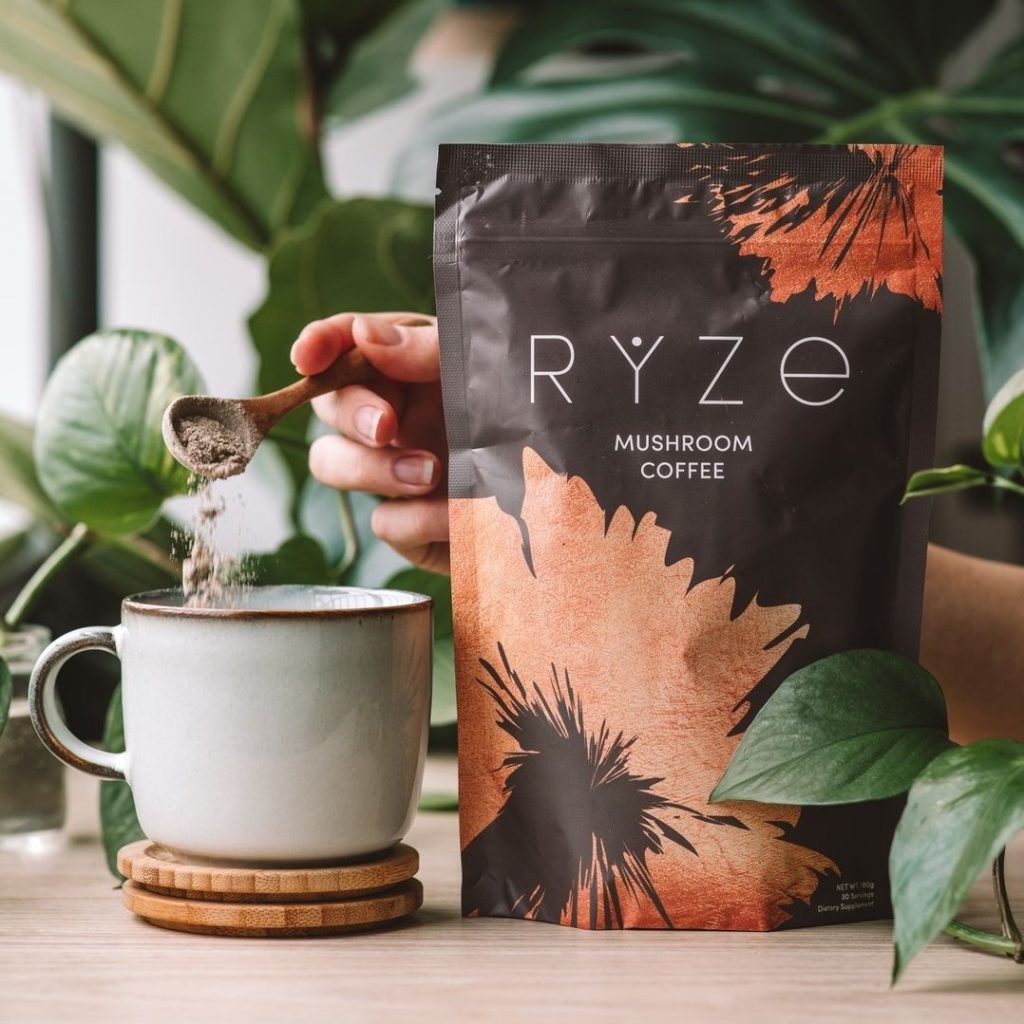 Developed to help you get the most out of life, RYZE Mushroom Coffee uses six different types of functional shrooms in its mushroom coffee to support your mental and physical health. The friendly fungi have long been used to promote wellness and are scientifically linked to help with cognition, inflammation, energy, and immunity.
The brand's mushroom coffee uses a blend of king's trumpet, cordyceps, turkey tail, and others, along with MCT and a touch of coffee to give you sustained energy and a clear mind without the jitters. Adaptogen-fueled brews are booming in the wellness world right now, RYZE Mushroom Coffee standing out from the crowd thanks to its potent 2,000mg dose.
Featured in popular publications like Forbes and Business Insider, this new company has already sprouted over 75K followers on Instagram. Into everything you've heard so far? You're going to love the rest of this RYZE Mushroom Coffee review.
We'll give you a rundown of the brand and its products before digging into customer feedback and showing you what we found after foraging for deals. Let's dive in.
Overview of RYZE Mushroom Coffee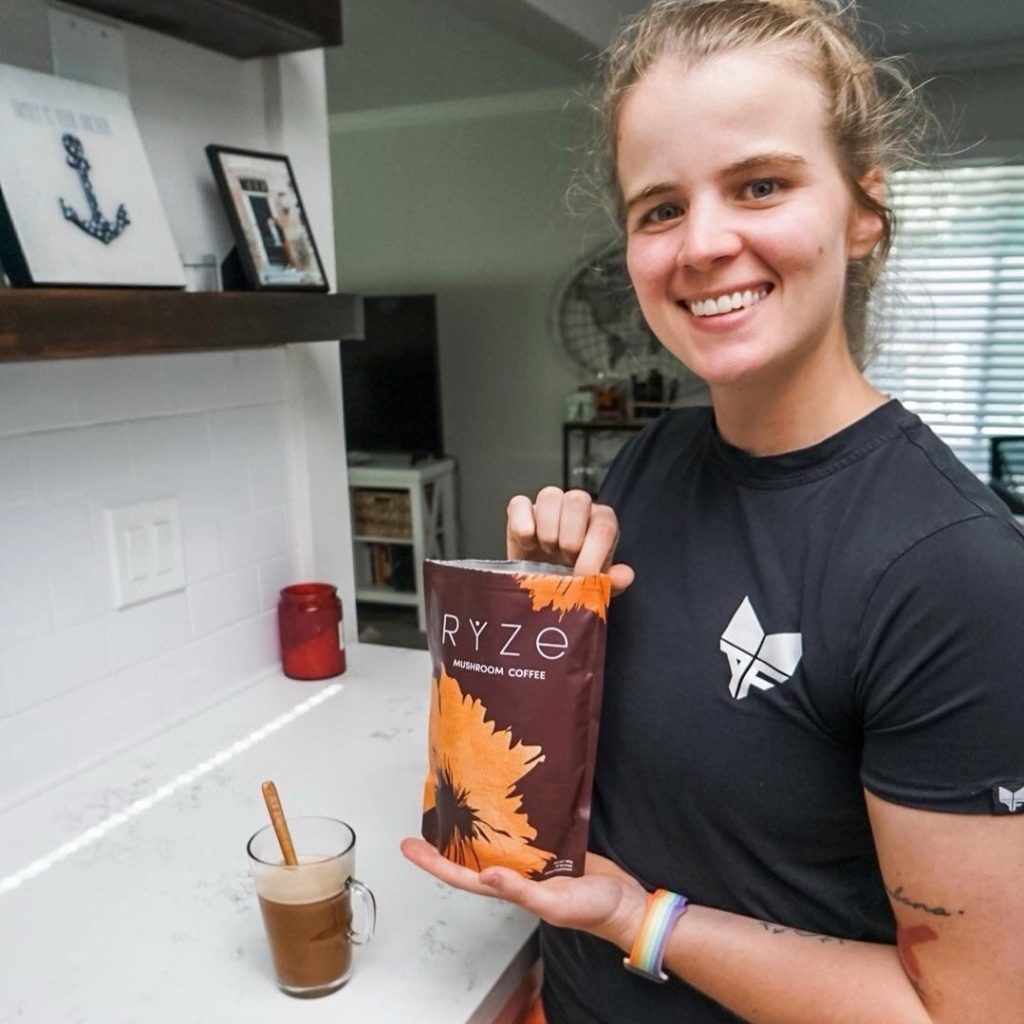 Coffee is like that best friend that's good to you for years, and then all of a sudden, it turns on you. Whether you get a coffee hangover every time you think you can enjoy a one-off brew or dilute the jitters with copious amounts of water, we think you've got the feeling that highly caffeinated java isn't doing you any good.
That's probably why you've landed on this RYZE Mushroom Coffee review, and if so, welcome. We're super happy to be here because as coffee lovers who also kind of hate it, we're in search of a better brew that's a little kinder on our systems.
That's similar to the reason that RYZE Mushroom Coffee founders Rashad Hossain and Andree Werner broke up with coffee. After drinking way too much to help them make it through school, the friends and classmates admitted they ended up feeling worse after guzzling down the very thing they were drinking to make them feel better.
As we said, it's a love-hate thing. After reading up on restorative medicinal mushrooms, the pair set out to create RYZE Mushroom Coffee in a time when adaptogens are quickly becoming the new must-have comfort. The pair officially launched the brand in 2020.
Infused into drinks and blended into chocolate, coffee is perhaps one of the more genius ways to get adaptogens into our bodies since those who like coffee usually don't stop at just one per day. Cleverly selecting six mushrooms studied for their medicinal properties and just a touch of Mexican shade-grown coffee, RYZE Mushroom Coffee says it uses MCT oil to slow caffeine metabolization.
In other words, a lot of thought and research went into this brand, and both Rashad and Andree are super excited about their beverage and pumped to share it with you. Now that you know a little more about what makes it tick, this RYZE Mushroom Coffee review will run through the company's highlights before getting into the coffee itself.
Highlights
$1 per cup
Recyclable packaging
Made in the USA
California-grown 'shrooms
High potency
Lab-tested
Organic
Sugar-free
Ships within the USA & Canada
RYZE Mushroom Coffee Superfoods has everything you need to make the perfect cup of coffee, and that happens to be its signature mushroom coffee blend and magical coconut creamer. The brand also provides recipe ideas right on its site, along with access to its mindfulness app that's free for life if you're a member (all you need to do is subscribe).
And while you're busy subscribing to receive its enlightened brews on a regular basis, you'll enjoy 16% off every order. Pretty sweet. Up next, this RYZE Mushroom Coffee review will get into the details of the brand's adaptogen-fueled products. There are just two, but we've included its bundle as well should you want to save yourself a few clicks and about six bucks.
RYZE Mushroom Coffee Review
No matter what you buy from this company, you can be sure it's packed with mushrooms. Right now, RYZE's inventory consists of three different things: creamer, mushroom coffee, and a bundle that packages both together. We'll dive into all three below.
RYZE Mushroom Coffee Mushroom Coconut Creamer Review
Before we introduce you to the brand's coffee, you've gotta meet the RYZE Mushroom Coffee Mushroom Coconut Creamer. In the spirit of keeping your morning cuppa in good form, this delicious and truly creamy creamer is made with the same types of mushrooms you'll find in the brand's coffee.
How, you ask? RYZE Mushroom Coffee puts naturally dreamy coconut milk powder as the base, adds in MCT oil, stirs in its magical (but not psychedelic) mushroom blend, and then kicks things up a notch with a pinch of Ceylon cinnamon.
For the record, Ceylon cinnamon is known as the "true cinnamon." It's sweeter and lighter than its cheaper relative. In other words, RYZE Mushroom Coffee is giving you the good stuff.
With 57 calories per serving and 5 grams of fat (the good kind), this organic creamer has absolutely no sugar and just 1 gram of carbs. Pick up a 30-serving bag for $30.
RYZE Mushroom Coffee 'N Shine Bundle Review
RYZE Mushroom Coffee Mushroom Creamer and Mushroom Coffee were made for each other. Literally. That's why it makes sense to buy them together in the RYZE Mushroom Coffee 'N Shine Bundle. You'll get a 30-serving bag of each, making it super easy to enjoy your new go-to drink.
Along with the coffee and creamer, the bundle includes a Handmade Acacia Spoon for perfect portioning and stirring. Drinking coffee is often about rituals, and this earthy, crafted spoon is just the thing to help to develop a new one.
All packed in recyclable packaging, you can get the bundle for $60.
RYZE Mushroom Coffee Mushroom Coffee Review
Clear out the coffee, the energy drinks, and the power shots. RYZE Mushroom Coffee is here to replace them all with its uplifting, stable energy and supportive adaptogen blend.
Using the heroes of the mushroom world in its brews like cordyceps, lion's mane, reishi, shiitake, turkey tail, and king trumpet, this functional coffee is designed to enhance your daily life. And no, there won't be bits of mushrooms floating around in your coffee.
RYZE Mushroom Coffee freeze-dries them and grinds them up very thin, then blends them with spray-dried coffee and MCT oil to help stabilize your blood sugar. It's a smart, purposeful mix.
With just 15 calories per serving, each bag holds 30 servings of coffee, and RYZE Mushroom Coffee even throws in a Handmade Acacia Spoon with your first order, along with access to the How I RYZE Mushroom Coffee mindfulness app to help create new, meaningful habits.
Pick up a bag for $36.
Who Is RYZE Mushroom Coffee For?
Love coffee, but hate the aftershock? RYZE Mushroom Coffee gives you a subtle hit of caffeine that's more like an awakening hug than a slam of energy akin to a freight train going full speed. We may be sensitive, but if you're here looking at a mushroom coffee alternative, then you probably are too.
Those who are sensitive to caffeine are some of the folks this brand's products are aimed at, but also those who just want more from what they constantly sip on. Since it's vegan, gluten-free, sugar-free, and packed with adaptogens and MCT oil, it gives your body more than a cup of coffee (which is pretty much devoid of nutrients) does.
RYZE mushroom coffee contains just 48 mg of caffeine (a normal 6 oz cup has 120 mg), so while it's a less caffeinated drink and safe for pregnant and nursing women, those who are should consult a doctor before enjoying it.
How Do You Make RYZE Mushroom Coffee?
Though the concept of mushroom coffee may be a lot to grasp, making a creamy concoction to enjoy any time of day is not. Stick to these steps for the perfect mix:
Grab your favorite cup and boil some water
Scoop 1 tbsp of Mushroom Coconut Creamer into the cup
Add in 1 tbsp of Mushroom Coffee
Pour in 8-10 oz of hot water
Mix it up
Enjoy the benefits
RYZE Mushroom Coffee Reviews: What Do Customers Think?
If mushroom coffee sounds a little intimidating to you, we get it. Not many of us ever imagined that fungi would become something to replace our favorite comforting beverage. But surprisingly enough, it's been used in ancient medicine for thousands of years.
Still weirded out by the concept? You don't have to take history's word for it. This part of our RYZE Mushroom Coffee review will focus on customer feedback from the 21st century.
Ahead, we'll check out ratings and comments for the brand's coffee sourced from around the web to find out what it's actually like. From there, you can decide if it sounds like something you're into. Our first dollop of feedback comes from RYZE.com.
Mushroom Coffee: 4.9/5 stars from 4,191 reviews
Mushroom Coconut Creamer: 4.9/5 stars from 48 reviews
RYZE'N Shine Bundle: 4.9/5 stars from 4,342 reviews
Excited to find out what the Mushroom Coffee tastes like and does for those who drink it, we hurried to the comments section and found all kinds of RYZE Mushroom Coffee reviews about the positive effects it brings. From increased energy and a clearer mind to improved mood, so far, it looks to be super promising. One comment read:
"I'm ruined on regular coffee. I would usually drink upwards of 30oz of fully caffeinated coffee daily. I've cut my caffeine consumption substantially and don't miss it one bit."
Some customers say the first sip tastes pretty different, but that it soon becomes something they crave. Not many comments say the taste is off-putting, most of them say how delicious it is. Here's one RYZE Mushroom Coffee review that mentions the taste:
"We have been enjoying our RYZE mushroom coffee for the past few months. All we do is add a little flavored milk creamer to it, and I swear it almost tastes like a mocha coffee and not a mushroom coffee with mushroom aftertaste."
Mocha? Ok, we're sold. But let's check in to another source just for good measure. You can never be too thorough. Turning to Trustpilot for backup, we found this comment that talked about the taste of the Mushroom Coffee:
"Had a second cup in the afternoon and used about 6oz boiling water, 2 oz coffee (I keep some in the fridge) and oatmeal creamer. Delicious. Smooth. Subtle lift in mood. No stomach upset. Wanted more."
Taste is something that varies for everyone and your enjoyment of the Mushroom Coffee may depend on your personal preference for coffee. If you don't mind a little earthy flavor, you'll probably like this brand. A RYZE Mushroom Coffee review on Renewal Fit Coach agrees. Of the flavor, it read:
"It has a light, mellow taste and might be described as "woodsy", with a hint of mushroom taste. Personally I like the earthy flavor, and it tastes very much like coffee with a creamy non-dairy milk stirred into it."
Overall, it looks like people definitely recommend mixing some form of creamer into the Mushroom Coffee, and the Mushroom Coconut Creamer comes highly recommended. Reporting feeling an energy boost and better mood, there was certainly a lot of feedback about the benefits of drinking RYZE Mushroom Coffee.
Is RYZE Mushroom Coffee Legit?
From the RYZE mushroom coffee reviews we came across, there were no complaints about shipping. Those who paid for faster shipping received their orders on time and we didn't find any red flags about frequent missing or late orders.
The largest issue we came across had to do with the taste of the Mushroom Coffee. While the majority of customers end up loving and looking forward to its flavor, there looks to be an adjustment period for first-time sippers.
This doesn't deter many from powering through with the beneficial brew though. People choose RYZE Mushroom Coffee because of its potent mushroom blend that's higher than other brands, and its sugar-free, keto-friendly ingredients.
Is RYZE Mushroom Coffee Worth It?
When you break it down, a serving of RYZE Mushroom Coffee is $1. Add in the Mushroom Coconut Creamer and that makes it $2, and that price rivals a basic coffee from a cafe that doesn't contain anything other than caffeine.
RYZE Mushroom Coffee packs 2,000 mg of mushrooms into every serving along with MCT oil, two things that you'd have to supplement your diet with. Mushroom powders on their own aren't cheap, so there's something to be said about the fact that this coffee has three different purposes (a coffee, a mushroom supplement, and a shot of MCT oil).
RYZE Mushroom Coffee Promotions & Discounts
During this RYZE Mushroom Coffee review, we were on the lookout for deals. Because, well, who doesn't love saving money when they can? We found quite a few ways the brand helps you save. Take a look:
Enter your email and get a 10% off RYZE Mushroom Coffee promo code
Refer a friend: Give $10, Get $10
Subscribe to save 16%
Bundle & Save $6
Free US shipping
Where to Buy RYZE Mushroom Coffee
The company only sells its coffee and creamer directly from its website. It hopes to offer them through Amazon soon, but in the meantime, to stock up or start a subscription, head to RYZESuperfoods.com.
FAQ
Who owns RYZE Mushroom Coffee?
Rashad Hossain and Andree Webner own RYZE Mushroom Coffee. The friends from college launched the brand in 2020 after personal run-ins with the highs and lows of caffeine addiction.
Is RYZE Mushroom Coffee organic?
Yep. Every ingredient RYZE Mushroom Coffee uses is 100% organic. That's just one less thing for you to compromise on.
Does RYZE Mushroom Coffee ship internationally?
Right now, RYZE Mushroom Coffee only ships within the USA and to Canada. Orders to Canada take between 2-4 weeks and costs $8.
What is RYZE's Shipping Policy?
Once you place your order online with RYZE Mushroom Coffee, they'll get to work and ship it within 1 business day. US customers have 3 shipping options:
Economy (5-7 business days): free
USPS First Class (2-4 business days): $3
2-Day Express (2 business days): $8
When your order is sent out, you'll be able to track it with the link sent in your confirmation email. Subscription orders are sent out monthly. You'll get yours around the same day every month.
What is RYZE's Return Policy?
Maybe you ordered too much. Maybe you rethought your coffee condemnation and now you're left with 10 packs of mushroom coffee you don't want to go to waste. Whatever it is, you can return RYZE Mushroom Coffee products as long as they meet these requirements:
It's been under 30 days since your order
The items haven't been opened
The safety seal hasn't been broken
You get in contact with the brand before sending the products back
To get the process started, just use the contact form on the website and let its team know what's up. They'll send you a confirmation of your request with details about what to do next.
How to Contact RYZE Mushroom Coffee
If you have any questions after reading this RYZE Mushroom Coffee review, head to RYZE.com and click 'Contact Us' at the bottom of the webpage. From there, you'll be taken to a contact form.
---
If you appreciate good coffee we suggest checking out these unique brands:
Get Access to Exclusive Deals
Subscribe for free to get exclusive deals in your inbox. 100% privacy