Blue Apron vs Sun Basket Review
About Blue Apron
Blue Apron is a highly regarded meal delivery service based in New York, NY. Founded in 2012 by Ilia Papas, Matt Salzberg, and Matt Wadiak, the brand's recipes take inspiration from bistro dishes, are packed with delicious flavor, and are easy to put together.
The trio created the service after their love for food was stamped out by busy schedules, expensive ingredients, and frustrating recipes. Through Blue Apron, they hope to make cooking accessible again.
Pre-portioning everything you need (aside from a few pans, utensils, and pantry staples like oil), its meals come together in 25-35 minutes, giving you more time to do what you love.
It offers flexible subscription plans that cater to couples and families—all served up in two or four-portion meal kits up to four times per week.
About Sun Basket
Sun Basket offers similar plans, with a healthy menu of Fresh & Ready meals alongside its prepped kits.
Dishing out organic produce and sustainably-sourced protein, the service sources its ingredients from small family farms, trustworthy fisheries, and antibiotic-free ranchers.
The San Francisco, CA-based meal delivery service is a ray of sunshine in a market where fast and cheap trumps fresh and organic. It was founded in 2014 by chef Justine Kelly, Adam Zbar, George Nachtrieb, and Tyler MacNiven.
With so many options, choosing the right meal delivery service can be tough. This Blue Apron vs Sun Basket review exists to make your life a little easier, showing you the details and differences between these two popular options so you know exactly what you're getting with each one.
What To Consider
Although meal kits are a fairly new phenomenon, the market has exploded with options in the past few years.
I'm going to get into the nitty-gritty details about what Blue Apron and Sun Basket have to offer, but before I do, I'll provide some key things that you'll want to keep in mind as you decide which brand is for you.
Target audience
When browsing through the stats for each brand and its recipes, consider who its customer base is.
Does it offer intricate, restaurant-worthy recipes that you can whip up in your kitchen? Will the young and perhaps picky eaters in your family actually eat what they see on their plate?
Both services dish out fresh meals, but Sun Basket appears to be more targeted at those with specific dietary needs. Blue Apron is more about robust flavor and trying new cuisines.
Variety of meals/recipes
There's nothing wrong with whipping up your favorite dishes each week—after all, they're your favorites for a reason. But, some of us turn to meal kits to try something new or challenge ourselves in the kitchen.
If you're looking to try out new dishes, Blue Apron has you covered. Sun Basket appears to have more traditional, everyday meals but offers greater options for those with dietary restrictions. Each brand rotates its menu weekly.
Customization flexibility
Food can be very personal. Beyond our preferences, some of us have allergies or dietary restrictions that we want (or need) to stick to. Similarly, the amount of people you need to feed with each recipe is worth keeping in mind.
Blue Apron lets you sub in different proteins, while Sun Basket lets you sub in organic meat and poultry when available. The latter brand also offers extra servings of proteins as well as breakfast, lunch, and snack options.
Both brands carry single-serving Fresh & Ready meals and make meal kits to serve two or four people.
Tools and time required
One of the great things about meal kits is that they provide a specific estimate of how long each recipe will take. Are you someone who needs to be in and out of the kitchen in as little time as possible?
Or do you have some time to relax and enjoy the process? Don't worry—there are no wrong answers!
Blue Apron's bit is that its meals take 25-35 minutes to prepare. The whole point is to cut down your time in the kitchen. It's the same for Sun Basket, but I found that its meals are slightly more complicated to make.
Sun Basket offers different styles of meal kits, so some will require more tools. In general, with either service, all you'll need are kitchen basics and pantry staples.
Subscription flexibility
Both brands are matched in this category. You can skip, cancel, or change your order anytime.
Accessibility
Unlike other types of online shops, meal delivery services are a bit more limited in where they can ship. Where you live might have to influence which brand you choose to try. Your budget is also important.
Both companies serve the continental US only, but Sun Basket has a few more limitations when it comes to shipping. Either service has shipping fees and they're pretty well matched when it comes to price per serving. Both are affordable and reasonable, but Sun Basket's prices are slightly higher.
Blue Apron vs Sun Basket: How Do They Work?
This section of my Blue Apron vs Sun Basket review will fill you in on the basics of each service. I'll start with the first name in that title.
Blue Apron delivers fresh, prepped ingredients in its weekly kits. You'll choose your favorite recipes, open up your insulated box, and follow the instructions.
All of its meals take less than 40 minutes to prepare and cook, and you'll find everything in your kit you need to make the meal for two or four people, minus a few pantry staples, and of course, the cookware.
The service also offers a few ready-to-heat meals, and in their case, you'll just pop them in the fridge and microwave them when you're ready to eat. Shipped to you in recyclable boxes, all you really need to do is eat and order new dishes each week.
There's no commitment, your subscription is totally up to you, but it will auto-renew each week until you skip or cancel.
Blue Apron
Quick & easy meals
Good menu variety (poultry, seafood, meat, veggies)
Sustainably-sourced meat & seafood
Non-GMO produce
Restaurant-quality
Offers single-serving ready-to-heat dishes as well
Recyclable packaging
Delivers 7 days per week
Flexible plan, skip or cancel anytime
Sun Basket works on the same terms, but unlike Blue Apron, you can sign up for custom meal plans and your recipes will be selected according to the plan and shipped out each week.
You can also add breakfast and lunch to your meals, along with servings of healthy proteins, then simply select your delivery schedule and wait for your food to arrive.
From there, you'll have everything you need to create your meal so go ahead and get cooking. If you order a Fresh & Ready meal, simply pop it in the microwave and enjoy. Sun Basket's packaging is recyclable too, and some of it is even compostable. Skip, cancel, or change up your plan anytime.
Sun Basket
Convenient meals & many plan options
Organic produce
Sustainably-sourced meat & seafood
Great variety of dishes (paleo, vegetarian, Mediterranean, etc.)
Large menu
Offers single-serving Fresh & Ready meals
Recyclable & compostable packaging
Flexible plan, skip or cancel whenever
These two services both deliver restaurant-quality meals, but Sun Basket looks to have a little more variety and a larger menu. Blue Apron delivers its dishes more frequently throughout the week, its meals cooking up slightly quicker than its competitor's.
Blue Apron vs Sun Basket: Subscription Plans
When it comes to meal delivery services, subscription plans tend to work in similar ways. Most are flexible and let you pause or skip when needed, and it's the number, type, and frequency of dishes that set them apart.
This section of my Blue Apron vs Sun Basket review will look at what each of these services is like and what kind of plans they offer. Let's kick things off with Blue Apron.
The service delivers prepped, pre-measured ingredients with each kit. No chopping is required—it's already done for you. Since it's a flexible service, you can skip a week when you need to and add an extra box for weeks when you need a little extra food. The popular meal kit serving delivers four different subscription plans:
2-Serving Signature: Choose two, three, or four recipes per week. Each kit has enough ingredients for two people
4-Serving Signature: pick two, three, or four recipes each week from seven options. Each kit has enough to feed four people
Vegetarian Plan for 2: Dishing out three recipes per week with enough for two people, you can pick to have two or three delivered
Wellness for 2: Carb-conscious and designed to be light and clean. Enough food for two servings
The service offers 16 different recipes each week, some of which are vegetarian, some pescatarian, and others just downright delicious. You'll also find a small range of ready-to-heat meals—about three options per week.
To sign up, simply head to BlueApron.com and create an account. From there, all you need to do is select one of the four options listed above, enter your delivery details, and pick your dishes.
As for Sun Basket, you'll have a few more options to choose from. The service offers both ready-to-cook and ready-to-heat meals for one, two, or four people and you'll get to choose from four, six, eight, or ten servings per week.
Its meals are broken down into Meal Kits and Fresh & Ready Meals. I'll break them down for you below:
Classic Meal Kits (two or four servings): Restaurant-quality meals ready in under 30 minutes. Ingredients and recipe included
Pre-Prepped Meal Kits (two or four servings): Everything is prepped and ready, you'll add the final accents. Ready in 15-20 minutes
Chef's Table Meal Kits (two or four servings): A little oomph to your meals. Made with special proteins and out of the ordinary ingredients, these dishes bring something extra to the table
Fresh & Ready Meals (one serving): Cooked and full of flavor, you'll add a few little bits and bobs to amp up the flavor at home. Ready to heat. Takes 4 minutes
Your meal options are many, and in each week's menu you'll get to choose from a variety of the following:
Chef's Choice: Made with organic produce at its peak ripeness, this plan comes with, healthy, choice meats and seafood
Paleo: Fewer carbs, more meat and vegetables. Clean and organic, these meals are simple and delicious
Gluten-free: Satisfying and tasty, these meals won't have you missing gluten
Lean & Clean: All at about 550 calories per serving, these dishes don't skimp on flavor but are light on fat and calories
Vegetarian: Food that is fresh and bright, these meals feature organic eggs, produce, and responsibly-sourced dairy
Pescatarian: Sustainably-sourced seafood, organic produce
Mediterranean: Full of healthy fats and fresh herbs, these meals include season produce, lean meats, and whole grains
Diabetes-Friendly: An easy, reliable go-to when you don't want to have to think about planning
Carb-Conscious: Low on carbs, high on flavor
Sun Basket offers 20 Fresh & Ready Meals and 16 Meal Kits each week. To sign up, head to sunbasket.com and enter your email and shipping zip code. From there, you'll select your plan and pick your meals. After that, just enter your billing information and you're ready to go.
Sun Basket certainly has more options and accommodates more lifestyles. In terms of variety, both include veggie, meat, and fish dishes, and both offer single-serving ready-to-heat meals.
Blue Apron vs Home Chef: My Favorites From The Menu
Now for what you came to this Blue Apron vs Sun Basket review for, the food. Just like how you skim the menu before you choose a restaurant, this section will serve as a sneak peek into what each of the companies' food is like so you can start dreaming of all of the delicious, convenient meals you'll be soon cooking up.
Blue Apron
Romesco Chicken & Poblano Pepper
Using Latin-inspired flavors, the Romesco Chicken & Poblano Pepper dish turns ordinary, boring grilled chicken into a 5-star delight.
This vibrant dish brings in a touch of both smokiness and sweetness to the table, balanced out by salty Labneh cheese and Castelvetrano olives mixed into a fluffy couscous.
I love dishes like this because finding foreign ingredients like the ones used here often involves a search through several grocery stores. Simple, but so unique, this meal is a great example of all that Blue Apron has to offer.
It's featured here with chicken, but you have the option to sub in shrimp instead. Cooking up in just 25 minutes, you won't need any fancy tools, just a few bowls, utensils, a pot, and a pan.
Zucchini and Pesto Focaccia Pizza with Mozzarella
The perfect fuss-free dinner, Zucchini and Pesto Focaccia Pizza with Mozzarella makes a splendid Friday night dish to be served with a nice crisp white wine. This incredibly easy dinner takes 40 minutes to whip up, but very little effort on your part.
Packed with bursting flavors and a chewy texture, you'll only need two small bowls, a spoon, and a baking sheet to enjoy this tasty indulgence.
Sun Basket
Creamy Penne with Baked Chicken Feta and Cherry Tomatoes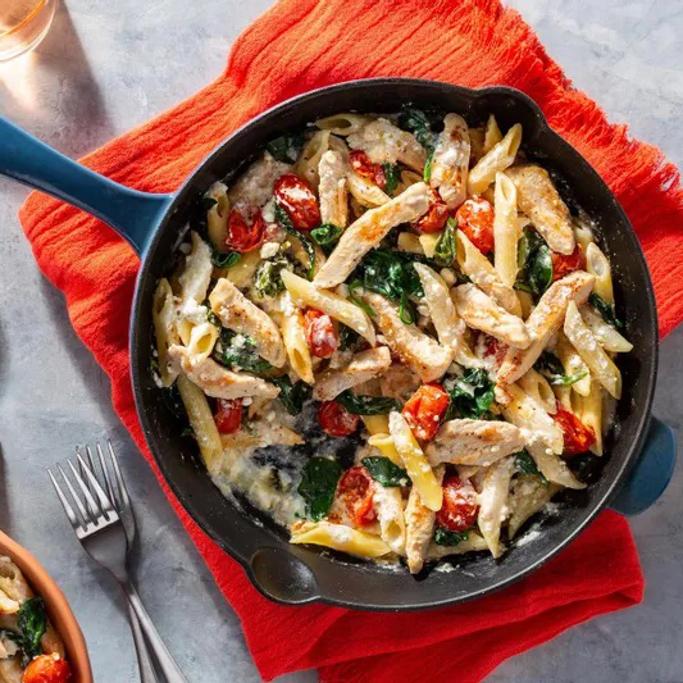 A warming dish that feeds the soul, Creamy Penne with Baked Chicken Feta and Cherry Tomatoes is a rich comfort on cold nights or at the end of a long day. It takes 30-45 minutes to prepare and is full of melty, cheesy goodness dotted with tangy, ripe cherry tomatoes.
All you'll need to prepare this dish is a pot, pan, and a few utensils, but a garlic press is suggested. If you don't have a press, a sharp knife to mince the garlic will do the trick.
Black Bean and Quinoa Burrito Bowls with Mixed Vegetables and Avocado
One of the quicker meals Sun Basket offers, the Quinoa Burrito Bowls with Mixed Vegetables and Avocado is gluten-free, soy-free, and vegan. Clocking in at 570 calories per serving, it comes together in just 20 minutes and is full of fiber, veggies, and healthy fats.
It's a simple dish with bright flavors from lime and cilantro, and you'll need a few things to prepare the meal like a pot, fork, knife, a few bowls, and a zester.
I found that Sun Basket meals do require more tools than Blue Apron's do. If you don't have certain tools on hand, there are other ways around using them, like chopping garlic instead of using a press and using a fork to zest the lime (not ideal, but it can work).
Both services offer a varied menu and vegetarian options, and I like that Blue Apron gives you the option to substitute proteins on certain dishes to switch things up. Overall, Blue Apron's meals appear to be quicker and easier to prepare, but I also like that Sun Basket has vegan options whereas its competitor does not.
Blue Apron vs Sun Basket: Quality of Ingredients
You examine the back of boxes and select the best meat when you go grocery shopping. But when someone else is supplying the ingredients, where they come from can be one big question mark.
Both of these services care about giving you the best ingredients possible. Below in this Blue Apron and Sun Basket review, I'll look at their quality and exactly where they're from.
Blue Apron sources its ingredients from suppliers with great reputations. Known to favor sustainable farming and fishing methods, they often choose family-run farms or artisanal vendors for specialty ingredients.
Though the service isn't completely organic, all of the ingredients it uses are non-GMO. As for its meat, the farms it partners with do not use hormones or antibiotics, and the fisheries supply sustainable seafood always.
On the other hand, Sun Basket is all about organic. It will always use organic ingredients. If on the off chance it doesn't, you'll be notified of a change to your basket.
Partnering with ranchers, farmers, and fisheries that prioritize sustainability, the service prides itself on being a sustainable company and has chosen mostly recyclable and compostable packaging.
It also uses only sustainability-raised or wild-caught seafood in all of its baskets, purchased from fishermen who use low-impact fishing methods (like line instead of a net).
Its meat is antibiotics and hormone-free, and the farms it buys from raise their animals responsibly. You'll even get to choose organic meat options when available. Sun Basket's website lets you read up on a selection of some of the farms it buys from, most of which are family-run.
When comparing the two, it looks like they're on par in terms of quality. The only difference I found was that Sun Basket uses organic produce. Blue Apron doesn't, but everything else is well matched.
Blue Apron vs Sun Basket: Price & Value
Quality ingredients make tastier meals. Both of these services excel in that department, so already, the value for each is high. This section of my Blue Apron vs Sun Basket review will look at pricing and take into consideration what you'll get from each service to see if one comes out on top.
On average, Blue Apron dishes are $9-$10 per serving, depending on if you buy two or four recipes per week. Its family plan delivers four servings two, three, or four times per week, the price of its meals going down to $7.50-$9.
Blue Apron meals are sustainably sourced, non-GMO, and according to customers, the quality is outstanding—truly like something they'd get at a restaurant.
I'd say that $10 is fair for a restaurant-worthy meal, and I love the variety of recipes from different cuisines and the specialty ingredients that are included with each. It's details like this that give this brand great value.
As for Sun Basket, its meal kits start at $11.50. Its Fresh & Ready meals start at $9. The option to add breakfast, lunch, and snacks to your weekly order is valuable too, taking the hassle of cooking out of stressful weeks when you need to eat quickly.
The fact that this brand offers fully prepared meals is helpful, as is the fact that you know you're getting high-quality, organic produce.
Great menu variation adds value to my equation, and I appreciate the many different custom meal plans available. Customers love the quality of Sun Basket meals, remarking on the fresh, tasty ingredients included in every basket.
In the end, these two services are highly regarded in the world of meal kit delivery, Sun Basket more so for the quality of its ingredients, Blue Apron more so for the flavor of its meals.
Blue Apron vs Sun Basket: What Do Customers Think?
Customer feedback is important for anything you buy online, but when it comes to food, I've found it to be incredibly helpful.
For this section of my Blue Apron vs Sun Basket review, I combed the web for helpful feedback about the taste, quality, and delivery details for each of these tasty competitors, and below, you'll find both ratings and common morsels of feedback.
Blue Apron is one of the most popular meal delivery services out there. It got its start at the cusp of when the concept came to be, carving out a name for itself among alternatives that delivered prepared meals only, and lacked flavor.
I've compiled a small list of ratings from varying places to help you see what customers really think. Take a look:
The Spruce Eats: 4.3/5 stars
PC Mag: 4.5/5 stars
Influenster: 4.2/5 stars from 6,233 reviews
My Subscription Addiction: 4.4/5 stars
While reading through each of these sources, as well as a few others, there were a few bits of feedback that were present in each of them. I've summed all of that up for you below.
Customer service is fast and friendly
Its recipes make seriously delicious food
The menu is varied
Convenient and easy-to-prepare
Sun Basket didn't come along too far after Blue Apron did but its mission is a little different. Customers love how organic the brand is and being able to read about where it sources its ingredients from. You'll find a few ratings below I scooped up from around the web.
The Spruce Eats: 4.4/5 stars
Organize Yourself Skinny: 4.8/5 stars
Influenster: 4.1/5 stars from 79 reviews
Trustpilot: 4.4/5 stars from 3,069 reviews
Reading through this set of reviews, just like for Blue Apron, there were common threads of feedback I picked up on. Here's the gist of it:
Customer service is helpful, responsive, and quick
Generous portions
Consistently great quality
Very fresh ingredients
Overall, Sun Basket has more feedback about customer service—although great things are said about Blue Apron's as well. When I look at the ratings side by side they're pretty well matched, so there's no clear winner in this section of my Blue Apron vs Sun Basket review.
In the end, both of these services have something delicious and convenient to offer. Mostly, customers seem to like these two brands for similar reasons.
Blue Apron vs Sun Basket: Promotions & Discounts
Some people choose meal delivery services as a short-term thing, while others count on it each week and are members for years. Regardless of which category you fall into, a little discount here and there is always a welcome surprise.
I scoped out each brand's website for this part of my Blue Apron vs Sun Basket review. Here's what I found out:
Blue Apron
Front line workers, military persons, seniors, students, teachers, and government worlds get $110 off + free shipping on your first order
Sun Basket
Sign up to the mailing list to get $90 off, free shipping & four free gifts
Refer a friend: Give them $40, you get $40
Order today and get free shipping on your first delivery
Blue Apron doesn't appear to offer any discounts outside of that one deal. Sun Basket has more, and I like that you'll receive $40 for every friend you refer. If you have a few, you could pile on the savings. 
Blue Apron vs Sun Basket: Shipping & Returns
Since food is perishable, the way and speed your order is delivered is pretty important.
In general, meal delivery services promise on-time shipping and deliver your meals in insulated bags with some form of ice (biodegradable packs, dry ice, etc.) so that your food arrives fresh and stays fresh for the week.
This part of my Blue Apron vs Sun Basket review will look at how these two services compare when it comes to shipping, but I'll also check out what their cancellation and refund processes are like. Because I know that things happen and plans change. Let's see what Blue Apron's shipping is like first.
Flexible delivery days—you can choose & change it weekly
Delivers 7 days per week
Sends email notifications with tracking when your order is on the way
Services the continental US
You do not need to be home to accept your delivery
Shipping is $8
As long as you make the change before your order is processed each week, Blue Apron will let you skin an order whenever you need to. If there ever comes a time to end your service with them, you can cancel at any time. It doesn't look like the brand offers refunds, but if you encounter an issue, they'll make it right.
On the other hand, Sun Basket has a 100% money-back guarantee on all deliveries. If there's something in your basket you're not happy with, get in touch within 7 days of delivery and they'll send you your money back. Here are the shipping details:
Delivers Sunday-Thursday
Certain areas are restricted to specific days for delivery
Ships everywhere in the US except AK, HI, MT, ND, and some parts of NM
Shipping is $8
Like Blue Apron, Sun Basket's subscription is flexible and can be canceled at any time. You also have the option to skip an order if needed.
Overall, it looks like Blue Apron is the more flexible company when it comes to shipping, but its competitor is more flexible when it comes to refunds.
Who Will You Shop With?
Picking the right meal kit delivery service can be tricky with so much variety out there, but I hope this Blue Apron vs Sun Basket review has made coming to your decision easier.
Both bringing something unique and fresh to the table, these brands are two of the most popular out there, so either one is going to be a fantastic choice.
And though technically, you could order both at the same time, one is enough to meet your needs should you select the right service. Blue Apron is loved for its bold flavors and variety of cuisines. Special, authentic ingredients included in each recipe make it a delight to try new flavors.
Its subscription is flexible and you can get your order for 2-4 people delivered any day of the week.
Sun Basket's priority is organic, sustainable food. It offers incredible variety in its dishes, with custom plans available for those with special needs.
Its recipes are wholesome and fresh and there's a sizable menu to choose from each week. Easy to skip or change your order, this service is for those who care a little more about what's on their plate.
---
Check out similar articles you might like:
Blue Apron vs Home Chef Review
Blue Apron Weight Watchers Review
Get Access to Exclusive Deals
Subscribe for free to get exclusive deals in your inbox. 100% privacy