Body Fortress Whey Protein Review
About Body Fortress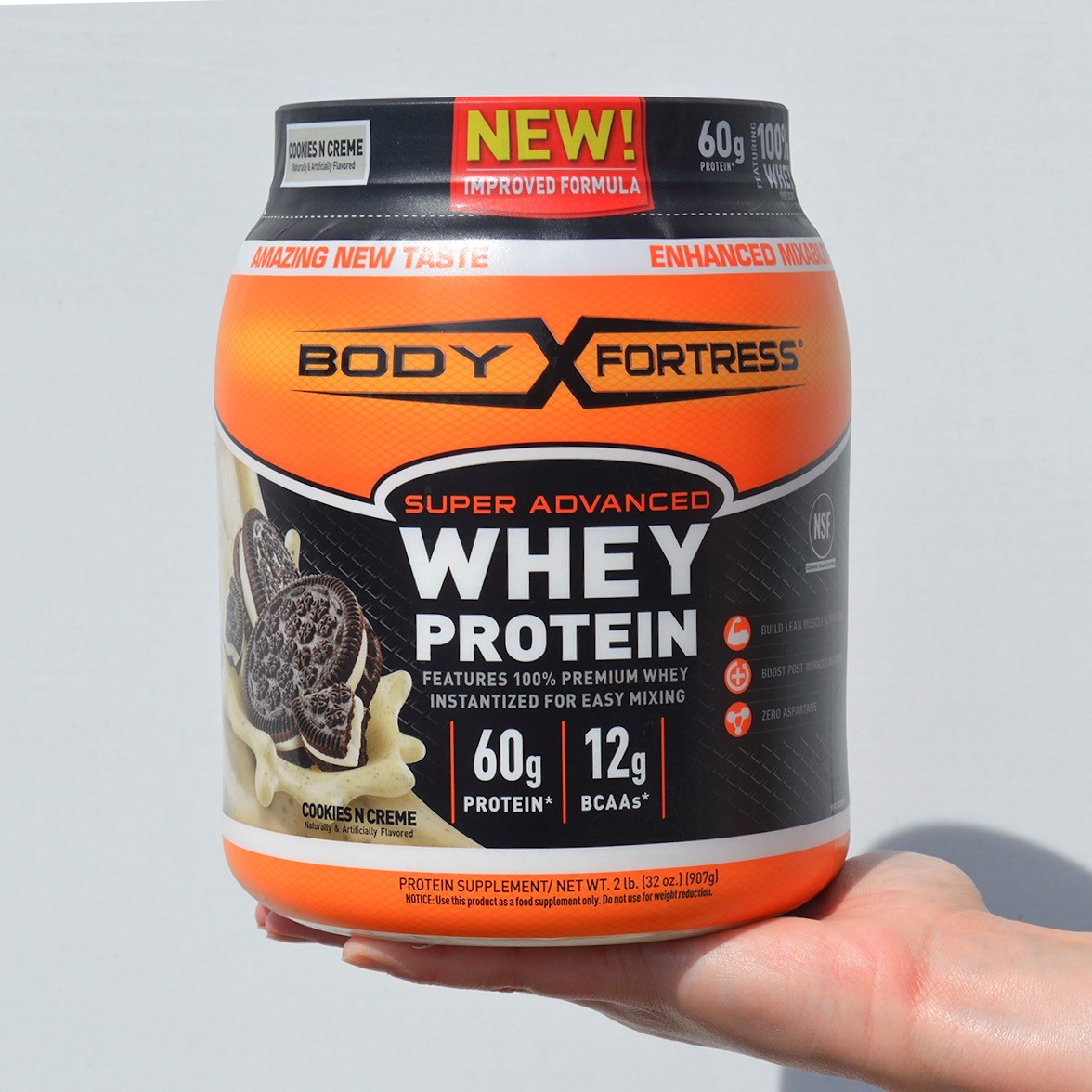 If you're looking to get more out of your workouts and build some serious muscle mass, then keep reading this Body Fortress whey protein review. Body Fortress sells affordable protein powders, shakes, and supplements to help both professional and amateur athletes achieve their fitness goals.
The brand has substantial followings on Facebook and Instagram (192K and 10.5K, respectively), and its website and YouTube channel feature plenty of fitness tips to help you put all that protein powder to its optimal use. Body Fortress has also been featured in such fitness-related outlets as Men's Journal, BarBend, and Fitness Volt, among others.
There are many different protein powder brands to choose from out there, and it can sometimes be hard to determine which one to go with. Let this Body Fortress whey protein review help guide you through the brand's bestselling products, customer reviews, promotions, and more so you can decide if this is the brand that will help you hit your fitness benchmark.
Overview of Body Fortress
Based in Holbrook, New York, Body Fortress was founded in 1987 with the goal of providing athletes and bodybuilders with a more affordable option for fitness nutrition supplements. Its products share the quality ingredients that other top brands use, but not the hefty price tags that often come with them.
Body Fortress has long been a subsidiary brand of The Bountiful Company (formerly known as The Nature's Bounty Co.), the Ronkonkoma, NY-based dietary supplements company that has existed since 1971. Its portfolio also includes such other health and wellness brands as Nature's Bounty, Solgar, Pure Protein, and Osteo Bio-Flex.
In 2021, most of Bountiful's brands were bought by Nestlé in a $5.75B deal, but the company retained Body Fortress and its other sports and active nutrition brands. Today, you can still find Body Fortress products at numerous vitamin and supplements retailers.
But hey, you didn't come to this Body Fortress whey protein review to read about corporate acquisitions. Let's get down to the nitty-gritty of what this brand has to offer, starting with some of the company's most notable pros and cons.
Pros
All protein powders are gluten-free
Products meet CGMP manufacturing requirements and are NSF-certified
Variety of powders for building both lean and big muscles, as well as aiding post-workout recovery
Affordable prices
Cons
No delivery policy and no clear return policy
Powders contain more calories, fat, and cholesterol than other brands
Exercise essentially tears down your muscles, so it's essential to give your body the building blocks it needs to build them back up stronger. Body Fortress carries a variety of products that will help you build muscle before, during, and after your workouts. Below, our Body Fortress whey protein review will give you an overview of the brand's bestselling protein powders.
Body Fortress Review
All of Body Fortress' protein powders are easy to mix into drinks (or pancake batter), come in a variety of tantalizing flavors, and are designed to target a range of specific fitness goals. Below, we spotlight each of the brand's three products in this category.
Body Fortress Super Advanced Whey Protein Review
Are you worried your New Year's "get in shape" resolution might be endangered by your love of sweet treats and all manner of sugary goodness? Don't worry: you've got Super Advanced Whey Protein powder in your corner to help you curb those cravings and pursue your fitness goals.
Every scoop of this powder contains 30 grams of whey protein, a supercharged, amino acid-rich variety of protein that has been shown to help in muscle and strength development and also promote weight loss. Pre- or post-workout, just mix, shake, or blend it with 6 to 8 ounces of fluid (double for two scoops), drink within 10 min., and start your body on the road to better health.
Whey protein is famously not that tasty in its original form, so Super Advanced Whey Protein comes in a variety of delicious flavors to please your palate even as you're eating healthy:
Vanilla
Chocolate
Chocolate peanut butter
Cookies n' crème
Banana crème
Strawberry
Cinnamon swirl
Super Advanced Whey Protein comes in a 2 lb. container (18 servings of powder), and costs anywhere from $13 to $52 depending on where you buy it from and what flavor you're after. You can also get a 5 lb. container (45 servings) at prices that range from $34 to $70.
Body Fortress Super Advanced Isolate Protein Review
Protein powders aren't supposed to just help repair your muscles after a high-intensity workout: they're meant to develop them and strengthen them over time. That's why the Super Advanced Isolate Protein powder is your best bet for maintaining that lean muscle growth over a longer duration.
This powder contains no less than three varieties of protein isolates, each of which works on your muscles within a different timeframe:
Whey isolate—gives you an instant rush of amino acids to feed your muscles post-workout
Soy isolate—maintains a slower but consistent flow of amino acids after the initial dose from the whey
Milk isolate—slow-acting form of protein that keeps that amino-acid delivery working over time
Another advantage of the Body Fortress Isolate Protein powder is that it's lower in calories, fat, cholesterol, and carbs than the Super Advanced Whey Protein. It comes in either vanilla or chocolate flavors, and will run you between $18 and $39.
Body Fortress Super Advanced Mass Gainer Review
So you've just watched Commando for the 36th time, and you're finally committed: it's time to get yoked, my dude. But how to inflate yourself to truly Schwarzeneggerian proportions on your current diet? Meet the Super Advanced Mass Gainer.
Where most protein powders cater to calorie-low diets, each serving of the Super Advanced Mass Gainer combines 20 grams of lean muscle-building protein with 99 grams of carbohydrates (520 calories total) to provide the building blocks your body needs to really pack on muscle mass.
The chocolate-flavored powder requires 12 ounces of water for a full serving, which is no less than 3 scoops. If you really want to build those guns, you can do 6 scoops with 20 to 24 ounces of fluid.
You can pick up a 2.25 lb. container of the Body Fortress Mass Gainer for between $23 to $40. A 4 lb. container is also available, but this Body Fortress whey protein review found it hard to track it down—if you do manage to find one, be prepared to lay down anything from $28 to $124.
Who Is Body Fortress For?
Let this Body Fortress whey protein review be absolutely clear: these products are not diet or weight-loss drinks, and they're not going to give you any benefits if your workout regimen is entirely couch-based. Body Fortress powders are intended to be used in conjunction with a balanced diet and regular daily exercise.
Given that the brand's powders intentionally include more calories and carbs than other brands, it's clear that Body Fortress is primarily targeted at committed athletes, whether professional or amateur. The preponderance of seriously buff (as opposed to sleekly lean-fit) fitness models on the brand's blog also indicate a secondary focus on the bodybuilder subset of the athlete class.
It should also be noted that the product labels specify that if you're a pregnant woman, have kidney disease, or are under the age of 18, then you should definitely not be consuming this powder.
Why Is Body Fortress' Super Advanced Whey Protein Better Than Normal Whey Protein?
As this Body Fortress whey protein review noted above, whey protein is an unusually amino acid-rich form of protein. What makes the Body Fortress whey protein powder an even more effective muscle-builder is that it also contains a blend of creatine monohydrate and the free-form amino acids L-glutamine and taurine.
What are those, you ask? Good question! Creatine supplies energy to your muscles, and the concentrated monohydrate form is great for high-intensity strength training. L-glutamine, meanwhile, speeds up recovery post-workout, while taurine performs a number of important roles, including speeding up fat-burning and mitigating damage to your muscles during exercise.
Comparison: Body Fortress Whey Protein vs. Optimum Nutrition Gold Standard Whey Protein
As we noted right at the beginning of this Body Fortress whey protein review, there are a ton of supplement brands out there today. So if you're looking to start in on a new diet regimen, it's in your best interests to contrast and compare the available options so you can make sure that you're getting something that works for both your body and your pocketbook.
Looking at Optimum Nutrition side by side with our spotlighted brand, there are some clearly evident pros in its favor. First off, its 2 lb. containers of Gold Standard 100% Whey Protein powder offer more servings per container than the Body Fortress variety (29 vs 18).
Continuing the Body Fortress vs Gold Standard showdown, we compared the product labels, and discovered that the Optimum version contains less calories, fat, cholesterol, and carbs. Another advantage is that, unlike Body Fortress, Optimum customers can purchase the brand's products directly from its website.
The downside to Optimum is that not only does it ship only to the US, but also that its products cost more than double the minimum price of the comparable items from Body Fortress. It also appears that, depending on what flavor you get, the number of servings per container of Gold Standard varies dramatically, while Body Fortress servings are consistent across flavors.
Body Fortress Reviews: What Do Customers Think?
This Body Fortress whey protein review found that most customers are highly satisfied with these protein powders. Customer review scores for Body Fortress products on Walmart range from 4.5/5 to 4.7/5 stars.
One 5-star reviewer neatly sums up the general feeling among buyers: "If you're like me and don't care to eat your bodyweight in grams of meat every day, then this new 5lb container of Body Fortress Whey Protein is a godsend…among the most sensibly priced and a great source of protein as well as BCAAs for us 'less than Mr. Universe' bodybuilders!"
The high scores continue over at Amazon, as you can see from our round-up of scores for the three flagship Body Fortress products below:
Super Advanced Whey Protein—4.6/5 stars based on 49.4K reviews
Super Advanced Isolate Protein—4.5/5 stars based on 1,950 reviews
Super Advanced Mass Gainer Protein—4.3/5 stars based on 1,035 reviews
One pleased buyer of the Super Advanced Whey Protein made a compelling argument about the value-for-money aspect of this product, saying, "This is hands down the best value you will get, and the flavour is amazing compared to other brands.
"I saw others complaining about the cholesterol. One scoop has 125mg of cholesterol and 30 grams of protein. One egg has 185mg of cholesterol and 6 grams of protein. In that perspective, [this powder] not bad at all. You can probably find a better ratio, but it might cost you around double… If you want something more healthier and probably less tasty you can pay a lot more."
Super Advanced Whey Protein also pulls down an impressive score of 4.6/5 stars at Well.ca, albeit from only 5 reviews. One initially skeptical customer remarked that they "Bought it with low expectations due to the cheap price. So surprised with flavour and nutrient table, for sure can be compare to to any protein that is sold in $40 product family."
Is Body Fortress Worth It?
Based on what we've seen of these products' nutritional information and reactions from customers, this Body Fortress whey protein review would most certainly recommend this brand for everyone who wants to make big fitness gains with a small budget.
As we've specified more than a few times above, remember that these products are primarily aimed at those who are committed to regular high-intensity workouts and an overall active lifestyle. These aren't miracle powders: you need to be putting in the work if these are going to work for you.
Body Fortress Promotions & Discounts
From what this Body Fortress whey protein review could find, despite the fact that the brand has a "deal" filter on its Amazon store, there don't seem to be any promotions or discounts on offer. Given that the brand website does not sell the products directly, it appears that you're at the mercy of the third-party retailers that carry the brand.
Where to Buy Body Fortress Whey Protein
As previously indicated, Body Fortress products are readily available on Amazon and Walmart. They are also carried by other major retailers, including CVS Pharmacy, iShop Nutrition, and Well.ca.
FAQ
Where are Body Fortress products made?
All Body Fortress protein powders are made in an FDA-approved facility in the US. It should be noted, though, that taurine (one of the ingredients in Super Advanced Whey Protein) is often manufactured in China.
How many calories are in Body Fortress Whey Protein?
The Super Advanced Whey Protein powder contains 200 calories per serving. The Isolate Protein and Mass Gainer powders contain 140 and 520 calories per serving, respectively.
When is the best time of the day to take Whey Protein?
Body Fortress recommends that you take Super Advanced Whey Protein after workouts to aid in recovery. That said, it is also totally fine to take it between meals or before bed.
Why are Body Fortress products so affordable compared to other supplement brands?
From what this Body Fortress whey protein review was able to determine, the brand's affordability stems from the fact that the whey protein it uses is less refined than the kind found in other supplements.
Apart from the Isolate Protein powder, the brand uses whey protein concentrate rather than whey protein isolate. As the former is less expensive to manufacture, this means that the products are cheaper than more high-grade varieties.
What is Body Fortress' Shipping Policy?
As these products cannot be purchased directly from the brand website, Body Fortress obviously has no shipping policy of its own. Delivery rates and options will vary depending on the retailer site you purchase these products from.
What is Body Fortress' Return Policy?
The "Terms of Use" page on the brand website says that products can be returned within a limited (but unspecified) time period if you are unsatisfied with your purchase, and refunds can be provided if the brand deems the cause of return to be eligible.
Unfortunately, there is no specific information about how to initiate this process. Your best bet would be to contact the brand via one of the methods listed in the section below.
How to Contact Body Fortress
If you have more questions after reading this Body Fortress whey protein review, you can contact the brand by one of the following methods:
Contact form on brand website
Email:

[email protected]

Phone: 1 800 215 5980 (Mon-Sat, 9am to 7pm EST)
Mail: Body Fortress, Attn: Customer Affairs, 4320 Veterans Memorial Hwy, Holbrook, NY, 11741
---
Looking to make some gains? Check out these other top protein brands:
Get Access to Exclusive Deals
Subscribe for free to get exclusive deals in your inbox. 100% privacy