Dyson V15 Review
Overview Of Dyson V15
It's not always easy to know how much dust and dirt your vacuum cleaner picks up, but the Dyson V15 can tell you just that. It's a cordless smart vacuum that can detect how dirty your floor is, switch its settings accordingly, and then show you how clean your floors are afterward.
You'll find out what else it can do by reading this Dyson V15 review. Coming up, I'll tell you about the price, the technology, and the customer ratings all associated with this item. 
Let's get this Dyson V15 review underway by looking at some of the product's highlights.
Highlights
The most powerful vacuum in Dyson's arsenal
A smart vacuum that adjusts itself to your level of cleanliness
Cordless vacuum
Rechargeable and detachable battery
Free shipping if you order from Dyson's website
Dyson V15 Review
There's a lot to love about the Dyson V15 Detect Cordless Vacuum. In this Dyson V15 review, I'll share a few of my favorite things about this model by separating them into three different categories:
How well it performs
What's special about its design
What it comes with
If you buy it from the Dyson website then you're looking at a $750 bill.
Performance
The Dyson V15 vacuum is entirely cordless, as you might expect from its name. Fortunately, you should have more than enough time to clean the house because its battery can last up to an hour per charge.
Emptying it is as simple as detaching the handle and dumping the dirt into a garbage can. Additionally, it should be easy to maintain the brush bar since you can remove it and wash it by hand. This can prolong the Dyson V15's overall lifespan.
Design
I want to shed a light on the vacuum's design in this section of my Dyson V15 review as it's something to marvel at. It consists of five internal layers of filters and cyclones that can trap debris as small as 0.3 microns.
Furthermore, it can detect how clean your floor is and change its cleaning power automatically to get the job done. Plus, you can check how well it has performed via the Dyson V15's LED screen that gives readings about your floor's cleanliness.
What's Included?
When you purchase a Dyson V15 Detect Cordless Vacuum, you'll also receive these items:
A Dyson V15 battery charger
A docking station
A wand clip
A dirt brush
A dusting brush
A tool for tight crevices
A combination brush and nozzle
A hair screw head
A Laser Slim Fluffy head for cleaning
A high torque cleaner
Important Things To Consider Before Buying A Dyson V15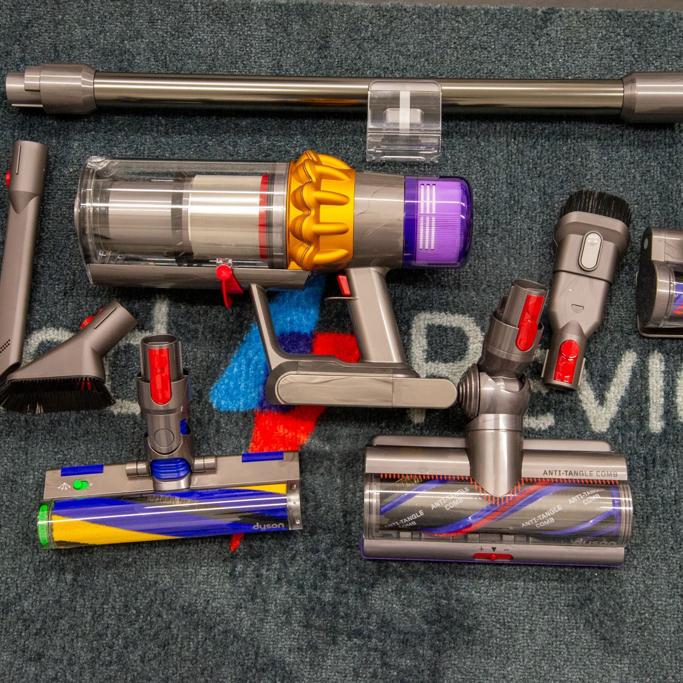 This section of my Dyson V15 review will focus on some of the most vital features of this vacuum that you should know about.
Frequency of Use
Since you can detach and separately clean parts of the Dyson V15, it should last you for a long time no matter how often you use it.
Battery Duration
A single charge of the Dyson V15 can last for 60 minutes.
Type of Floors
The Dyson V15 can clean more than hardwood floors. It can also clean carpets, tiles, and granite. Plus, if you swap out the head then you can clean difficult areas like blinds and ceilings.
Power
The Dyson V15 contains a Dyson Hyperdymium Motor that can spin as quickly as 125,000rpm—making it the strongest vacuum that the company produces.
Ease of Use
You don't even have to plug the Dyson V15 into the wall, that's how easy it is to use. So long as you've charged its battery then all you need to do is press the 'on button' and you're set.
Detection
My favorite feature that I briefly touched upon earlier in this Dyson V15 review is how the vacuum can detect the cleanliness of your floors and adjust its settings to suit your needs.
Dyson V15 Alternatives
I couldn't make it through this Dyson V15 review without showing you a few similar products. So, in this segment, you'll see what the Dyson V15 offers versus its competition.
Tineco Smart Cordless Vacuum Cleaner
It's true that the Tineco Smart Cordless Vacuum Cleaner is cheaper than the Dyson V15 as it only costs CAD $330. However, customer reviews say that its automated setting and overall cleaning abilities fare much worse than the Dyson product.
Proscenic P11 Smart Cordless Vacuum Cleaner
The Proscenic P11 Smart Cordless Vacuum Cleaner is another affordable option, clocking in at CAD $406. While it performs well in its own right, it doesn't have the Dyson V15's display. It also doesn't have as powerful a suction mechanism.
In short, your best bet is to stick with the 'main event' of this Dyson V15 review.
Dyson V15 Reviews: What Do Customers Think?
Here are a few Dyson V15 review scores that customers have left on various websites:
BestBuy: 4.7/5 stars based on more than 600 reviews
Google Reviews: 4.6/5 stars based on more than 2,000 reviews
Dyson's Website: 4.6/5 stars based on more than 200 reviews
The first thing I noticed about most customer Dyson V15 reviews was that they complimented the vacuum's versatility before they mentioned its technological breakthroughs. Here's a testimonial that illustrates that point: "We have many things in our life that need cleaning and the Dyson V15 Detect simply answers the call."
That's not to say that people didn't appreciate the LCD screen or the adaptive features of the Dyson V15. They were adored just as much, but I read many more Dyson V15 reviews that were similar to this one: "this is one I highly suggest as it works better than anything I've used. You also get a lot of different ends to be able to use this on so many things."
But for clarity's sake, I do want to stress that the vacuum's adaptive and display features were routinely congratulated in Dyson V15 reviews. Customers usually described them in terms like these: " they will show you dirt and dust you may have missed, clean it up, and tell you how much was there. Just leave it in Auto and let Dyson's technology do the work for you"
Is The Dyson V15 Worth It?
Based on the high number of positive customer reviews and the vacuum's technology, I believe that the Dyson V15 is a worthwhile purchase.
Where To Buy A Dyson V15
You can find the Dyson V15 in most big box stores like Walmart and Best Buy.
---
Check out related reviews you might find useful:
Get Access to Exclusive Deals
Subscribe for free to get exclusive deals in your inbox. 100% privacy