Earth Breeze Review
About Earth Breeze
Though I know it's important, it can feel intimidating to totally switch up reliable products for greener alternatives[1]. Something I've learned: Not everything has to be done at once. Gradual small changes can make a significant difference[2].
Earth Breeze is a brand of eco-conscious, biodegradable laundry sheets. Interested in reducing my eco-footprint, I learned that by making this simple swap, I was doing the earth (and ultimately myself) a big favor.
Featured in publications like Real Simple, Shape Magazine, and The Morning Call, Earth Breeze has made waves for changing the laundry sheets game. On social media, the brand has a community of 210k+.
What does this Earth Breeze review have in store? Here, I'll give you the full scoop on this brand: background info, pros and cons, what the products are like, customer reviews, and more to help you make a smart purchase.
Why You Should Trust Us
Our mission is to help you make better, more informed purchase decisions. Our team spends hours researching, consulting with medical experts, gathering insight from expert professionals, reviewing customer feedback, and analyzing products to provide you with the information you need.
Overview of Earth Breeze
The Earth Breeze startup success began in 2019. Passionate about the environment, Jon Wedel founded the company with a mission to reduce waste by offering eco laundry sheets.
The brand is very outspoken about their ecological impact, and I discovered it's helping in more ways than one. To sum things up for you simply, here is what Earth Breeze has got going on in terms of environmental philanthropy:
For every 100 followers, the brand plants a tree
For every 1 package of Earth Breeze sold, the brand donates 10 laundry loads to people in need
The brand is certified carbon neutral, meaning it operates with a net-zero of carbon dioxide emissions
The brand is part of 1% for the Planet, donating 1% of their sales to environmental nonprofits
No plastic used at all during the entire shipping process
…Add all that to the cruelty-free status, vegan products, and recyclable packaging and you've got one exceptionally caring company!
Headquartered in Oregon, Earth Breeze is not only changing the laundry industry by offering an eco-conscious, waste-free alternative for laundry products. But they are changing the world and the lives of those who inhabit it through regeneration efforts and donation drives.
Now that you know more about who the brand is and what their vibes are, here are some highlights that I'll expand on throughout this Earth Breeze review:
Highlights
Offers environmentally friendly laundry sheets
Plastic Free Shipping
Free shipping everywhere
Cruelty-free
Vegan
Recyclable
Subscribe and save
Full refunds, no questions asked
Okay, enough teasing. Time to get to the real deal… my actual Earth Breeze laundry sheets review. Let's get started.
Earth Breeze Review
This brand is simple: there are only two (2) products on the site: the 12-pack and the 1-pack. I'll tell you everything you need to know about them next.
Earth Breeze Eco Sheets 12 Pack Review
The Eco Sheets 12 Pack is Earth Breeze laundry strips x 12. But, I wondered, what are the sheets like?
Firstly, I found out that they're vegan. Secondly, there's a laundry list (pun intended) of nasties not included in these bad boys.
Earth Breeze laundry detergent is:
Paraben-free
Cruelty-free
Phthalate-free
Phosphate-free
Bleach-free
Dye-free
It's kind of crazy to think about the harmful ingredients in regular detergent, so it's no wonder certain brands leave my skin feeling itchy.
The biodegradable Eco Sheets quickly dissolve in cold or hot water, creating fewer suds, more power.
When you think environmental laundry detergent, your brain might automatically assume that they aren't as effective as the regular kind. That's where mine often goes but I'm pleased that, especially with home care products, sometimes simple works best. Earth Breeze detergent is a stickler for thorough cleaning and stain removing.
While liquid detergent is about 90% water, Eco Sheets save big-time on water. The sheets are made of dehydrated, concentrated detergent that doesn't create extravagantly horrible water waste.
Also, the packaging is fully plastic-free and biodegradable. Heck, leave it in your garden soil and watch how it returns to the earth in just 3 months! That's some fun science for you, courtesy of your washing machine.
To use the sheets, just pop half a sheet in for a regular load, 1 sheet for a full load, and 2 sheets for extra dirty clothes.
This 12 pack gets you 720 laundry loads. Boy, that is a lot of laundry.
Available in Fresh Scent or Fragrance Free, the Eco Sheets 12 Pack is $119 with free shipping included. While the cost might seem steep up front, just remember the sheer amount of laundry you'll be able to get done with this environmentally friendly product.
Earth Breeze Laundry Detergent Eco Sheets – 60 Loads Review
If you're just tuning in with me now, see above for a fuller explanation of the product. The Earth Breeze Laundry Detergent Eco Sheets – 60 Loads is quite literally the exact same product, just minus 11 packs. This is a more bite-size pack containing 60 loads of eco-conscious laundry sheets.
It has all the -frees: cruelty-free, paraben-free, phthalate-free, dye-free, and free shipping. It's available in Fresh Scent or Fragrance Free for the sensitive skin and nose folk.
A one-time purchase of one pack is $20.
If you want to save 40%, you can Subscribe to automatic deliveries (cancel anytime) for $12 per pack. I think that's a pretty great deal. The Subscribe option is available for delivery every 1 month, 2 months, 3 months, or 4 months—your choice. You can also change this option on the fly at any point by logging into your account.
Is Earth Breeze Septic Safe?
You bet! Reading through the brand's website for this Earth Breeze review, I found that they are loud and proud about being safe for septic and greywater.
Who Is Earth Breeze For?
Earth Breeze is for laundry-doers worldwide.
But I think you'll especially love the product if you care about environmentally conscious spending. The brand is so much better for the environment than the brands you see in every laundry aisle.
Earth Breeze is also a big believer in giving back. The company supports many grass roots national non-profit and charitable organizations through their Buy One Give Ten program. They also support and work on other impactful projects alongside their partners.
So, if you care about the environment and giving back, or you're just a big fan of free shipping (I definitely am), try them out!
Comparison: Earth Breeze vs. Tru Earth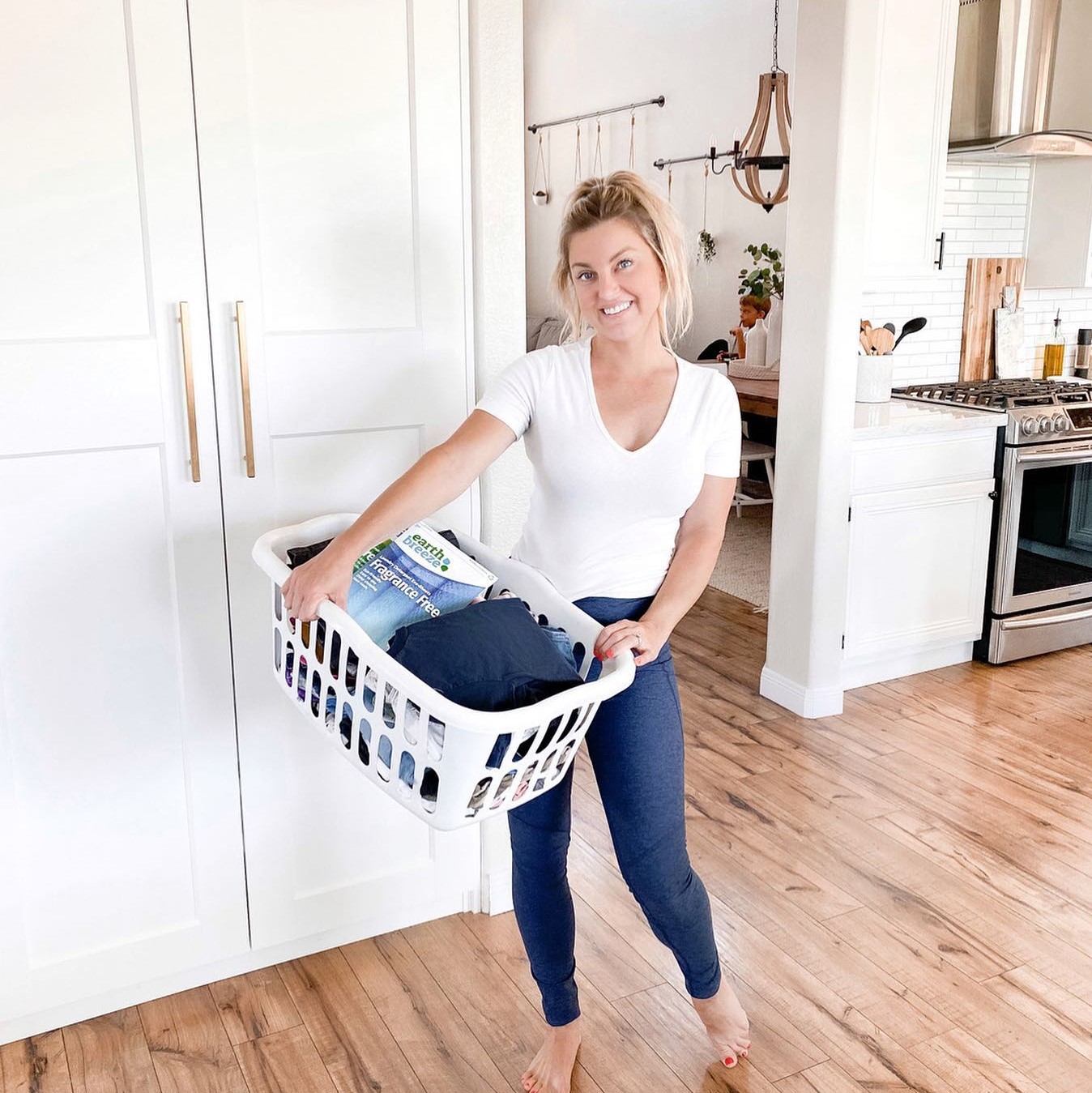 Tru Earth is a super similar brand to Earth Breeze. These two brands are so similar you could easily confuse the two. So let's examine what makes them so similar and what makes them special on their own. I'm here to help you make an informed purchasing decision.
Firstly, here are 4 similarities:
Eco-friendly laundry sheets
Eco-sheets formula is as safe to use as True Earths Baby Sheets
Subscription service for automatic delivery
Free shipping
Now, here are the top differences you should consider for Tru Earth:
Made in Canada
More expensive
Subscription service offers annual plans
Sells Baby sheets
Sells other eco-friendly products for the house
See? They are different after all. Do check out Tru Earth if they sound more your style.
Earth Breeze Reviews: What Do Customers Think?
To freshen up this Earth Breeze laundry sheets review with new voices, I looked and listened to customer testimonials on the brand site, Better Business Bureau (BBB), and Amazon. I'll take you through the highs and lows of shopping with the brand.
Firstly, the brand site is super positive. The laundry sheets are rated 4.8/5 stars from 37,323 customers. It's safe to say that many of their buyers are absolutely in love with their product.
And the reviews are glowing in all the ways they could be: "cannot beat the price," "clothes come out spotless & smelling fresh," "packaging takes up minimal cupboard space," "works in my HE front loader," and overall, "the sheets work like magic."
When customers tell you your product raises concerns of witchcraft, that's when you know you've really made it. Not only that, buyers are ecstatic about how environmentally friendly these sheets are and how effective they are in spite of that (or perhaps because of it).
One Earth Breeze laundry sheets review wrote that the customer was just totally, undeniably "in love" with the product, especially because they have sensitive skin and react not-so-pleasantly to most brands:
"Doesn't make my skin react like other liquid or powder detergents. Even the scented ones which is REALLY not the case with other detergents. I adore this companies community and environmental impact responsibilities!"
And some customers are full-on devoted fans of the brand, excited to wash their clothes and have them come out feeling uber fresh. Others are already looking forward to using the Eco Sheets as more than just a clothing cleaner. Exhibit A:
"The space it saves is amazing! So far we have had good luck with getting things clean. I am excited to use them more (and will probably give a other star as I do). I saw a video with 'hacks' on how to use these for more than just in the washer and am going to try some of those."
If people are this enthusiastic about a laundry detergent, that truly says something, doesn't it? With that in mind, no company is perfect, so what about buyers who perhaps didn't have the best experience with the brand?
People are indeed complaining elsewhere. Mostly on the Better Business Bureau (BBB), where the brand has an overall customer rating of 4.4/5 stars from 104 reviews. Not bad! I'd also like to point out that they have a score of A- from the website itself.
But hey, that is a decently good score for a site that serves as a meeting place for venting customers to, well, vent. And complain. And ask for refunds in all caps.
But, still, 4.4/5 stars. There are tons of positive reviews that swear "customer service is exceptional," "extremely friendly," and respond impressively fast to emails because of their 24-hour service promise.
And the product itself is raved about because it's "affordable," there's "no mess" or plastic involved, and it scares tough stains right off. Overall, it's "a revelation!"
One customer wrote about their experience of absolutely adoring Earth Breeze. They complimented all the usual stuff like eco-consciousness and "ease of use" but went on to gush about customer service, too.
When they asked to cancel the subscription because they were traveling and then found a new shipment coming their way anyway, customer service was quick to offer a refund:
"They responded immediately and graciously. They said that even though they'd already shipped it, I'd get a refund and keep the product. SO FAST and NICE about it. I told them I'd prefer they NOT refund the money. They are a small company trying to do good things."
Customer service is something that many brands can improve on, and while I've seen some reviews stating that Earth Breeze is exceptional when it comes to servicing their buyers, there is always room for improvement.
Lastly: Amazon reviews! The Laundry Detergent Eco Sheets – 60 Loads is rated a strong 4.6/5 stars out of 808 ratings. I found no shortage of opinions here, but a reputable rating nonetheless. I'm excited to see what they all have to say.
Adoring customers love how "easy to use," "easy to travel with," and space-conserving the product is, all wrapped beautifully in an "eco-friendly package" that makes it that much more legit. Much the same as on the official website. That's great to see.
The toughest, grimiest stains are no match for the power of these dissolvable buddies:
"My husband works in a shop, they make metal fabricated buildings, so he's welding and grinding, crawling all over dirty metal beams and these sheets actually get even his clothes clean!"
What's more, the product works for customers with unique skin needs like eczema. Even when it's pricier than what customers paid for other brands, "it is worth the extra money to have something cruelty free and protects the environment."
Overall, the vast majority of customers in the crowd say an enthusiastic 'heck yes' to Earth Breeze, especially because of how happy they are with the quality of the product and how powerful, convenient, eco-friendly, and easy to use it is.
Is Earth Breeze Worth It?
Yes, I think Earth Breeze is worth it!
Considering the overwhelmingly positive reviews on the product quality, the above-average social responsibility, and decent prices for an eco-conscious alternative (it isn't always cost-effective to care about the planet), Earth Breeze seems pretty worth it to me.
Some things to remember: the pack has 60 regular loads of laundry in it. The brand recommends using half of a sheet for a regular load, but a full sheet for a full load.
This is why the package says 60 loads but comes with 30 sheets. Take note of this so that you aren't surprised if you accidentally run out.
With all that in mind, this brand gets a big two thumbs up from me.
Earth Breeze Promotions & Discounts
I wanted to snag you some sweet deals, but the brand doesn't make it easy to find coupon codes and discounts. But I did take note of a few ways to save money:
Save 40% when you Subscribe to automatic deliveries every 1-4 months
Refer a Friend: Give $10, get $10
Giveaways on Instagram or Facebook
Free shipping
Where to Buy Earth Breeze
Here's where you can buy the products featured in this Earth Breeze laundry sheets review:
Amazon
Walmart
CircleTerra
Eco Occasion
FAQ
Who is Earth Breeze owned by?
Earth Breeze is owned by CEO Jon Wedel.
Where is Earth Breeze made?
While digging around for this Earth Breeze laundry sheets review, I found that the brand's ingredients are ethically sourced in Asia. Their packaging is designed in Los Angeles, CA and is shipped out from Oregon or their new warehouse in the UK.
I also read that Earth Breeze is also opening up a warehouse in Germany and will continue in their efforts to open at least one warehouse in every major European country.
What is Earth Breeze's Shipping Policy?
While writing this Earth Breeze laundry sheets review, I was delighted to find that the brand's shipping is totally and completely carbon-neutral and plastic-free.
On top of that, it's free. Even better, they offer international shipping. All costs are calculated at checkout.
These are the delivery times, delivered to you plain and simple:
USA: 1-5 business days
International: 6-13 business days
What is Earth Breeze's Return Policy?
Don't you just love a good return policy? It makes you feel real special. I have to say I super-duper approve this policy:
Within 30 days after purchase, you can get a refund if you aren't feeling it: A full refund, no shipping costs or restocking fees. You don't have to return the item, either. Also, you can choose to be sent a replacement product instead of the refund.
It's a different story for orders over $50: these must be returned before you are given the refund.
How to Contact Earth Breeze
Need more information than I provided in this Earth Breeze laundry sheets review? The brand has 24-hour email support! Awesome. Here's how to get in touch with this round-the-clock customer service team:
---
Interested in more ways to help the environment? Check out these ethical and sustainable brands below:
Get Access to Exclusive Deals
Subscribe for free to get exclusive deals in your inbox. 100% privacy