HayNeedle Review
About HayNeedle
Furnishing homes take time, patience, and above all else, money. Luckily, brands like HayNeedle exist to offer endless selections on home furnishing and décor for reduced pricing that works for the budget-buyer.
This brand has been on market since 2002 and their large following reflects that. Covered by the likes of PR Newswire and Business Wire, this brand has over 88.4k followers on Instagram and a further 436k followers on Facebook. It's safe to say that this brand's loyalty to their customers is reciprocated at all times.
We love a budget brand, but that doesn't automatically make them worth buying. In this HayNeedle review, we will check out products, range, pricing, ratings, and more to determine whether this business is worth investing in.
Overview of HayNeedle
Since 2002, this brand has been in the market for comfort and leisure. Originally beginning as a hammock company, it didn't take long for the business to branch out to general indoor and outdoor living.
Working with over 3,000 furniture brands, HayNeedle strives to be a one-stop-shop for customers in need of home furnishings. Rather than creating their own products, this business offers a central location for shoppers to wander the virtual aisles to find just what they need.
Customer satisfaction sits as a top priority for this brand, focusing their values and goals solely around attentive care for all potential buyers. The brand went so far as to launch a photography studio and customer care center out of their headquarters in Omaha, Nebraska.
HayNeedle was acquired by Walmart in 2016 as the parent business's attempt to move to online retail. Despite this new ownership, HayNeedle's customer care hasn't suffered and their values remain as steady as before.
While this company doesn't put out a lot of information on their personal history, there's a lot more to brag about this business than where they come from. Check out just a few of the highlights we managed to uncover for this HayNeedle review:
Highlights
Offers an expansive selection of furniture and home decor
Free shipping
Financing options available with Affirm
Constant sales
Great customer reviews
HayNeedle Furniture Review
No brand can truly be rated without first considering what they offer customers when it comes to products and services.
We know that this brand has endless products on tap, but we selected some of their best-sellers for this HayNeedle review to show off just a brief taste of the range available. From bedrooms to outdoor leisure spots, our featured business has it all.
HayNeedle Elle Decor Bella Sofa Review
Who doesn't want to sink into a comfy and casual sofa after a long day at work? The Elle Décor Bella Sofa is definitely up for the job.
This HayNeedle furniture combines form and function in one easy piece. Fall into the chenille-covered cushion and let the soft fabric take you away.
Featuring low arms to rest against for naps, movie nights, reading, or more, this simple and light sofa really ties the room together through its easy style with just a touch of bling.
We know that comfort is key to all furniture, but we have to touch on appearance here too. That bit of bling mentioned? It comes from a subtle, but stylish nailhead trim lining the base and arms to give a bit of shape definition to the piece.
Add in the included throw pillows that hold a pop of polka dots and this contemporary couch will never grow old.
At the time of writing this HayNeedle review, this couch is on sale for $593 rather than its regular price of $670.
HayNeedle Lifestyle Solutions Harvard Loveseat Review
Nothing says cushy like the Lifestyle Solutions Harvard Loveseat.
Bound in a deep gray upholstery, this piece is all about impact. Making a statement wherever it sits, the button-tufting style in the slick dark gray steals the show not only in looks but also in feel. Textured to withstand the wear and tear of daily life, this chair transitions into any space due to its neutral color and design.
Place whatever is needed on this chair or really lean back into the thick cushions to be enveloped in utter bliss. The hardwood frame offers security for the toughest of weights and uses (we're not recommending you try to break the chair, but the quality is definitely built to last). This piece is one to pass down as its style never truly gets old.
This piece is currently on sale for $276 (regularly $335).
HayNeedle Hillsdale McKenzie Bed Review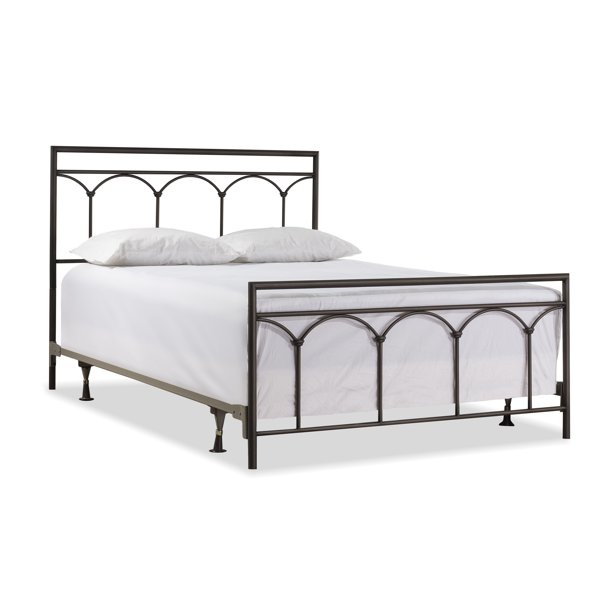 Introduce the organic style of arches into the solid space of the bedroom with the Hillsdale McKenzie Bed.
Throwing it back to the ancient times of arches and angles, this bed keeps things nice and simple for a satisfying style. Welded metal makes up the piecing of this frame, working through neutral powder-black tones to accent the bedspread and surrounding space.
Available in Twin, Full, and King sizing, the best part of this bed comes from its options. Not only are customers able to select the size, but they can choose the configuration of headboard only or headboard, footboard, and rails.
Select the style that works for the room and take pleasure in the simple beauty that metal arches can provide.
Due to the options available for this bed, prices can range starting as low as $159.
HayNeedle Manhattan Comfort Cabrini Theater Floating Entertainment Center Review
Aim for those modern Manhattan vibes with the Manhattan Comfort Cabrini Theater Floating Entertainment Center.
Sleek and stylish, this entertainment system comes with all the storage and space one could need for that central living room feature.
A built-in cable port hides the mess and chaos of endless cables, leaving only the clean entertainment center and mounted TV ready for any movie night. Select from black, maple cream, and off-white options to fit the piece to the surrounding space.
Beauty wasn't the only thing taken into consideration when planning this product. Storage is everywhere. From the open shelving above and below the TV to the slotted spaces that perfectly suit consoles, speakers, and more.
Add in the telescoping drawers below each of the cubbies and mess will never be found in that room. Everything will have its place and whatever doesn't can get tossed in the drawers.
As this piece comes in three colors and two sizes (71 inches and 85 inches), prices change depending on selections made. The starting costs for this one sit at $534.
HayNeedle Tafton Tufted Club Chair and Ottoman Review
Not everyone wants or needs to collapse into a sofa at the end of the day, but we do all need a good place to sit. Why not save some space while still being able to kick the feet up with the Tafton Tufted Club Chair and Ottoman?
As you could probably tell from the name alone, this two-piece set comes in a button-tufted style for a bit of texture and drama to an otherwise neutral design. Throw in the nailhead trim surrounding the edges of the seams and this product just screams class.
Available in both natural cream and gray options, this set fits perfectly in any corner for reading, lounging, or resting after an exhausting day.
Crafted from solid and tapered birch, this frame is made to stand the test of time. Casual cushions, perfect padding, what else is needed to kick back and relax?
Grab this diamond-tufted set for the starting price of $393.
HayNeedle Better Homes & Gardens Rustic Country Desk Review
After work-from-home became the big thing, we all realized that a solid desk truly makes a difference. That's why we're ending the products portion of this HayNeedle review with the Better Homes & Garden Rustic Country Desk.
Simple but stunning, this piece is all about rustic and homey décor. Crafted from engineered wood and metal, this desk and frame are all about negative space. Leaving the design strong, but open, the minimal aesthetic keeps only the drawers covered, leaving the rest of the metal frame to rest as an accent against the colors of the room.
Speaking of storage, this desk has room to spare. Featuring two drawers to keep clutter hidden away at all times, this piece also offers open space for shelving below the desktop.
Capturing that rustic, farmhouse aesthetic perfectly, this piece works for any space that beckons for simple times and fashions.
Add this one to the home office for $182.
Who Is HayNeedle For?
Anyone ready to start furnishing their home will absolutely adore the endless options available with HayNeedle. Their wide selection of over 3,000 brands in addition to low, budgeting prices means they pack a punch and really hit the mark.
Outdoor and indoor living spaces can get filled to the brim after an hour of searching through this site.
So, who is it really for? Really anyone who's shopping for furniture and décor. Individuals of every age can find pieces to suit their style (and their wallet) in no time at all. All it takes is the determination to keep searching until spotting that perfect piece.
HayNeedle Reviews: What Do Customers Think?
We didn't want to write up this article without checking into the HayNeedle reviews online. We were pretty pleased to find that this brand doesn't suffer in finding numbers and support online. 
Listings through platforms, social media, and their own site keep the ratings rolling in with pure satisfaction as the key takeaway.
The brand itself pops up on Consumer Affairs with a report of 3.9/5 stars based on over 1,300 ratings. These thousand plus customers seem enthralled with the prices and selection available online.
Quick service, ordering, shipping, and simple assembly make the whole process a dream once combined with the lower costs.
One HayNeedle review stated, "I found the bed I wanted on Hayneedle. It was $300 less expensive for the exact same bed than I found it elsewhere. After ordering, they shipped it quickly and sent me all the tracking information. It arrived undamaged and was exactly what I had in mind when I purchased it. Great experience and would order from them again."
Why bother paying more elsewhere when customers could save money and keep the simple and straightforward service going?
Tracked and delivered with all the care they could offer, this business truly maintains their customer-first mentality in daily operations. Even their customer service and returns seem to run smoothly:
"I needed to return a few items because they were too big for my space and there were some technical errors that occurred when creating the return label, so I called customer service. Both times I was talking to someone within 2 mins, and they were super helpful, attentive and easy going."
Shipping seems to be an issue with mixed reviews as some on SiteJabber claim their items and customer service have been slow, while others rave about their experiences. The overall rating of 2.4/5 stars based on 360 ratings really shows off that confusion between customers.
Despite the negatives on some lists, other buyers post that their "item arrived fast, even before it was scheduled to arrive. There was a problem, I emailed right away and received a response right away. It was all taken care of in less than 24 hours. Would definitely recommend it."
Aside from the business as a whole, the products listed by HayNeedle seem to be well-loved. The brand's own site lists hundreds of reviews for items with customers in love with each piece they've purchased.
The Prepac Basic Storage Platform Bed constantly sits in the trending category which makes sense with its 4/5 stars based on over 825 ratings. This bed looks great, arrives quickly, and takes little time and effort to piece together.
One buyer commented, "The bed arrived undamaged and with all associated parts and hardware. Instructions were straightforward. The bed has the appearance I expected, and performs as I expected. I think this is a very good value for what it is–a functional, entry-level bed for those with budgetary considerations."
Functional, straightforward, and stylish (considering the budget), this piece is only one of many that customers adore. Check out just a few other popular selections:
Better Homes & Gardens Modern Farmhouse 1 Door Nightstand with 2 USB Ports: 4.4/5 stars based on over 335 ratings
Weston Home Nottingham Metal Spindle Bed: 4.7/5 stars based on over 230 ratings
Rosevera Vasari Tufted Wingback Chair: 4.9/5 stars based on over 120 ratings
Better Homes & Gardens Rolled Arm Accent Chair: 4.3/5 stars based on over 170 ratings
Roundhill Furniture Habit Tufted Parsons Dining Chair – Set of 2: 4.4/5 stars based on over 170 ratings
Sauder Homeplus Pantry Storage Cabinet: 4.2/5 stars based on over 155 ratings
System Build 24 in. Utility/Pantry Storage Cabinet: 4.2/5 stars based on over 335 ratings
Rosevera Angelo Diamond Tufted Upholstered Panel Bed: 4.9/5 stars based on over 190 ratings
Shopping online isn't always easy when buying furniture, but this brand provides stock, pricing, and service that can't be beat. With over 454k likes on Facebook, HayNeedle seems to be doing something right with their operations.
"Because of COVID-19, I've been hesitant to spend a lot of time in stores. But I can honestly say that this furniture shopping experience was one of the easiest I've ever had. And I highly recommend this site."
Expansive styles, better budgeting, what else can one ask for when furnishing?
Is HayNeedle Worth It?
For HayNeedle review, we're going with the majority in this case and happily recommend the brand. 
The lower costs really make this business stand out amongst the competition in the industry and we're huge fans of the thousands of other brands that this company offers up.
Quick shipping on thousands of brands from one location makes the whole furnishing process incredibly easy on the mind, body, and budget.
We understand that not everyone has been satisfied (when are they ever?), but HayNeedle has enough loyal fans to their name that we're pretty confident in this recommendation.
HayNeedle Promotions & Discounts
At the time of writing this HayNeedle review, they're offering up a great New Year sale for up to 25% off products. Add in the items already listed in the sale section and no buyer will need to pay full price again.
HayNeedle promo codes pop up all the time, so it's no struggle to find a deal for those who miss out on the current discount. Just weeks prior they were selling items up to 60% off for Black Friday.
Check around holidays and typical seasonal sale periods to find the best deals available. Customers can also register their email for the latest promo information (with chances to receive HayNeedle coupon codes along the way).
Overall – this brand has ways to save, so don't worry about the budget.
Where to Buy HayNeedle
As this business works through selling other brands, HayNeedle is only available through their company site at hayneedle.com.
FAQ
Who owns HayNeedle?
Despite starting as an independent business, the brand was acquired by Walmart in 2016. While writing this HayNeedle review we discovered that Walmart bought them out in an attempt to move towards online retail.
Does HayNeedle ship internationally?
Absolutely! Most HayNeedle products ship internationally. Each product page will display whether a piece is available for shipping to your location.
What is HayNeedle's Shipping Policy?
Stay steady in shipping knowledge for HayNeedle and their policies. This brand is actually pretty good about shipping info, putting everything online for people to be aware of expectations. The most important fact is displayed throughout the website: ground shipping is free.
No matter the size or location within the contiguous US states, ground shipping costs don't come into play. Larger pieces may require freight delivery, but that will be arranged between the customer and delivery service for an agreed-upon time.
Outside of Ground Shipping, this brand also offers 3-Day, 2-Day, and 1-Day service options for faster delivery. Pricing for those options is dependent on size and location, but costs should be calculated at checkout.
Freight deliveries come with additional options for shipping:
Ground Level – deliveries are dropped off curbside
Room of Choice – items are carried by workers into the room (meaning stairs are no longer your concern)
Room + Unbox – essentially a White Glove service where items are brought to the room of choice, unboxed, set up, and all packaging is removed when the workers leave
No matter the choice of delivery, tracking is available, and customers remain informed throughout the process.
What is HayNeedle's Return Policy?
HayNeedle is pretty open about returns with most products available for a refund within 30 days of delivery. There are a few limits on what can and can't be returned. The overarching no-goes for returns are as follows:
Opened mattresses
Opened bedding
Used or washed items
Gift Certificates
There are a few other things that don't make the list – basically, anything that's been altered or edited by the customer or previously stated on the product page as ineligible for returns. Other than that, feel free to send items back.
All returns need to be sent back in original packaging, so try not to toss boxes until that 30-day mark hits. All customers need to include for a return through the Return Portal is the following:
RMA slip
Contact info
Order number
Reason for return
Once that's all in there, feel free to ship it off. Contact customer service for further support if there are any questions about the process. Customers may have to pay for return shipping if the return is being made for reasons other than damage or defects.
Freight returns need a bit of special treatment as a pick-up time will have to be arranged. Through the online portal, complete the information process for the return. Once it's been processed, customers will be contacted about pick-up dates and times.
How to Contact HayNeedle
Those with any burning questions after reading through our HayNeedle review can give a sigh of relief as answers are available. Just reach out to customer service through their online contact form and someone will get back as soon as possible. 
---
Check out similar brands you might like:
Get Access to Exclusive Deals
Subscribe for free to get exclusive deals in your inbox. 100% privacy