Hear.com Review
About Hear.com
Hearing isn't something that should be treated with a one-device-fits-all approach. Offering a range of hearing aid options along with real and thorough support, Hear.com makes the process of buying hearing aids online what it should be: unique to your needs.
Helping over 1 million people find the right device, Hear.com is one of the most talked-about hearing aid companies to date. You'll find it featured in top-tier publications like Forbes, Business Insider, and Newsweek, and its social media community boasts over 135k followers.
What makes it such a success? I'll tell you all about it in this Hear.com review. After reading about the brand and its hearing aids, customer feedback, deals, and more, you'll know if it's something you'd like to try out.
Overview of Hear.com
Hear.com was founded on the belief that "everyone should hear well to live well." Promising unrivaled hearing aids and services, the company connects you to professionals across the US and provides supportive customer service that's there for you every step along the way.
A division of Audibene, a German hearing aid service, Hear.com was created by Dr. Marco Vietor and Paul Crusius. It's actually the fastest-growing hearing aid company in the world. By partnering with the top 2% of hearing professionals in America, the brand delivers a seamless, smooth service from consultation to warranty.
Hear.com proves that hearing aids don't have to be clunky and embarrassing. Its selection of sleek, modern choices focuses on user comfort and advanced technology. Helping to streamline the process of buying the right hearing aids, the brand aims to educate customers about their options and hearing loss in general to improve their experience.
Is it the right service for you? Throughout this Hear.com, you'll learn about the inner workings of the company and what it offers. Before I get started, check out the highlights to get a feel for what it's all about.
Highlights
Great range of hearing aids for mild to severe hearing loss
ITE & BTE options
Five pricing tiers
Free hearing consultation
Expert advice
2,000 partners across the US
92% hearing success rate
Financing and insurance options
45-day risk-free trial
The first step to experiencing better hearing comes by taking a short quiz. Helping to determine your need for a hearing aid, the quiz is also the way to lock in your no-risk trial and will take you to the next part of the sign-up process.
Hear.com makes buying hearing aids that actually work easy with an attentive team that provides detailed information, schedules appointments, and follows up throughout your trial. This support is one of the main differences between Hear.com and other hearing aid companies, but there are a few other ways that this one stands out from the pack.
What can you expect when you choose this brand? It's all coming up next in this Hear.com review. Ahead, I'll walk you through what it's like to sign-up, exactly what you'll get, and the many hearing aids available. Let's dive in.
Hear.com Hearing Aids Review
These days, buying hearing aids online has become something of a chance. Many companies offer cheap hearing aids that sound too good to be true. And more often than not, they are.
Hear.com does things differently. Instead of pushing a one-device-fits-all model, you'll have a range of hearing aids to choose from and a heap of support along the way. With licensed hearing care services, its team of experts and partnered providers deliver a smooth experience from start to finish.
Customers say that the level of support Hear.com provides is a breath of fresh air. With unlimited visits during your first 45 days and an extra 5 follow-up visits throughout your warranty period (1-3 years), you'll enjoy a seamless service that ensures you get the level of hearing you need.
In the next section of this Hear.com review, you'll learn about the different types of hearing aids offered by the brand and the cost of its plans.
How to Choose a Hearing Aid
Finding the right hearing aid is pertinent to you getting the most from your device. That's why Hear.com is proud to offer a spectrum of hearing aids from reputable brands you've already heard of. Across Signia, Phonak, Oticon, and Starkey, you'll choose from different tiered models that vary in technology.
Hear.com recommends opting for the highest form of technology you can afford. They say it really does make a difference, and this fact holds true no matter what it is you're buying.
So what's the Hear.com price? You'll have five options:
Luxury $299/month per pair
Premium $199/month per pair
Advanced $169/month per pair
Essentials $139/month per pair
Economy $59-$109/month per pair
As the price goes up, so does the level of technology used within the devices. You'll find that premium and luxury models are sleek and ideal for a dynamic, active lifestyle that requires adaptive hearing in numerous environments.
With HD sound quality and directional microphones, the more you spend, the more natural the sound. Let's take a look at some other key factors to consider:
Batteries vs. Rechargeable
Rechargeable hearing aids hold less charge but they're easily powered up by popping them into the charger overnight. Preventing you from having to order more batteries or trying to pop a tiny battery into a device, these are the way to go if you're looking for the smoothest experience possible.
ITE (inside the ear) hearing aids are ideal for those who want a discreet option. Fitting inside and out of sight, they're small, but usually, they're ideal for those with mild to moderate hearing loss.
BTE (behind the ear) hearing aids help produce louder, clearer sound and are a great option if you suffer from mild to severe hearing loss. Using a small plug inside the ear, the majority of the device will sit behind your ear.
In addition to its hearing aids from partner brands, Hear.com offers Horizon, its signature model with a sleek look and advanced features. Smaller than other BTE hearing aids, it uses Bluetooth to sync to your smartphone where your hearing can be customized with the touch of a button.
Connected to your favorite devices, you can stream TV, listen to audiobooks, and take phone calls without any adjustments. Delivering clear, precise speech quality, these advanced hearing aids adapt to the environment you're in so you always get the level of hearing you need.
These Hear.com hearing aids are rechargeable too so all you need to do is pop them in the portable charging case whenever they need a top-up. If you have any questions about the brand's devices, a care expert is ready to take your call.
Who Is Hear.com For?
Hear.com offers a range of hearing aids from popular brands like Signia, Phonak, Oticon, and Starkey. The company also makes its own line of hearing aids called Horizon. With a range of prices and models, there's something for sedentary and active folks who experience mild to severe hearing loss.
How Does Hear.com Work?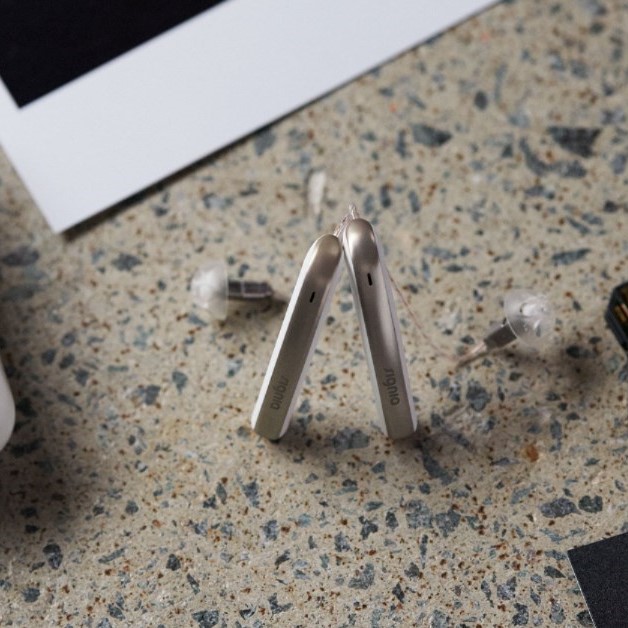 Ready to start your journey with Hear.com? The process is pretty simple and once you sign up, you'll get a thorough experience thanks to the company's care providers that set up appointments and check-in with you throughout your first 45 days.
Speak to an expert
Before you receive your hearing aids, you'll have a consultation with one of the company's experts over the phone. You can either do this by calling them directly or filling out the consultation form online.
When on the call, an expert will talk with you about your hearing and recommend a hearing aid that's right for you. Covering information about different models, brands, prices, financing, and insurance, the call is important in understanding your options and knowing where to go next.
It's free too, and if you're not convinced Hear.com is the right choice, you don't have to sign up. It's as simple as that.
Take a hearing test
If you do choose Hear.com, an expert will check out partner providers in your area. Once agreed upon, they'll set up an appointment for you and you'll head in to test your hearing.
Your hearing aids will be shipped to this provider and in your appointment, they'll be fitted and adjusted. This service is included in the price of your hearing aids—no additional appointment fees are required.
Experience better hearing
You have 45 days to try out your new hearing aids to make sure they're right for you. Test them out in all locations and head back to your provider if you need adjustments.
If you find they're not the right fit, let Hear.com know and they'll refund your money. If they do, enjoy the clear, natural sound they provide!
Hear.com Reviews: What Do Customers Think?
Finding out what customers think may very well be the most important part of this Hear.com review. For this section, I set out in search of helpful feedback from around the web.
Starting my search on Trustpilot, I discovered a 4.3/5-star score from 1,094 customers. Let's take a look at how that breaks down and then I'll jump into some comments.
Excellent: 84%
Great: 8%
Average: 3%
Poor: 2%
Bad: 3%
These ratings speak for themselves. With 92% of people rating the brand at 4 or 5 stars, this shows that more than the majority of people have experienced great service with Hear.com.
What do they like about it so much? I read a lot of Hear.com reviews that mentioned great support and information from the brand, and truly, that's something I noticed too while browsing the FAQ and checking out suggested articles.
There's a friendly yet science-based approach to Hear.com and that's something I liked.
Perhaps the most common Hear.com review goes something like this: "Kiley was very informative on what I needed and helped guide me through to have hearing aid success. Chris did a great job on programming my hearing aids and communicating with me on usage."
Personal yet thorough, so far, Hear.com's service appears to make it different from other hearing aid companies. But Trustpilot isn't the only source with comments that nod in this direction. The Better Business Bureau is full of them too.
The first thing I noticed when landing on the BBB was Hear.com's 4.5/5-star score. This rating is pretty unheard of considering the BBB is a place people come to complain. Here, 109 customers had some pretty great things to say about the company. One Hear.com review read:
"I have had two well known brand hearing aids and they didn't correct my hearing loss. The hear.com testing, adjusting periods have provided me with hearing clarity. I am completely satisfied with my new hearing aids."
Trying to find the right hearing aids can be a trial and error process, and an expensive one to boot. It's a relief when you find the right brand that has it all. It sounds like this company may be it for many folks, but let's check out one more Hear.com review to be sure. This one comes from Consumer Affairs. It reads:
"Had the hearing test and they recommended a pair based on my test results. These things are amazing. I haven't heard things this clear in 25 years. You have so many different adjustments you can do with your phone that cover so many different environments that you may be in. These adjustments are amusing."
Hearing isn't a privilege, it's a right. It changes your entire world. So when customers write stories like this one, it's hard not to get emotional because having a pair of hearing aids that truly works can be life-changing.
I think the ones this customer is referring to are the Horizon hearing aids since they're controlled by your phone. Allowing you to change your setting easily from an app, you can hear in all kinds of settings so that you never miss a beat.
Overall, buyers like what they get from this company. Though some experience a bump or two in the process, Hear.com offers a 45-day money-back guarantee to make sure you get the right fit before committing.
Is Hear.com Legit?
Part of our mission with my Hear.com review is giving you the full picture of the brand—and that means the negatives with the positives. But even though I searched high and low for issues, this company comes out pretty clean.
With a 4.5/5 star rating and A+ score on the BBB (super rare), I learned that Hear.com does a fantastic job at responding to and resolving customer issues. This reputation shows us that the company cares about its customers and makes sure they get a thorough service.
This isn't to say the company is flawless. There are some reports of faulty hearing aids on the BBB but the responses from Hear.com are pretty impressive. Explaining the situation from start to finish, often, complaints aren't as straightforward as they seem and issues could have been prevented.
From our end, Hear.com looks to be totally legit. With a 92% success rate, they're not perfect for everyone, but they work for many.
Is Hear.com Worth It?
There's an undeniable difference in support when using Hear.com. Before, during, and after the sale, the service proves to be there for its customers every step of the way.
Serving all 50 states with over 2,000 audiology partners, Hear.com continues to prove its thorough service, ensuring that everyone can get the care they need. Now, its hearing aids aren't always the cheapest option out there, but they might just come with more support than any other digital hearing aid company you buy from.
Providing tons of free visits, repairs, and a 1-3 year warranty, this company is all about ensuring you get the right fit.
Hear.com Promotions & Discounts
Since no Hear.com review would be complete if I didn't mention deals, I kept an eye out for any that popped up on the site. It turns out that the brand offers an awesome referral program.
Here are the details:
Refer a friend and get a $300 Amazon Gift card
Your friend will get a $300 discount on Hear.com
Where to Buy Hear.com
Hear.com is a telehealth service. That means to see the difference that a customer-centered approach makes to buying hearing aids, you'll need to go directly through Hear.com.
FAQ
Who owns Hear.com?
Hear.com is owned by Marco Victor and Paul Crusius. They're the same guys who created Audibene, a successful hearing aid service based in Germany.
Does Hear.com ship internationally?
Hear.com is the US version of the company Audibene with offices in 11 countries around the world. The US version of the site only ships within the 50 states.
Does Hear.com offer a warranty?
It sure does! After your 45-day trial, your hearing aids will come with a 3-year warranty. If you've chosen Horizon hearing aids, they'll come with a 1-year warranty. During your warranty term, you'll get 3-5 free visits (varies by option) and replacement parts from your audiologist.
What is Hear.com's Privacy Policy?
Hear.com requires certain information about you to provide its service. This includes basic information like your name, phone number, email, and address. If you make a purchase, they'll also record your payment information and health insurance, as well as any other health information you disclose to its care providers.
In addition to the information you provide, Hear.com collects some information automatically. They'll take note of your IP address, date and time of your visit, browser type, and how you interact with their webpages.
Why do they do this? Mostly, it's to provide you with services and help them learn. Whether it's to ship your products (address) or remember your account details (name), they'll also use it to provide you with additional information about other services they provide.
Some of the information Hear.com collects is shared with 3rd parties such as their audiology partners, payment processing companies, and ad services. You can revoke your data at any time and restrict what the company collects. Keep in mind that doing this may mean you can no longer use the service, i.e. deleting your payment information.
What is Hear.com's Shipping Policy?
Once you've taken the online quiz and have spoken with one of Hear.com's experts, you'll choose for your hearing aids to be sent to one of its audiology partners across the US or receive them at home.
If you'd like help in fitting your hearing aids choose the first option. If you'd prefer to be walked through the process via video call, opt for the second.
What is Hear.com's Return Policy?
Your hearing aids from Hear.com come with a 45-day no-risk trial that promises a full refund if you aren't happy with what you get. During your trial, you'll have as many visits with a local or tele-audiology provider as you need.
If you still don't think they're the right fit, you can return your hearing aids for a full refund. Here's a peek at how the return process works:
Call 888-780-3450 and let them know you'd like to return your hearing aids
They'll tell you the best way to send them back
After they've been received, your refund will be processed in 5 business days
Credit card refunds can take an additional 2-3 days to reflect on your card
Refunds through financing partners can take up to 4-5 weeks.
How to Contact Hear.com
Have questions I didn't quite get to in this Hear.com review? Get in touch with the brand via:
---
Check out similar brands you might like:
Listen Lively Hearing Aids Review
Get Access to Exclusive Deals
Subscribe for free to get exclusive deals in your inbox. 100% privacy