10 Best Hoodies Brands
Shopping For The Best Hoodie Brands
Sweatshirts and hoodies once belonged to the laziest days and afternoons spent curled up on the couch with some chicken noodle soup in one hand and the remote in the other. But in the past few years, sweat sets and comfy clothes have quickly become popularized.
With working from home and streetwear on the rise, everyone needs a few good hoodies in their collection. And hey, what's a matching pair of sweatpants to boot? From luxury brands to brand new start-ups, hoodies are widely available.
So, where should you start when on the hunt for the perfect sweat set? Check out my list of the best hoodies brands down below. I'll guide you through our top 10 picks, tips for shopping around, and need-to-know FAQs to help you find your new wardrobe essential.
10 Best Hoodie Brands
1. Acne Studios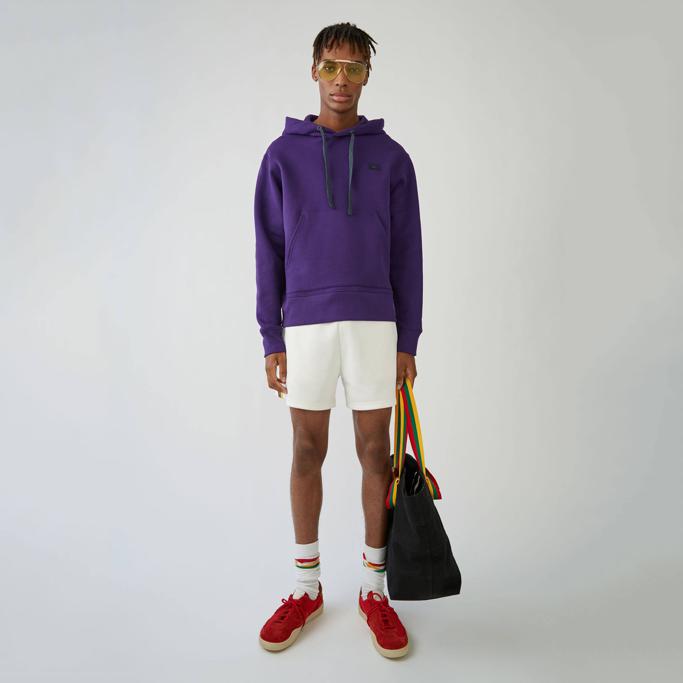 Founded by Jonny Johansson in 1996 in Stockholm, Acne Studios collections focus on Johansson's "signature juxtaposing design and attention to detail, with an emphasis on tailoring and an eclectic use of materials and custom-developed fabrics."
Acne Studios is best known for its runway-worthy fashion, offering a broad selection of luxurious styles and high-quality fabrics. The collection consists of a variety of men's and women's closet staples, including apparel, accessories, footwear, and prints and patterns to add a bold touch to any ensemble.
The company is also committed to sustainably, remaining transparent about design, supply, and operations. When it comes to hoodies, Acne Studios' pieces range in price from $330-$560.
Highlights
Wide variety of luxurious closet staples for men and women
Plenty of bold prints and patterns
High-quality fabrics
Focus on creativity and self-expression
Committed to sustainability
2. Champion
A vintage brand with roots in American style, Champion started out in 1919 from the great minds of the Feinbloom Brothers, ​​owned and marketed by American apparel company Hanesbrands, with a focus on sportswear and replica jerseys.
From producing uniforms for sports teams to offering the comfiest, coolest sportswear styles for fans, Champion has become revered for its high-quality casual designs. Today, the collection consists of athletic apparel and accessories for men and women, all of which feature the classic Champion logo.
Champion hoodies and sweatshirts retail for between $20-$175.
Highlights
Wide collection of men's and women's athletic apparel
Backed by 100 years of experience
Loved by sports fans and athletes
Plenty of sales and affordable prices
Widely available and recognized
3. Carhartt WIP
Founded in 1855 in Macedon Locks, New York, Carhartt was first created to manufacture overalls and duck and denim ideal for working, which it has remained true to this day. From producing the best workman uniforms to its current collection of gear, the company has consistently focused on quality design.
Speaking of, Carhartt is best known for its high quality, durable workwear, ideal for cool weather and difficult working conditions. From humble beginnings, the brand has become synonymous with hard work and is famous worldwide.
On top of all that, Carhartt focuses on environmental protection, responsible working conditions, and fundamental human rights. When it comes to costs, hoodies and sweatshirts, ideal for layering under work attire, retail for $65-$185.
Highlights
Vast collection of men's and women's workwear and accessories
Comfortable loungewear is also available
High quality, durable materials
Ideal for working in cool or harsh conditions
Committed to ethical and environmentally friendly practices
4. Stone Island
The history of Stone Island dates back generations, with a family consistently inspired by clothing and apparel. After years of hard work and dedication, designer Massimo Osti founded the company in 1982 as a sister brand to his firstborn, C.P. Company, founded in 1971.
Based in Ravarino, Stone Island quickly became known for its luxurious collection of men's apparel, and it still is now. Today, the company is owned by Carlo Rivetti beside designer Paul Harvey.
Stone Island sweatshirt and hoodie prices start at $300 and go up to $750.
Highlights
Collection of luxurious Italian menswear, including apparel, accessories, and footwear
Committed to careful design and craftsmanship
High-quality materials and fabrics
Free standard shipping
5. Nike
Synonymous with drive and power, Nike was founded in 1964 by Bill Bowerman and Phil Knight with a clear mission:
"[T]o do everything possible to expand human potential… by creating groundbreaking sport innovations, by making our products more sustainably, by building a creative and diverse global team and by making a positive impact in communities."
Today, the company is best known for its sportswear collection and classic swoosh logo, which dons every item. The collection consists of a vast range of apparel, accessories, gear, and footwear for everyone.
On top of that, the company is committed to sustainability, aiming to eliminate its carbon emissions and waste. When it comes to costs, Nike sweaters and hoodies retail for between $55-$800.
Highlights
Vast collection of men's, women's, and children's athletic apparel and accessories
On a mission towards zero carbon emissions and zero waste
Variety of different materials, styles, and fits
Inclusive price range
Widely available and accessible
6. Brooklinen
Born from the need for quality sheets at an affordable price, Brooklinen was created by husband and wife duo Rich and Vicki Fulop in 2014. On a mission to "make the best of bedding accessible for everyone," the collection consists of Portugal-made silky-smooth sheets, pillows, bath linens, and even loungewear.
Best known for its collection of ultra-soft, ethically made sheets, the brand has since expanded its journey into an array of bedtime necessities. Affordably priced and featuring luxurious materials, Brooklinen loungewear retails for $25-$90.
Highlights
Wide variety of bedtime essentials, including bedding, bath towels, and unisex loungewear
High-quality materials such as linen and cotton
Luxurious feel at an affordable price
Focus on sustainability and ethical production
7. Woodley + Lowe
Defined as a collection of closet staples ethically made in LA, Woodley + Lowe was created by Neda Talebian Funk and Rachel Thebault in 2019. The styles are based on LA culture, featuring fun colors and bold patterns, as well as neutrals and pieces you'll want to wear every day.
The brand's collection is made to be easy to wear, allowing customers to mix and match pieces for a seamless, stylish, and comfy daily look. The company also focuses on sustainability, choosing sustainable yarns, partnering with ethical factories in LA, and having an evergreen return policy.
The Woodley + Lowe hoodies range from $36-$140.
Highlights
Wide collection of comfortable and casual clothing such as sweat sets, t-shirts, and soft skirts for women
Inclusive size range and 'fit tool' to help shoppers find the right size
Rewards program for extra savings
Free shipping on orders over $100
Committed to giving back to the community
8. Patagonia
If you've gone for a hike in the mountains or find yourself passionate about down to earth fashion, chances are you already know about Patagonia. The company was founded by Yvon Chouinard, an American rock climber and environmentalist, in 1973 in California.
The company is best known for its commitment to the environment. 1% of every sale goes toward the preservation and restoration of the natural world. That's also why pieces are guaranteed to last, being made from durable and high-quality materials, limiting the amount of fabrics in landfills.
While the brand is committed to the environment, Patagonia prices are still relatively affordable, ranging from $40-$160 per sweatshirt.
Highlights
Vast selection of men's and women's outdoor clothing and gear
High quality, durable materials
Pledged 1% of sales to the preservation and restoration of the environment since 1985
Items are guaranteed to last
"Worn wear" available to limit waste
9. J. Crew
When you're in need of a few good basics, there's only one place to go: J. Crew. The company was founded with the intention of "making clothes that last a lifetime… and pairing them with of-the-moment styles season after season" by Emily Scott in 1983.
Today, the company is best known for its vast collection of men's and women's pieces, focusing on trendy designs and classic silhouettes to suit every occasion and last a lifetime. The company is also socially and environmentally conscious, focusing on ethical production and manufacturing.
When it comes to costs, J. Crew hoodies retail for between $39-$200, depending on the material and design.
Highlights
Sophisticated collection of men's and women's wear
Blend of trendy styles and timeless silhouettes
High-quality fabrics such as sustainably sourced cashmere
Rewards program available for extra savings
Plenty of sales available
10. Sunspel
With a collection of British essentials since 1860, Sunspel was founded by Thomas Arthur Hill. The products are made in the UK in the same factory used since 1937, focusing on perfecting the feel and look of cotton t-shirts and apparel.
The company is best known for what it started with: luxury men's underwear. They have designed numerous styles throughout the decades to fit every body and preference. But, they now offer essentials for men and women with options for apparel, undergarments, and accessories.
Designed to be luxurious and timeless, made for everyday wear, Sunspel hoodies range in price from $160-$395.
Highlights
Luxury collection of men's and women's wardrobe essentials
High-quality fabrics and designs
Focus on contemporary, timeless designs
Made in the UK
How to Shop for the Best Hoodie
When you're choosing comfy clothes, quality always comes first. From the style and fit to the materials and your budget, there are several things to keep in mind when shopping around. Below, our list of the best hoodie brands will cover the top things to consider to find your perfect sweatshirt.
Brand
When it comes to hoodies, there are plenty of places to shop, whether you want something luxurious or a little newer to the market. But, you should also consider the company's practices and methods to ensure the quality is up to par.
The best hoodie brands also offer trendy styles and timeless designs so that there's something for everyone. Plus, the collection should be high quality and carefully crafted, considering that clothing is often an investment.
Style
Speaking of style, there are many different types of sweatshirts to choose from in our list of the 10 best hoodie brands. Hoodie silhouettes can include the following: zip-up, cropped, with or without hoods, crewneck, and oversized.
They can also be crafted from a number of different materials to create a distinct look. Fitted shapes made from soft cottons can be easily dressed up, while oversized, sherpa fabrics are ideal for getting nice and cozy with your fav pair of matching bottoms or PJ pants.
Fit
The best hoodie brands also offer different fits to choose from in relation to style. Hoodies can have a baggy, loose fit with a comfy, loungy silhouette, or have a more sophisticated and fitted shape, though they can also lie somewhere in between.
Materials and Durability
It only makes sense to opt for an option from one of the best hoodie brands that fits your needs. If you're looking for a hoodie to work out in, something thin with a moisture-wicking fabric is the way to go.
On the other hand, you may be working from home and want something that has a sophisticated style. Or, you may need something that's thick and durable to wear on construction sites or outdoors. No matter what you need, pay attention to how the material will affect its wearability in your life.
Care
From cashmere to cotton, hoodies come in a wide variety of fabrics that require individual care. So, it's essential to opt for something that works well with your lifestyle. To keep your hoodie in pristine condition, be sure to follow the directions on the label. But, we've also got a few tips to keep in mind:
Avoid washing too often or with other clothes
Tie any strings together to avoid knots
Wash inside out in cold water on a gentle cycle with mild detergent
Tumble dry on low or lay flat to air dry
Budget
The 10 best hoodie brands in our list also consist of an entire spectrum of prices, meaning there's something for everyone. It's always important to consider your budget before everything else and opt for something that's still good quality while being affordable and reasonably priced.
FAQ
How do I choose a warm hoodie?
Whether you're going for a hike in a winter wonderland and need to bundle up or commonly work outdoors, there are a few ways to choose a warm option from the best hoodie brands. Here are a few things to keep in mind:
Fabric thickness or weave
A thick or tightly woven fabric is definitely the best choice when it comes to warmth. The best way to find out a fabric thickness is by feeling it in person, but the product description and customer reviews should give a clear idea as well.
Moisture-wicking material is good if you're in cold weather but get warm in your sweater. But, you also want something breathable and comfortable. A thermal material is an excellent choice if you're looking for something to wear in cool weather.
Something fitted and close to your body is ideal for keeping warmth in and layering a jacket over top. On the other hand, you may want something loose and oversized to layer thermal clothing underneath.
Are zip-up hoodies out of style?
The thing about comfy clothes is that they never go out of style. Popularized in the early 90s, zip-up hoodies are still definitely popping in the trends right now. They're ideal for layering and recreating that athleisure look everyone is looking for.
Zip-up hoodies are also great for at-home wear, comfortably layering over PJs, and comfy clothes, while also pairing seamlessly with a pair of jeans whenever you need to run for errands or pop out for a late-night ice cream treat.
How do you style big hoodies?
While a new style can be overwhelming at first, an oversized hoodie isn't something to stress about. There are many ways to wear oversized hoodies, so let's take a look at a few of the options down below.
If you opt for a zip-up hoodie, go for a sporty look with a pair of biker shorts and a sports bra, and wear the sweatshirt unzipped. Or, you could wear an oversized sweatshirt with a pair of baggy jeans and basketball shoes.
Another way to style your big hoodie? As a dress with a pair of tights or thigh-high boots for a runway, chic look. You can also pair your hoodies with different jewelry, bags, shoes, and other accessories to create endless styles.
Final Thoughts
From casual wear to working out to work styles, you can wear hoodies for many reasons. So, it's crucial to choose a style, fabric, fit, and brand in line with your personal needs.
Whether you opt for a zip-up, cropped, crewneck, or thermal sweater, there are a number of options to choose from in our list of the best hoodie brands. And no matter what you choose, a hoodie is a wardrobe staple that helps create a classic, comfortable, and fashionable look.
How We Chose the Best Hoodies Brands
Before choosing any brand, we scour the web and all the biggest e-tailers to ensure we know all the available options on the market. We look at customer reviews, star ratings, brand ethos, processes, materials, accessibility, and so much more. We weigh the pros and cons, so you don't have to, helping you make informed shopping decisions.
---
Check out other curated lists of top brands:
Get Access to Exclusive Deals
Subscribe for free to get exclusive deals in your inbox. 100% privacy