Iaso Tea Review
About Iaso Tea
Iaso Tea is a digestive tea that promises natural detoxification and weight loss. The makers of Iaso Tea, Total Life Changes, sell a line of health and wellness products that are sold in over 90 countries around the world. T
Total Life Changes products are geared towards supporting your digestive system, helping you maintain your weight, and giving you a healthier life.
The company has a significant online presence, with 177k Instagram followers and over 517k likes on Facebook. On their website, you will find a ton of testimonials about their products and even some articles about a few different health and wellness topics to help you on your journey.
My Iaso Tea review will take a closer look at the product, its key ingredients, and the science behind them so you can make an informed decision on whether or not you should invest your hard-earned money.
Overview of Iaso Tea
Total Life Changes's story begins with its founder and "Chief Vision Officer," Jack Fallon. He started his company 18 years ago with a single product called Nutraburst, a liquid multivitamin blend. Since then, the company has grown to become a multimillion-dollar business with a worldwide reach.
Total Life Changes has a full portfolio of health and wellness products, ranging from digestive teas and coffee to supplements and skincare products. One of their flagship products, and the subject of this Iaso Tea review, claims that users will lose weight naturally just by drinking their tea.
Before we take a look at the evidence, let's check out some of this brand's highlights:
Highlights
Sold in over 140 countries
A+ rating on the Better Business Bureau
30-day money-back guarantee
Powered by 9 all-natural herbs
Free from artificial sweeteners
Formula works to support digestion
Key ingredients support bathroom regularity
Many Iaso Tea before and after transformation stories
Strong social media presence
Named one of the best places to work in 2019
Iaso Tea Review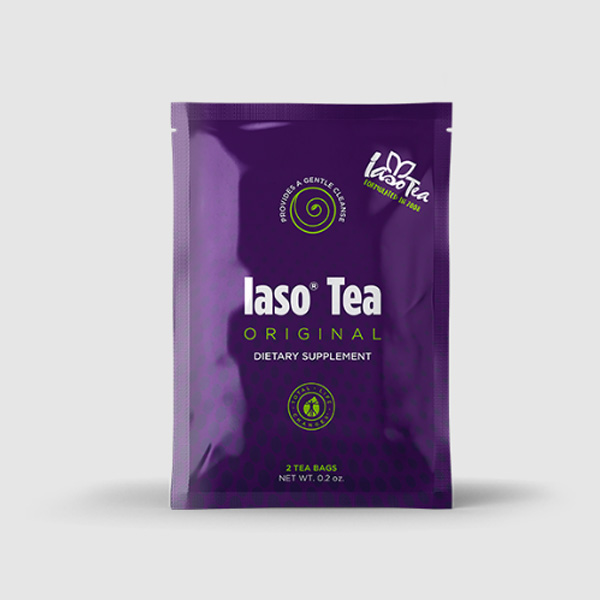 Iaso Tea is a cleansing and detoxifying tea that clears out your system from toxins, helping you maintain your weight. This tea also claims to help keep you more regular and help with indigestion.
Total Life Changes is built on the principle that they want to improve your health from the inside out, and this product does just that. They want you to drink it multiple times a day, and their list of benefits is endless, including making you feel fuller for longer, easier digestion, colon cleansing, and more.
While this sounds like a great product to help you on your health journey, how effective is it really? Does science back up its claims? This tea is made using a proprietary blend of 9 natural herbs, so it's a natural product, which is a big plus. I will get into each ingredient down below
You can buy a 5-pack of Iaso Tea Original for $55. You can also buy it in an instant format which costs $65 for a pack of 50 sachets. Keep reading this Iaso Tea review to find out if it is worth this price.
Who Is Iaso Tea For?
Men and women ages 18+ who are looking for a natural solution to support digestion and regularity in the bathroom can use Iaso Tea.
The product has a strong appeal for customers in search of a weight loss quick fix, although cleansing teas such as Iaso Tea are not proven[1] to have any long-term benefit for weight loss.
What Are The Benefits Of Iaso Tea?
​​The makers of Iaso Tea claim that regular use of the product will give you the following benefits:
Feeling fuller for longer
Easier digestion
Colon cleansing
Detoxification
Natural weight loss
How Does Iaso Tea Work?
​​Iaso Tea is made with 9 herbs that work together to support digestion, make going to the bathroom a better experience, and control your appetite. They also designed this blend to soothe the digestive tract while helping to maintain a healthy colon.
The main focus of this Iaso Tea review is to look at the evidence to help consumers like you make an educated decision about this product. Let's examine the key ingredients and see what the science says about this product's ability to deliver on its promises.
What Are the Ingredients In Iaso Tea?
As I mentioned, Iaso Tea is made using a proprietary blend of 9 herbs designed to support digestion and facilitate bathroom regularity. Let's explore each one in depth: 
Persimmon Leaves
Persimmon leaves have been used in traditional Chinese medicine[2] as a treatment for heart conditions such as stroke, hypertension, and atherosclerosis. Persimmon leaves also have anti-inflammatory properties and may have a role in the treatment of diabetes.
Holy Thistle
Holy thistle, also known as milk thistle, has been used[3] to support liver health. The Natural Medicine Comprehensive Database says there may be some benefit of using holy thistle for indigestion[4] in combination with other herbs like peppermint leaf and chamomile.
Malva Leaves
​​Malva leaves are used as herbal remedies[5]. This plant is commonly found in Europe, Iran, Pakistan, and India. It has antibacterial, antimicrobial, and anti-inflammatory properties and is used to treat various infections and digestive problems.
Marshmallow
Marshmallow is used in traditional medicine and has evidence[6] supporting its anti-inflammatory properties.
Blessed Thistle
​​Blessed thistle is an herb with antibacterial properties used to treat many conditions. A study[7] on blessed thistle showed promising results against a common bacterial infection in the gut.
Papaya
Papaya is grown in over 50 countries around the world, primarily tropical and subtropical. Benefits include[8] regulating the immune system and digestive system. Papaya also has strong antioxidant and antibacterial properties.
Myrrh
​​Myrrh is derived from a tree known as Commiphora Myrrha. It is found in north Africa, southwest Asia, and the Middle East. Myrrh has antibacterial and anti-inflammatory properties and exerts a protective effect on the liver, as studies show[9].
Chamomile
Chamomile is one of the most popular[10] teas consumed in the world. It also has anti-inflammatory properties and is used as a drink to aid sleep. Chamomile is also used as a remedy for heartburn and indigestion.
Ginger
Ginger is an extremely popular[11] herb that has been used for thousands of years all over the world. It is known for its anti-inflammatory properties and has been used to treat nausea and digestive issues.
Readers should also know that ginger acts as a blood thinner. See the side effects section of this Iaso Tea review for more details.
How to Take Iaso Tea and Dosage
For best results, Iaso Tea Original should be brewed and steeped. To make it, start by boiling four cups of water. Add two tea bags to the water and let it steep for at least four hours.
Combine 12 cups of cold water with the steeped tea to make a full batch. One serving is one cup of Iaso Tea.
Readers of this Iaso Tea review should also know that this detoxifying tea is available in instant form. The instant version delivers the same benefits as the original.
Iaso Tea Side Effects
​​While the ingredients I have covered are natural, some may have adverse effects. Let's take a closer look at some Iaso Tea side effects.
Although holy thistle is considered safe, it may cause unpleasant side effects such as diarrhea, indigestion, and loss of appetite. Chamomile has some research that suggests it may cause complications during pregnancy. Some people are also allergic to chamomile.
Ginger[12] has amazing health benefits but it can also act as a blood thinner. Readers of this Iaso Tea review who are using anticoagulant drugs should be mindful of this and consult their doctor before using this or any other product with ginger.
Iaso Tea Reviews: What Do Customers Think?
Iaso Tea shines brightly in the customer reviews department. This product appears to have struck a positive chord with consumers. While there are no reviews on the company website, each version of the tea has several reviews on Amazon:
Iaso Instant Tea: 4.3/5 stars over 7,293 global ratings
Iaso Tea Bags: 4.4/5 stars after 253 reviews
Iaso Raspberry Lemonade Flavor Instant Tea: 4.4/5 stars following 316 reviews
Immuni-Tea Orange Flavored: 4.3/5 stars out of 10 global ratings
One customer wrote: "I absolutely LOVE the instant tea! Take and shake baby! It tastes like water to me, not the crazy alfalfa taste that I was scared it would be. I'm on the go all the time so having this to throw a couple sachets in my purse is phenomenal!"
Another customer said: "I love my Iaso Instant. I don't go a day without it. I was using Instant Tea combined with NRG, Nutriburst and Resolution Drops. It has helped reduce inflammation around my tummy and I can wear clothes without wearing spanx. What I love most is that it's convenient on the go."
One reviewer mentioned its positive effect on their regularity: "I love this product. I am so happy I tried it. Now I can see myself taking it forever. I just bought 2 more. I love that it makes you go to the bathroom but it's not a rushed feeling. For me it normally kicks in when I wake up from sleep."
And another wrote about its detoxing abilities: "This product is great at what it does! I drink a pack a day, but definitely once every two days or so. I've dropped weight… 25lbs in about 5 months of detoxing. Went from 295lbs to 269lbs currently. Drinking plenty of water and regular bowel movements is the key, and making efforts to eat healthier."
While it seems that customers love Iaso Tea, what about the company that makes it? Total Life Changes has been in business for 18 years and is accredited by the Better Business Bureau. As of this Iaso Tea review, Total Life Changes has an A+ rating on the BBB.
The high marks continue to score on Trustpilot, with Total Life Changes averaging an excellent 4.4/5 stars over a total of 2,158 customer reviews. 83% of the reviews are rated as "great" or "excellent."
Now let's sum up the science, reviews, and customer feedback to help you decide if Iaso Tea is right for you.
Is Iaso Tea Worth It?
Iaso Tea is heavily marketed as a natural weight loss product, with secondary benefits that support digestion and make going to the bathroom easier. But is it worth the hype?
As a tool to support digestion and bathroom regularity, Iaso Tea may be an okay option. As a weight loss aid, you are best advised to save your money and time.
Iaso Tea, and the overwhelming majority of cleansing products, are not proven to support weight loss. Yes, you may experience initial weight loss, but these results are not sustainable[1] and maybe unsafe.
There are many more effective ways to lose weight than products like this. The quick fix is an illusion.
Iaso Tea Promotions & Discounts
While there are no discounts offered currently, the creators of Iaso Tea offer the opportunity to buy samples on their website. The samples are free but there is a cost for shipping and handling.
Customers are also encouraged to become part of the Total Life Changes network by being a Preferred Customer or a Life Changer.
As a Preferred Customer, you can take part in the multi-level marketing platform of Total Life Changes. As a Life Changer, you can market and sell products like Iaso Tea to build a side business.
As direct selling is the business model of Total Life Changes, they are always looking to turn customers into independent distributors.
Where to Buy Iaso Tea
The official place to buy Iaso Tea is on the Total Life Changes website. Amazon is another major online retailer, so you can visit the Total Life Changes Amazon store there.
FAQ
How many Iaso Tea should I take daily?
The makers of Iaso Tea recommend drinking one glass with lunch and dinner, followed by a third of a cup with an evening snack. The blend of herbs in Iaso Tea works to support digestion and elimination.
Should I take Iaso Tea with food?
You should drink your Iaso Tea with a meal. You can drink it as a hot beverage or refrigerate it and drink it cold.
Is Iaso Tea vegan?
Iaso Tea does not claim to be vegan. The ingredients are natural, non-GMO, and Halal. Readers of this Iaso Tea review should consult with a healthcare professional with a background in nutrition before using this product.
Is Iaso Tea gluten-free?
Iaso Tea also does not claim to be gluten-free. The ingredients may be gluten-friendly, but any consumer who is gluten sensitive or intolerant should talk to their doctor before using this product.
What are the supplement facts of Iaso Tea?
Iaso Tea is a proprietary blend of persimmon leaves, holy thistle, malva leaves, marshmallow, blessed thistle, papaya, myrrh, chamomile, and ginger. The drink contains no calories or much else in terms of nutritional information.
What is Total Life Changes' Shipping Policy?
The makers of Iaso Tea can process and ship most orders that are placed before 5:00 pm EST on the same day. US orders will generally arrive within 3-5 business days. Shipping rates depend on the weight of your product and will come to you through UPS.
What is Total Life Changes' Return Policy?
Total Life Change's return policy provides customers with a 30-day product guarantee. If you are unhappy ‌about your order and would like to return the product, you have 30 days from the delivery date to return the used or unused product for first-time buyers. Otherwise, they will only accept unopened products.
How to Contact Total Life Changes
I hope you enjoyed this Iaso Tea review! You can contact the customer service team at Total Life Changes using the following:
Toll-Free Phone: 1-888-852-9970
US Domestic Number: 1-810-471-3812
Online Contact Form
The team is available from Monday to Saturday, 8:00 am to 12:00 pm EST. On Sundays, they are available from 8:00 am to 6:00 pm EST. For other countries, please check out this list on their website.
---
Check out similar brands you might like:
Get Access to Exclusive Deals
Subscribe for free to get exclusive deals in your inbox. 100% privacy