Janie and Jack Review
About Janie and Jack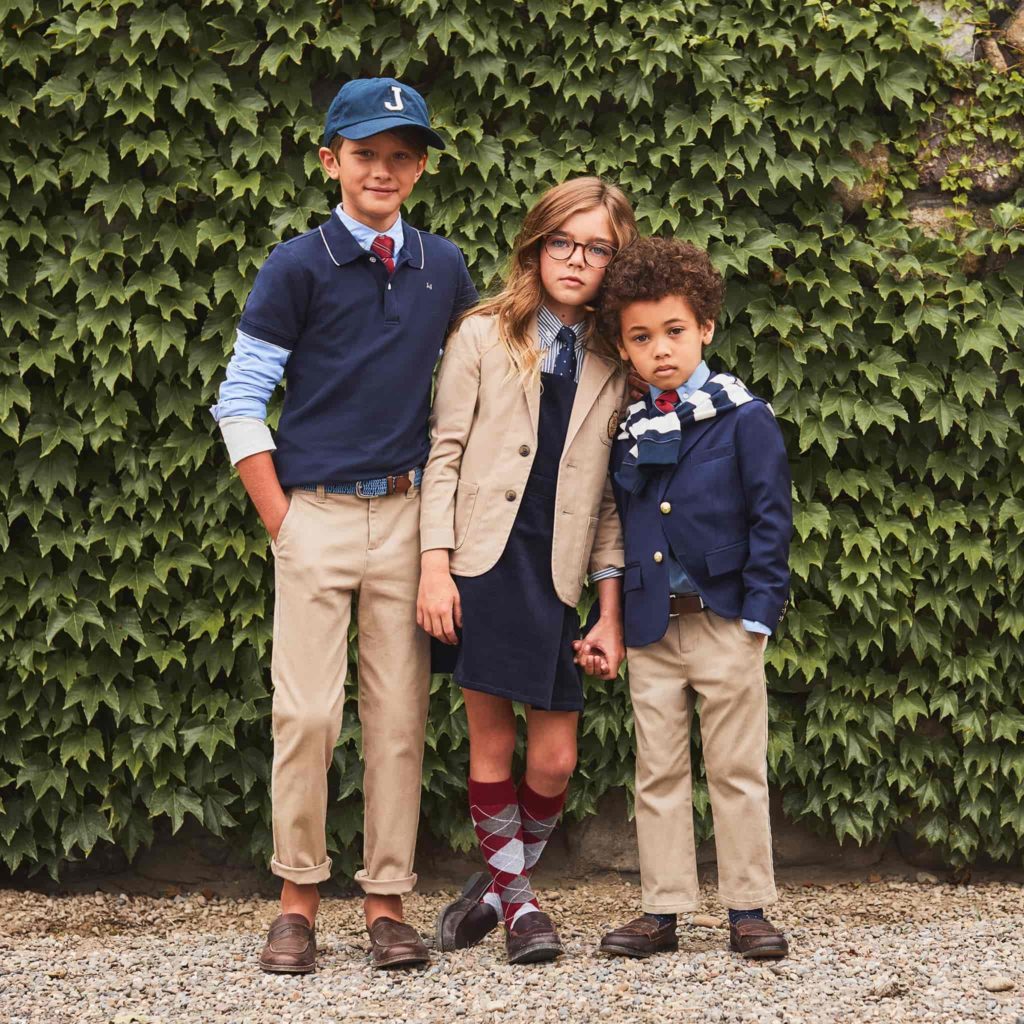 Start the kids dressing for success at an early age with the assistance of Janie and Jack. Featuring styles for boys and girls from newborn to teenage years, this brand sells themselves on variety and quality with clothes enjoyed by both kids and their parents.
This brand isn't new to the game. Previously owned by Gap, they've managed to make their way in the world with over 517k followers on Instagram.
Gaining coverage in media outlets such as PR News Wire, Business Wire, and more, there's a clear understanding amongst the parental crowd that this brand is the one to watch.
Not easily swayed by reputation alone, in this Janie and Jack review, I will check out products, prices, shipping, and more to determine whether this clothing company is one to add to the list.
Overview of Janie and Jack
I'll be the first to admit in my Janie and Jack review that this brand isn't exactly well known.
As an open secret amongst parents, this smaller company designs their products with every kid in mind. From the most active child to those who are all about style, each outfit tells a story, relating to the child and their own interests.
Working to create clothing that will outlast childhood (a very courageous mission considering the confidence and activity level of kids), this brand is all about providing soft and strong fabrics that will cradle the youngest of souls up until that eighteenth year.
Using timeless linens and quilted matelassé amongst their collection, Janie and Jack want to provide a unique experience for every kid.
Throwing in details with interesting designs, ruffles, embroidery, and more, this brand is all about giving kids the chance to shine through style. Parents, children, and even teens will adore the wide selection offered.
Alongside their expansive inventory, this brand brings a lot to the plate. I'll take a brief look at some more general highlights before diving into the nitty-gritty details behind the brand.
Highlights
Extensive range of children's clothing
Collection from newborn through to age eighteen
International shipping
Constant sales
Incredibly soft and durable fabrics
Janie and Jack Dresses Review
Dress the day up for a bit of fun with the assistance of Janie and Jack dresses. From simple and stylish to lacy and luxurious, there's a fashion for everyone in these dresses to match every individual style.
Janie and Jack Floral Ruffle Sleeve Dress Review
Ruffle up some feathers with a new and stylish look for your little girl to go wild over. Take time to make a statement with the Floral Ruffle Sleeve Dress.
Appearing in a whirlwind of a golden floral haze, this dress swirls into focus in a ruffled vision. Featuring a golden yellow backdrop, the pale blue flowers pop with the dark green leaves surrounding them.
Floral and fun, this spring and summer dress is the perfect way to welcome the warm weather.
Ruffled straps hold things in place, ready for any child to spin rapidly to get the skirt blowing in the breeze (we've all done it). Perfect for casual events or the latest party, this dress finds its place in every environment.
At the time of writing this Janie and Jack review, this dress is down to $68 from $79.
Janie and Jack Metallic Trim Ponte Dress Review
Put forth a vision in pink with the simple and stunning Metallic Trim Ponte Dress.
The beauty of this pale pink piece comes from the details. Starting at the top, this dress steals the show with a decorated neckline using subtle gold circles to present almost a pearl necklace surrounding the cuff.
Sleeveless by design, this spring and summer number suits every occasion by bringing a bit of class to a casual style.
Have some fun with flair by really embracing the flared-out skirt of the dress. Stitched in three methods to provide some texture to the design, the slight ombre of the darkening shade stands out as an accent that will pair well with any shoes.
Grab this piece while it's on for $49 (regularly $56).
Janie and Jack Clothing Review
Heading into more neutral Janie and Jack clothing ranges, I wanted to highlight a few top sellers that any age or gender could appreciate.
Easy styles, lower prices, and pairing well with any top or bottom, these designs will class up any closet.
Janie and Jack Linen Pull On Pants Review
Let kids look good while still feeling comfortable with the Linen Pull On Pants.
Designed in a dark, navy blue, these pants keep things comfortable in every way. Tightened by a white drawstring at the front, it takes seconds to get these pants on and secured before heading out for the day.
Dark enough to pass for more formal events, they also serve up looks in casual life, pairing well with just about any top.
Featuring pockets in both the back and front, kids will be able to store whatever they need on the go. The back pockets are secure with the assistance of button closures to keep things in place no matter how fast they're running.
Available in up to size 16, these linen pants are ready to face any young age and the adventures they discover.
These pants are currently cutting costs. At the time of writing this Janie and Jack review, they're available for $37 (regularly $44).
Janie and Jack Pique Polo Pink Review
It's always a good plan to have some semiformal shirts ready for last-minute occasions. That's why the Pique Polo Pink is ready to be stashed in the closet.
Simple and stylish, the classic polo can never go wrong. Presented in a pale pink fashion, with transparent buttons down the placket, the only stitched décor for this one comes from a single black anchor over the left chest.
Preppy and popular, polos never truly go out of style. Pairing well with jeans for a more dressed-down look or slacks to elevate the outfit, this shirt will be one that will work any event with ease.
Take advantage of a deal and grab this polo while it's on for $20 instead of its regular $29 price.
Who Is Janie and Jack For?
Any parents can appreciate the wide range encapsulated by Janie and Jack. This brand is all about expanding selection and providing a one-stop-shop for children of all ages.
Forget having to find a new location after moving from newborn to toddler to child. Stick with one standard company that offers up a world of fashions that allow children to choose and change their personal style as they grow.
Janie and Jack Reviews: What Do Customers Think?
In this Janie and Jack review, I wanted to give a well-rounded perspective on the company, and that involved looking outside of my personal bias.
However, in my search, I found that reviews for this brand are quite slim. Their personal site doesn't even have a separate review page, but instead works through limited product ratings.
Numbers aren't too high for the product pages of this one. Popular products like the Tortoise Sunglasses have 5/5 stars based on 5 ratings.
With limited numbers for the comments themselves, it's difficult to know just how much to trust each rating, however, I will say that the posted reviews themselves are incredibly complimentary.
Customers seem to adore the wide selection of styles with this brand, even noting that things such as the sunglasses "stay on so well! Especially when her nose bridge isn't high enough yet."
Designed to comfortably fit each age range, these pieces are perfectly styled to look great and support the child at the same time.
"Great quality product and great fit for our 22 month old."
Of course, the Tortoise Sunglasses aren't the only loved product by this brand. Despite the lower review numbers, other products are still well-rated:
JJ Black Tinted Sunglasses: 4.3/5 stars based on 5 ratings
White Bow Gloves: 5/5 stars based on 2 ratings
Newborn Snickerdoodle Baby Linen Pants: 5/5 stars based on 2 ratings
Looking externally for a few higher numbers, I managed to spot Influenster with 4.5/5 stars based on over 50 ratings. Though still not into the thousands, I do have to note the satisfaction customers seem to have found through this brand.
One Janie and Jack review even noted that this is "One of my favorite children clothing brands. It's a bit pricey, but they have excellent quality of materials and I love their classic style."
Offering top-quality materials, an expansive style, and a wide range of age-appropriate attire, customers seem to have nothing bad to say about this one.
Even the folks over on Reddit love it, with one noting that "Janie and Jack are really cute clothes and not really styles seen anywhere else. They are classy and have a bit of nostalgia to them."
Sweet, simple, and stylish, this brand seems to have a bit of everything. Constant sales on good quality items just keep the customers coming back.
Is Janie and Jack Legit?
From the research done for this Janie and Jack review, I didn't find any red flags. I will note that there aren't a lot of reviews to their name, but other than that, I haven't really found anything to be concerned about.
Is Janie and Jack Worth It?
I'll put it right out there – the verdict of this Janie and Jack review is that this brand is worth it. Offering a wide berth on the styles and sizes available for children, there seems to be something for everyone.
Featuring fun and classic designs in durable and comfortable material, these pieces have been produced with children in mind – that means they're mobile, strong, and ready for action at any moment. I'm going ahead with two thumbs up for this one.
Janie and Jack Promotions & Discounts
While writing this review, I came across two simple promotions that will save a bit of cash for parents:
40% off pajamas
10% off with a newsletter subscription
Where to Buy Janie and Jack
The easiest place to start stocking up on clothing is from the brand's website at janieandjack.com.
Featuring the complete collection, it's easy to buy and ship directly from the source. That said, those who are looking elsewhere can find limited stock at:
Gap
Old Navy
The Children's Place
Nordstrom
Janie and Jack outlet stores
Amazon
FAQ
Who owns Janie and Jack?
Janie and Jack recently underwent a change in leadership with Go Global Retail taking charge in 2021. Prior to that, the company was owned and operated by GAP.
Does Janie and Jack ship internationally?
While conducting the research necessary for this Janie and Jack review, I discovered that the brand proudly ships internationally. They have service to Europe, Asia, the Pacific, and North America.
What is Janie and Jack's Shipping Policy?
Shipping is straightforward and simple with this brand, so that's how I'll present all four shipping options:
Economy – 5 to 7 business days for $6
Standard – 2 to 5 business days for $8
2 Day – 2 business days for $15
Next Day – 1 business day for $25
Shipments with a total of over $500 will require a signature upon delivery. All other orders will be left at the house with tracking available upon the parcel being shipped.
What is Janie and Jack's Return Policy?
We can't all enjoy every purchase – that's why return policies exist. In the case of Janie and Jack, this brand offers up to 45 days for returns or exchanges.
All merchandise must be unwashed and unworn to be returned for a full refund and can be returned in two manners:
In-Store – anyone near a store location can take their receipt and item to their local store for a return.
By Mail – those who don't live within range can mail their returns back for no additional price. Just complete the Return form on the bottom of the packing slip, pack it up, and go online to the return center to print out the free label for returns
No cost either way – just a decent timeline to receive and decide on clothes before sending them in for money back.
How to Contact Janie and Jack
Any lingering questions after reading through this Janie and Jack review can be directed to customer service who work Monday to Friday from 6 am to 5 pm PST and Saturday from 7 am to 3 pm PST. There are a number of ways to reach out:
Phone: 1-877-449-8800
Live Chat: Icon on the right side of your screen on their website
Email: [email protected]
---
Check out some of our recently published articles:
Wonderfold Wagon Strollers Review
Get Access to Exclusive Deals
Subscribe for free to get exclusive deals in your inbox. 100% privacy