Noobru Review
About Noobru
We can all use a little boost in performance whether in the office, the gym, the bedroom, or when reaching life's later stages.
Few companies create products that cater to such a wide audience, except for Noobru. Their nootropics are made for all walks of life with synergistic ingredient blends designed by medical professionals.
They also have a lofty goal of fortifying 1 billion meals by 2025. Every purchase of a Noobru product helps them and their partner Project Healthy Children fortify a year's worth of meals for one child.
It's rare for a company as young as Noobru to have such ambition, but that vision has helped them earn more than 11k Instagram followers and coverage in major media publications like GQ and The Guardian.
Pros & Cons
My Noobru review will examine the brand's nootropics, their ingredients, their benefits, and what customers have to say about them so you can decide whether they're right for you. To start, let's look at some of the brand's pros and cons:
Pros
Cognitive Enhancement: Noobru contains a combination of ingredients that may help improve cognitive function, focus, memory, and energy levels.
Nootropic Ingredients: Noobru Advantage includes well-known nootropics such as L-theanine, CHD Choline, Phosphatidyl serine, Huperzine A, and Alpha GPC.
Drinkable Form: Noobru is available in a powdered form that can be mixed with water, providing a more enjoyable and convenient way to consume the supplement.
Gluten-Free and Vegan-Friendly: Noobru is gluten-free, allergy-free, and suitable for vegans, making it suitable for individuals with dietary restrictions.
Cons
Limited Published Studies: There are no published, peer-reviewed studies specifically on Noobru, which means the efficacy and safety of the product have not been extensively researched.
Individual Variations: The effects of Noobru may vary from person to person, and individual results may depend on factors such as lifestyle, overall health, and dosage.
Why You Should Trust Us
Our mission is to help you make better, more informed purchase decisions.
Our team spends hours researching, consulting with medical experts, gathering insight from expert professionals, reviewing customer feedback, and analyzing products to provide you with the information you need.
Ingredients
The ingredients used in Noobru products are aimed at providing cognitive enhancement and improving mental performance.
While specific scientific studies for Noobru itself were not found, the following highlights the ingredients used and their potential benefits according to the brand:
Health Benefits
This is why we're all here, really. What can Noobru reportedly help with? This is what the brand says:
Promote Relaxation
L-Theanine is an amino acid found in tea leaves and is known for its calming effects and ability to promote relaxation without drowsiness. It may also have potential cognitive benefits by improving attention and focus.
Enhance Cognition
Citicoline is a compound that plays a role in brain function and has been studied for its potential cognitive-enhancing effects. It may support memory, attention, and overall cognitive performance
Boost Energy Levels
Sulbutiamine is a synthetic derivative of vitamin B1 that is believed to enhance cognitive function and energy levels. It has been studied for its potential benefits in reducing mental fatigue and improving memory
Increase Brain Health
Alpha GPC is a choline compound that is involved in brain health and function. It is often used as a cognitive enhancer and may support memory and attention.
4 Best-Selling Noobru Products
Noobru Shield Review
The Noobru Shield is a daily drink mix you can add to your routine to improve mental clarity, ease stress, aid your immune system, and provide slight perks to your physical performance. You can dump a packet into a water bottle and sip it throughout the day.
Noobru claims the 13 ingredients that comprise Shield work together better than they would separately. Those ingredients include:
100mg of alpha gpc
200ug of Astragalus Membranaceus Extract
300mg of Choline Bitartrate
Other natural ingredients include echinacea, elderberry, ginger extract, and ginseng alongside Vitamins B6, C, D, and E. You can grab 20 packets of Noobru Shield for $50.
Customers say: "This product is incredible, it keeps me focused and flying through my day! I would highly recommend Noobru to anyone who wishes to cruise through their day with ease without the afternoon caffeine crash of coffee. I am able to stay focused and maintain my energy level throughout the workday and I feel GREAT! I would also like to mention that I'm sleeping much better as well"
Noobru Lucid Review
The next item in my Noobru review is more than a standard sleep aid, Noobru Lucid can boost the time you spend REM sleeping and cognitive processes by deepening your sleep.
Noobru ingredients for this item come in the form of "dream boosters" like huperzine A, passion flower, and l-tryptophan, "sleep-promoters" like valerian, chamomile, and Humulus lupulus, and "de-stressors" including tulsi, l-theanine, and Ashwagandha.
A one-month supply of Noobru Lucid drink mixes costs $50.
Customers say: "This is amazing. Within 10 mins of me drinking this I felt very relaxed and calm. I was very sleepy and was able to fall asleep. I'm not normally a good sleeper but this stuff is a game changer."
Noobru Advantage Review
Noobru Advantage is the company's premium nootropic. It promotes many benefits associated with cognitive enhancing products like reduced anxiety, sharper focus, heightened motor skill recruitment, and better memory recall.
Of course, these all come from the ingredients Noobru's team of doctors selected and appropriately measured. Alpha GPC, Ashwagandha, Choline bitartrate, and l-theanine make up most of Noobru Advantage and are thus responsible for most of its neurological effects.
As with the other items in my Noobru review, the Noobru Advantage is a drink mix. You can purchase 20 packets for $60.
Customers say: "I bought Noobru as I have to pass an exam, and my memory had started waning, I was worried I would not be able to memorise for my exam the way I used to. Noobru saved me. Two weeks after I started taking it, I noticed an increase in both my focus and my memory. I was motivated to study, and was remembering the facts I was studying. I'll certainly buy it again!"
Noobru Pro Review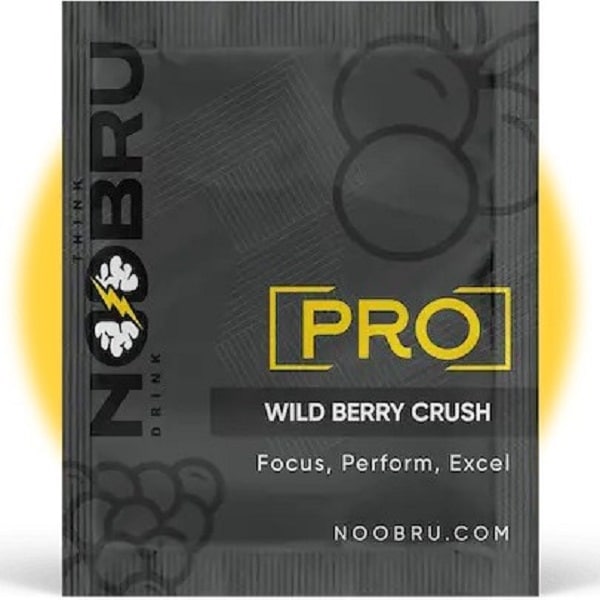 Lastly, there's Noobru Pro, which contains the same ingredients as Noobru Advantage alongside a few others for the ultimate neurological boost, or so the brand says.
These new ingredients include 40mg of caffeine for slight mood regulation and energy benefits as well as 500mg of acetyl-l-carnitine, which can potentially offset depressive symptoms.
20 Noobru Pro drink packs cost $65.
Customers say: "After drinking Noobru i feel much more focused and alert. It is much better than coffee, which effect i didn't notice any more. After 2 weeks of drinking it i must say that it still works. Some days i can still feel the extra energy in the late afternoon. It is awesome!"
Does Noobru Work?
Thankfully, Noobru publishes how much of each ingredient their mixes contain per serving. They also claim that their ingredients are backed up by numerous studies. However, they don't link any of those studies on their website.
Some of their ingredients are underdosed. For example, Noobru Pro's acetyl-l-carnitine 500mg falls short of the minimum effective 1,500mg dose. As such, it's hard to say how much of Noobru's effectiveness is due to placebo.
Who would I recommend Noobru to?
I'd recommend Noobru to people who need an extra boost to their focus without relying on caffeinated drinks.
Who I wouldn't recommend Noobru to?
I wouldn't recommend Noobru to anybody who can increase their mental performance through simpler methods like sleeping better, eating healthier, or adopting better lifestyle changes.
Alternatives To Noobru
Here are some enticing alternatives to the products featured in my Noobru review:
Apothékary: earthy-flavored nootropic mixes with a wide array of benefits
Everyday Dose: a mushroom-packed coffee alternative 
Mind Lab Pro: caffeine-free mental stimulants and adaptogens in capsule form
What Do Experts Think?
While there weren't any Noobru reviews from experts, there was chatter among professionals about nootropics as a whole. In general, experts were skeptical about them, saying that there isn't enough research to validate the claims these products make as of yet.
Noobru Reviews: What Do Customers Think?
To kick things off, here are a few aggregate Noobru review scores from across the internet as of May 2023:
Trust Pilot: 4.2/5 stars based on close to 100 ratings
Facebook: 3.4/5 stars based on more than 30 ratings
Knoji: 3/5 stars based on three ratings
As you can see, most customers were thrilled by Noobru. Many felt that their mood and attention to detail increased substantially after adding the mix to their routine.
One customer wrote, "Fantastic product that really helped me focus! I take it every day before work and I can really feel the difference. Would recommend to anyone wanting to improve their memory, focus or productivity!"
The Noobru Pro received ample praise for its all-encompassing benefits. Users noted a plethora of improvements, even more so than other Noobru products.
"I've been using their Pro formula for a few months now and I really notice how it lifts me, help me write and coach people. It tastes great, makes me feel great, focused and energised. What's not to like? I feel this is going to be a long love affair! Thanks Noobru team," said one satisfied shopper.
Not only did customers enjoy how Noobru made them feel, but they said it helped them kick their coffee habit. I read a handful of Noobru reviews where users said it was a better alternative to coffee.
"I suffered from very bad fatigue and mental fog. Caffeine was destroying my body. After the first time trying Noobru Advantage the drive focus and energy I used to have was suddenly there. I've gotten my life, goals, and ambition back!" wrote one Noobru customer.
There were some comments among Noobru reviews that mentioned the products' taste. A few customers weren't too fond of them, which is fine as taste is a matter of preference.
What's more concerning is how some buyers had issues with shipping and subscription payments.
Noobru customers said the company took money out of their accounts without delivering products. However, there weren't too many stories like this, so I don't believe they represent Noobru as a whole.
Is Noobru Legit?
The issues with Noobru's customer service, their low ingredient doses, and the overall scientific apathy towards nootropics raise a few eyebrows.
However, these are all pessimistic points of view battling against overwhelmingly positive customer reviews.
As such, it's hard to say for certain whether Noobru is legit, but I'm leaning towards a healthy yes.
Is Noobru Worth It?
At the time of writing this Noobru review, I think you should approach them with a bit of skepticism. If their products entice you then don't hold back – I encourage you to follow your heart.
However, I think you should wait until more experts have weighed in on them before you buy, especially considering their prices and the lack of Noobru discount codes.
Where To Buy Noobru
You can check out the brand's website, noobru.com, or the Noobru Amazon page to shop.
FAQ
Who owns Noobru?
Noobru founder Martyn Cook owns the company.
How long does Noobru take to work?
You may begin to feel Noobru's effects immediately, but most of its benefits come after prolonged intake.
There isn't a definitive timeline available. Even Noobro states, "Other ingredients have a more slow-change effect, as they gradually help your brain to function better in a cumulative fashion over time."
Will I become dependent on Noobru?
Noobru does not contain any addictive ingredients so it's highly unlikely that you'll start to depend on it.
Is it okay to drink alcohol while taking Noobru?
It's totally safe to drink alcohol while taking Noobru. None of Noobru's ingredients react with alcohol.
Where does Noobru ship to?
Noobru can ship to most countries around the globe although some customers may have to pay import tax or customs duties.
What is Noobru's Shipping Policy?
Noobru ships all orders over $60 for free. They use standard shipping for American, Canadian, and European orders. They ship to UK customers with Royal Mail offering first class shipping for $4 or second class shipping for $6.
What is Noobru's Returns Policy?
You can return orders that contain more than a half month's supply. You'll have to contact Noobru to initiate the return.
How To Contact Noobru
I'll wrap up this Noobru review by giving you the brand's contact info. Reach out to them by filling out a customer contact form on their website.
---
Check out some of our recently published articles:
Get Access to Exclusive Deals
Subscribe for free to get exclusive deals in your inbox. 100% privacy