Everyday Dose Review
About Everyday Dose
Everyday Dose is a fruity mushroom-based drink mix that tastes and acts like coffee, only with many more benefits and fewer downsides.
In my Everyday Dose review, you'll find out about how this product could help you, how much it costs, and what customers have to say about it. You'll also read a head-to-head comparison of one of the brand's biggest competitors, so you'll get front-row seats to the Mud WTR vs Everyday Dose fight.
Why You Should Trust Us
Our mission is to help you make better, more informed purchase decisions. Our team spends hours researching, consulting with medical experts, gathering insight from expert professionals, reviewing customer feedback, and analyzing products to provide you with the information you need.
The idea behind Everyday Dose was to deliver customers the same nootropic, mood-enhancing, productivity-boosting, immunity-building, and destressing benefits that the brand's founder Jack Savage discovered once he started looking into mushrooms and nootropics.
As such, he created a drink mix that used whole ingredients to optimize health and improve overall functioning. To find out how, read through this Everyday Dose review, after I tell you about a few of the highlights that make shopping with the company stress-free in its own right.
Highlights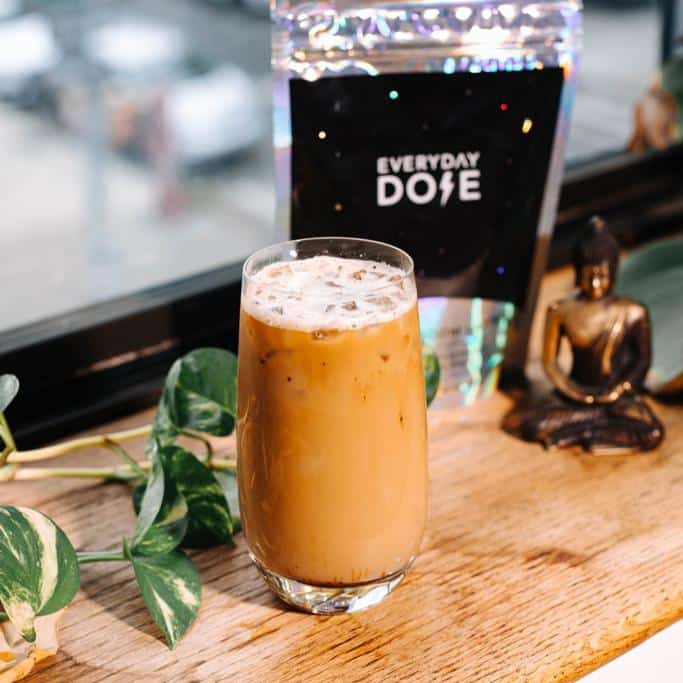 Free shipping
Free frother included with most orders
Thousands of positive customer reviews
60-day return policy
Low caffeine stimulant
Everyday Dose Review
Simply put, Everyday Dose is an all-in-one morning drink mix. It can help settle your stomach, improve focus, boost energy, fight off illnesses, and help you get a good night's sleep. I'll tell you how the drink delivers those benefits in the next section of this Everyday Dose review.
Before I get to that, you should know that a 30-serving package of Everyday Dose Mushroom Latte costs $50.
How Does Everyday Dose Work?
The easiest way to explain how Everyday Dose works is by telling you about the ingredients. The active ingredients in the drink mix are:
Collagen
Lion's mane
Chaga
L-theanine
Cold brew coffee extract
All of these ingredients are fully organic and double-extracted. Both of these certifications ensure that Everyday Dose is as effective as possible, hitting you with an array of health benefits like a Mike Tyson punch to the face.
Collagen is an animal-based protein that's especially helpful for building and repairing skin, hair, and bones. Everyday Dose uses collagen from grass-fed Brazilian bovine.
Lion's mane and chaga are two mushroom strains with different benefits. The former helps improve memory and focus while the latter is a great antioxidant that combats inflammation.
L-theanine is an amino acid that comes from green tea. It works synergistically with the other ingredients as it can also help improve focus and mood, and promote deeper sleep.
Finally, there's cold brew extract, which is a low-acidic and caffeine compound (39 mg per serving) that gives Everyday Dose its coffee flavor.
As for how you put it to use, well, it couldn't be simpler. You just add a serving to a cup of cold water, stir it (or froth it), then customize it to your liking by adding milk, sweetener, or ice.
Mud WTR vs Everyday Dose
One distinction between Everyday Dose and Mud WTR is that the former has a stronger coffee taste. This is either a huge positive or a negative depending on how much you like coffee. Personally, that would make it easy for me to switch over to Everyday Dose simply because I love how coffee tastes.
On the other hand, Mud WTR is vegan while Everyday Dose is not suitable for vegans because it contains collagen. Finally, Mud WTR has four different mushrooms whereas Everyday Dose uses two.
Besides those differences, the two products bring about similar benefits, so selecting which one is for you comes down to how much you like the taste of coffee and whether or not you want a vegan product.
Who Is Everyday Dose For?
Nearly everybody with every sort of dietary preference can enjoy Everyday Dose because the product is:
Dairy-free
Gluten-free
Soy-free
Non-GMO
Keto
The only folks that wouldn't be able to take Everyday Dose, besides those that are allergic to mushrooms, are vegans, as the mushroom latte contains collagen which is not vegan.
Everyday Dose Reviews: What Do Customers Think?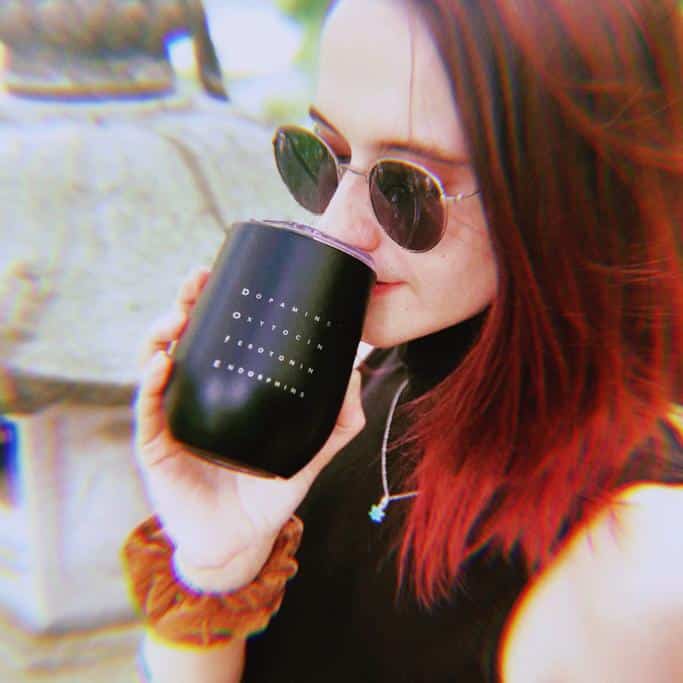 Here's a list of Everyday Dose review scores taken from across the internet. Note that all of these numbers come from aggregates of multiple customer reviews.
Everyday Dose: 4.9/5 stars based on more than 1,110 pieces of customer feedback
Amazon: 4.5/5 stars based on more than 45 pieces of customer feedback on the Everyday Dose The Mushroom Latte
Trust Pilot: 4.1/5 stars based on more than 150 pieces of customer feedback
Reviews.me: 4/5 stars based on more than 1,500 pieces of customer feedback
Perhaps unsurprisingly, the majority of Everyday Dose reviews came from customers who were trying to kick their coffee dependence for one reason or another. They said that the product was more than just a good replacement, it was an improvement over coffee both in terms of energy and how their stomach felt.
"I bought the starter kit and love all the goodies it came with, also really nicely packaged! Really surprised at how normal this compares to my regular coffee. I love the added health benefits, especially for digestion and mood. It mixes with water so well especially with the frother (which is super powerful by the way)! Taste just like regular black coffee to me, but I did add some frothed milk and cinnamon to it to make it my own and it was still great!" wrote one customer.
Others said that it was a better alternative to coffee because the lower caffeine levels meant they didn't get most of the side effects that come from coffee. As such, they felt more comfortable drinking it on a regular basis.
Here's a customer Everyday Dose review that speaks to that point.
"While this is far from a panacea for my ADHD, it has absolutely made a positive impact on my mental clarity and ability to make good decisions (i.e. to rein in my impulse control issues). And as someone with the inattentive subtype, for which fatigue and brain fog is my most pressing symptom, the increased energy (without being jittery) is a massive plus. This is a fairly expensive product, but for me, it's worth it. As long as they maintain the quality, I'll keep buying."
If there was one thing that customers complained about in their Everyday Dose reviews, it was the cost per serving. They said that the product was great, providing them with the benefits that it advertised, but that the price was a bit high.
That being said, this wasn't enough to deter people away from Everyday Dose. At worst, buyers said that they'd reconsider picking it up again but only if it was less expensive.
I'll wrap up this segment with one final Everyday Dose review that a customer left on Amazon.
"Everyday Dose basically consolidated several of my morning supplements into a single, delicious beverage. Plus, as a nomad, it's made things SO much more convenient, since all of my supplements are in one package /and/ I don't have to go out to get a coffee, or go to the grocery store to get grounds and then hope the Airbnb has a decent coffee maker. It's just a matter of hot (or cold!) water and stirring in a scoop."
Is Everyday Dose Legit?
I couldn't find anything that made me think that Everyday Dose wasn't legit.
Is Everyday Dose Worth It?
Many of the ingredients in Everyday Dose stand up to scientific scrutiny and the lower caffeine content may help some people who deal with the compound's negative side effects. As such, I think that Everyday Dose is at least worth checking out.
Everyday Dose Promotions & Discounts
For a limited time only, you can upgrade your Everyday Dose coffee subscription and earn a reward of up to $30 off. All you need to do is sign up and the company will send an email with an attached promo code.
Where to Buy Everyday Dose
You can buy the products on their website, www.everydaydose.com, or on Amazon.
FAQ
Who owns Everyday Dose?
Jack Savage owns Everyday Dose.
Will Everyday Dose Make Me Trip Balls?
No, Everyday Dose contains no hallucinogens, psilocybin, or other psychoactive properties. This means that you can safely ingest it without it negatively impacting your performance. Unfortunately, that means that you can't take it before going to an EDM concert in lieu of other "performance-enhancing drugs."
Does Everyday Dose Ship Worldwide?
Everyday Dose only ships to Canada and the United States.
What is Everyday Dose Refund Policy?
You'll have up to 60 days to return your purchase alongside everything it came with in order to redeem a refund minus the cost of shipping.
What is Everyday Dose Shipping Policy?
Anxiously waiting for your order to arrive? All shipping is free. Items should be delivered within 3 to 7 business days.
How to Contact Everyday Dose
I hope you enjoyed this Everyday Dose review! For any other questions, feel free to send the brand an email at [email protected].
---
Next, check out some similar brands you might like to sip on:
Get Access to Exclusive Deals
Subscribe for free to get exclusive deals in your inbox. 100% privacy