Onitsuka Tiger Review
About Onitsuka Tiger
Lions, tigers, and bears may spark fear into the hearts of jungle travelers but there's one animal in that trifecta that's scarier than the others – the tiger.
Why's that? Just look at Tony the Tiger's ripped physique and tell me if you've ever seen a bear that looked like it could compete at the Olympics.
As I speak of athletics and tigers, it's only natural that Onitsuka Tiger would become a conversational topic.
This Japanese company has been a world leader in sneakers during the 60s and 70s while also reasserting their dominance within streetwear over the past two decades.
They just wrapped up their showcase at the 2022 Milan Fashion Week event, a premiere they showed off to their 65k Instagram followers.
But where do Japanese workmanship, athletic performance, fashionable designs, and tigers all come together? Will these shoes help you win the Olympics? Will they help you put together a street-ready outfit that's so hot your Tinder profile will combust?
That's a lot of questions dear reader! How about you read my Onitsuka Tiger review where I'll answer them and let you know about the company's history, products, prices, practices, and more.
That way you'll be able to choose for yourself whether the Onitsuka Tiger is your spirit animal, or if maybe you should go back to the Lacoste Alligator or Toucan Sam from Froot Loops.
Overview of Onitsuka Tiger
Onitsuka Tiger has been in business since 1947. They were founded by Kihachiro Onitsuka who began the company by developing basketball sneakers.
He founded the company to help the Japanese youth recover from the horrors of World War II. Onitsuka encouraged young people to get more active and play sports by building affordable shoes.
From there the company worked with professional Japanese athletes like Toru Terasawa to improve their shoes. This led to products like the Onitsuka Tiger Mexico 66 being fabricated in anticipation of the 1968 Olympic Games in Mexico City.
The company renamed itself the ASICS Corporation in the late 1970s and quietly ceases production under the Onitsuka Tiger name. They didn't close down – they merely shifted their marketing.
However, ASICS saw the opportunity to give vintage sneakerheads new products and revived Onitsuka Tiger as one of their shoe brands in the early 2000s.
At the time vintage streetwear and shoes were catching more people's attention. ASICS realized that they were sitting on a goldmine and brought classic products like the Onitsuka Tiger Mexico 66 back to storefronts.
They stand as one of the most dependable sports brands in 2022. Even prolific Japanese author and marathon runner Haruki Murakami has said that he only buys running shoes from Onitsuka Tiger.
Let's close the history books for now and flip over to some of the brand's highlights in the next part of my Onitsuka Tiger review.
Highlights
A long history of creating some of the most recognizable sneakers in history
Affordable options
Available in many retail locations
Free ground shipping on US orders
Free returns
Onitsuka Tiger is primarily known as a sneaker company but they actually make more than just shoes. They also produce apparel (including casual wear and athletic garments), accessories, and shoes in various styles:
Brogues
Oxfords
Boots
Lace-ups
Onitsuka Tiger Clothing Review
They say that the clothes make the man. If that's the case then these pieces of Onitsuka Tiger clothing could turn you into one of the deadliest cats on the planet.
In this portion of my Onitsuka Tiger review, I'll be looking at some of the brand's best-selling garments.
Onitsuka Tiger Graphic Tee Review
This graphic tee features a design made by the late Nirasawa Yasushi. He was a visual artist and illustrator who designed characters for Kamen Rider. The shirt also uses the brand's famous stripe pattern to replace the tiger's usual stripes.
The Onitsuka Tiger Graphic Tee is a collector's item because it was made in collaboration with Nirasawa Yasushi. Since he's no longer with us you'd be correct to assume that this shirt retails at a higher price than other Onitsuka Tiger shirts.
This shirt costs $95 which is about $50 more expensive than other shirts that the company produces.
Onitsuka Tiger Knit Cardigan Review
Would you ever expect a legacy athletic wear company to make a cardigan that's so comfy you could hibernate in it? Well then, non-believers and small woodland mammals, take a gander at the Onitsuka Tiger Knit Cardigan.
This item is made from a blend of cotton and acrylic materials. It's a versatile piece thanks to its material make-up, its potential as a layering garment as well as an overcoat in warm weather, and its relaxed fit.
The Onitsuka Tiger Knit Cardigan comes in bright green or light yellow. Both colors are as pleasing to the eye as rolling in a field of daisies is sensational on your skin.
This item can be yours for $165.
Onitsuka Tiger Ls Graphic Tee Review
We return to Nirasawa Yasushi's work with this item in my Onitsuka Tiger review. This long-sleeve t-shirt features the same design as the Onitsuka Tiger Graphic Tee, only it's on this item's back.
The Onitsuka Tiger Ls Graphic Tee is a great alternative piece. It's an all-black t-shirt with an aggressive-looking tiger on the back, i.e., the perfect t-shirt to wear if your girlfriend convinces you to go see her brother's death metal band play live.
This item is designed as unisex and is made out of 100% cotton just like the other Nirasawa Yasushi pieces. It retails for $110.
Onitsuka Tiger Shoes Review
Now that I've finished the clothing portion of this Onitsuka Tiger review it's time to delve into the products that made this company a powerhouse.
I'm going to be looking at some of the best Onitsuka Tiger shoes, which are widely regarded as some of the most inspirational pieces of footwear since humanity invented socks.
Onitsuka Tiger Serrano Review
The Onitsuka Tiger Serrano shoes are the company's tribute to track cleats from the 1970s. But before you worry that these shoes are only made for the track circuit, rest assured that Onitsuka Tiger has you covered.
These shoes combine everyday functionality with athletic aesthetics. The collar and tongue of the shoe are padded to provide extra comfort. The bottom tread is designed to evoke memories of track championships.
But now that athleisure is all the rage you may as well invest in a solid pair of Onitsuka Tiger Serrano shoes. They're available in both men's and women's sizes for $80. They also come in two different colorways: green and white, and grey and blue.
Onitsuka Tiger Mexico 66 Review
Now these are the shoes that put Onitsuka Tiger on the map. Actually, did you know that they put Mexico on the map as well?
Before the Onitsuka Tiger Mexico 66 debuted two years ahead of the 1968 Olympic Games in Mexico City, the country didn't even have a name! Thus, the shoes were such a hit that the country adopted the name Mexico, or at least that's what our history teachers taught us.
Joking aside, these shoes are legendary among footwear enthusiasts. They were designed by the company's lead designer Kihachiro Onitsuka. His vision gave the shoes an everlasting shape, design, and blueprint that has inspired countless imitators.
The Onitsuka Tiger Mexico 66 are available for $100 in a bevy of colorways. They've improved over the years, and adopted more quality-of-life changes, such as the next item in my Onitsuka Tiger review.
Onitsuka Tiger Mexico 66 Slip-On Review
These Onitsuka Tiger Mexico variants caught my eye for how they updated the slip-on model. Most slip-on shoes lazily sag over the user's feet like they're a wizard's sleeve hobbling over a bony man's rigid digits.
The Onitsuka Tiger Mexico 66 Slip-On shoes, however, are both practical and stylish. They retain the holes for shoelaces but don't need laces to be tightened because they use a synthetic leather mold. This mold keeps the shoes tight around your feet.
They also feature the Mexico 66's famous heel flap and sturdy ankle support. They're slightly cheaper than their laced brethren, coming in at $85.
They come in a simple navy and white color scheme or the red, white, and blue colorway that sneakerheads across the world will recognize.
Who Is Onitsuka Tiger For?
Onitsuka Tiger is for people who appreciate legacies as well as innovation. Onitsuka Tiger is a smart brand. They know that people love their classic visual designs, but they realize that people don't want to wear shoes that feel like they were made 70 years ago.
With that in mind, they combine modern-day footwear technology with their famous aesthetics to give customers timeless designs.
Onitsuka Tiger Reviews: What Do Customers Think?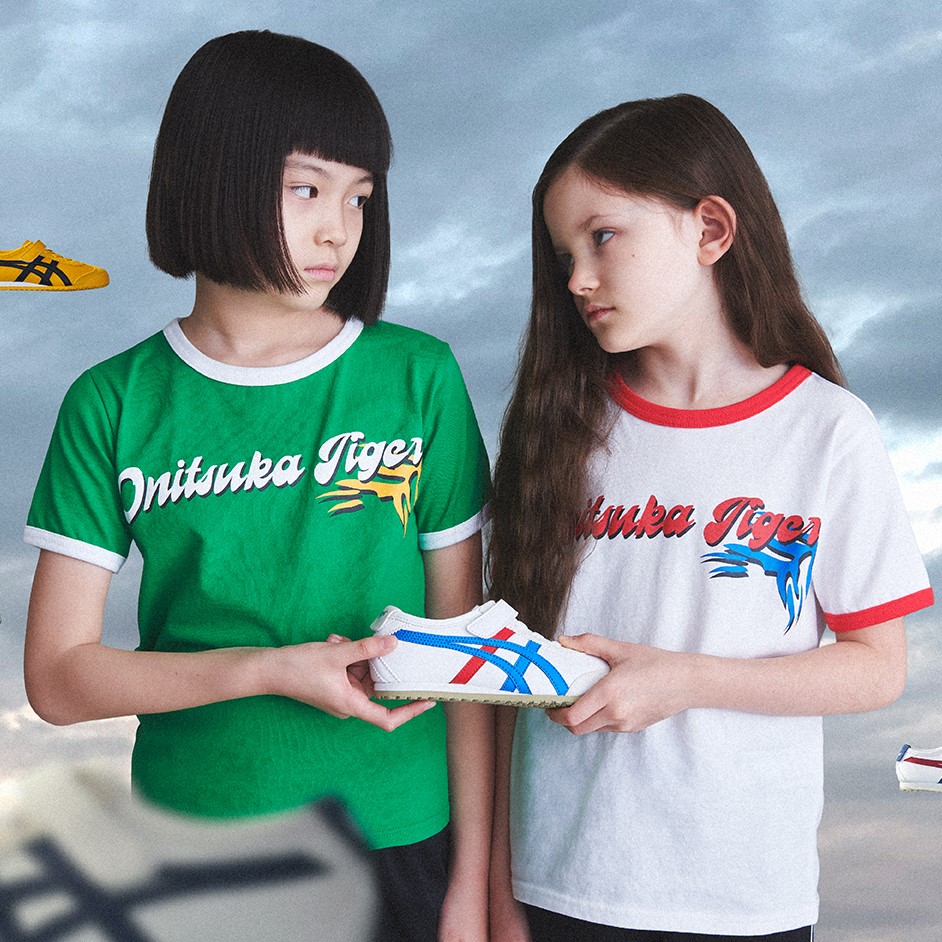 Onitsuka Tiger has been around for over 70 years and in that time they've earned a dedicated fanbase. But what is it about their shoes that have brought customers back to them?
This section of my Onitsuka Tiger review will tell you what real customers had to say about the company.
The Onitsuka Tiger Men's Serrano Lace-Up Fashion Sneaker earned a 4.7/5 stars score based on over 190 pieces of customer feedback on Amazon.
As expected for a shoe whose visual flair has persisted for over half a decade, customers loved how the shoe looked.
One customer (of many) said that the sneaker's design was her favorite feature:
"I love the construction of the shoe, as it creates a comfortable feeling that can be felt throughout the shoe. Moreover, I feel really light on my feet when I wear these shoes, which can be a plus depending on what one does during the day. There is no doubt that I will be purchasing another pair in the near future, as they are comfortable as hell, and they look great, too!"
Other customers echoed these comments about the shoe's comfort. Here's what another customer said about the shoes as a whole. "Besides the (subjective) good looks, these shoes are very light and super comfortable. They also provide excellent traction on dry surfaces."
I also consulted with customers on Zappos to see what they thought about the Onitsuka Tiger Mexico 66. From over 780 customer reviews here's what I gathered:
The shoes had great arch support
They fit true to size
Their style and their comfort levels were unmatched
A 5/5 stars review of the shoes went a little something like this:

"I think that these shoes are the coolest shoes I have ever owned. They feel very comfortable and they look awesome. If you are thinking about buying these shoes, I do suggest you to order half a size smaller because the leather stretches."
The last place that I looked for customer feedback was on TrustPilot. There, customers were less satisfied with Onitsuka Tiger than on other review outlets. This was mostly due to complaints about the brand's shipping and returns. 
The good news in this bad situation is that Onitsuka Tiger is available through multiple retailers. That means that you can still buy their shoes but just through a retailer with better customer service scores.
I'll conclude this section of my Onitsuka Tiger review by reminding you that despite the brand's disappointing customer service scores, buyers across the board were more than satisfied with how their shoes looked and felt. 
Is Onitsuka Tiger Worth It?
I believe that Onitsuka Tiger is worth it for a few reasons. Firstly, their designs have stood the test of time. If it wasn't clear in this Onitsuka Tiger review, I'm a sucker for the classics, and this company has them in spades.
They're also an affordable brand especially compared to other sneaker companies. Their agreeable prices come without the company needing to sacrifice quality or durability either.
Onitsuka Tiger Promotions & Discounts
Although it's not a discount in and of itself, joining the Onitsuka Tiger ONEASICS program will allow the company to notify you when they are running new promotions. Additionally, you'll gain access to limited edition products and sales.
Membership also gives you early access to new sales and products. You can also receive 2nd-day air shipping for a discounted price.
Best of all, ONEASICS membership is completely free. All you need to do is sign up with your email address.
Where to Buy Onitsuka Tiger
While writing this Onitsuka Tiger review, I found that you can buy the brand's items through more places than just their website at onitsukatiger.com.
You can pick up their shoes, clothes, and accessories at sports stores like Sport Chek, department stores like Nordstrom, and the ever-reliable Amazon.
FAQ
Who owns Onitsuka Tiger?
Onitsuka Tiger is technically owned by ASICS.
Is Onitsuka Tiger the same as ASICS?
Yes and no. Onitsuka Tiger is a shoe brand produced and distributed by ASICS. Therefore all Onitsuka Tiger products are ASICS goods, but not all ASICS products are property of Onitsuka Tiger.
Does Onitsuka Tiger ship internationally?
The American Onitsuka Tiger website does not ship internationally.
What is Onitsuka Tiger's Shipping Policy?
While Onitsuka Tiger does not ship internationally, they do offer free shipping on all ground orders in the United States. Ground shipping typically takes about 4 to 7 business days.
They also offer 2nd-day air shipping which costs $15 but arrives in 2 to 3 business days. Their final shipping option is next-day air shipping. It costs $25 but should reach your doorstep within 1 to 2 business days.
What is Onitsuka Tiger's Return Policy?
There are a few conditions your purchase must meet before you can send an item back for a return or a refund. Firstly, you must've bought the item from either the company's website or a dedicated Onitsuka Tiger store. It cannot have been from an ASICS store.
Secondly, the item must be returned unused and undamaged.
If those conditions are met then you'll have 60 days to return your purchase and receive a refund.
How to Contact Onitsuka Tiger
The exclamation point on this Onitsuka Tiger review will be all the ways that you can reach out to the company to probe deeper about them. 
You can speak with one of their employees by calling (855) 233-3120. Their phone lines are open from 8:00 am to 8:00 pm EST Mondays to Fridays.
---
Check out similar brands you might like:
Get Access to Exclusive Deals
Subscribe for free to get exclusive deals in your inbox. 100% privacy