SeoulCeuticals Review
In partnership with SeoulCeuticals
About SeoulCeuticals
There's a misconception in the world of skincare that expensive means effective. SeoulCeuticals proves it doesn't have to. Their line of results-driven, power-packed skincare products is said to be an excellent alternative to pricey serums and creams, with no item reaching above $22.
Some might say that SeoulCeuticals has landed on a winning combo. Their combination of pure, potent, effective, and affordable products has shaken the skincare world, called a "hidden miracle" by Shape magazine and adored by the folks at InStyle, New York Magazine, and Vogue, to name a few.
They even have a 160K following on Instagram. But is this cruelty-free K-beauty brand right for you? To find out, check out my SeoulCeuticals review. I'll tell you all about their best-sellers, feedback, promotions, and more to help you decide.
Why You Should Trust Us
Our mission is to help you make better, more informed purchase decisions. Our team spends hours researching, consulting with medical experts, gathering insight from expert professionals, reviewing customer feedback, and analyzing products to provide you with the information you need.
Don't forget to check out 20 Best Skincare Products and Treatments.
Overview of SeoulCeuticals
SeoulCeuticals is all about the results. They get that, without results, there's no point in making skincare. Founded in 2017 by Craig Romero and his wife Amy, Craig currently sits as the brand's CEO, and the two actually own another highly rated skincare brand called Admire My Skin.
The main difference? SeoulCeuticals makes Korean skincare, while its other brand is more focused on brightening dark spots. Coincidentally, SeoulCeuticals' #1 selling product, the Day Glow Serum also helps reduce dark spots, so I think it's safe to say they have their formula down.
With a focus on helping you achieve glowing, radiant skin affordably, SeoulCeuticals employs high standards across their sourcing and production, choosing pure and effective ingredients and never testing on animals.
Ready for more? It's all to come in this SeoulCeuticals review. I'll start with the highlights.
Highlights
Affordable Korean skincare
Great range of products (cleansers, serums, masks, etc.)
Made in the USA using key ingredients from Korea
Potent ingredients
Cruelty-free innovation
Offers deals & discounts
Ships internationally
Free US shipping
Free returns
There's no denying that K-Beauty is one of the hottest trends in skincare right now. Why? Because not only are its products formulated to give you soft, supple, and flawless skin, but they're full of nutrient-rich, natural ingredients and are usually more affordable. Coming up next in this SeoulCeuticals review, I'll walk you through the details of the brand's best-sellers in their line.
SeoulCeuticals Day Glow Serum Review
SeoulCeuticals Day Glow Serum is by far the brand's most popular product. It's been featured by Shape and InStyle, called a "hidden miracle" and "the perfect affordable alternative to high-end vitamin C serums."
Guaranteed to give you a brighter, more youthful complexion, the serum is made with 20% vitamin C, vitamin E, ferulic acid, and hyaluronic acid to protect and glow. By shrinking pores, reducing the appearance of acne scars, and getting rid of pimples, this incredible serum has more than proved its worth. The best part? A 1 fl oz bottle is just $20.
What customers say: I love this serum, it hydrated my skin and made it so soft, and the consistency of it feels so rich and soft. I also love how it's anti-aging! – Jazmine, SeoulCeuticals.com
SeoulCeuticals Review
SeoulCeuticals offers a small collection but a great range of skincare products, including serums, masks, toners, moisturizers, cleansers, and essences. Below, you'll meet their best-sellers made with key ingredients from Korea.
SeoulCeuticals Snail Repair Cream Moisturizer Review
Before you turn away at the thought of snails, there are far worse things lurking in your conventional skincare and makeup products like shark liver oil (squalane) or carmine (from insects).
The Snail Repair Cream Moisturizer uses a higher concentration of snail extract (97.5%) than other comparable products, which means you see brighter, more youthful results faster. In fact, SeoulCeuticals say results are visible in a matter of days.
Helping to plump fine lines and wrinkles while giving you a healthy glow, their moisturizer uses shea butter, vitamin B5, and organic green tea for a dose of antioxidants and hydration. Pick up a 2 fl oz jar for $20.
What customers say: Nothing negative about it. Feels good on my skin, has a very light citrus scent which I like very much. greasy and absorbs well. It seems to have diminished some lines near the corner of my eye. – Lucy, SeoulCeuticals.com
SeoulCeuticals Marine Mineral Plump & Glow Essence Review
The sea is full of vitamins, minerals, and antioxidants and the Marine Mineral Plump & Glow Essence is brimming with them too. A protective, brightening spritz to hydrate and nourish, you'll spray it on your face after cleaning but before moisturizing to pump up your daily glow.
This formula is packed with nutrition-packed ingredients, including tamarind extract, Japanese green tea, aloe, and marine minerals to give your face some much needed TLC. Non-comedogenic too, you can pick up a 4 fl bottle for $20.
What customers say: Leaves a beautiful sheen finish to your makeup or works wonderful on a clean face adding firmness & hydration! – Donna, SeoulCeuticals.com
SeoulCeuticals Hyaluronic Jelly Face Mask Review
In terms of hydrating ingredients, you can't get much better than hyaluronic acid. The Hyaluronic Jelly Face Mask harnesses the power of this moisture-retaining miracle, quenching dry, parched skin for a more plump and youthful look.
Using a blend of natural superstars including vitamin B5, rice bran water, jojoba oil, rosehip, and oat, the mask soothes tired, dull skin and helps to pop out fine lines and wrinkles. A 2 fl oz jar is $19.
What customers say: It makes my skin super soft and dewy looking after I rinse it off. – Mimou, SeoulCeuticals.com
Who Is SeoulCeuticals For?
SeoulCeuticals makes affordable Korean skincare. It's a great option for those in need of brightening, moisturizing, or skin-perfecting products but don't want to spend a fortune.
SeoulCeuticals Reviews: What Do Customers Think?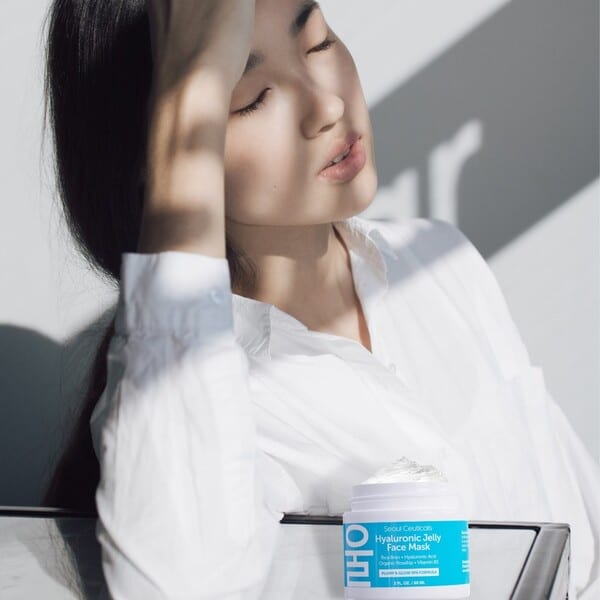 To put it simply, any kind of skincare product wouldn't be worth buying if it didn't work. So in this part of my SeoulCeuticals review, we'll look deep into feedback to see if this brand's line does. The first place we'll check out is their website and below, you'll see a handful of ratings for some of their best-sellers.
Day Glow Serum: 4.5/5 stars, 1,867 reviews
Snail Repair Cream Moisturizer: 4.5/5 stars, 1,590 reviews
Marine Mineral Plump & Glow Essence: 4.5/5 stars, 415 reviews
Hyaluronic Jelly Face Mask: 4.8/5 stars, 62 reviews
Looking into the comments for the Day Glow Serum, customers think this serum is the bomb. One SeoulCeuticals review read:
"I saw this recommended on social media, tried it and loved it. My skin looks smooth and nice and it is a FRACTION of the cost of skinceuticals. This is good stuff guys."
This first SeoulCeuticals review brings up a good point: the cost. I know the pain of buying expensive skincare. You think the more money you spend, the more results you'll see, but it turns out that formulas like the Day Glow Serum have similar, if not the same, results. Let's move on to our next source, Amazon.
On Amazon, the Day Glow Serum was awarded a 4.3/5 star score by 18,089 shoppers. Wow. Here's the snapshot:
5 stars: 64%
4 stars: 17%
3 stars: 10%
2 stars: 4%
1 star: 5%
One SeoulCeuticals review there read, "I had used a face tanner product which brought up dark patches on my face that I was struggling to get rid of. This product worked quickly and although it did not remove the dark spots, it lightened them significantly and in just a few weeks. I have very sensitive skin and have had no problems at all with the product."
There's a ton of super helpful information in this review. For starters, the product works, and it works quickly. Then there's the whole safe for sensitive skin thing which means that just about anyone can use it. In terms of powerhouse products to snap up, the Day Glow Serum comes in high on the list.
But let's check out one final SeoulCeuticals review to be sure. This time, I hit up Influenster and saw a 4.4/5 star score from 56 folks for the Day Glow Serum.
"I love this serum! My skin is noticeably brighter, clearer, and smoother. It has helped even out my skin tone as well as greatly reduce my acne scars. My skin also feels so hydrated and you really can't beat the price point. In fact, I feel like this has worked better than the more expensive vitamin c serums I've used," reported one glowing customer.
Judging from the many comments and ratings I've seen for this SeoulCeuticals review, these products work, don't cause irritation, and are incredibly affordable. I ran into very few complaints among feedback—the most being from those who didn't see many results.
It's always important to remember that results can vary. Even a $200 serum may not be effective for all. To sum things up, SeoulCeuticals works and is loved by the masses.
Is SeoulCeuticals Legit?
SeoulCeuticals is based in the US which is also where it makes its products. So how are they Korean? Because they use key ingredients sourced from Korea. They stay true to Korean skincare thanks to their partnership with Ella Cho, a product consultant with plenty of experience in K-beauty.
As for the brand itself, I didn't come across any red flags during this SeoulCeuticals review. Some mention slow shipping, but overall, thousands love their product line and rate it highly.
Is SeoulCeuticals Worth It?
SeoulCeuticals is a much-talked-about brand with affordable products that truly work. They're made with science-backed ingredients and appear to be seriously loved by customers. Aside from their Snail Cream, all of their products are vegan and the entirety of their line is cruelty-free.
All things considered, SeoulCeuticals checks a lot of boxes for those in search of affordable skincare that works and is definitely a brand worth buying from.
SeoulCeuticals Promotions & Discounts
Since you've made it this far in my SeoulCeuticals review, you already know how affordable these products are. But still, the brand has plenty more ways to save. I'll list them all for you here:
Subscribe to any products & save 15%
Sign up for the newsletter to get 20% off
Bundle your products for up to 35% off
Free shipping for all US orders
Where to Buy SeoulCeuticals
You can find SeoulCeuticals products at Walmart, iHerb, and Amazon. Prefer to shop directly with the brand and save? Head over to SeoulCeuticals.com.
FAQ
Who owns SeoulCeuticals?
Craig Romero and his wife Amy founded Seoul Ceuticals. The husband and wife team launched the brand in 2017.
Does SeoulCeuticals ship internationally?
Yep! They offer international shipping for a flat rate of $15. You can order up to 10 items for this rate. You can expect your package to arrive in 1-3 weeks. See the next section of this SeoulCeuticals review for information on US shipping.
What is SeoulCeuticals' Shipping Policy?
Once you place your order with SeoulCeuticals online, they will ship it out in 2 business days. Here's what else you should know about the policy:
Shipping takes 1-3 business days for continental US orders
Your order may take up to a week to be delivered
All shipments come with tracking numbers
US shipping is free
If you have any questions about the shipping process, SeoulCeuticals encourages you to send them a message. They will get back to you with answers as soon as possible.
What is SeoulCeuticals' Return Policy?
If you need to return your SeoulCeuticals order, you totally can. Just be sure to stick to the following guidelines:
You have 60 days from the date of purchase to make a return
All items must be in new and unused condition
All tags and labels must still be attached
To return your item, pack it securely in the packaging it came in and send it to the address below:
Digital Beauty Group
Attn: Returns
340 Royal Poinciana Way
317-356
Palm Beach, FL 33480
United States
If you prefer, you can use the prepaid shipping label included in your package. If you do not, your return shipping charge will be reimbursed by SeoulCeuticals.
Once they receive your return, it will take up to 10 business days to process it. Your refund may take 1-2 billing cycles to reflect in your account.
How to Contact SeoulCeuticals
You've reached the end of this SeoulCeuticals review, what's next? If you still have questions, you can get in touch with the brand by using the contact form or chat on SeoulCeuticals.com.
---
Next, explore some related reviews you might find useful:
15 Best Foundations For Oily Skin
10 Best Japanese Skincare Brands
Get Access to Exclusive Deals
Subscribe for free to get exclusive deals in your inbox. 100% privacy