Shotengai Snack Box Review
In partnership with Shotengai
About Shotengai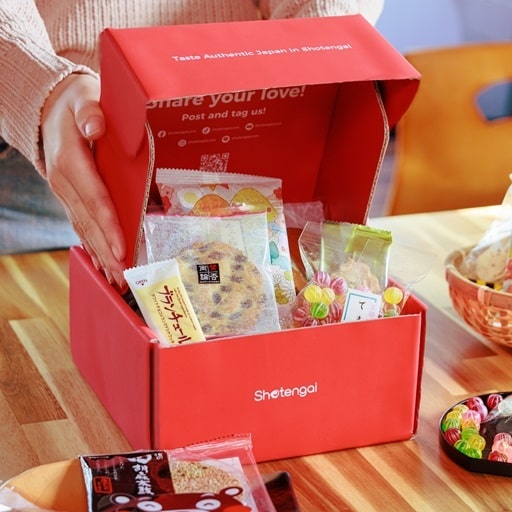 I recently gave Shotengai, a Japanese snack and tea subscription service, a whirl, and I must say, I was pretty impressed.
The website provides an extensive selection of wholesome Japanese snacks, teas, and household goods sourced directly from traditional shops and small family businesses—delivered right to your doorstep. As a food enthusiast who enjoys exploring various cultures, I found Shotengai to be an excellent service.
Established in 2021, Shotengai was founded by a passionate group dedicated to creating a platform that champions small, family-owned businesses in Japan.
At the core of Shotengai's mission is the commitment to deliver high-quality, genuine Japanese products to its customers while supporting local communities and advocating for sustainability.
It strives to provide healthy and authentic snacks, teas, and household items sourced from small family businesses and traditional shops in Japan.
The Classic Box subscription offered by Shotengai features a carefully curated selection of snacks and teas, offering customers a delightful taste of Japan's rich culinary heritage. It's a go-to destination for discovering unique and hard-to-find products!
User Experience
I found Shotengai's website design to be modern and visually appealing. The color scheme is consistent throughout the website, and the font is easy to read. The website's layout is clean and well-organized, making it easy to navigate.
It's quite user-friendly. The website loaded quickly, and I didn't experience any lag or glitches while browsing.
The product pages were informative, with clear descriptions and multiple images of the products. There's also customer reviews you can browse, helping make informed decisions about what to purchase.
Shotengai Snack Box Review
Classic Shotengai Snack Box
The Classic Shotengai Snack Box from Shotengai is a fantastic way to experience a diverse range of authentic Japanese snacks, teas, and household items.
The monthly curated box features 20+ new themes each month. The charm lies in the element of surprise and the opportunity to discover new and authentic flavors. The free worldwide shipping is also a great bonus!
Shotengai Snacks
You can purchase snacks box in addition to the subscription boxes. The page features a wide selection of authentic Japanese snacks that customers can purchase individually, ranging from savory rice crackers to sweet mochi and everything in between.
This allows customers to try new snacks without committing to a full subscription box, or to purchase their favorite snacks in larger quantities.
Product Variety and Quality
I was impressed with the variety and quality of products offered by Shotengai. They offer a diverse range of healthy Japanese snacks, teas, and household items from traditional shops and small family businesses straight to your doorstep.
I appreciate the fact that Shotengai sources their products from local businesses. This not only supports the local economy but also ensures that we are getting authentic Japanese products.
Curation Team
The Curation Team at Shotengai is led by Stella Chao in Montreal, Canada, and Naoki Inoue in Osaka, Japan. They work together to source and curate a selection of authentic Japanese products for customers around the world.
Pricing and Payment Options
Price
The company's pricing is very reasonable for the quality of products they offer. Their monthly subscription boxes start at $46 per month, which includes a surprise selection of healthy Japanese snacks, teas, and household items.
Payment Flexibility
Shotengai offers a variety of payment options to make it easy for subscribers to pay for their monthly boxes. They accept all major credit cards, including Visa, Mastercard, American Express, and Discover. They also accept PayPal as a payment option.
One of the things I appreciate about Shotengai is their flexibility when it comes to payment. They allow subscribers to pause or cancel the subscription at any time, without any penalty fees. This means that if you need to take a break from receiving boxes for any reason, you can do so without any hassle.
Shipping and Delivery
In this section, I will provide a brief overview of their shipping options and delivery timeframe at Shotengai.
Shipping Options
Shotengai offers shipping to several countries, including the United States, Canada, Australia, and several countries in Europe. Customers can choose between two shipping options: standard and express.
The standard shipping option is free. On average, customers can expect their packages to arrive within 1-3 weeks after shipping.
The express shipping option is a premium, but it is faster. Customers can expect their packages to arrive within 3-5 business days after shipping. This option is ideal for customers who need their products quickly or who want to track their package every step of the way.
Delivery Timeframe
Shotengai typically ships orders within 1-3 business days of the purchase date. You will receive a notification once their package has shipped, which will include a tracking number. This allows customers to track their package and estimate when it will arrive.
It is important to note that delivery times vary depending on the shipping option selected, as well as the customer's location. Customers should also be aware that local customs or weather delays can cause shipping to take longer than expected.
Customer Service
Shotengai offers various ways to contact their support team for any inquiries or issues. Up ahead, I will discuss the accessibility and response time of their customer service.
Accessibility
You can reach out to Shotengai through email or by using the contact form on their website. They also have a phone number that customers can call during business hours, which are Monday to Friday from 12 pm to 8 pm and Saturday to Sunday from 12 pm to 5 pm (JST). The phone number is +81-06-4963-3435.
Additionally, Shotengai has an FAQ page that addresses common questions and concerns. The page covers topics such as shipping, refunds, payment, and subscriptions.
Return and Refund Policy
As per Shotengai's return and refund policy, all purchases made on their website are considered final and non-refundable. They do not accept returns for their perishable items. So, customers are advised to carefully review their orders before placing them.
In case of any issues with the order, customers can contact Shotengai's customer service team within 24 hours of receiving the order. They may request a refund or exchange if the items received are damaged or incorrect. However, Shotengai reserves the right to deny any refund or exchange requests if they believe that the issue was caused by the customer.
It is important to note that Shotengai's return and refund policy applies only to purchases made on their website.
FAQ
What is Shotengai and what services does it offer?
Shotengai is an online shopping platform that specializes in Japanese products. It offers a wide range of products, including food, cosmetics, fashion, and electronics, among others. The platform allows customers to browse and purchase products from various Japanese vendors.
Is Shotengai a reliable platform for online shopping?
Yes, Shotengai is a reliable platform for online shopping. The platform has a strict vetting process for vendors, ensuring that only reputable sellers are allowed to sell their products on the platform. It has a secure payment system that protects customers' financial information.
How does Shotengai ensure the quality of its products?
Shotengai ensures the quality of its products by working closely with vendors to ensure that they meet the platform's quality standards. The platform also has a review system that allows customers to leave feedback on products they have purchased, which helps other customers make informed decisions.
What is the return policy for products purchased on Shotengai
Shotengai has a 30-day return policy for products purchased on the platform. If a customer is not satisfied with a product, they can return it for a full refund or exchange. However, the product must be in its original condition and packaging.
Are there any shipping fees associated with purchases made on Shotengai?
Yes, there are shipping fees associated with purchases made on Shotengai. However, the shipping fees vary depending on the vendor and the customer's location. Customers can view the shipping fees for a product before making a purchase.
Can I track my order on Shotengai?
Yes, customers can track their orders on Shotengai. Once an order has been shipped, customers will receive a tracking number that they can use to track their package. Customers can also view the status of their order on the platform.
---
Check out other related reviews that you might also like:
Mid Day Squares Review: A Look at the Popular Snack
Get Access to Exclusive Deals
Subscribe for free to get exclusive deals in your inbox. 100% privacy