Snuggle Me Organic Review
About Snuggle Me Organic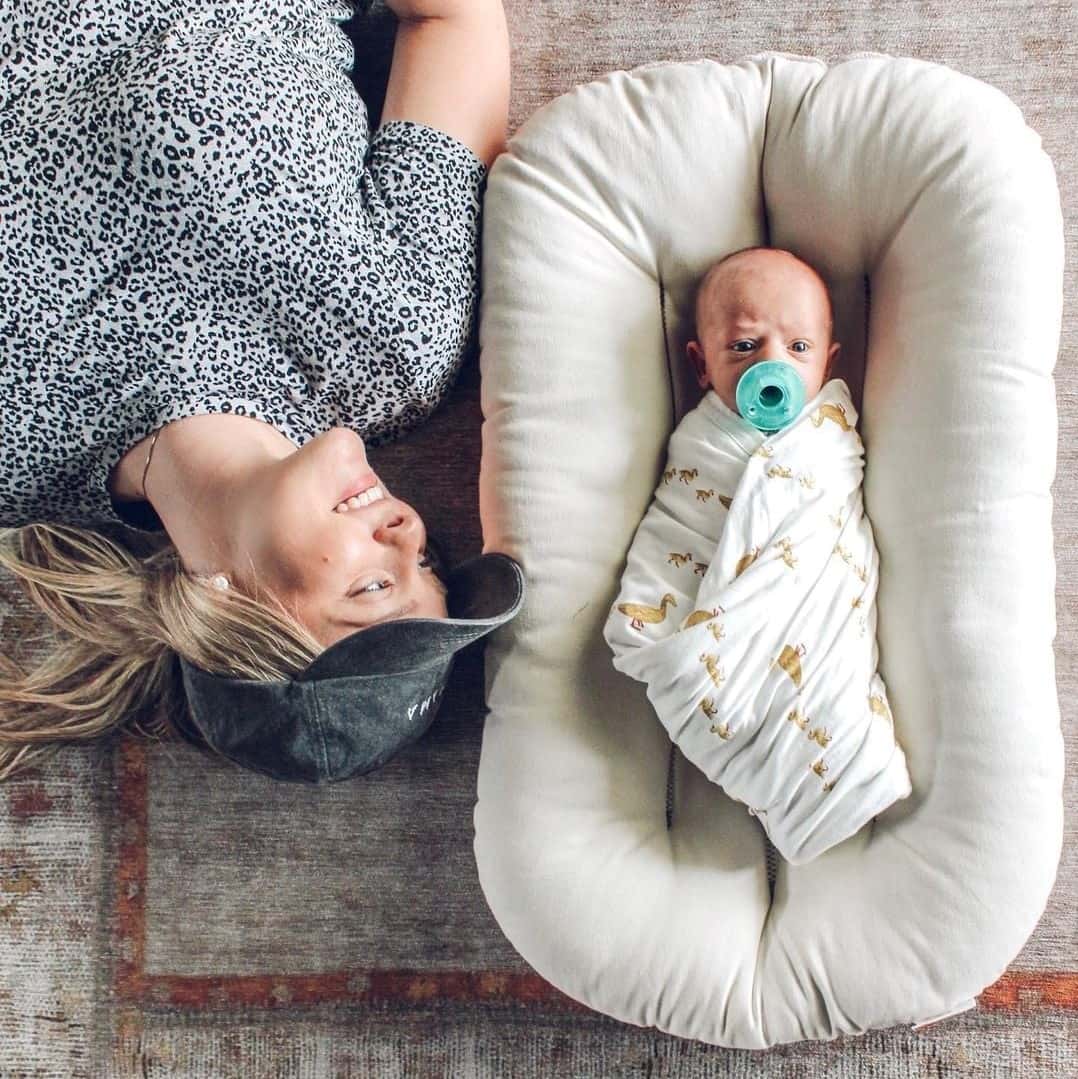 There are lots of things to do in the day, and you can't do everything with your baby in your arms (even though you might want to). Luckily, Snuggle Me Organic is the next best thing since they have lots of supportive loungers and pillows made for babies.
Your infant or toddler will be snug as a bug and be able to rest up in this cushion, while you finally get a chance to do dishes, laundry, tidy up and take a second to make yourself that much-needed cup of Joe and commit a little time to yourself. If this sounds like something you might need, keep reading this Snuggle Me Organic review to find out all about the brand.
With 1.8 million followers on Instagram, where they feature sweet and happy little babies all snuggled up in their cozy lounger (as well as a giveaway here and there), it's clear that the brand has garnered a loyal customer base and plenty of interest!
With that, it's time to jump into this Snuggle Me Organic review. I'll go over all the qualities of the brand and its products, review their bestsellers and what makes them special, take a look at what customers are saying, and answer some important FAQs, to help you decide if one of these products is what's missing from your routine.
Overview of Snuggle Me Organic
Snuggle Me Organic was conceptualized in 2007 when the founder, Mia Carr, became the mother of twins. With seven kids in total, Mia didn't have enough hands to coddle every kid at once.
It's already quite difficult to have enough arms for one child, so when you have two or more things start to turn into a balancing act. Once Carr realized that a comforting device made for babies to help parents out was missing from the market, things quickly snowballed and the brand we know and love today came to be.
Essentially, the brand started as a side hustle for the Carr couple but they eventually decided to take it on full time. Since then, Snuggle Me Organic has supplied thousands of parents with these baby loungers, calming them just as much as they calm the babies.
Now that you know some more details about the brand, I'll list some will list a few highlights about the company in this Snuggle Me Organic review.
Highlights
Comfortable and cozy nests for your baby to snooze in
International shipping
Six-month warranty
Promo codes often
Machine washable
Portable and good for traveling
All-natural, super-soft materials, and no chemicals
Multi-use (napping, playing, changing)
Snuggle Me Organic offers two different sizes for these nesting pods, but I'll talk a little more about that later. They also have tons of different covers so you can customize the cushion to your liking, as well as accessories every parent needs like swaddles and travel bags.
If you're interested in hearing more about these products, keep reading this Snuggle Me Organic review! Up next, I'll check out the brand's best sellers to help you decide what you'd like to add to your cart.
Snuggle Me Organic Lounger Review
Now is the moment you've been waiting for: the Snuggle Me Organic Lounger review! The loungers are oval-shaped cushions with elevated and soft sides, recreating the feeling of arms wrapping the baby in a warm hug. 
With these loungers, not only will you have time to brew your coffee, you'll have time to drink it too! Let's dive into some of the brand's top sellers so you can weigh your options!
Snuggle Me Organic Infant Moss Review
If you're a new parent and your hands are already full of dirty diapers and milk bottles, Snuggle Me Organic has your back! The Infant Moss nest is for anyone with a new baby, offering parents a helping hand and a moment to themselves.
This lounger is specifically designed for babies who are younger than nine months old, less than 21 inches long, and not able to crawl yet. Handmade in the USA, they are crafted from GOTS certified organic cotton fabric and non-toxic filling and materials. So you can rest as easily as your baby knowing they're safe and happy.
There are plenty of colors to choose from, including warm hues of pink, deep and dramatic greens, neutrals, and universal shades, all of which can easily match your home decor.
The Snuggle Me Organic Infant Moss lounger costs $109.
Snuggle Me Organic Toddler Natural Review
If anyone needs more cuddles than a baby, it's a toddler. And there's a lot more loads of laundry since they use about two outfits a day and tend to get food on anything in the near vicinity—meaning you'll have even more on your hands. Not to worry, though. Snuggle Me Organics has you and your baby covered into toddlerhood, too!
The Snuggle Me Organic Toddler Natural has all the same wonderful benefits as the Infant size. This includes the organic cotton material and handmade quality, plenty of super cute color options, and a comfy and safe place for your little one to relax and snooze.
Both of these loungers come in beautiful materials, but the best way to ensure they last a long time is to purchase a cover to protect them. Keep reading this Snuggle Me Organic review because I'll jump into these options next!
The Toddler size is made for children who are older than nine months, longer than 21 inches, and are able to crawl. This lounger retails for $155.
Snuggle Me Organic Covers Review
Now that you've got your new Lounger cushion picked out, it only makes sense to choose a cover for it! It helps to have two covers so you can use one while the other is being washed to protect the lounger. Let's jump into this Snuggle Me Organic Cover review and take a look at the best of the best!
Snuggle Me Organic Infant Cover Review
Handsewn from organic cotton (as the brand's name would suggest), the Snuggle Me Organic Infant Cover is the perfect way to complete and protect your baby's lounger.
This cover is made specifically for the Infant lounger and is also a great option since little ones tend to spit up often, so you'll still be able to use the lounger while the cover is in the wash.
It's available in plenty of different tones, which are neutral or simple to match any decor and yet bold enough to add a pop of color to your space. On top of that, the dyes used for the fabrics are GOTS certified, water-based, and vegan.
The Infant Cover retails for $52.
Snuggle Me Organic Toddler Cover Review
Like the Infant Cover, the Toddler Cover is made specifically to fit the toddler lounger. A cover for your Toddler lounger is just as important since little ones always have sticky fingers and dirty diapers.
And with the handmade quality and top-notch, safety-approved fabrics, you'll know your toddler is truly safe and sound! It's also available in lots of different colors so you can switch things up as the season's change or replace only the cover rather than the whole cushion every time you decide on a new theme for your home!
The Snuggle Me Organic Toddler Cover retails for $69.
Snuggle Me Organic Feeding + Support Pillow Cover Review
Like the loungers and covers, Snuggle Me Organic also offers Feeding + Support Pillows and fitted Covers.
The Feeding + Support Pillows are a crescent moon shape—perfect for a close and comfortable space to rest your baby in your lap and hug them against you while giving your arms a rest. As the name suggests, they offer support for your baby while you relax, or a helping hand during a feeding session.
The Feeding + Support Pillow Cover protects the cushion from any spillages, and like the other Snuggle Me Organic covers, is made from organic materials and comes in plenty of different shades to match your aesthetic, making them both cute and practical.
The Feeding + Support Pillow retails for $74, while the Snuggle Me Organic Feeding + Support Pillow Cover totals $42.
Who Is Snuggle Me Organic For?
Who are the Snuggle Me Organic products for? In the most literal sense, the answer is infants and toddlers who can't seem to get a restful sleep anywhere except in the arms of their caregiver. They are available in sizes for young babies up to nine months who are not yet crawling as well as babies who are over nine months and are able to crawl.
The Snuggle Me Organic products are for parents, too. Parenting is loads of work, and you deserve to have a moment to yourself knowing your baby is peacefully sleeping in a cozy and safe little bed. You can also bring the lounger around with you, resting it on the bathroom floor while you hop in the shower so you can keep an eye on your little one.
The Snuggle Me Organic items also make thoughtful gifts, giving parents a chance to recharge while their baby relaxes and coos in the lounger. Whether you want to bring the lounger to a baby shower or find out that your friends are losing sleep because their baby always wants to be held, it's a great item for all parents to have.
Snuggle Me Organic Reviews: What Do Customers Think?
At this point in my Snuggle Me Organic review, I'm going to check out some customer testimonials to see what makes the brand stand out. I found reviews on Amazon, Target, and Bed Bath and Beyond. And the overall consensus was that shoppers love these baby loungers!
On Amazon, the brand is rated 4.7/5 stars (from 2983 reviews). One customer left a 5/5 stars rating for the brand. And in their Snuggle Me Organic review, they described the products as a saving grace:
"My now 10week old has not slept outside my arms since he was 2 weeks old. I tried everything: co-sleepers, bassinets, vibrating nappers…nothing worked. I just got the snuggle me. I used it the first night and the baby slept in it like he had been in it his whole life. This morning he napped for two and a half hours in it and for the first time since forever I was able to poop and take a shower uninterrupted. I don't know who designed this thing but I want to hug you, shake your hand and make you dinner. Thank you! So far so good…let me know when you start making adult ones."
Snuggle Me Organic is rated 5/5 stars on Target's website (from 3223 reviews). While the product is great, it's also aesthetically pleasing, as one customer wrote in their review:
"We have this lounger in the color sugar plum and I absolutely love this color. We have a few different loungers but this one is our favorite. We usually place it on the couch and lay our newborn in it while we're picking up. She loves it because it allows her to feel secure. It's definitely one of our favorite baby items and worth the money. We recommend it to all our family and friends with a baby on the way."
The brand has a 4.9/5 stars rating on Bed Bath and Beyond's site (from 757 ratings). One shopper left a 5/5 stars rating for the baby lounger. In their Snuggle Me Organic review, they described how the lounger has become a safe space for their baby:
"I bought this product because my daughter who has high acid reflux was having a hard time getting comfortable on her back to sleep. Since putting her in this to sleep, she has not only slept 5-6 hours at a time. It seems as though she squirms when she's tired and is being held because she wants to be put in her little snuggle me. She instantly gets comfy and falls asleep. She is so much happier when awake because she is finally getting good sleep!"
The very rare complaints about the brand's products tend to be about the fact that their baby just doesn't love the item, which is completely normal and the brand offers a great return policy to accommodate this. But I'll get into this more later!
Overall, I discovered one thing in this Snuggle Me Organic review: it's clear that customers are more than happy with the brand's products. The brand truly delivers and succeeds with its mission—giving parents a break and baby's a safe place to fall asleep, feed, and rest—happily and comfortably. 
Is Snuggle Me Organic Worth It?
All things considered, I'll conclude this Snuggle Me Organic review by stating that the brand is well worth the buy. The lounger takes a lot of stress off of the backs of parents so you can finally give yourself the care you need with your baby right next to you.
Most of the reviewers discuss how their babies rest in the lounger as if they've always been in it—which is definitely evidence that it resembles the comfort of their parent's arms. On top of that, the cushion is highly recommended for how well it works alongside how convenient it is.
As I'm wrapping up this Snuggle Me Organic review, I will offer one reminder though: the lounger is not for unsupervised use and the brand explicitly states that it is not to be used for co-sleeping or in place of a crib. It is made to be an excellent portable sleeping device so both you and your baby can get some rest while you're also able to supervise them.
Snuggle Me Organic Promotions & Discounts
Looking for a steal of a deal for your shopping cart? At the time of this Snuggle Me Organic review, I found that the brand currently has a few ongoing sales:
Sign up for emails for special offers and exclusive sales
Last chance section with up to 30% off
Where To Buy Snuggle Me Organic
You can shop for the brand's products directly from its website, snugglemeorganic.com. If you'd prefer to feel the soft fabrics, cushy loungers, and see the colors in person, you can visit retailers like Indigo, Amazon, department stores, Walmart, and baby stores.
FAQ
How do you wash Snuggle Me Organic products?
Washing these baby products is a surprisingly easy process since they're all machine washable. Follow these steps to get your items squeaky clean.
Toss any item in your washing machine (yes, I said any time, including the loungers)
Use cold water and a mild detergent
Dry items on cool or air dry them by laying them flat
As a side note, the brand recommends using detergents that are free of optical brighteners and avoiding the use of an agitator.
What is Snuggle Me Organic's shipping policy?
Super excited for your baby's new lounger? Here's some good news: Snuggle Me Organic products ship all over the world within two days and you'll be able to track your order once it has left the brand's facility.
Shipping costs depend on the weight of the package and will be calculated at checkout. Duties are covered for Canada but will be calculated after shipping for other countries.
What is Snuggle Me Organic's Return Policy?
If you've made a mistake while ordering, you can cancel your purchase within three hours. Otherwise, customers have 60 days to really give the product a shot. But if you (or your baby) doesn't love it, you can return or exchange your product(s). There is also a six-month warranty for any manufacturer defects.
The return process is super simple. All you have to do is follow the instructions through the return portal on the brand's website or contact their customer service department.
On top of that, the brand considers every order differently, and this personal attention ensures all customers are happy with their purchase!
How to Contact Snuggle Me Organic
If you have any further questions or would like to contact the Snuggle Me Organic team for any reason, you can connect with their customer service team in three ways.
Simply Mommy LLC
4444 Centerville Rd, Suite 130
White Bear Lake, MN 55110
Snuggle Me Organic's customer service department operates on weekdays from 8:00 am to 8:00 pm CST.
---
Check out related reviews you might find useful:
Get Access to Exclusive Deals
Subscribe for free to get exclusive deals in your inbox. 100% privacy