Sundays Dog Food Review
About Sundays Dog Food
Sundays is a dog food subscription brand that manufactures a clean and natural kibble alternative. Owners, if you're looking for some healthy sustenance for your pups, this might be it.
If you've been picking up any old bag of kibble at the pet store, you might want to give your pet's diet some more thought. Proper canine nutrition[1] is vital for maintaining health, helping to prevent age-related diseases, and promoting good behavior. If you want to level up your dog's diety, Sundays dog food can help.
The ready-to-eat dog food company has been featured in news outlets like People, NBC News, and Forbes. Plus, with a growing following of 9K on Instagram, Sundays is looking to become your furry friend's new favorite meal.
Are you searching for an all-natural, convenient dog food subscription? This Sundays dog food review has got you covered—join us as we take a look at the brand, its products, customer testimonials, and more to help you figure out if it's worth the commitment.
Why You Should Trust Us
Before choosing any brand, we scour the web and all the biggest e-tailers to ensure we know all the available options on the market. We look at customer reviews, star ratings, brand ethos, processes, materials, accessibility, and so much more. We weigh the pros and cons, so you don't have to, helping you make informed shopping decisions.
Overview of Sundays Food for Dogs
Sundays officially launched in August of 2020. So, it's a relatively new company. At the helm of this dog food brand, you'll find veterinarian and engineer couple Tory and Michael Waxman (along with their pups Mabel and Schuyler).
Tory and Michael "became obsessed with finding the best dog food" after one of their fur babies fell ill. Their mission is to equip other owners with all the tools they need to ensure their pets are staying healthy. The brand commits to using nutritious ingredients and science to make mealtime easy for both humans and dogs.
The Ohio-based company's dog food is made using a gentle air-drying method that works to retain nutrition and flavor while eliminating bacteria[2]. According to the brand, air-drying is the middle ground between dehydrating and freeze-drying dog food. 
Now that you know more about the brand, this Sundays dog food review will go over some highlights:
Highlights
Great all-natural kibble alternative for dogs with food sensitivities
Easy and convenient subscription plans
Human-grade dog food
Meets FDA standards
Free shipping
How Does Sundays Dog Food Work?
Subscribing to Sundays Food for Dogs is a pretty straightforward process. You have control over the delivery frequency, as you can choose to receive food as often as every week to as little as every two months.
You need to specify how many boxes you need for the selected period, which will affect the cost of your subscription. Those who are not ready to subscribe or just want to try out the brand can also purchase a single bag with no strings attached. Additionally, prices vary depending on which size box you're getting for your furbaby.
If you're not sure how much you should be feeding your pup, Sundays can recommend serving sizes if you complete a quick quiz on their website. This will be based on factors like weight, age, pickiness, and exercise levels. This quiz is optional and isn't required for a subscription.
The three different subscription sizes offered are regular (40oz), medium (72oz), and large (144oz). This Sundays Food for dogs review will get into more specifics in the next section!
Sundays Air-Dried Food for Dogs Review
As caretakers of our four-legged babies, we want to do everything to ensure they lead long, healthy lives. One study[4] has suggested that grain-substitutes such as peas, legumes, potatoes, and lentils in grain-free dog food diets could cause heart failure in older dogs.
The brand states, "There are no special nutritional benefits to these ingredients, and since they're now thought to be the most likely cause of this issue, it's better to be safe than sorry."
The Sundays Food for Dogs generic dog food formula comprises all-natural ingredients. There are no added fillers, and it doesn't contain legumes or potatoes. Instead, it includes over 90% fresh meat, organs, and bones.
If your dog is a picky eater, this is good news: one study[3] reported that dogs who ate a meat-based diet instead of a conventional diet had an increased appetite. 
Other ingredients include pumpkin, zucchini, kale, broccoli, quinoa, kelp, ginger, blueberries, carrots, apples, mushrooms, spinach, and strawberries. Let's take a closer look at a few of these nutritious ingredients:
Pumpkin: if your dog suffers from frequent digestive issues, like diarrhea or constipation, pumpkin could be their savior. Thanks to its high fiber content, pumpkin is great for soothing troubled tummies.
Kelp: this ingredient is chock-full of essential vitamins and minerals, such as folate.
Blueberries: known to be a powerful antioxidant, blueberries can help to protect your dog's cells from damage.
Sundays describes the taste as "jerky-like," meaning their food could even double as treats. Plus, you won't need to do any prep work. It's easy to pour straight out of the box – almost like cereal, but for your favorite canine.
Also, note that there's no gluten, wheat, soy, rice, corn, or potatoes. So basically, anything that doesn't provide nutrition for your dog is not included in the mix. It is known that high protein diets[4] are the optimal for canines.
There are also no allergy-inducing ingredients like chicken or dairy – two of the most common food allergies for dogs. With Sundays, you can treat your dog as you would treat any human dinner guest.
There are many benefits that your pup can derive from this human-grade kibble alternative. It's great for picky eaters and those with sensitive stomachs, as it promotes better digestion, thanks to ingredients like pumpkin.
As another bonus, the fruits included in Sundays are excellent antioxidants, which help with disease prevention. The brand claims on its website that the most natural kibbles contain 29 additives.
Sundays formulates dog food with no synthetic ingredients. It's even safe enough for puppies! If you're still skeptical, the site also features a comparison tool that measures itself against 3,000 similar companies.
Curious to learn more, we searched for brands (such as Natural Balance and The Honest Kitchen) through this tool and read the comparison charts. As expected, Sundays' meals contained the least amount of synthetic ingredients when pitted against most of their competitors. In some cases, they also had a shorter list of ingredients. Some other winning points of the brand include:
Does not require refrigeration
No prep required
No clean-up necessary
The brand is family-owned
Additional special touches delivered with your box (we'll go into this below)
Your package will arrive with a couple of extra freebies. This includes cute stickers, the "Sundays Paper," and a transition guide if your pup is trying their food for the first time.
Is Sundays Dog Food Cooked?
Sundays dog food is cooked and gently air-dried in a USDA monitored kitchen. It's also 100% human-grade, so its FDA standards fit those for human consumption.
Who Is Sundays Food for Dogs For?
First and foremost, Sundays Food for Dogs is designed for your best friend on four legs. As we said, if your pup has any food sensitivities or if they're struggling with gut health, this is an excellent kibble alternative.
Additionally, Sundays is great for pet parents looking to care for their fur babies as they would any other person. These companions deserve to be spoiled and healthy, and with that in mind, Sundays offers some nutritious grub.
Comparison: Sundays Food for Dogs vs. Ollie
Direct-to-consumer dog food subscriptions are slowly becoming more popular, especially during this pandemic. So, how does our featured brand compare to its competition? This Sundays dog food review took a look at Ollie to see how the two match up.
First, we'll go over some similarities:
Both companies offer dog food subscriptions
They both cook products with natural ingredients, by hand, in USDA regulated kitchens
They're both American companies
They both offer free shipping
On the surface, the companies are pretty similar. But, their recipes and other practices are quite different:
Ollie makes fresh dog food instead of a dry kibble alternative
Ollie offers more recipes, including chicken, turkey, and lamb options
An Ollie subscription requires creating a personal profile for your dog so that you get the right portions
Which food do you think will get your dog's tail wagging? If Ollie sounds promising to you, you can check them out below. The company is ideal for owners looking to transition their dogs to a fresh food diet. On the flip side, Sundays is for owners and pups who prefer dry kibble at a slightly more affordable price.
How Much is Sundays Dog Food?
Subscription costs for Sundays Food for Dogs vary depending on the size and quantity of food you're receiving. Delivery frequency options range from every week to every two months.
Here are the different price points based on size and number of boxes, if you're a subscriber:
Regular:
1 box: $59
2 boxes: $118
3 boxes: $177
Medium:
1 box: $89
2 boxes: $178
3 boxes: $267
Large:
1 box: $159
2 boxes: $318
3 boxes: $477
Sundays Food for Dogs Reviews: What Do Customers Think?
By now, you're probably wondering: what do customers think of the company? Well, this Sundays Food for Dogs review searched the internet for testimonials, and we found some on their main website.
Unfortunately, there aren't many independent, third-party reviews. There is only one comment on Trustpilot that's critical of the brand, and there are a few blogs and journals have reviewed the dog food brand as well. Let's go over the feedback on the brand's website first.
Here, Sundays received an average rating of 4.8/5 stars based on 389 reviews. The reception is generally positive, with one subscriber writing (on behalf of their dog):
"Sundays is easy to serve, no prep involved. Tito is always running around in circles with excitement while I'm putting it in his bowl. He is usually the pickiest when it comes to food and stops eating it after a few months – I've tried so many brands before landing on Sundays. He can't get enough! Happy pup, happy life."
We love that for Tito. Another dog parent says, "I can see, feel, and smell the difference between Sundays and other brands. I think the dog can too. I know the nutrients are still in the kibble, and my dog is way more excited about Sundays than any other brand."
"I LOVE this food. It's nice giving him food I know is healthy and not full of fillers and junk. Since it is a dry food, my little grazer can continue to graze, and I don't have to worry about waste which also helps the budget! Griffin loves it as well – he thinks they are treats and not "food"… Total value and worth it!" Another satisfied customer writes.
It's evident that people and their pooches love the food. Another reviewer says:
"Our dogs go nuts when they see us reach for the Sundays bag. We use it as a topper to their dry food, and they went from picking over hours to eating the entire bowl within minutes of setting it down. It's easy to break apart into smaller pieces for our 11lb pup or for us to use as treats. It's very easy to see that it's high-quality food. I highly recommend Sundays, and I think our pups would agree."
In a testimonial that compliments the brand's support team, one buyer writes, "The actual food speaks for itself. Let any dog sample the food, and you will have your answer. The customer service provided by Sundays is unlike any service I've seen before. Fast responsiveness that have gotten me out of more than a few sticky situations. Very happy customer!"
A website called Canine Journal gave Sundays a 3.1/5-star rating. They praise the brand for nutritional value but dock a few points due to the lack of variety. Some dogs may not be able to eat beef, so their concern is that it might not be an option for everyone. Plus, it is pricier than traditional kibble.
This Sundays Food for dogs review also found it challenging to access the critical reviews on their main website. There isn't a filter function or a button to go to the next page of testimonials, so it's difficult to know if there are any other issues with the company.
My Sundays Food for Dogs Review
Hi, I'm Paige and I'm a product tester at Honest Brand Reviews.
I'm in love with this brand's mission. And as someone who's crazy for dogs (especially my own), I was thrilled to see the clean, human-grade ingredients inside every dish.
Now, I didn't exactly try a spoonful for myself, but I read that Sundays beat out regular dog food 20-1 in a taste test, so I feel fairly confident saying that it has great flavor.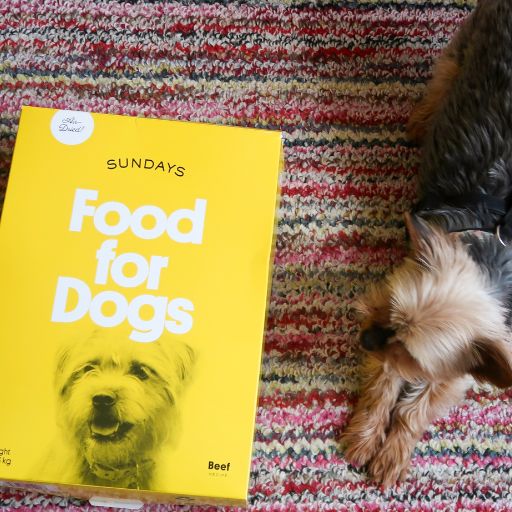 While it's a little more expensive than other options, I think the brand is really cool and it's certainly doggie approved.
Is Sundays Food for Dogs Worth It?
Getting dog food delivered right to your door is convenient. It's even better when you know the ingredients used are all-natural and healthy for your pup. Sundays is definitely a good alternative if you're looking to treat your dogs to some nourishing and tasty food.
Based on this Sundays Food for Dogs review, we would say that the subscription service is worth checking out if you have the means. It's not as budget-friendly as other brands, but your dog can reap so many benefits with the kibble alternative.
As a smaller business, Sundays works hard to ensure you're getting quality products through their suggested serving size quiz and feeding transition guides.
That being said, it is also a new company, so there aren't many third-party customer reviews to give potential patrons some peace of mind. While the feedback on their website is mainly positive, there is room for some reasonable skepticism.
Still, there are many satisfied customers out there, and the brand has received glowing feedback from owners of picky canines. All things considered, we believe that Sundays Food for Dogs is a solid mealtime option for pet parents to mull over.
Sundays Food for Dogs Promotions & Discounts
This Sundays Food for Dogs review found that the company currently offers a 20% discount for first-time orders. Unfortunately, there are no other active promotions or discount codes at the time of writing.
Sign Up For Sundays Food for Dogs
Ready to subscribe and create your dog's personal profile? Our Sundays Food for Dogs review will outline the steps for you below:
On Sundays' homepage, click 'Get Started'
Enter your dog's information (answer questions about age, weight, breed, sex, pickiness, prescriptions, and more)
Input your personal information and review the feeding plan
Choose your delivery frequency and date
Enter some payment details
Wait for your Sundays Food for Dogs delivery!
FAQ
How do I cancel my Sundays Food for Dogs subscription?
The Sundays Food for Dogs cancellation process is super easy! Here's how to do it:
Contact Sundays' customer team via email
Click on the termination link that the brand sends you
What is Sundays Food for Dogs' Shipping Policy?
Sundays Food for Dogs offers free shipping within the United States. Their orders are fulfilled by USPS, UPS, and FedEx. Without delays, you'll receive your package in 2–5 business days, along with a tracking number.
Unfortunately, Sundays does not ship internationally. It's also important to note that the brand is still experiencing delays due to COVID-19, so it may take longer to receive your product.
What is Sundays Food for Dogs' Return Policy?
Sundays offers a 14-day refund policy upon delivery. They don't accept returns, but they will refund your latest order and cancel your subscription when you contact their team via email.
Suppose you initiate a refund for a subscription order that has already shipped. In that case, Sundays can refund up to 50% of the original order's cost.
How to Contact Sundays Food for Dogs
Do you have any questions beyond this Sundays dog food review? Need to initiate a refund? You can contact the company via the following methods:
Email:

[email protected]

Phone: (844) 630-3647
Text: (706) 786-3297
Live chat on their website
The company's office hours are Monday to Friday, 9 AM–5 PM EST.
---
Explore healthy dog food and treats for your pup with these top brands:
Spoil your furry pal with toys delivered right to your door. Check out the BarkBox subscription.
Get Access to Exclusive Deals
Subscribe for free to get exclusive deals in your inbox. 100% privacy