Traeger Review
About Traeger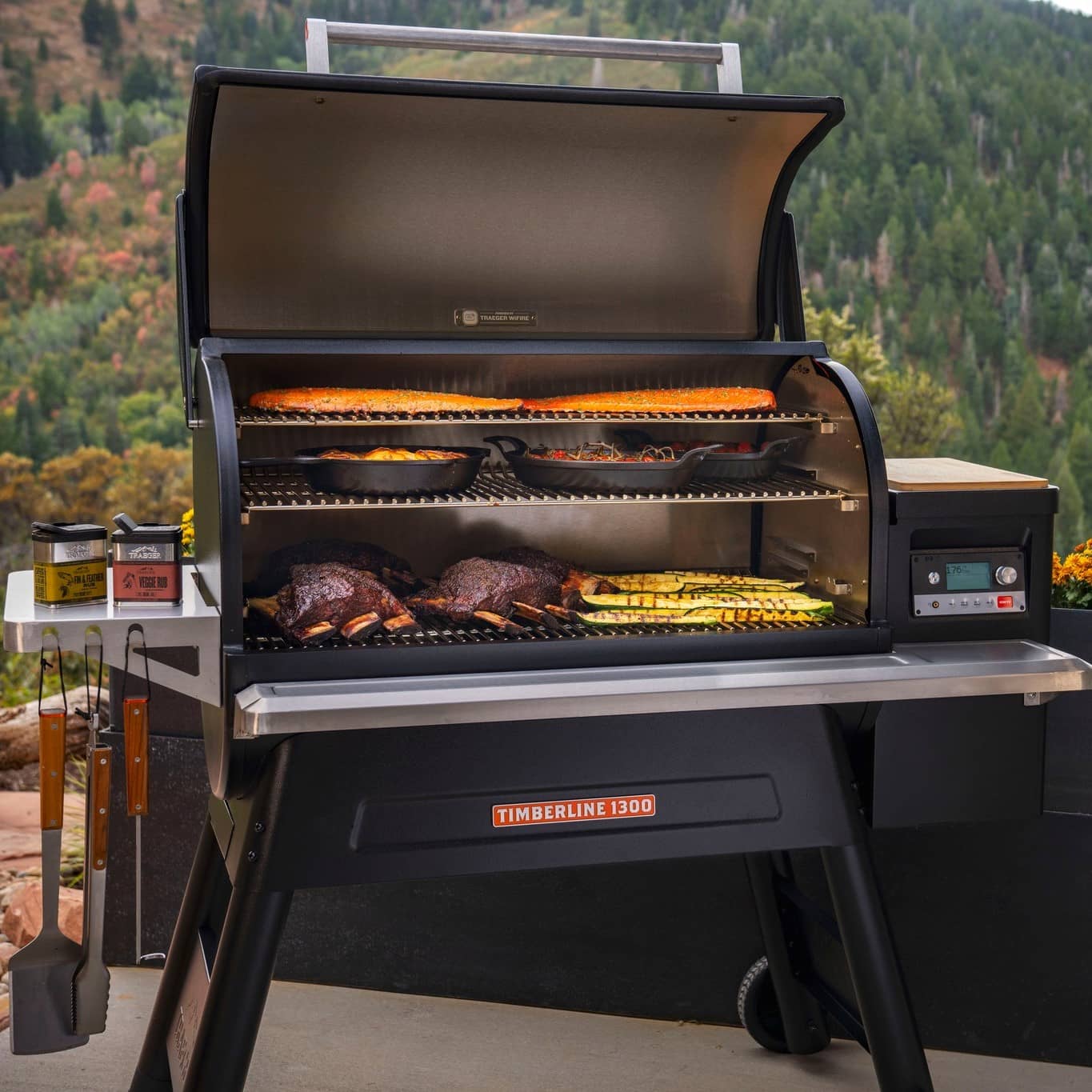 Unless you live on a planet without oxygen then you're at least a little susceptible to the savory smells of a summertime cookout. It's one of the best parts of the long hot days. There are few companies that can better deliver those irresistible flavor notes than Traeger.
They are the innovators of the wood pellet grill and have held onto their place in the market for nearly four decades.
Their dominance is probably why they have over 1 million followers on Instagram and are the first name that comes to people's minds when they hear about pellet grills.
In my Traeger review, I'll examine what makes them different from other companies, what it's like to cook with one of their grills, what customers think about them, and more. 
Overview of Traeger
Traeger holds the impressive distinction of being the producer of the best-selling wood pellet grill. 
Some might think that's a niche market, but those who have ever eaten food that a wood pellet grill prepared know that it's a crown worthy of bragging about. And the Salt Lake City, Utah-based brand is certainly proud of it.
The company got their start in 1985 when Joe Traeger created the first pellet grill. He patented the invention the next year. This allowed Traeger to dominate the wood pellet grill market for the next two decades.
While doing some research into the brand for this Traeger review, I found that the grills were notable for their ability to produce consistent levels of heat regardless of external factors like weather or location.
This made Traeger pellet grills a must-have for many grilling enthusiasts. Plus, there weren't many other grills that could hold a candle to the aromas that Traegers' grills produced.
Gas stoves are good, but wood pellet grills can create a deeper and more complex flavor. They reward patience and dedication, meaning that those who put in the time and effort reap the largest rewards.
That mentality is how Traeger has distinguished themselves from their competition. Their patent on the wood pellet grill ended in 2006 so companies could begin creating their own versions.
Traeger modernized their approach by making their grills easy to use. They added touchscreen, wi-fi connectivity, and convenient cleaning devices so that their grills could deliver the same results with less effort on the buyer's end.
Despite the size and heft of their products, Traeger's barbeques are reportedly easy to assemble. The company publishes assembly guide videos that should help you put the grill together in less than an hour.
So Traeger has an impressive portfolio, but are they just a list of achievements, or do their products hold up to scrutiny? I'll disclose later in this Traeger review, but let's cover a few more of their highlights.
Highlights
The best-selling wood pellet grill company on the planet
Free shipping on all Traeger accessories and apparel
0% APR financing
Payment plans available through Affirm
45-day return policy
Traeger produces a vast miscellany of wood pellet grills at a premium level and at more affordable prices. They also create a diverse collection of pellets that impart different flavors.
You'll also find cooking accessories, utensils, sauces, spice rubs, premade meals, and more on the company's website.
Traeger Review
I'll spend this portion of this Traeger review talking about the company's overall catalog. I'll touch on what you can expect when cooking on one of the Traeger grills.
Their barbeques host an assortment of fetching features that many other grill manufacturers can't reproduce. For example, the Traeger Timberline Grills series have a touchscreen control panel. It can allow you to adjust the grill's temperature to your ideal setting.
You can also switch between different cooking modes like smoking, grilling, and charring without having to open the grill and let the heat escape.
You probably won't feel boxed in by a Traeger pellet grill like you would other grills. It can get tiring to eat burgers every day because that's the only thing your grills can prepare.
Sure, you could switch things up by making a portobello mushroom burger, but you know that's going to draw your family's ire and could lead you to a life of shame.
Thankfully, these grills can do more than that. They're more versatile than just being Traeger smokers. They have side panels with cooktops so you can sautee, steam, boil, and fry your food alongside your grilled goods.
You can also connect the Traeger pellet grill to the WiFIRE app so that you can adjust the temperature from your phone. That means you can keep grilling without having to step away from the beer cooler.
The grills are constructed in a way to keep their internal temperatures as high as possible. They have insulated double walls so that the cooking temperature can remain consistent.
The Traeger Timberline Grill costs $3,500 and the Traeger Timberline Grill XL costs $3,800.
How Does Traeger Work?
A Traeger grill works similarly to other wood pellet grills, just that it has more options. It provides both a more robust and more convenient cooking platform.
But let's talk about what separates a wood pellet grill from a gas grill. A gas grill simply ignites the flame so it doesn't add anything to the food's flavor. Conversely, wood pellets give the food an earthier flavor and texture. This comes from their smoke's properties.
Additionally, the Traeger grill works hard to evenly cook everything. It circulates the smoke and heat across its cooking surface and even above the food.
The drip tray helps to prevent the flames from directly striking the food. This means you're less likely to have partially burnt food when using a Traeger grill.
The ability to control everything from your smartphone reduces the need to monitor cooking. You can raise or lower the temperature, keep track of how long your food has been cooking, and check how hot the grill is by looking at your phone.
The grills purport to be the easiest cleaning job in the grilling market. Each grill contains an EZ Clean Grease and Ash Keg underneath.
This container drains all the grease, oil, and other residues from the cooking area. You can remove it and reinstall it in a pinch which can make maintenance and tidying up a sinch.
These grills are also phenomenal smokers thanks to their downdraft exhaust technology and the Super Smoke Mode. They circulate smoke over your meats, seafood, or veggies to imbue a smoky flavor deep inside the food.
Who Is Traeger For?
Traeger's best grills are for people who want an unmatched grilling experience. They're for people who enjoy deep smoky flavors, who like to hold complete control over the cooking, and have more options than they know what to do with. 
Their grills are pretty pricey, so I'd only recommend them to people who are confident that they'll use them on a regular basis.
What Is So Special About The Traeger Grill?
If what you read earlier in this Traeger review excited you then you're going to want to sit down, because I'm going to drop some knowledge bombs that might blow you off your feet.
Firstly, the Traeger Timberline Grills are a dream for customization. The brand promotes that these grills have nearly limitless customization options so that you can personalize your Traeger grill to suit your specific desires.
You can purchase Traeger accessories like the Traeger P.A.L. Pop-And-Lock and the Traeger ModiFiRE accessory series.
The former includes items like a storage rack, a roller rack that can hold paper towels and other sanitary products, a foldable front shelf to give you more workspace, and hooks that can hold your cooking utensils.
Meanwhile, the Traeger ModiFiRE is a set of trays that open up new cooking options. They can help you cook smaller food items like fish, vegetables, or chicken fingers that would otherwise slip through the cracks,
The Traeger grill is also a chunky grill, and I mean that in the best way (fat-shaming is not allowed around here). The standard Traeger Timberline Grill can hold up to 9 full chickens, which is equal to 8 entire racks of ribs.
It has 880 square inches of cooking space so you should never feel like you're stuffing too much onto the grill at once.
If you want to feed an entire small country then you can purchase the Traeger Timberline Grill XL. It has almost double the cooking space of the regular-sized Traeger Timberline Grill, possessing a whopping 1,320 square inch grill.
That's big enough to cook 12 chicken breasts, or 16 rib racks, all at once.
You might think that these grills are too big and worry about not having anywhere to put them. Thankfully, Traeger offers the option to build them into your residence so that they take up less space.
Regardless of which size you pick, these grills can roar up to 500 degrees Fahrenheit.
The final thing I want to mention about these Traeger grills is how they are a rarity among wood-fire barbeques.
Traeger pellets are made from all-natural hardwood that the company designs to optimize flavor and smokiness. Plus, the grills have a "Set-it and Forget-it" cooking mantra wherein you can set them to the perfect temperature and let them do the work.
This creates a cooking experience that may be worlds easier than any other wood-fire grill.
Traeger Reviews: What Do Customers Think?
I've assembled a quick list of Traeger product reviews that customers have given on the company's website. Here are the aggregate scores of some of the brand's best-selling items:
Traeger Timberline XL: 5/5 stars based on more than 10 ratings
Traeger Ironwood 885: 4.5/5 stars based on close to 500 ratings
Traeger Pro 575: 4.4/5 stars based on nearly 800 ratings
Traeger Tailgater: 3.9/5 stars based on more than 150 ratings
Overall, customers were happy with their Traeger grills. Fan testimonials brimmed with mouth-watering stories about their cooking experiences.
I found plenty of buyers shared their recipes for grilled chickens, ribs, steaks, and more that they could only prepare when using a Traeger grill.
In fact, the Traeger Ironwood 885 was considered so good that it convinced this user to steer away from gas grills entirely. Here's what they wrote in their 5/5 stars review:
"I bought this Ironwood 885 in July 2019. Researched and debated if this was the direction I wanted to go. Had always been gas and or charcoal. This doesn't even compare. [Put a] a pork tenderloin on this morning when I left for church. With the WiFi and the temp prob, I was able to monitor the cooking progress."
That Traeger review touches on another aspect that fans loved about these products: their convenience. People adored that their cooking was much easier thanks to the temperature control offered by the wi-fi connectivity.
People also admired how tough Traeger's products were. They deemed that the grills could withstand snowstorms, rainstorms, or other weather predicaments while delivering consistent results.
You know a grill is good if it gets people cooking in the middle of winter. That's how excited the Traeger Timberline XL made this customer to cook, evidenced by their 5/5 stars review of the product:
"I've been using this for over 6 months. In all weather. It's an awesome grill, smoker, and everything in between. The induction is a great addition to the grill. I can use it with a cast iron griddle to sear steaks to perfection while the sides are still in the Traeger smoking. The capacity is amazing. Cleanup is very simple because of the grease and ash keg system."
People were also impressed with Traeger on Consumer Affairs. Over 35 customers came together to give the brand an average score of 3.3/5 stars. Their points of praise weren't much different from what I read on the brand's own website.
These common pros include:
The grills were simple to use and intuitive
The grills opened up new ways for customers to cook their food
Customers felt that Traeger grills provided a different grilling experience compared to other brands
The wi-fi control made cooking a stress-free endeavor
This is another 5/5-star review that highlights many of the company's unique aspects:

"Makes the best smoked ribs, fall of the bone. Any meat is great smoked. Different woods for different tastes. Yum???. You don't have to smoke meat. You can just barbecue anything you want. There are so many things you can cook on the Traeger. I use mine all year round, even in the wintertime with snow on the ground."
I did uncover some negative customer reviews on websites like TrustPilot. These less-than-satisfied buyers said that Traeger was not well-equipped to handle problems that arose from faulty products.
However, most of these customers bought their products from Costco, not directly from Traeger.
Though Costco carries many of the brand's items they do not sell their more feature-heavy grills. This means that these Traeger reviews only demonstrate buyers' experience with a fraction of the Traeger catalog.
Is Traeger Legit?
The few negative reviews I read are worth taking into account, but they do not demonize the entire company. I couldn't find any other red flags about Traeger, leading to believe that they can be trusted.
Is Traeger Worth It?
Seeing as how Traeger invented, and have continued to reiterate, the pellet grill, I believe that they're worth checking out.
They have the longest history of working with these types of grills out of any barbeque company, so it's safe to assume that few other companies can match their expertise.
Traeger is worth it if you want to buy an all-purpose grill that doesn't sacrifice any of its quality. The versatility and cooking capabilities that customers reported about their Traeger grills is enough of an endorsement in and of itself.
Traeger Promotions & Discounts
You can sign up for the company's email newsletter to receive news about upcoming deals, Traeger recipes, and more. It's totally free to sign up, and it's not as if your email inbox is doing anything better.
Where to Buy Traeger
You can buy Traeger's products at any of these locations or websites:
Through the company's website, traegergrills.com
At larger retailers like Costco
Through online marketplaces like Amazon
At local stores, which you can locate by using the Store Locator feature on the Traeger website
FAQ
Who owns Traeger?
While conducting my Traeger review, I found out that Trilantic Capital Partners has owned the brand since 2014.
What Traeger is sold at Costco?
The brand's deep roster of grills available through their website are not all available at Costco. I only found four Traeger items listed on the Costco website:
Traeger Silverton 620 Pellet Grill
Traeger Texas Elite Pellet Grill 34
Traeger Mesa 22 Grill
Traeger Century 885 Grill
What is Traeger's Return Policy?
I can't wrap up this Traeger review without letting you know about their return policy. The company will accept returns on products that you bought directly from them through their phones or their website. 
You'll have a 45-day window to return any Traeger product in its original condition and packaging. The company will send you a full refund within 10 business days after they've received your return.
What Are The Power Requirements For Traegers?
Traeger grills require a certain amount of power to ignite their pellets and get a fire roaring. It takes about 300 watts to start a fire, but after the first five minutes, you can reduce the power output to 30 watts.
How to Contact Traeger
I'll finish up this Traeger review by listing all the ways that you can reach out to the company if you have any unanswered questions:
Call them at +1-800-872-3437
Send them a message on Facebook
Contact one of the retailers listed on their website
The brand's phone lines are open for customer service from 6:00 am to 10:00 pm MST.
---
Check out similar brands you might like:
Get Access to Exclusive Deals
Subscribe for free to get exclusive deals in your inbox. 100% privacy