Tru Niagen Review
About Tru Niagen
Tru Niagen is a dietary supplement that wants to help all men and women age naturally and healthily, targeting cellular growth and repair. With over 3 million bottles sold worldwide, the supplement aims to increase NAD+ levels, an essential coenzyme in our body responsible for cellular health. While we can't avoid aging, we can fight its physical side effects.
The brand has an impressive following, with 18.7k followers on Instagram and 27.9k on Facebook. Tru Niagen has also gained the attention of some well known media outlets because of their impressive results, including the Daily Mail, Forbes, GQ, and Goop.
This Tru Niagen review will take a thorough look into the effectiveness and benefits of the products, brand, customer ratings, promotions, and more, to help you decide if their products are worth the buy.
Overview of Tru Niagen
Tru Niagen makes a few supplements that target cellular health to slow down the aging process. The brand aims to maintain your overall wellbeing with a product that replenishes all the cells in your body and creates a newer and healthier you.
Originally founded in 1999 as Chromadex, the company was spurred on by scientific research proving the importance of NAD+ and how it can be turned into a supplement. This led to the development of the ingredient Niagen in 2013, which eventually led to the launch of Tru Niagen in 2017.
With a research and development facility in Longmont, Colorado, the brand continues to dedicate their efforts to creating products that are overseen by their scientific advisory board. It's been reviewed by both FDA NDI as a new dietary ingredient and FDA GRAS as a product generally recognized as safe, ensure complete product safety.
Before going further into the supplement details, we will first take a look at some of the brand's highlights in this Tru Niagen review.
Highlights
Minimal ingredients
100% vegetarian
Does not contain nuts, gluten, caffeine, animal byproducts, or any artificial colors and flavors
No prescription required
Strong safety record with no side effects
Free shipping for domestic US orders
Reviewed by both FDA NDI and FDA GRAS
NSF certified for sport
When looking at Tru Niagen's highlights, it is clear that there are a lot of positives. Whether you choose to use their supplement because you want to target a specific health problem or if you'd just like to take it as a preventative measure, this brand has a product that will work for you!
From capsules to stickpacks, Tru Niagen has an option for everyone's needs, with different amounts of ingredients in each option. We will get into the exact benefits of each version of this supplement later in this Tru Niagen review, so keep reading.
Tru Niagen 300 mg Review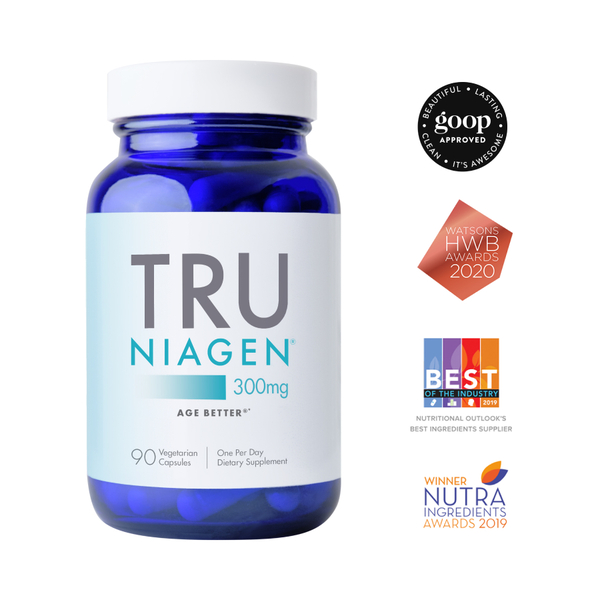 Tru Niagen 300mg is a product that gets its job done with just one capsule a day. With a focus on revitalizing energy levels and boosting your cell functions by healing and repairing them throughout your entire body, Tru Niagen 300mg gives a whole new meaning to a dietary supplement.
One small capsule contains 300mg of a compound known as Niagen made of nicotinamide riboside chloride, which provides an alternative to vitamin B3 that is naturally produced by our body, and has the ability to slow down aging.
The brand provides the two options of either buying the bottle through a one time purchase, or subscribing to the product. You can choose between 30, 90, or 180 capsules per bottle, and the more you buy, the more you save!
The retail price for a 30 capsule-bottle is $47, which will last you 30 days. However, the company website currently has the following discounted prices available for the different quantities that you can buy at a one time purchase, as listed below:
90 capsules: $120 (savings of $21)
180 capsules: $230 (savings of $52)
With the subscription option, the price is reduced even further, as listed below. You can choose to have it delivered every one, two, three, four, five, or six months:
30 capsules: $40.00 per delivery (savings of $7)
90 capsules: $105 per delivery (savings of $36)
180 capsules: $198 per delivery (savings of $84)
The one time purchase option is also available on Amazon, for the same price.
Ingredients Label
The serving size for Tru Niagen 300mg is one capsule. The supplement contains the following Tru Niagen ingredients:
Niagen (nicotinamide riboside chloride): 300mg
Microcrystalline Cellulose
Hypromellose (vegetarian capsule)
Vegetable Magnesium Stearate
Nutritional Value
There are minimal ingredients used in this supplement. As we mentioned, the main ingredient is the compound Niagen, an alternative for the vitamin B3 which is naturally produced by our body. Why is this important? Well the B3 and niagen have both been shown to improve your cellular health and possibly slow down aging. Which we will show below.
Benefits
As you age, your body's level of nutrition starts to take a slow but noticeable[1] dive, and much of the changes that you may notice are happening at a cellular level. Diminishing levels of cellular health can cause certain age-related conditions and disorders.
With a dietary supplement that targets your cellular health, there are a bunch of Tru Niagen benefits including healthy aging, energy, and cellular defense and repair. These improvements at the cellular level can also help with problems we face in our day-to-day lives, such as overeating, immune stress, intense exercise, and sleep disruption.
Some other changes that you may notice include an increase in quality of life and a feeling of general well-being that you may have been missing[2].
How Does It Work
As we age, our body goes through many changes, one of which is the slow depletion of a vital coenzyme called NAD+. NAD+ is responsible for so many key things in our body, such as the regulation of breathing, sleeping, eating, and more.
When you take the key ingredient in Tru Niagen 300 mg, it releases NAD+ into your system, which then works to effectively heal your body from the inside out.
Research shows[3] that regular use of nicotinamide riboside can be highly beneficial, providing a much needed increase NAD+ levels, particularly in healthy middle-aged and older adults.
As nicotinamide riboside is also an alternative form of the vitamin B3, an anti-aging vitamin occurring naturally in your bodies, Tru Niagen 300 mg does more than just heal you, but rather also aims to slow down your physical symptoms of aging.
How to Take & Dosage
Tru Niagen 300 mg should be taken by adults once a day with water, however it's not necessary to take it with food. No one under the age of 18 should take this supplement for safety reasons. The results will be best if taken daily. It's important to note that you should not take more than the recommended dose.
Tru Niagen 150 mg Review
Tru Niagen 150mg is the smallest version of the supplement that works to promote cellular health. With its main goal to heal your body at the most basic level just like the 300mg version, this supplement is just as beneficial as any other version.
You wouldn't think that these small and easy-to-swallow pills carry as many benefits as they do, but this Tru Niagen review will show you how that's possible. Niagen is the main ingredient once again, and it works to release essential coenzymes into the body that help to rejuvenate your body, just like the others.
The bottle comes with 60 capsules, aimed to last 30 days. You can either buy one bottle through a one time purchase or subscribe to the product. The prices are:
One time purchase: $88
Subscription: $79 every delivery
You can buy it on Amazon as well.
Ingredients Label
The serving size for Tru Niagen 150 mg is two capsules, with 60 servings per bottle. The supplement contains the following:
Niagen (nicotinamide riboside chloride): 300mg
Microcrystalline Cellulose
Hypromellose (vegetarian capsule)
Vegetable Magnesium Stearate
Nutritional Value
The primary ingredient in Tru Niagen 150 mg is niagen. This ingredient is the most important aspect of this supplement, and its main role is to release NAD+ into your body, a significant coenzyme for the body's wellbeing.
There are a great number of benefits associated with increasing NAD+, including breathing, sleeping, eating, and more. But the main reason for it to be used in the supplement is to improve your cellular health and possibly slow down the process of aging.
Benefits
With the busy lives that many people lead, your cells can be pushed to their limits. Studies have also shown that this isn't limited to physical stressors, as psychological stressors actually harm your body as well.
Psychological stressors have been linked[4] to accelerated cellular aging and cognitive decline, which sounds exactly as bad as it is. Chronic stress could even result in extensive damage to brain function, inviting diseases like Alzheimer's, as shown in this study[5].
Although Tru Niagen isn't able to reverse the effects of damaging diseases, this supplement tries to improve cellular health before it gets to the point of no return.
With the prime focus of the Tru Niagen 150 mg on the improvement of energy, defense, repair, and vitality of your cells, the supplement has many benefits. Some of those positive changes you'll see after you start taking the supplement include better sleeping patterns and eating habits, reduced stress and inflammation, better metabolism, and general brain health[6].
All these factors may lead to an increase in quality of life and an improvement in your general well-being.
How Does It Work
With the slow reduction of the coenzyme NAD+ in your system, your body starts to change in a way that you won't even notice. Enter Tru Niagen 150 mg! While it may take a few weeks to notice any differences, there is still a significant change happening inside. You start to heal at a cellular level, which will take a while to show on the outside.
Another perk of niagen that we mentioned is that it is basically an alternative form of vitamin B3, an anti-aging vitamin. Studies have shown that B3 can help[7] you hold on to your youthful appearance, both inside and out, for just a bit longer than you thought. 
How to Take & Dosage
Catered to both men and women, all adults should take two capsules a day with water, although it isn't necessary to take it with food. People under the age of 18 should not take this supplement for safety purposes. For best results, you should take it every day, but never more than the recommended dose.
Tru Niagen Stickpacks Review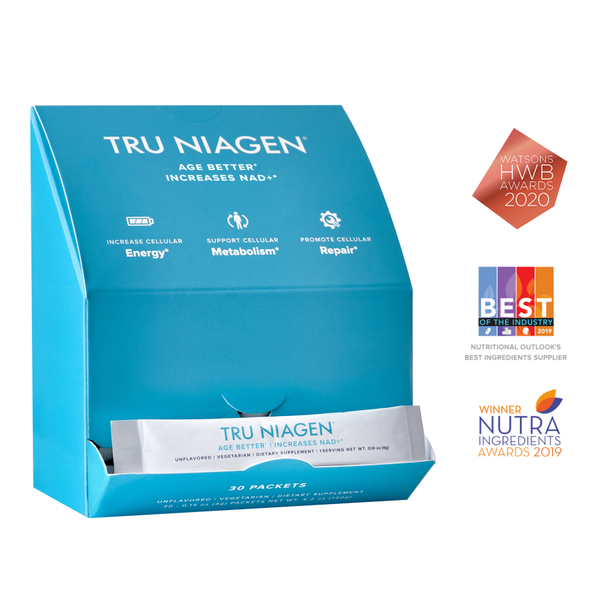 The perfect supplement product has arrived for all of you pill-haters! We all know that no matter how small or easy to swallow a pill might be, sometimes you want to find another way to take a supplement. Well Tru Niagen Stickpacks are the perfect alternative for you!
With all the nutrients of the Tru Niagen packed into the powdery stickpack, you have a variety of options for consuming the product. Whether you mix the powder into your water bottle to drink with water, juice, or any other liquid of your choice, it'll have the same effect!
With 30 servings in one packet, this product will last you a full 30 days. There are two ways you can buy this product:
One time purchase: $54
Subscription: $50 per delivery (savings of $4)
The Stickpacks are also available on Amazon for the same price.
Ingredients Label
The serving size for Tru Niagen Stickpacks is on packet, with 30 servings per container. Each packet contains the following:
Calories: 15
Total Carbs: 4g
Dietary Fiber: 3g
Niagen: 300mg
Inulin (chicory root extract)
Nutritional Value
The nutritional value of niagen is quite extensive, as we have covered. With its ability to release the NAD+ into your system with continued use, Tru Niagen Stickpacks provides you with the company's promise of slowing down and possibly even defying the aging process.
In addition to its great effects on fighting aging, NAD+ also helps to regulate our breathing, sleeping, eating, and more.
Benefits
It is clear this supplement has a ton of benefits, but let's explore them in depth once again in this section of the Tru Niagen review.
With a focus on cellular energy, the supplement zones in on the powerhouse of your cell, the mitochondria, to fuel your body's engines. Research shows[8] that improper mitochondrial health leads to poor aging symptoms.
Tru Niagen works on cellular defense by protecting you from metabolic stresses like poor eating habits and obesity. Increased stress[9] could even result in accelerated cellular aging, which is exactly with this supplement is trying to prevent.
Another benefit is that it works on cellular repair, fixing all the signs of aging your body shows thanks to time and stress. With age comes responsibility, but also fine lines and wrinkles!
By repairing our cells, this supplement aims to heal you both on the inside and the outside of your body.
Lastly, this product works on cellular vitality, making your cells work more efficiently as you get older to keep you young and healthy. With all these factors combined, cellular vitality is going to naturally follow!
How Does It Work
Based on scientific research on the ingredients of this supplement, this Tru Niagen review found that by increasing the levels of NAD+, the supplement replenishes our system and repairs our body at the cellular level.
When you realize that NAD+ can decrease as much as 50% in old age[10], it can sound a bit scary, especially when you realize that it's a great factor in energy generation. But this supplement provides us with the ability to raise your energy levels with a simple fix!
How to Take & Dosage
In order to take the Tru Niagen Stickpacks, you should add the contents of one packet to 16 fl oz of cold or room temperature liquid of your choice.
Mix the contents in the liquid until it has dissolved completely. You will see the best results if you use it every day, and it's important to note that you should not take more than the recommended dose.
Who Is Tru Niagen For?
As it goes for any dietary supplement, Tru Niagen's products are only for adults, providing comfort and wellness to both men and women. This product is generally targeted toward older individuals, as its primary goal works toward slowing down aging.
However, since it aims to repair and replenish cellular health, it can be for anyone who is interested in upgrading their body's cellular system and healing themselves from top to bottom.
As always, proceed carefully if you are pregnant, nursing, taking medication for any serious illnesses, have a weakened immune system, or have any serious allergies or reactions. Make sure to talk to your doctor before starting any Tru Niagen product.
Tru Niagen Side Effects
A great selling point of these supplements is that it is made primarily from nutrients that are structurally and functionally identical to the ones produced by your body. So there are no reported side effects.
Any potential Tru Niagen side effects that do occur, however, may include mild nausea, muscle pain and soreness, and upset stomach, all potential side effects of dietary supplements in general.
Tru Niagen Reviews: What Do Customers Think?
Tru Niagen supplements are made to bring happiness and health to everyone who uses it, and it seems to have lived up to that goal! All in all, the reviews we found are mostly positive.
Many satisfied customers believe this is the go-to brand, sharing their successful Tru Niagen before and after results. This supplement is sold on their official website and Amazon, so there are a couple different ratings posted.
Since all products of Tru Niagen come with the same ingredients and have the same goal in mind, the rating for all the different versions on the brand's website is 4.5/5 stars after 174 reviews. However, Amazon has different average ratings for each product, as listed below:
Tru Niagen 300 mg: 4.4/5 stars following 5,172 reviews
Tru Niagen 150 mg: 4.5/5 stars over 3,112 reviews
Tru Niagen Stickpacks: 4.4/5 stars after 327 reviews
There was an outpouring of satisfied customers from both the brand website and Amazon. One happy customer wrote: "Just celebrated my 71st b'day and can honestly say I have never been in better health. I give much credit in taking Tru Niagen for three, four (??) years. However long, it did not take long to notice the benefits. Thanks for a great product."
Another customer on Amazon praised the Tru Niagen Stickpacks:
"I'm 36 and love that Niagen helps slow down the aging process. I've been taking it for a few months now and in the short-term I've noticed more energy and the ability to "bounce back" quicker. I'm also interested in the long-term benefits as I get older. The powder pack is super convenient. I add it to my protein shake and there isn't a difference in taste or texture at all."
Google reviews also had quite a few happy customers as well, with one person writing the following:
"I've been taking this product Tru Niagen for over 8 years and have always told people about it, because this product has given me a whole new lease on life. EVERYTHING is better, and I'm 63 years old now. I'm healthier now than I was in my 40's and all of my bloodwork comes back almost perfect, year after year."
They added: "Just know that it may take a while for you to NOTICE that's it's working, but it is."
Although the majority of the ratings and testimonials were from extremely satisfied clients, this Tru Niagen review did find that there were some customers who weren't happy with their results. The primary complaint was about a lack of results, with people stating that they followed the instructions but still didn't manage to notice any difference.
Is Tru Niagen Worth It?
We found many positive Tru Niagen reviews, so it's only obvious to say that this product is an efficient and useful dietary supplement for anti-aging and cellular health. Although the target group is older people, this product can be of use to anyone looking to take care of their cellular health. Tru Niagen is a one of a kind dietary supplement, and is definitely worth a try!
There is plenty of research conducted on the main ingredient that makes us confident in this product. The brand's website goes into great detail about how the products work and their benefits. By managing to describe a complicated process of cellular health using simple language and clear descriptions, Tru Niagen makes it accessible to all sorts of people.
Tru Niagen Promotions & Discounts
Due to the high quality ingredients used by Tru Niagen, the supplement isn't the cheapest in the market. But when you're trying to repair your body on a cellular level, you can't really expect that product to be cheap, and even if it was, you wouldn't trust it anyway!
One perk of ordering Tru Niagen dietary supplements is that if you subscribe monthly to the product, you will get more savings. Now there are no Tru Niagen coupons available, but on the upside, the company website offers free standard shipping throughout the US!
Where to Buy Tru Niagen
Tru Niagen can be purchased from its main brand website. It can also be found at Amazon, sold at the same price that is listed on its company's website.
FAQ
Is Tru Niagen vegan?
Unfortunately, Tru Niagen is not vegan. However, it is made with 100% vegetarian ingredients.
Is Tru Niagen gluten-free?
Yes, Tru Niagen is a gluten-free product. Anyone with such dietary restrictions is safe to consume it.
What is Tru Niagen's Shipping Policy?
Tru Niagen's website offers free shipping for all US orders, including military bases, using DHL eCommerce and USPS shipping carriers. Your products will be delivered in 5-7 business days.
For international orders, the costs may vary based on your location, with the possibility of international taxes or duties. Your products will be delivered in approximately 7-10 business days from when you ordered. See this list of countries where you can order from.
What is Tru Niagen's Return Policy?
Tru Niagen has a 30-day return policy, as long as the product is unopened. Make sure that the your packing list is included, or if you don't have your packing list, you can include the order number with your return. Once they receive your product, the refund will get issued within 2-3 business days, with the money returned to your original form of payment.
When using the brand website, unfortunately there are no returns accepted on products that are opened, used, or tampered with. Also, you must pay for your own return shipping.
How to Contact Tru Niagen
If you still have some questions after reading this Tru Niagen review, you can reach out to the company directly. They are available 7 days a week from 8:00 am – 5:00 pm PST, with the exception of holidays, thought the following:
Email:

[email protected]

Phone: 888-642-4361
Live chat with a support representative
---
Check out similar brands you might like:
Heart and Soil Supplements Review
Get Access to Exclusive Deals
Subscribe for free to get exclusive deals in your inbox. 100% privacy