ZLINE Review
About ZLINE
Sustainability and kitchen appliances don't usually mesh, but today, no matter what you buy, it's important to consider the impact it has on the planet. ZLINE was created in 2007 by Andy Zuro to manufacture and sell luxury appliances that do their part for the environment. You'll learn more coming up as we explore this list of the 5 best ZLINE kitchen products.
Whether it's recycling metals using electric forklifts or reducing its CO2 output, this Lake Tahoe-based brand is making a positive impact—in more ways than one. With its wide selection of luxury kitchen appliances, ZLINE offers incredible value for an affordable price.
ZLINE Kitchen Products Review
In this list of the best ZLINE Kitchen products, you'll come to know precisely what this brand is capable of in terms of modern design, quality craftsmanship, and reasonable cost. Let's get into it.
30" Convection Built-In Microwave with Sensor
Bespoke kitchens are becoming all the rage these days. Customized to your preferences, they include built-in items that prioritize convenience and aesthetics. The 30" Convection Built-In Microwave with Sensor is high-tech and forward-thinking with a seamless design that's both sleek and powerful. 
With this pick from my list of the 5 best ZLINE kitchen products, you'll control how your food cooks with 11 power levels, along with options to heat, convection cook, and broil.
Featuring sensors and multi-stage cooking, this smart microwave lets you enjoy microwaved food like never before. In fact, I'm not even sure I'd call it a microwave. Upgrade your old zapper with this functional machine for $1,700.
Durasnow 30" Freestanding Gas Range
Want the luxury of being able to move your stove from home to home? The Durasnow 30" Freestanding Gas Range gives you that flexibility but is packed with standout features. 
From hand-cut stainless steel pieces to StayPut Italian hinges, this gorgeous appliance from my list of the 5 best ZLINE kitchen products is a real conversation piece. Get it in one of eight colors for $2,252 (down from $2,650).
DuraSnow 36" Gas Cooktop
Helping you create delicious meals is kind of what this brand does best. The DuraSnow 36" Gas Cooktop gives you the freedom to cook up large meals with its six different burners.
Along with a fingerprint-resistant finish and up to 18,000BTUs of power, this professional cooktop doesn't mess around. You can add it to your kitchen for $1,364 (down from $1,550).
Convertible 400 CFM Wall Mount Hood
The Convertible 400 CFM Wall Mount Hood is made from 430 stainless steel which is resistant to rust and corrosion. Quieter than other models on the market, it operates between 51-61 decibels depending on the setting. 
This item on my 5 best ZLINE kitchen products list doesn't disappoint. You'll enjoy advanced features like a handful of speed controls, streamlined performance, and a classic design that looks great in any kitchen. Purchase one for yourself on sale for $352 (down from $400).
Garmisch Stainless Steel Undermount Kitchen Sink
The kitchen sink is one of the most frequently used things in the home. That means it's worth investing in. The Garmisch Stainless Steel Undermount Kitchen Sink is handmade to give you an effortless wash and rinse.
Made from industrial-grade stainless steel, this rust-resistant sink will be in your home for many years to come. I think you'll love the extra large and deep basins which come in handy for big pots (or any pets that need a quick shampoo).
The Garmisch sink is compatible with a garbage disposal. Plus, it comes with a basket strainer, cutting board, and mounting hardware. Experience the difference in your kitchen for $600.
Who Is ZLINE Kitchen And Bath For?
ZLINE makes both kitchen and bath items, though I know this is a list of the 5 best ZLINE kitchen products. I'd recommend this brand to anyone who prioritizes sustainability and a modern look of luxury in their home. 
ZLINE Kitchen And Bath Reviews: What Do Customers Think?
Now that you know about the 5 best ZLINE kitchen products, it's important to find out what customers think about them. So, I hit up several sources around the web to give you a broad range of feedback. Let's start with some bestsellers on Wayfair.com.
30" Freestanding Gas Range: 4.6/5 stars from 588 reviews
Durasnow 36" Gas Cooktop: 4.7/5 stars from 152 reviews
Garmisch Stainless Steel Sink: 4.8/5 stars from 51 reviews
400 Convertible CFM Wall Mount Hood: 4.6/5 stars from 689 reviews
In the comments section for the 400 Convertible CFM Wall Mount Hood, the majority of customers had great things to say. Here's a review one of these happy customers wrote:
"It was much less expensive than similar hoods at the appliance stores and looks great. It was packed well and arrived quickly. We love the way it looks and works – it has 2 light settings and 4 fan settings…We ordered a faucet and microwave that were this brand as well and have been very happy."
I know the feedback for the 5 best ZLINE kitchen products was fantastic on Wayfair, but what about elsewhere? I headed over to The Home Depot to find out.
After checking out the 30" Dual Fuel Range with Gas Stove and Electric Oven, I saw an overall score of 4.4/5 stars from 235 shoppers. The majority of the comments were positive and 80% of those who bought it said they'd recommend it. One reviewer had nothing but great things to say about it:
"We installed this about a month ago and it's awesome! Beautiful, easy install, easy to clean, powerful and even cooking. So glad we chose Zline!" Other comments were similar with folks saying how beautiful the range is and how well it performs.
The next place I checked for feedback was Best Buy. There, the Professional 6 Cu. Ft. Freestanding Double Oven has a 4.6/5 stars rating from 38 customers. And 95% of shoppers said they'd recommend it to a friend. Here's a comment one satisfied customer left:
"I just love this stove and oven. Gas burners have very high heat and good for stir fry. Oven cooks faster and evenly than my previous oven. I have not used 6 burners at the same time yet but this will come in handy when next big meal time come. This really stands out and it is a focal point of my kitchen."
With its top-of-the-line performance, this oven seems to come highly recommended, but truly, no matter where I looked, ZLINE's products were. The only thing that might be troubling is their noise level. The brand reveals the decibel rating for all of its products, so be sure to pay attention to that if you like things 'whisper quiet.'
Is ZLINE Kitchen Worth It?
After examining the 5 best ZLINE kitchen products and their feedback, I certainly recommend checking this brand out. I specifically like how sleek its products look as well as the fact that they're made sustainably. 
FAQ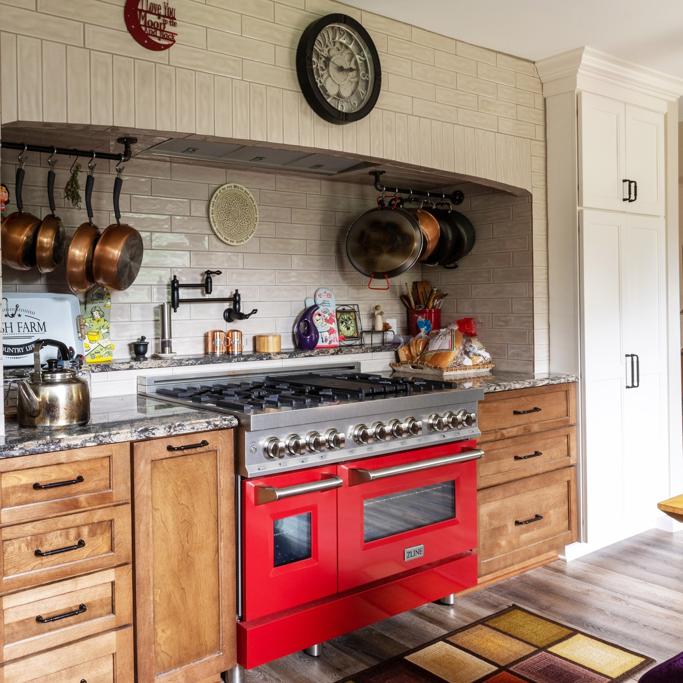 Who owns ZLINE Kitchen and Bath?
ZLINE Kitchen and Bath was founded by Andy Zuro and is still owned by the Zuro family to this day. Andy plays a big part in the design of all of the brand's products. 
What Is ZLINE Kitchen and Bath's Shipping Policy?
ZLINE has warehouses in Tennessee, Ohio, and Nevada which is where your order is usually shipped from. That said, the brand doesn't actually let you shop on its website, but you can find its products at many retail partners. These include but aren't limited to:
Wayfair
Lowes
The Home Depot
Best Buy
What Is ZLINE Kitchen and Bath's Return Policy?
ZLINE doesn't sell its products through its website, so to purchase an item, you'll need to shop with one of its retail partners. Because of this little fact, to get the scoop on returns you should refer to the return policy at the store you made your purchase.
Different stores have different policies, so be sure to read up before shopping.
How To Contact ZLINE Kitchen And Bath
If you need to know anything else about the 5 best ZLINE kitchen products that I didn't include here, you can get in contact with the brand by calling 1(614)777-5004 or by visiting one of its showrooms in Nevada, Ohio, or Tennessee.
---
Check out similar articles you might find useful:
Kassatex Bath Accessories Review
Get Access to Exclusive Deals
Subscribe for free to get exclusive deals in your inbox. 100% privacy