10 Best Bacon Brands
Searching For the Best Bacon Brands
There's nothing quite like bacon. The salty meat elevates boring foods with its depth and addictive flavor.
Of course, there's a big difference between the shelf-stable microwave kind and gourmet, thick-cut, and in this list, you'll discover the best bacon brands to punch up your favorite meals and recipes.
"You can tell bacon is high quality by checking the nutrition facts label. Does it have a lot of preservatives/is it a long ingredients list?" said Patricia Kolesa, a New Jersey based dietician.
"Also, look at the expiration date. Is it past the 'best by' or 'use by' date? If so, the quality might not be as great as packaged bacon that was just put on the shelf."
Meet the Expert: Patricia Kolesa, RDN
Patricia Kolesa is a Registered Dietitian who graduated from Rutgers University with a Bachelors of Science in Nutritional Sciences (Dietetics) and a double minor in Biological Sciences and Psychology. She went on to complete her dietetic internship through Wellness Workdays, where she concentrated in Sports Nutrition and Entrepreneurship.
What makes a particular variety one of the best bacon brands? We consider things like company practices, the meat used, its texture, aroma, and of course, flavor.
So tie your napkin around your neck or grab your favorite recipe, we're about to dig in.
10 Best Bacon Brands
1. Applegate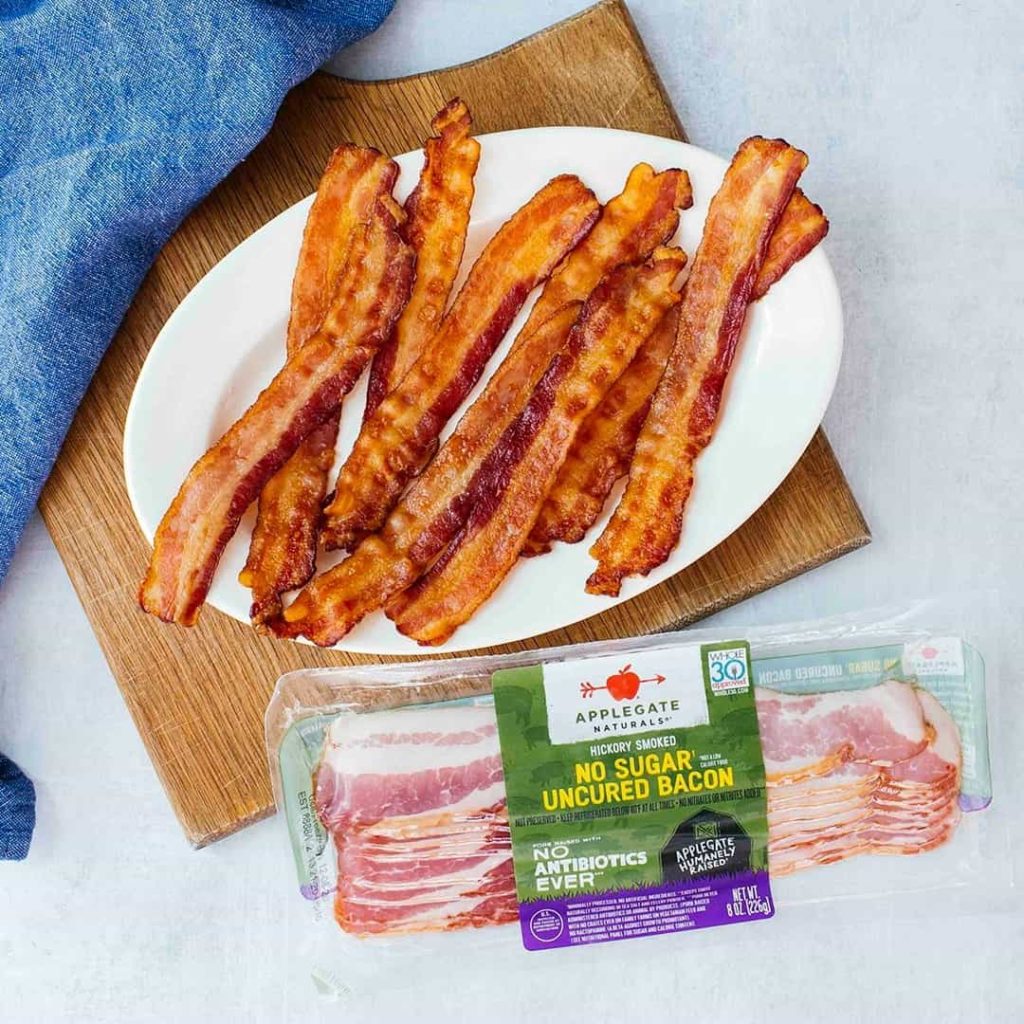 The guy who founded Applegate, Stephen McDonnel, launched the company after asking himself, "what if you weren't afraid to read a hot dog ingredient label?" Taking a healthy, wholesome approach to meat, his brand is one that's associated with quality, sustainability, and the ethical treatment of animals.
Founded in 1987, Applegate is now owned by Hormel, but nothing about it changed in terms of production or quality. The brand took everything the meat industry didn't do and created a company that did the opposite, and its concern for "the way food is raised" and how it "can change and transform lives" is apparent in every bite.
You'll never find a single antibiotic or added hormone in the brand's meat, but you will find tons of organic options and natural ingredients, along with regenerative agriculture methods at its farms. Helping farmers diversify animals' diets, Applegate is concerned with the big picture of the planet, and that includes the way monocropping can deplete the nutrients in the soil.
Applegate makes seven different types of bacon including thick-cut, Sunday bacon, and turkey bacon. An 8 oz pack is $5.
Highlights
Seven different types of bacon
Uncured ONLY
Organic options
No antibiotics used
Affordable
2. Smithfield
Smithfield owns 500 of its own farms across the US and contracts an additional 2,000 independent farms. Founded in 1936 by Joseph W. Luter, the brand has long been associated with high-quality, locally-bred meat.
As a USDA-verified company, Smithfield produces safe, traceable meat products with environmental sustainability in mind. It offers a wide range of bacon types, including gourmet options like cherrywood smoked, applewood smoked, and peppered thick-cut, along with uncured options, traditional favorites, and fully-cooked bacon.
As one of the most affordable of the best bacon brands, a 16 oz package of hometown original is $6.
Highlights
Wide range of bacon types
USDA Process Verified
Traceable and quality meat
Environmentally-responsible plant
Large variety of bacon
Affordable
3. Oscar Mayer
You can't think about lunch meat without the Oscar Meyer jingle popping into your head. Though it's almost 150-years old, the brand is one that people still gravitate towards because they count on it for affordable, tasty meat.
Named after its founder, Oscar Meyer fell in love with meat at the young age of 14 while working as a butcher in Detroit. Times have certainly changed for this iconic company, and it has changed to keep up.
With a surprisingly transparent approach to meat production, Oscar Meyer lays it all out on its website. Supporting the welfare of animals and choosing farms that provide animals with "The Five Freedoms," the brand ensures those it works with don't hurt, hinder, scare, or starve their animals.
You'll find three types of bacon in its line, including fully cooked, natural hardwood smoked, and turkey bacon. A 16 oz pack is $7.
Highlights
Three types of bacon
Believes in the humane treatment of animals
Transparent about sourcing/farming practices
FDA and USDA-approved
Affordable
Accessible
4. Benton's
Benton's is known best for its aged, smoked hams, some of which date over one-year-old. Slow, dry-curing its pork for a tender, juicy bite, the brand was founded in 1947 by Albert H. Hicks and has turned the curing process into an art form.
The brand has been celebrated for the unique flavor of its ham and bacon, which is owed to a signature rub that balances sweet, salt, smoke, and spice. There's just one type of bacon in its inventory which is dry-cured by hand and rubbed with that signature mixture of salt, brown sugar, and black pepper.
After the pork is cured, it's smoked for 2-3 days and is shelf-stable. Customers say Benton's bacon is smoked to absolute perfection.
Enjoy a 4-pack of 1 lb vacuum-sealed bags for $36 ($8.50/16 oz).
Highlights
Specializes in one type of hickory-smoked bacon
Slow cured for 3 weeks, then smoked for 2-3 days
Has a unique, signature flavor
Shelf-stable and vacuum-sealed
5. Nueske's
Tradition is strong at Nueske's. Founded in 1933, it's one of the oldest names on this list of best bacon brands and one that's known for authentic flavor.
Nueske's specialty is applewood smoking, the tradition passed down from Grandpa R.C Nueske to the younger generations who still man the company today. What started as a small, neighborhood business grew to become one that America can't get enough of—the tenderness of its quality smoked meats has generated quite the buzz.
Though the company is in different hands today, it still uses Grandpa's original recipe, and that doesn't include fillers, binders, extenders, or water. It's genuine quality.
Nueske's makes six different types of bacon, including Canadian, slab, cherrywood, applewood, and triple thick cut. 2 lbs of medium-sliced applewood smoked bacon will cost you $25 ($12.50/16 oz).
Highlights
Six bacon types
Medium and thick bacon available
Hand-blended spices
Authentic flavor
Applewood smoked
Family owned and run
6. Hormel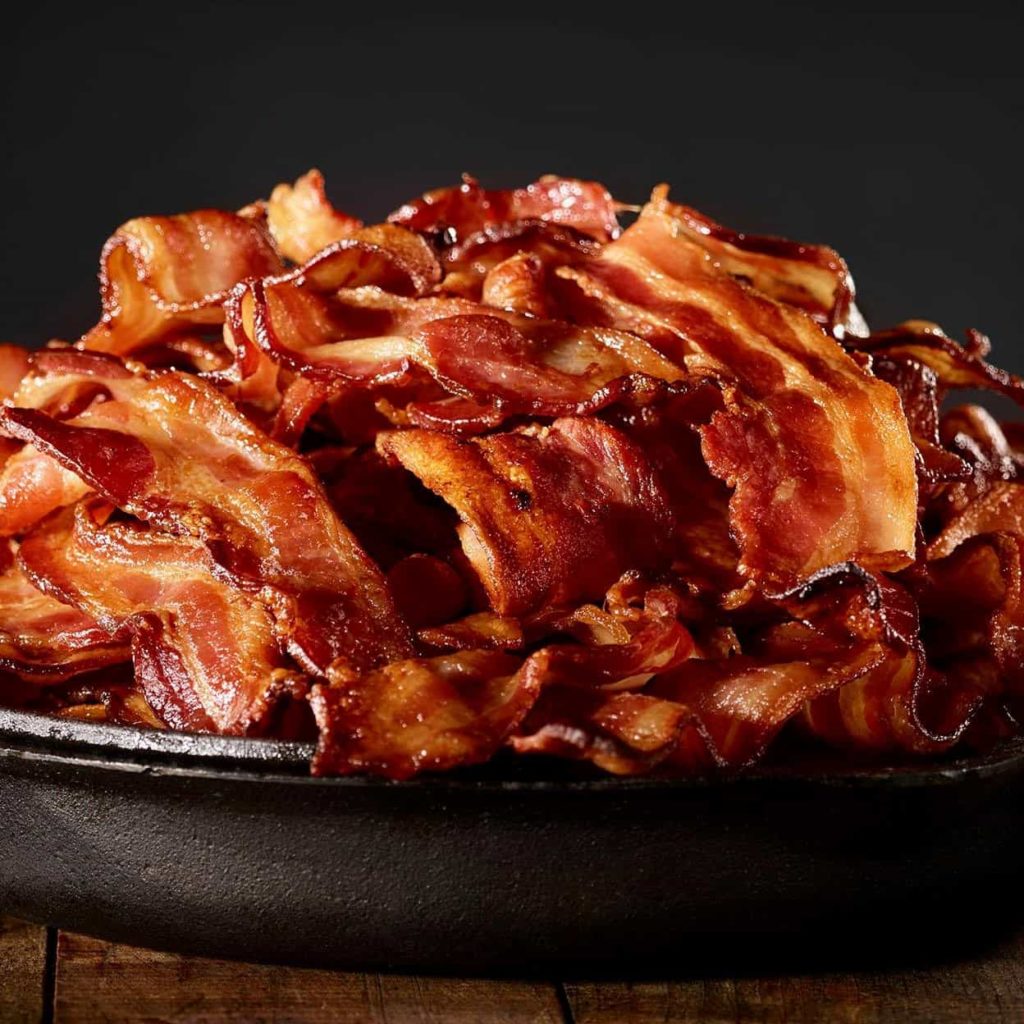 Hormel is, perhaps, the best-known bacon brand on the planet. The name is synonymous with pork and has been trusted for over 100 years. Founded in 1891 by George Albert Hormel, it's been the purveyor of many firsts, like the world's first canned ham.
If the concept of canned ham seems a little odd to you, you should know that the shelf-stable product helped soldiers get protein in WW2. Some say the war was won with SPAM, the food used as the fuel that kept soldiers going. That's the significance of Hormel and why so many people still choose the brand today.
Over time, Hormel has changed to keep up with the demands of modern customers, but it has retained a classic sense of reliability and integrity. Offering a Black Label and Natural Choice line of bacon, you'll find a ton of options on its virtual shelves from uncured to cherrywood smoked to fully cooked.
The average 12 oz pack of Natural Choice bacon is $7, whereas a 16 oz pack of Black Label is $7 as well.
Highlights
Many types of bacon available
Natural, uncured options
Iconic, reliable brand
Affordable
Accessible in many stores around the world
7. Tender Belly
Tender Belly is on a "mission to craft the most crazy tasty bacon on planet Earth." How do they do that, you ask? For this brand, it's about choosing heritage breed pigs, special dry rubs that soak in for days, and hardwood smoking techniques.
The result is high-quality bacon with exceptional taste. Plus, since no water is injected into the pork (like other companies do), this brand's bacon shrinks less and has a meatier texture.
Tender Belly was founded not too long ago in 2010 by brothers Shannon and Erik Duffy. Its line of bacon includes three types: cherrywood smoked, habanero, and no sugar for the keto community.
You can also buy slabs of bacon from the site—that is if you can find them in stock. Pick up a 12 oz pack of any of its varieties for $13.
Highlights
Three types of bacon
Meatier bacon
Doesn't shrink as much as other brands
Responsibly-raised heritage pork
Crate-free, vegetarian-fed pigs
No antibiotics, nitrates, or nitrites added
Uses sustainability-focused farms
8. Vande Rose Farms
Vande Rose Farms may have started over 100 years ago in 1916, but it's one of the most modern farms on this list of best bacon brands in terms of practices. It uses more California Prop chain options than all other pork producers in America while ensuring all of its pork is raised naturally without antibiotics and hormones.
Based in Iowa, the brand sources pork from local small family farms. Choosing heritage breed pork only, its pigs are always treated humanely as they believe that a stress-free pig makes for delicious pork. After being processed, the pork is coated with a hand-crafted rub and cured using the company's signature traditional method.
Vande Rose Farms offers both dry-cured bacon and uncured bacon in its selection, sold in bulk packs of 6 x 12 oz for $70 (under $12/each).
Highlights
Award-winning applewood smoked bacon
Smoked for over 22 hours
Crate-free & antibiotic-free pigs
No hormones ever
Uses regenerative farming practices
Donates food and services to Travis Mills Foundation
Farms use renewable energy and recycle
9. Edwards Virginia Smokehouse
At Edwards Virginia Smokehouse (EVS), it's all about the hickory smoke. With hickory smoked country bacon, bacon steak, and maple bacon, this dials up delectible taste.
Inherently southern and genuine in flavor, its handcrafted meats create the perfect balance of sweet, salty, and smoky. The company was founded in 1926 by S. Wallace Edward Sr. It has been passed down through the generations, along with the knowledge of properly salting, smoking, and aging pork.
EVS has partnered with Heritage Foods and Wigwam Ham to source its heritage-breed pork. Both farms raise the animals humanely and emphasize traditional farming methods like natural breeding and free range of the pasture.
Sold only in bulk, you can get 4 x 12 oz packages of hickory-smoked bacon for $74 ($18/each).
Highlights
Variety of types of bacon
Hickory smoked
Pork from Ibireco heritage pigs
No antibiotics or hormones
Pasture-raised
Handcrafted in the USA
10. North Country Smokehouse
North Country Smokehouse (NCS) is on a mission "to support culinary excellence by hand crafting artisanal smoked meats with exceptional flavor, premium ingredients, respect for livestock, and the land."
Taking a wholesome approach to making bacon, its pork is certified humane and organic, sourced from a Canadian producer called duBreton. duBreton farms are known for their high standards of animal welfare and commitment to raising livestock with kindness.
NCS was founded by Mike Satzow who created the brand with the same integrity his grandfather had with his own butchering businesses 100 years ago. Today, it's known for its exceptional quality bacon.
NCS marinates all of its slabs in dark maple syrup and double smokes them slowly at low temperatures to create flavorful, tender meat. The brand offers a variety of bacon types, including thick-cut, original, and Canadian, with organic options available.
You can pick up a 5 lb bag for $52-$73, or grab a 5 lb bag of ends for $22.
Highlights
Offers multiple types of bacon, including thick and end-cuts
Certified humane, organic pork
Smokes low and slow
Organic options
Applewood smoked
How to Shop For the Best Bacon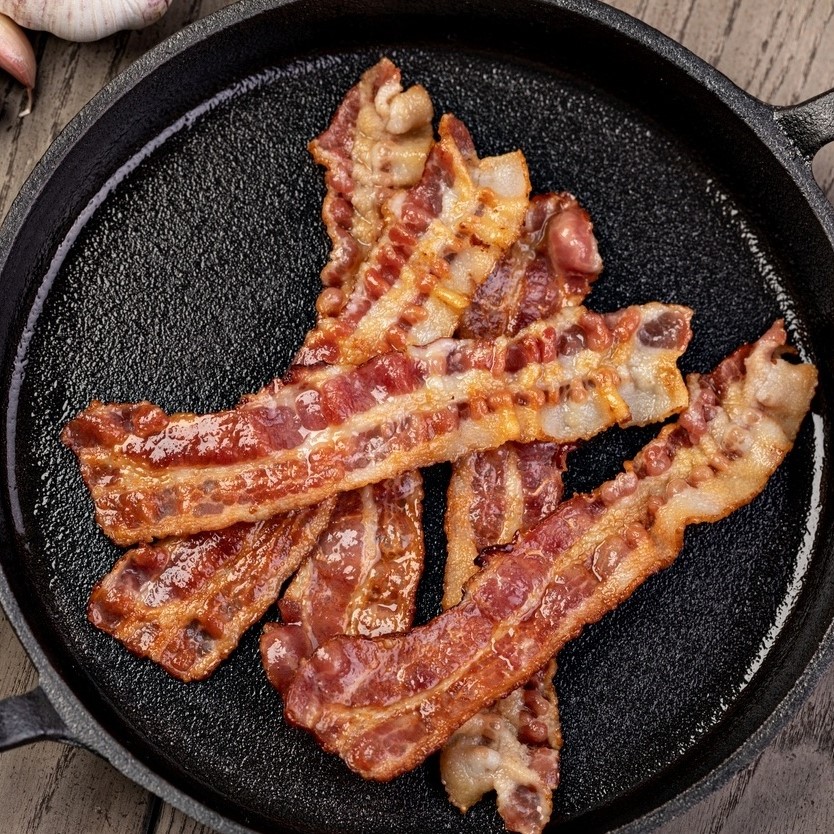 To all of the companies listed here, bacon isn't just bacon. Since you're in search of the best bacon brands, it's safe to say you feel the same. So to help you narrow down your options and find the right type, cut, and flavor of the delectable meat, we've put together a list of things to keep in mind as you browse.
Brand
With bacon, the brand is a big one. Each of the best bacon brands represents something a little different from the rest. While small, natural, and regenerative farming and production is a priority for some of the names on this list, others take a large-scale approach and aren't afraid of the traditional curing process.
Choosing one company over another may be the difference between classic simplicity and authentic quality. We've included a range of the best bacon brands here, so there's something for everyone.
Types of bacon
For some people, applewood smoked bacon is the only kind to buy. Others aren't picky. Many of the best bacon brands listed here offer a few different types of bacon like cherrywood smoked, hickory-smoked, and just plain ol' classic.
If you like variety or a particular type of bacon, then it's a good idea to choose a brand that offers types other than just original.
Sodium level
With bacon, salt is non-negotiable. That's one of the reasons it's so delicious.
With that said, there are one or two names on this list of best bacon brands that offer low sodium versions.
"The amount of sodium in bacon can be harmful depending on the type," Kolesa said. "There are some low-sodium bacon options, however if you aren't up for it, try having smaller portions of bacon."
If the salt content is of importance to you, check out the nutritional information included on the product page—all companies show these numbers online.
Thick vs thin cuts
This one is a simple matter of preference, and thankfully, pretty much all of the best bacon brands offer thick and medium cuts of bacon.
There are one or two that offer thin-cut bacon, along with Canadian and peameal bacon. If you like to switch things up from time to time, choose a brand that offers a variety.
Fat content
Along with salt, fat is another reason why bacon is so addicting. Fat equals flavor, and bacon has a lot of both.
If you're looking for a leaner cut, opt for either thin-cut bacon (for lower calories and fat overall) or Canadian bacon. Typically, bacon has 12 grams of fat per 34 g, while Canadian bacon has 4 grams of fat per 56 g.
Want even less fat? Opt for turkey bacon. Though we're sure some of you bacon lovers are screaming at us right now, turkey bacon is a great option for those who either can't eat pork or who are on a low-fat lifestyle.
Lifestyle
The way bacon cooks depends on several factors. Some argue that pigs need to be vegetable-fed and pasture-raised to create the best-tasting bacon, while others aren't too picky. We're pleased to say that all of the names on this list of best bacon brands care about the welfare of their animals—even industry giants like Hormel.
If you're someone who's into the details, pay close attention to phrases like "vegetable-fed," "pasture-raised," "crate-free," and "humanely-treated." These phrases nod towards the lifestyle led by the pigs that each brand farms.
Price
It's kind of hard for bacon to not taste good, but we can all agree that there are different levels of quality, and with that quality comes higher prices. Since we've included a range of the best bacon brands around on this list, you have both great quality and an affordable price, dialing up or down to suit your budget and tastes.
What Is High-Quality Bacon?
High-quality bacon has as much to do with how a pig is raised as what the pork is mixed with. Chefs say that the search for high-quality bacon consists of looking at three main categories:
Taste: For the best bacon brands, high-quality bacon will be a harmony of saltiness, sweetness, and smokiness. One element won't stand out over the others, they will all meld together perfectly.
Appearance: High-quality bacon will always look natural. Artificial ingredients downgrade the appearance of how bacon looks. It should have an equal ratio of meat to fat with natural coloring.
Texture: Whether you opt for thick, thin, or medium cut, your bacon should cook up with a lovely texture. Thick-cut bacon should be chewier while thin will offer the perfect crispness.
In addition to the bacon itself, some farmers suggest that high-quality picks will come from pigs that live a happy lifestyle. This may involve the freedom to roam a pasture, the enjoyment of a natural, plant-based diet, and having lots of time to socialize with other pigs.
High-quality bacon is often hand-crafted using natural spices and won't have water added, either. Some argue that the longer and lower bacon is smoked, the better it will taste. All of these things come into play when creating high-quality bacon.
Is Turkey Bacon Better Than Regular Bacon?
It depends who you ask, but in general, since turkey bacon comes from poultry, it has less fat and usually, less salt. If you're concerned about your sodium and fat intake, turkey bacon is a healthier option, but it's a real downgrade in flavor. Sorry, turkey, you just weren't meant to be bacon.
Choosing turkey bacon over pork bacon won't rock your world in terms of flavor. But, it's a smart substitute for those who want a salty taste and crispy, chewy texture that somewhat resembles real bacon.
Which Bacon Alternatives Are Healthiest?
If you're looking for the healthiest bacon alternatives, Kolesa recommends looking out for low-sodium options or turkey bacon.
"This way you don't miss out on the flavor, but are also being mindful of sodium, fat, and cholesterol intake," Kolesa said. "You can also aim for smaller portions of regular bacon if you don't want to give up on it entirely (1-2 pieces instead of 3-4 for example)."
Is Uncured Bacon Healthy?
To answer this question, we need to first look at what cured bacon is. Cured bacon is pork with salt and nitrites that have been added to keep it fresh, stop the growth of bacteria, and enhance flavor.
According to nutritionists, nitrites are one thing you should avoid, and that's why you'll find that a lot of the best bacon brands offer uncured bacon. Though uncured bacon doesn't contain nitrites, it still contains a ton of salt and saturated fat.
So while it's a healthier option, too much bacon isn't healthy. As with everything, moderation is key.
Does Bacon Help You Lose Belly Fat?
Bacon has long since been claimed by the keto community as a revolutionary weight-loss food. Though this seems incredibly backward to what we've been taught by modern diet culture, there is scientific evidence that links a high fat, low carb diet to weight loss.
According to one study's findings, a keto diet (75% fat, 20% protein, 5% carbs) can result in 2 kg of additional weight loss over that of a low-fat diet. By keeping carbs low and fat high, the body enters into ketosis, a fat-burning state that torches existing body fat.
By nature, some of that fat is belly fat, and so, consuming bacon as a part of your ketogenic diet, it can help you lose belly fat. Consuming copious amounts of bacon on top of a carb-heavy diet though, cannot. And remember, too much of anything can be bad for you. Remember to enjoy foods in moderation.
Final Thoughts
There's nothing quite like the smell of bacon sizzling in the pan, nor the comfort of sitting down and digging into a meal with so much flavor. Whether you enjoy it for breakfast or use it to concoct enticing appetizers, the quality, type, and cut of the bacon you use makes a big difference in the enjoyment of your dish.
There is a lot of variety out there in the world of bacon, and we hope this list of best bacon brands has helped you narrow in on one you can't wait to enjoy.
---
Next, check out other top brands through our curated lists:
9 Best Waist Trainer Brands for Women
Get Access to Exclusive Deals
Subscribe for free to get exclusive deals in your inbox. 100% privacy