Natural Cycles Review
In partnership with Natural Cycles
About Natural Cycles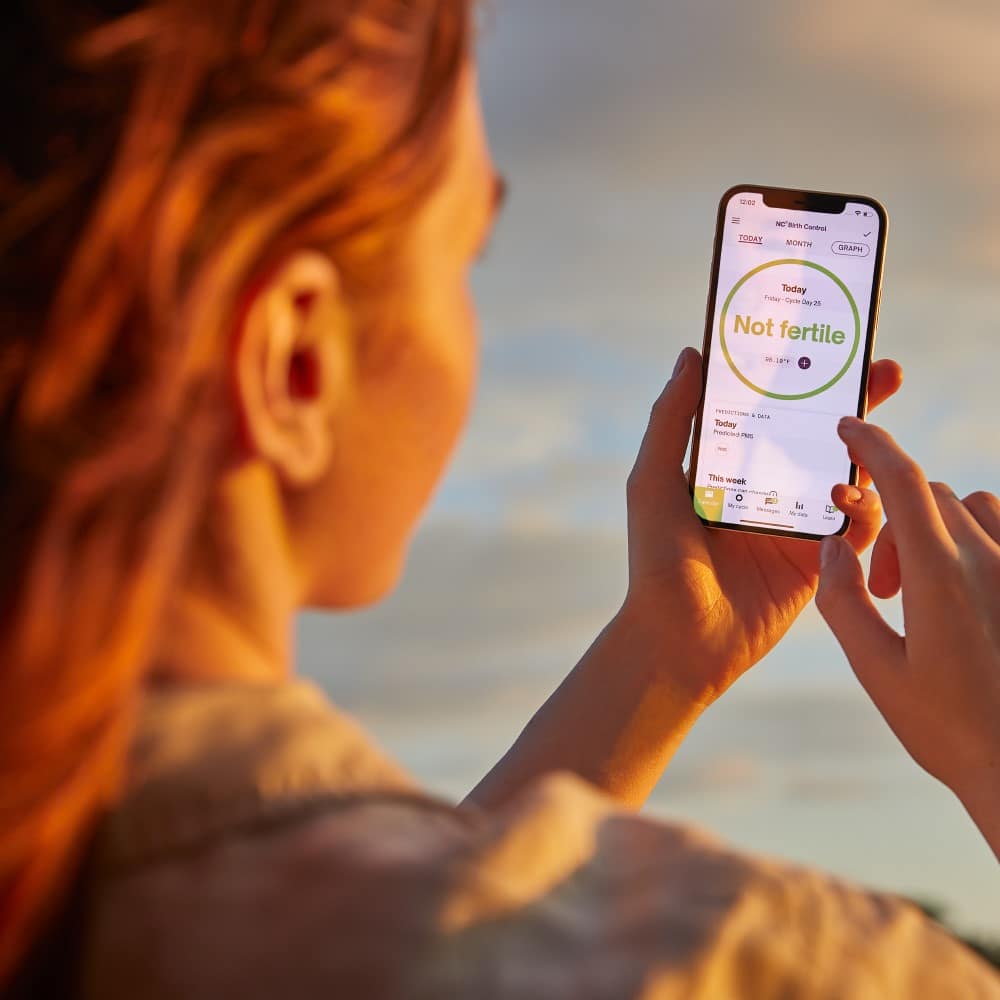 Searching for birth control comes with a lot of questions. Most of the time, they include things like, does birth control make you moody? And, what is implantation bleeding? Side effects like these from hormone-laden and intrusive methods have women thinking there must be a better way to prevent pregnancy.
Wondering where to buy pregnancy tests and can you get pregnant on your period are usually questions that follow after non researched-backed methods fail. But instead of willing Aunt Flo to visit by furiously Googling "what are period symptoms?", maybe it's time to get real about one of the most difficult questions to answer: Which birth control is right for me?
While there are many options available, few of them are hormone free. Thankfully, for women wanting to prevent pregnancy naturally, Natural Cycles has created the first and only birth control app allowing you to take control of your fertility.
The Natural Cycles app is based on an algorithm and informs you which days you are fertile and which days you are not. With this information, you know when to use a condom if you don't want to get pregnant or when to have sex if you're going to start a family.
Natural Cycles is FDA Cleared in the US, CE marked in Europe, and listed in the ARTG in Australia as a birth control but can also be used to plan a pregnancy while learning more about your cycle. Perhaps that's why the brand behind it boasts more than 415k Instagram followers and thousands of positive customer testimonials across multiple websites.
This Natural Cycles review will tell you everything you need to know about the app, from its capabilities to its price, as well as let you know what customers have said about it so that you can decide whether or not it's right for you.
Highlights
First FDA Cleared birth control app in the United States
Hormone-free
Can be used to prevent or plan for pregnancies
HSA and FSA eligible
98% effective when used perfectly & 93% effective when used typically
Compatible with the Oura Ring
Monthly and annual subscription plans
Free demo offered
Available in iOS App Store or the Google Play App Store
Natural Cycles Review
Before I delve deeper into this Natural Cycles review, let me clarify: Natural Cycles is just as much about pregnancy prevention as it is about pregnancy planning. In the same way that their app informs users when not to have sex to avoid pregnancy, it can also predict which days are the best to become pregnant.
The primary reading Natural Cycles uses is your temperature, as it varies throughout your cycle. It all has to do with hormones. After ovulation, a rise in progesterone leads to a slight temperature increase that Natural Cycles uses to predict and detect ovulation while informing you of your fertile window.
Your temperature, along with other fertility indicators (cycle length, period data, and optional LH tests), lets Natural Cycles accomplish their goal of helping you manage your fertility by giving you a Green Day when you are not fertile and a Red Day when you are. Their app can also tell you more about your cycle and how you might be feeling throughout it.
You should note that Natural Cycles takes all of this information and puts it into their algorithm, and it's because of this that their method boasts a high effectiveness rate. It's 93% effective at preventing pregnancy when used typically, but that soars to 98% when used perfectly. Note that perfect usage means not having unprotected sex on Red Days.
It may be obvious, but I'm going to include it in this Natural Cycles review anyway—this birth control is 100% hormone free and non-invasive. You don't need to ingest any exogenous hormones or take any medications. All you need to do is follow the app's directions.
You can deepen Natural Cycles' knowledge of your unique cycle by tracking info like:
Mood changes
Sex drive
PMS
Pain
Skin changes
If you're wondering how to do that, keep reading my Natural Cycles review. However, I can't get into that process without telling you how much the service costs.
They offer two payment methods; monthly and annually. An annual subscription costs $90 (this includes their thermometer) while the monthly payment plan costs $10. However, it can be daunting to jump onto a new program without knowing if it's right for you. Thankfully, Natural Cycles offers a free trial period.
How Does Natural Cycles Work?
This is the three-step process that Natural Cycles encourages all their users to follow:
Take your temperature as soon as you wake up, or wear your Oura Ring while sleeping, and add or sync it to the Natural Cycles app
The app will calculate your daily fertility status based on your temperature of that day along with your cycle and period data
Natural Cycles will tell you whether you're fertile or not fertile for that day
The app gives you one of two readings, Green (which means you're not fertile that day) or Red (meaning you're more likely to be fertile). If you use Natural Cycles Birth Control, the app will tell you to use protection on Red Days, and if you're using Natural Cycles Plan Pregnancy, it will show the Red Days as a scale from Low to Peak fertility approaching ovulation.
You can't use a regular thermometer to check your temperature. Natural Cycles requires customers to use a basal thermometer, with two decimals. Luckily, they provide one with the annual subscription, though you can also pick them up at your local pharmacy if you need to.
Additionally, Natural Cycles is compatible with the Oura Ring. The ring automatically measures your temperature trends as you sleep and syncs the information to the Natural Cycles app.
Who Is Natural Cycles For?
Natural Cycles is a great birth control method for those who don't want to take hormones or anyone that wishes to gain more insight into their cycle.
Natural Cycles Reviews: What Do Customers Think?
Customer reception is imperative when switching birth control because, worst case scenario, you get pregnant when you weren't planning on it. That's why I looked into what users said in their Natural Cycles reviews. Here are the average scores that came from a plethora of websites:
ThingTesting: 5/5 stars based on 5 pieces of customer feedback
iOS App Store: 4.8/5 stars based on more than 11,900 pieces of customer feedback
Google Play Store: 4.7/5 stars based on more than 18,900 pieces of customer feedback
Trust Pilot: 4.4/5 stars based on more than 560 pieces of customer reception
As you can see, the majority of Natural Cycles reviews were exceedingly positive. Users loved being off of hormones while still knowing exactly how to take control of their fertility.
"Natural Cycle is an incredible app. I absolutely love it, it's spot on with my cycle. I originally got this app in 2020 Because I was looking for a different birth control as I really didn't want to go back on the pill. If you looking for an app that TRULY works with your cycle get Natural Cycle as they are best you won't regret getting it," wrote one buyer.
One insightful Natural Cycles review highlighted the brand's privacy policy in the face of Roe v. Wade. "a big part of why I like them is the privacy aspect. Most people don't want their health stuff out there being sold. They also recognize that not everyone has the same 28 day cycle. They ask you if you want to use it to get pregnant or not so it lets you know what days work best for your lifestyle. Having the FDA certification helps."
Another unsung benefit that a few Natural Cycles reviews highlighted was how much users learned about themselves thanks to the app. Customers gained a heightened insight into their periods and menstrual cycles, which is something that hormonal birth control doesn't provide.
"I started using Natural Cycles after being on many different types of birth control for 10 straight years and let me tell you it is the best thing I've done for myself. This app has greatly changed my life, not only do I feel better on the day to day, but I feel more educated and more aware of my body and cycle. I was super nervous to get off of it at first but I will NEVER go back. I love every part of the app," one Natural Cycles review said.
Is Natural Cycles Legit?
Yes, Natural Cycles is legit and safe to use so long as you act in accordance with the app's instructions for use. The brand also has a deep FAQ section that provides stellar answers.
Is Natural Cycles Worth It?
Based on everything I've written in this Natural Cycles review, the service seems to be a great alternative for anyone wanting to prevent or plan pregnancy naturally. It's less expensive than many other forms of birth control, research backed, and provides a level of security you can rely on.
How To Choose The Best Fertility Status App
When it comes to taking control of your fertility, you have options. The best fertility status app for you will be unique to your needs. To ensure you find the right one, ask yourself these questions:
Are you looking to get pregnant?
What is your budget?
What methodology does the app use?
How much does the app cost?
How regular are your periods?
Natural Cycles Promotions & Discounts
Are you looking to be hormone free in 2023? Then this Natural Cycles review section is for you. Sign up now to save 10% on your annual subscription and get the NC Thermometer for free.
Where to Buy Natural Cycles
To get started with Natural Cycles, download the app on the iOS App Store or the Google Play App Store. You can also sign up on NaturalCycles.com.
FAQ
https://www.naturalcycles.com/faqs
Who Founded Natural Cycles?
Dr. Elina Berglund and her husband Dr. Raoul Scherwitzl founded Natural Cycles and oversee operations to this day.
How Much Does It Cost To Use Natural Cycles?
I outlined the costs earlier in this Natural Cycles review, but the monthly plan costs $10 per month while the annual plan is $90 a year.
What Thermometer Can I Use?
You can use any basal thermometer for Natural Cycles, though the company includes one with your purchase of an annual subscription.
How Many Red (Fertile) Or Green (Not Fertile) Days Will I Get?
This will vary from person to person, but Natural Cycles writes "the number of Red Days you get depends on the regularity of your menstrual cycle and how often you input data into the app, as well as having a steady temperature."
Does Natural Cycles Work For Irregular Cycles?
Yes, Natural Cycles works for irregular cycles, although it errs on the side of caution and may provide you with more Red (unsafe) Days than you need.
How to Contact Natural Cycles
You can use the chat function on Natural Cycles' site, www.naturalcycles.com, to speak with a team member.
---
Check out similar brands you might find useful:
Get Access to Exclusive Deals
Subscribe for free to get exclusive deals in your inbox. 100% privacy