Noom vs MyFitnessPal Review
Noom vs MyFitnessPal
Many are the reasons for deciding to lose weight. SStaying on top of health is more trying than it needs to be. With endless fitness programs and apps available these days, it's hard to know who to trust when it comes to guiding your health journey.
A study published in the New England Journal of Medicine evaluated the impact of overweight and obesity in human health over 25 five years. Analyzing data from 195 countries between 1990 and 2015, the authors found that the incidence of overweight and obesity consistently increased along with their associated health burdens.
While cardiovascular disease accounted for 70% of the deaths related to a high BMI, several types of cancer were also identified and linked to this risk factor. Obesity increases the risk of hypertension, dyslipidemia, insulin resistance, and type 2 diabetes.
Fortunately, weight loss programs can help you achieve the goal. Many of them use digital technologies to suit your lifestyle.
I've found two of the top contenders, so get ready for this Noom vs MyFitnessPal review to lay out the highlights of both.
About Noom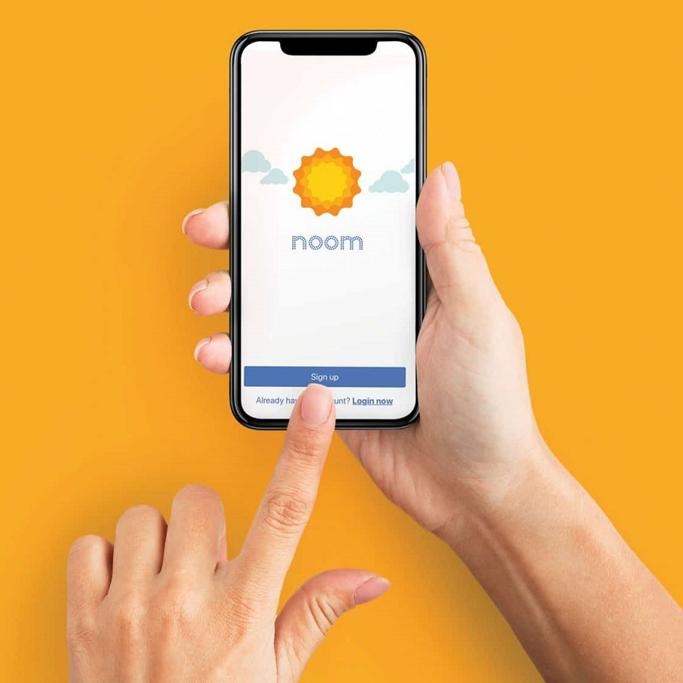 Since 2008, Noom has been working on benefitting clients with a focus on health rather than sickness. The founders, Sauju Jeong and Artem Petakov found that "up to 50% of premature deaths were attributable to behavior and preventable causes"" and decided that true fitness and health wasn't solely a matter of dieting, but one of psychology and motivation as well. 
Combining behavioral science methodology with technology and coaching practices, Noom is all about teaching individuals how to lead healthier lives through learned habits that will ultimately better their wellness.
A recently published study evaluated the determinants for weight loss outcomes among 11,252 Noom users. Results showed that in the short-term (9-16 weeks), 57% of users experienced moderate weight loss, while almost 20% had a high weight loss. In the long-term (33-52 weeks), 42% achieved moderate weight loss and over 39% experienced high weight loss. Around 20% of users remained stable across both periods. The authors found a significant association between successful outcomes and the adoption of engagement measures (reading articles, logging meals, texting messages to the coach, logging exercise, recording steps, and documenting weights).
About MyFitnessPal
MyFitnessPal is all about tracking. Since 2005, this brand has been working with elements of exercise and eating to track calories, nutrients, and vitamin intake in one easy and accessible location. 
Calculating the caloric limit of the user, this app tracks meals, activities, exercises, and more to help customers reach their weight loss goal. As highlighted in a systematic review by L.E. Burke and colleagues, self-monitoring strategies (such as diet, exercise, and self-weighing) are positively related to weight loss outcomes.
With both apps providing a focus on food, I wanted to know the key differences between them. Does one offer more? Is one more accessible in an online community? This Noom vs MyFitnessPal review is all about uncovering the details that built these brands to determine which one offers the more encompassing option.
What to Consider
Target audience
Both of these brands target adults looking to better their health regime. Through the inclusion of calorie counting and exercise central features, these apps are all about motivating individuals to learn new behaviors that better their long-term health.
I will say in terms of any dieting program, it's not recommended that those with pre-existing health concerns dive into the program without consulting doctors prior to beginning. Those who are pregnant or have pre-existing dietary restrictions or health issues, make sure to ask a professional before beginning the journey.
Range of goals
When it comes to these businesses, they're all about weight loss and healthy eating. MyFitnessPal focuses specifically on tracking calories and food intake with their meal diary method. 
Noom expands beyond healthy eating to inspiring a healthy lifestyle. Alongside weight loss, stress relief, better sleep, and healthier practices in activities are all core components of Noom's goals for the user.
Subscription flexibility
When it comes to subscriptions, both brands offer flexible options. Noom offers monthly renewals up to 8-month renewals in addition to an annual plan. Unfortunately, this company doesn't pause plans, but the cancellation process is incredibly simple and only takes a few steps. 
MyFitnessPal doesn't offer quite as many options (only monthly or annual payments), nor do they offer a pause on subscriptions. The one plus here is premium subscriptions can be canceled and customers are still able to use the free version of the app at any time.
Extras
Both of these programs are all about accessibility. That means they offer easy apps to download and track progress. While Noom sticks with its app and website, MyFitnessPal actually partnered with a total of 39 apps to track fitness, training, and daily activity in addition to their food diary.
Accessibility
When it comes to accessibility, MyFitnessPal is leaps and bounds ahead of Noom. The main reason? Cost. While Noom's prices range depending on the monthly vs annual subscription options, their costs are higher than MyFitnessPal Premium options. 
Let's not forget that MyFitnessPal also offers a free version of their program (rather than just a trial like Noom) that may not offer all of the additions of the paid version, but still gives a good start to those looking for a lifestyle change.
Noom vs MyFitnessPal: How Do They Work?
How does one determine which brand really shines in a Noom vs MyFitnessPal review? I had to really dig into the programs themselves to figure that out.
When it comes to Noom, this program is all about a psychological approach. Using Cognitive Behavioral Therapy to build up healthy habits in daily life, Noom positively influences the users to reach their goals through a supportive community.
A review article published in Dovepress states that Cognitive Behavioral Therapy is the best psychological intervention for obesity. It has proven to reduce binge eating while decreasing shape and weight concerns. Although it does not reduce weight by itself, it's a complementary component of holistic treatment.
Community support was proven to add to weight loss success. In a survey conducted among Noom users, H. Kim and colleagues found that social support was associated with meal logging and participation. Most importantly, these two factors were positively related to weight loss outcomes..
So, how does the system start? All customers undergo an extensive quiz that examines what users are looking to gain from the program, what causes may be linked to issues with stress, eating, and fitness, and ultimately determines an individualized plan to reach a desired goal within months.
This outlined plan is available to the user at all times and clients can even work with coaches one-on-one to adjust their plans depending on motivation and emotional level.
Live coaching is the winning factor for Noom as many other health apps on the market haven't made the leap yet. As described in a study published in Annals of Behavioral Medicine, coaching was proven to double the amount of pounds lost in internet based weight loss programs. However, health coaches do not have the same knowledge as registered dietitians. If you have any food sensitivity or health conditions, we recommend looking for professional advice.
While we all love a personalized plan, it's incredibly helpful to go in knowing that someone is monitoring progress and adjusting the path along the way according to the progress being made.
A systematic review published in Obesity reviews evaluated the available evidence regarding the determinants of weight loss. The authors concluded that behavioral and cognitive factors that aim to reduce energy intake and increase exercise are the main predictors of successful outcomes.
These determinants include portion control, cutting on fatty and sugary foods, consuming vegetables and fruits, self-monitoring techniques (monitoring weight, food intake, and exercise), and high self-efficacy for exercise. It is not all about counting calories but identifying healthy foods, avoiding unhealthy ones, and practicing regular physical activity.
When it comes to MyFitnessPal, this app is all about the tracking of food and calories. In fact, MyFitnessPal has one of the largest food databases online to track pretty much any meal being eaten. The beautiful part of this business is in its tracking application.
Unlike others on the market, MyFitnessPal makes things simple with a barcode scanner. Each food item (in the crazy large data bank) can be scanned and information regarding calories, vitamins, and more will be added to the food diary. Rather than inputting all information step-by-step for each meal, just scan and move on.
MyFitnessPal also works through their variety of partnerships. In addition to their own app and calorie tracking, customers can connect to a number of fitness, activity, and training apps to monitor overall fitness and health habits.
It's hard to really compare these two in a single Noom vs MyFitnessPal review when their methods are so different. While both track food intake and offer a large community of support, Noom focuses on psychology, therapy, and coaching while MyFitnessPal works through partnerships and monitoring. 
I do love the easy access and connection of other apps, but if I had to pick a method that seems effective, I'd likely go with the personal coaching and single location-based tracking.
Noom vs MyFitnessPal: Apps
Let's be serious, the two real aspects of these businesses I all want to know are the apps and the cost. That's what things come down to these days. So I'm breaking them into two categories for this Noom vs MyFitnessPal review to really get into the details.
When it comes to Noom, the main thing to note here is that this app works mainly on its own. The brand doesn't really partner with other apps and it does make it quite difficult for individuals looking to pair it with Fitbits, Garmin Connect, Apple Watches, and more. Aside from that, this app knows how to handle what customers look for in fitness.
Noom offers a wide database for food to choose from when it comes to tracking caloric intake.
Separating information into calories, exercise, blood pressure, and more, users can easily switch between the focused information to find exactly what they're looking for. All info is easily accessible and users have no issues finding exactly what they need from logged data.
In addition to the database, there are the coaching and community aspects as well. Noom is huge into community support, using this as a basis for their Cognitive Behavioral Therapy method. Through an introduction of a solid support system and a personal coach to meet with in times of need, users are continually motivated to complete their journey to that end goal.
In comparison, MyFitnessPal relies heavily on their database and partnerships. This business is all about calories and their bar scanner makes tracking those as simple as anything. Quick to access and use, this app claims accessibility at any location.
The real key feature of MyFitnessPal is their connections. This app partners with over 35 other apps to track pretty much everything under the sun.
From fitness to yoga to daily activities, MyFitnessPal pairs perfectly with a wide variety of other options to round out that fitness journey. Not good enough? It also easily connects to Fitbits, Garmin Connects, Apple Watches, and more to monitor daily movement in addition to eating habits.
I have to say the easy user-friendly interface of MyFitnessPal has some definite benefits that Noom is lacking. While I love a single location app for all things health, I'm an even bigger fan of when an app can connect to worn fitness trackers that are already a part of our everyday lives.
Noom vs MyFitnessPal: Extras
Sometimes the single app just isn't enough (we are a species of wanting more, aren't we?) so it's time to bring focus in this Noom vs MyFitnessPal review to the add-ons and extras that these businesses bring to the table.
When it comes to Noom, I've really laid it on about that personal coaching. Too much? Perhaps, but it's really what separates this brand from others on the market. However, instead of going on about that, I want to highlight a few of Noom's other incredible offers:
Constantly added articles and quizzes for users
A database of over 3 million food items
24/7 support group
Thousands of healthy recipes
Access to a health professional
Customizable plan
Each plan comes with full access to these resources and more, with open community support and new elements being added all the time.
So, how does MyFitnessPlan hold up in comparison? The real key element here is the barcode scanner and their database, but this company has a few other tricks up their sleeves to offer premium users:
Customizable diet plan
Progress reports
Online cloud for data storage
Over 350 exercises
Different measurement options available for tracking
A large online community
A lot of MyFitnessPal's add-ons have to do with their main goal of calorie tracking, which is largely beneficial to those who are heavily focused on that aspect of their health journey. 
However, I am a fan of the 24/7 support, recipes, and articles available to Noom users at all times.
Noom vs MyFitnessPal: Price & Value
Time for the big one – the one you've all been waiting for. I know that price really does make a difference, but it's always important to measure up in terms of value as well.
When it comes to Noom, the subscription service is the only way to access this app. While the brand does offer a limited free trial, customers only have two weeks to determine whether this program is the one for them before charges start coming through.
I will say that I appreciate the range in subscription timing and renewals as they have more options than most other companies in this market.
Need more information? Here's an outline of the possible subscriptions and prices for Noom:
Monthly renewal plan $60
2-month renewal plan $99
3-month renewal plan $129
4-month renewal plan $139
5-month renewal plan $149
6-month renewal plan $159
7-month renewal plan $169
8-month renewal plan $179
Annual renewal plan $199
It's clear to see that Noom isn't a cheap option for users who aren't convinced they'll want to commit. The fact is, while the annual plan is the most cost-effective option, it's a lot of money to cough up for those who may not be as dedicated to the program as they'd hoped to be.
With that being said, for those who need the community and coaching elements, this money is easily worth the value. In addition to endless articles, recipes, and blogs, the personal coaching alone adds value to this higher-priced option.
Personal coaching and therapy will always increase a bill and this is largely due to how effective they are in terms of helping individuals reach the root of their problems and stay on course for treatment.
As for MyFitnessPal, this one is clearly the cheaper option. At the baseline, this app actually offers a free version for customers who don't wish to invest in the add-ons that the premium option offers. Those satisfied with a simple food diary and calorie count will be pleased with the free option of this app.
For those who wish to actually go the extra mile for those bonuses, pricing comes down to monthly and annual subscriptions. MyFitnessPal's pricing is very cost effective. Their two options consist of:
A monthly renewal plan of $10
An annual renewal plan of $50
Clearly, one of those plans will save the customer more, but either way, both options run cheaper than Noom's least expensive option. Even paying monthly for a MyFitnessPal subscription runs cheaper than Noom's annual offer.
When it comes to saving money, the clear way to go is MyFitnessPal. This app offers a wide database for free and additional connections to over 35 other apps and communities for an affordable payment either monthly or annually.
While Noom is more expensive, I also have to honestly say that it does ultimately seem worth the cost to those who are dedicated to sticking with a program that may ultimately help them. The cost is more, but I'd say the value matches up with the cost.
It's difficult to decide in this Noom vs MyFitnessPal review as both are great options, but it really comes down to what level of service you're looking for and how much you're willing to pay for that health journey.
Noom vs MyFitnessPal: How To Sign Up
The easier the registration process, the more likely we all are to try it. When it comes to simplicity, MyFitnessPal takes the cake.
To register for this service, all customers have to do is:
Download the app
Answer five simple questions
Register an email to complete the process
What are those questions? They're all about goals.
This app quickly determines what the mission of the user is, what the starting point is, what the weekly aim should be, and then where the user is located. That's all that needs to be determined in order to sign up for the free app, trial, or premium account.
Noom has a much longer process to getting started, but the lengthy process ultimately determines what the user's plan will be. So, how does it all work?
Go online or download the app
Customers can select from three key goals: weight loss, healthy eating, and stress relief
Fill out the lengthy questionnaire covering the levels of concern, possible root issues, the possible solutions, and level of dedication to the whole process
Take a look at the plan created via a readable chart that the user can access at any point
Though it certainly looks comparable when listed out, the Noom process definitely takes much longer to go through as the questions do seem endless.
There's no progress bar showing customers how far into the questions. With that being said, the end result does offer a far more detailed outline than MyFitnessPlan's own option.
While one company keeps things quick and simple (which I always love) the other goes for a completely customizable sign-up that maps out exactly what the journey will look like from start to finish before customers even complete registration.
I'm apt to go with Noom for this one in our Noom vs MyFitnessPal review for their detailed plan upon creation of the account. It may take more time, but more is gained from the process. Again, it really comes down to how much you want to invest.
Noom vs MyFitnessPal: What Do Customers Think?
I'd love to just say customers can trust a single source, but I want a rounded view in this Noom vs MyFitnessPal review, so I had to look at customer ratings online to see how these brands stack up.
Off the bat, I'll say that Noom has some solid customer ratings. TrustPilot alone offers a big enough pool of customers to know that this is a brand that can be trusted.
This popular rating platform puts Noom at 4.4/5 stars based on over 55k ratings. In addition to those numbers, a further 623.5k customers on the Apple Store rated the app at 4.7/5 stars.
So, what are the key things that customers love about this brand? The scientific approach is a big one. Customers adore the way this business helps them identify issues of concern and focus not only on losing weight but gaining healthy habits and lifestyles for a lasting future.
Rather than putting all effort into centering around numbers on a scale, Noom teaches working with the body and reacting to its needs as you see fit.
Need more convincing? Here are just a few of the thousands of reviews posted online praising this brand:
"Noom is teaching me to listen to my hunger cues, think about nutrition, allow myself treats, and be more mindful about food in general. It is really helping!"
"The weight is coming off, but more importantly, I feel my attitude and outlook on food changing, and I'm enjoying what I eat more instead of stressing about it. This gives me greater faith that the weight will stay off."
"I always hated the word diet and I have to say this really is not a diet. I don't have to get rid of the stuff I love to get healthy. This app has taught me so much about being mindful of everything."
"I love that it teaches you so much and how to make the best decisions that work for you!"
"I've been struggling with my relationship to food all my life. Noom's scientific approach is helping me to address this in a lasting way."
"With Noom, my weight loss has been slow and steady and the habits I am building are truly going to be lifelong."
In terms of MyFitnessPal, they've also got reviews to spare. On the Apple Store alone, this business holds over 1.3 million ratings making up their 4.7/5-star rating.
While this is the highest found rating for this app found online, their star numbers tend to stay pretty consistent, with another 4.7/5-star rating found on Influenster from their 3,380 customer reviews.
What are the highlights that customers mention for this one? The database is a huge factor. Our Noom vs MyFitnessPal review found that customers love that huge food database and eat calorie counting. Information is graphed out for simple comprehension and the connection to other fitness devices means that users can log all activity done throughout the day.
With so many ratings out there, I selected a few top responses to show off just how customers feel about this app:
"The breakdown of information into multiple charts and graphs is a phenomenal resource. The flexibility of being able to modify multiple facets of your goals such as macronutrients, weight loss/gain per week, etc. is extremely intuitive and suitable for a wide range of fitness/nutritional goals."
"No other food app compares as far as the extensive food database and the ease of being able to enter recipes, meals, etc. "
"I also love the social functionality where friends can comment on your status."
"It's highly customizable to my personal goals, and it's a huge part of my fitness/diet goals. The database of food and caloric info is HUGE!!"
"I love this app!! It has so many great features to help with the journey! Keep track of your meals (calories, protein, fats, carbs, vitamins, and so much more) daily. You can log any exercise activities (even for something like cleaning the house). You can connect your fitness devices to this app as well to keep track of steps, etc."
"This is a great tool for weight loss and eating healthier. It really makes you aware of how much you are really eating. It has helped me with portion sizes and even cutting out extra snacks. It is a great app to have if you are trying to eat healthier!"
When it comes to reviews, it's easy to see that both of these brands are well-loved by their customers. While there are more mixed ratings visible with MyFitnessPal, it averages out very well due to the incredibly high number of customer ratings. 
Both brands have their downsides, mainly occasional issues with log-ins for MyFitnessPal and some connection concerns with fitness devices for Noom, but customers clearly love the products they've been using.
There's no clear leader for this section of our article as both brands come out extremely well. Clearly, the customers have spoken.
Noom vs MyFitnessPal: Promotions & Discounts
At the time of writing this Noom vs MyFitnessPal review, neither brand is offering discounts. Promotions aren't commonly known to appear with these apps, so I can't offer up any hope here other than to say keep an eye out for third-party sales through partners.
As both brands don't really go for discounts, these two come out on par in this section.
Who Will You Shop With?
While it's always difficult to select one brand or app to shop with, in this case, I'd have to go with Noom.
I have to clarify here and say that the MyFitnessPal is a great option for those who want an inexpensive program that effectively counts calories. Even the paid version is quite affordable and offers its customers a great number of bonuses, including graphs regarding progress, exercises, and more. If those are the elements that people look for, then it's a great choice to make.
Our reason for going with Noom comes down to the overall interaction between user and community. With personal coaching, detailed plans from day one, adjustable processes, and incredible ratings, I'd be a fool not to go with a healthy journey that's scientifically based. It may be more expensive, but this app offers full value for what's being paid.
---
Check out related reviews you might find useful:
Noom vs Weight Watchers Review
Get Access to Exclusive Deals
Subscribe for free to get exclusive deals in your inbox. 100% privacy