Oofos vs Crocs Review
About Oofos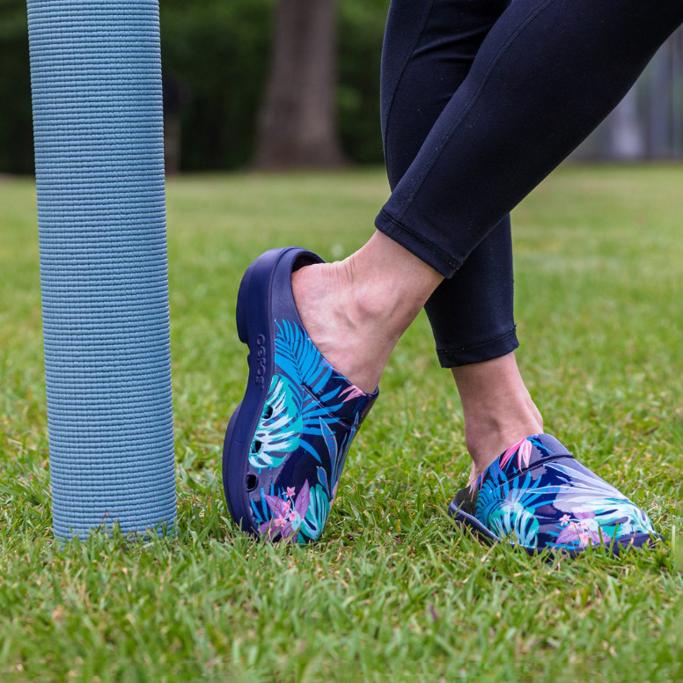 On the other side of the pond, we've got Oofos: a footwear brand that banks on comfort and practicality as their two primary values. The company was founded by Duncan Finigan in 2011, who established Oofos footwear as an alternative substitute for exercise shoes.
Aside from its focus on producing high-quality shoes, this Massachusetts-based brand is heavily involved with health organizations—since Finigan contracted stage 4 breast cancer during the company's preliminary years.
Unfortunately, she passed away in 2019, but Oofos continues to surge on in her memory. Oofos boasts over 59.5k followers on Instagram, which may include some notable celebs such as Jennifer Lawrence and Guy Fieri. 
In the market for a durable pair of kicks? Perhaps it's time to give those Italian oxfords and Louboutins a rest. If you're looking for something more comfortable, I highly suggest that you give Oofos and Crocs a try. But, unless you can afford both—there's a good chance that you'll be walking away with only one pair, no pun intended. 
To help streamline the shopping process, this Oofos vs Crocs review will provide a side-by-side view for both of these footwear brands. I'll cover some important points regarding product quality, value, and overall customer feedback. 
About Crocs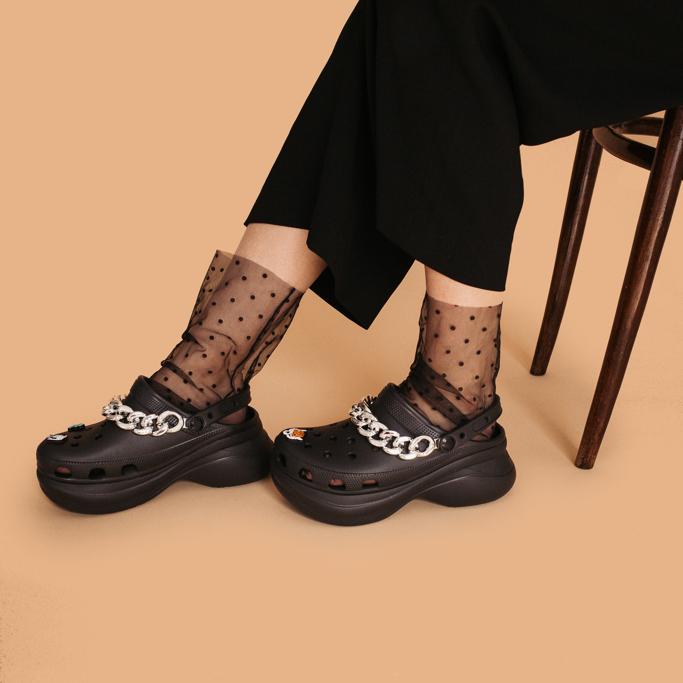 While it's considered controversial for some trendsetters, Crocs have definitely earned their place in the fashion world. If anything, it's all a matter of personal taste—as some style enthusiasts find its clog-like design charming while others wear it only for functional purposes. 
You can thank founders Lyndon Hanson, Scott Seamans, and George Boedecker Jr., who created Crocs to supplement the lack of high-quality boating shoes on the market. With zero experience in the footwear industry, the company still managed to hit it big in 2002.
Today, this Californian-based brand has a net worth of over 9.5 billion. Its success is also shown through its 1.2 million followers on Instagram. In addition, celebs have also caught onto this fashion trend, including A-listers like Nicki Minaj, Ariana Grande, and Pharrell Williams.
What to Consider
Product range
Like clothes, shoes are dependent on your overall fashion tastes. Do you prefer minimalistic designs, or do you love to make a statement?
Questions also entail the level of comfort you'd like implemented in your footwear, as some options differ in terms of arch and sole support. Ultimately, it's important to assess your personal preferences before settling on a specific style.
Target audience
The target audience is usually dependent on style and budget. Some brands like to opt for the 'fast fashion' approach by offering a trendy selection of shoes at a widely affordable price. Others want to keep things slow by providing a curated collection every month.
In addition, footwear will also vary in terms of support, as some options are built with orthopedic padding and soles for those who have foot pain.
Design features
If we're talking about orthopedic shoes, features will usually entail arch support, integrated soles, stretchy fabrics, and impact technology to help cushion weight.
Aside from functionality, aesthetics are also important to consider. Footwear can come in a variety of colors, prints, and embellishments. After all, nobody likes wearing a pair of sneaks that are way past its fashion sell-by date.
Materials and sustainability
Shoes are meant to last years, not months. Unless you can afford a new pair of kicks every 30 days, it's best to buy a set that's durable and flexible. This means paying close attention to its material composition, as fabrics like canvas, leather, polyester, nylon, or synthetic rubbers are usually indicative of its shelf-life.
For some ethical shoppers, sustainability may be an important factor to consider when buying shoes.
Accessibility
Hype isn't enough to guarantee permanent company success. A good brand should be accessible, whether that be price or product availability. Ideally, shoes must be sold through multiple retailers if they aren't available outside of its country of origin. In most cases, some retailers look towards Amazon and Nordstrom to market their online collection.
Oofos Women's Oocloog Clog vs Crocs Women's Classic Tie-Dye Graphic Clog Review:
Long gone are the days of wooden clogs. Today, we've got synthetic alternatives—which come in the form of the Oofos Women's Oocloog Clog and the Crocs Women's Classic Tie-Dye Graphic Clog. Thankfully, both options offer a wider degree of comfort and flexibility compared to traditional poplar. You don't have to worry about bruises or splinters here.
Can't decide on a fit? No worries; this Oofos vs Crocs review will highlight a few notable points for trendsetters to consider.
Oofos Women's Oocloog Clog:
Designed to look minimalistic and seamless
Offered as a comfortable slip-on
Made out of OOFoam technology, which absorbs more impact than leading footwear
Built with a proprietary footbed to help reduce joint stress
Machine washable and constructed to be odor-resistant
Offered in 3 different colors
Available in sizes 6 to 14
Costs $80 (offers Klarna as an alternative payment option)
Crocs Women's Classic Tie-Dye Graphic Clog:
Lightweight and easy to clean
Built with pivoting ankle straps for added security
Compatible with Jibbitz charms
Cushioned with Croslite foam for all-day comfort
Offered in 7 different patterns
Available in sizes 6 to 12
On sale for $39 instead of its original $55 price tag (offers Afterpay as an alternative payment option)
Obviously, differences encompass design, comfort, and overall cost. Compared to its competitor, Oofos is definitely better for those who have foot pain.
The Women's Oocloog Clog isn't as glitzy as the Women's Classic Tie-Dye Graphic Clog, but it's certainly made for long walks due to its OOFoam technology and proprietary footbed. The Crocs version seems to be more for short-day errands. On top of that, they serve as a more stylish alternative thanks to its vibrant print and Jibbitz charm compatibility.
Oofos Men's Oomg Eezee Low Shoe vs Crocs Men's LiteRide™ Pacer Review:
Here's a big shocker: Crocs don't just encompass the iconic, ankle-strap, holed upper design. The style also extends to the brand's large selection of sneakers as well. They offer a boost of comfort, and they're definitely made for all seasons despite the popular summer-cladden version.
But, it's not the only pair of orthopedics vying for the top spot in the market. The Oofos Men's Oomg Eeezee Low Shoe is also looking to make it big in the orthopedic footwear industry.
So here's the million-dollar question: what shoe should you opt for? Instead of having to hop from tab to tab, this Oofos vs Crocs review will offer a comparative list between these two sneaks.
Oofos Men's Oomg Eeezee Low Shoe:
Features a seamless design with no laces or tongue
Made out of 4-way stretch woven canvas
Built with OOFoam technology that absorbs impact while walking
Set with a propriety footbed to help cushion joints
Washable and odor-resistant
Available in 3 different colors
Offered in sizes 8 to 14 (limited quantity)
Costs $130 (offers Klarna as an alternative payment option)
Crocs Men's LiteRide™ Pacer:
Features perforated holes, laces, and a low-top design
Built with LiteRide foam insoles that are lightweight, plush, and flexible
Set with Croslite foam outsoles for joint cushioning
Breathable
Available in two different colors
Offered in sizes 4 to 13 (limited quantity)
Costs $60 (offers Afterpay as an alternative payment option)
Functionality for both Oofos and Crocs is unmatched, at least, when it comes to these two shoes. They're quite different in terms of overall features, but they provide a balanced level of comfort and support that any customer can get behind.
In our opinion, differences lie in design. The Men's Oomg Eeezee Low Shoe offers an easy, slip-off-and-on shape for those not a fan of laces. On the other hand, the Men's LiteRide™ Pacer showcases a more traditional silhouette with the addition of perforated material.
Oofos Women's Ooomg Boot vs Crocs Women's Classic Neo Puff Luxe Boot Review:
When winter arrives, it's time to hit the mall—that is, if you're in dire need of a pair of snowshoes. For those searching for their coveted December set, let us introduce you to the Oofos Women's Ooomg Boot and the Crocs Women's Classic Neo Puff Luxe Boot.
Both kicks embody that classic, ski-resort vibe due to their puffed-up silhouettes and all-white color. Of course, they're not just for looks, as users can wear them during snowstorms or especially slushy days.
The weather outside is frightful, but these boots are so delightful—but what pair should you opt for this coming holiday season? This Oofos vs Crocs review will offer up some salient points to consider when choosing the ultimate shoe.
Oofos Women's Ooomg Boot:
Features a calf-high cut with plush detailing and a rubber outsole
Lightweight and water-resistant
Made with OOFoam technology to help reduce impact while walking
Set with a propriety footbed to decrease joint pain
Washable and odor-resistant
Available in 3 different colors
Offered in sizes 5 to 12
Costs $200 (offers Klarna as an alternative payment option)
Crocs Women's Classic Neo Puff Luxe Boot:
Features an ankle-length cut, puffed cushioning, clog-like upper, and adjustable laces
Lined with fuzzy material
Built with a 5" nylon shaft with 400 grams of insulation
Customizable with Jibbitz charms
Webbing detail to help hold laces
Set with sawtooth rubber traction for added grip
Integrated Crocs Comfort technology
Easy to clean
Available in white/grey
Costs $100 (offers Afterpay as an alternative payment option)
For once, Crocs takes the lead when it comes to functionality. The Women's Classic Neo Puff Luxe Boot comes with several notable features, including sawtooth traction and insulated lining. That's not to say that the Oofos Women's Ooomg Boot is completely out of the running, as this shoe offers a lighter alternative that's definitely suitcase-friendly.
Oofos vs Crocs: Quality
A good pair of shoes can last the test of time. That includes normal wear and tear and the occasional mud puddle and rainstorm if the weather permits. With that in mind, how do our two shoe brands compare when it comes to fabrics, construction, and overall quality? This Oofos vs Crocs review is so glad you asked.
Oofos takes pride in its patented shoe technology. From sneakers to boots, most designs feature OOFoam technology, which helps to absorb 37% of impact while walking and running. Its proprietary footbed is made to cushion joints while supporting the arches.
If you don't believe their product claims, I'd suggest taking a gander at a study conducted by the University of Virginia School of Medicine Speed Clinic in 2018. 
Experts have attested to Oofos' level of functionality and comfort. Other notable materials include closed-cell foam cushioning, which is latex-free, non-toxic, and definitely more durable than standard EVA foam flip flops.
You can also credit mesh, Fibreflex fabric, and eeZee 4-way stretch in helping you run that extra mile. Because of how durable and flexible they are, Oofos shoes have been worn by athletes and rehab patients alike. They're even great for customers who have flat feet or plantar fasciitis.
Crocs are made out of Croslite technology, which is designed to be land-durable and water-resistant. Most of its footwear is constructed to be lightweight, breathable, odor-resistant, and comfortable to the amount of room provided.
In terms of the brand's sneakers and boots, other features such as traction and insulation are also included to help keep things functional and practical.
Unfortunately, Crocs doesn't provide much information on its manufacturing processes, but customers can take care knowing that all shoes come with a low CO2 footprint compared to other leading designs.
If we're talking about company transparency, I'd say that Oofos takes the cake. But, to Croc's credit, they are commendable when it comes to implementing sustainable initiatives. 
Both brands offer a wide degree of praiseworthy features, whether that be cushioned soles, insulation, or flexible fabrics. Ultimately, you can rest easy knowing that they're definitely far from your average pair of sandals.
Oofos vs Crocs: Price & Value
Between the shoes I've featured so far, I think it's fair to say that Crocs are more inexpensive than Oofos, but for good reason. They aren't necessarily meant for long-distance walking since they're relatively free of any footbed cushioning and impact support. 
According to podiatrists online, Crocs should be used for short trips—such as to the beach or to the pool. If you wear them for extended periods, you're bound to run into some problems in the future, including bunions, nail problems, and tendonitis. 
With that in mind, it makes sense that Crocs are usually within the $70 to $30 budget. In terms of customer feedback, it seems that buyers are enjoying their shoes.
"I've purchased a pair of Crocs Men's Yukon Vista Clog Slip-On Shoes once a year. Love the style and very comfortable. I've worn them to the beach, worked on my car, and also I've gone out to parties with them. The things I dislike about them, the vents holes out front of the toes, so water gets scooped up in the rain," one customer wrote on Consumer Affairs.
At Oofos, on the other hand, prices can range from $60 to $200. Arguably, they aren't as costly as other competing footwear brands, but they do entail a higher cost than Crocs. But, instead of banking on just hype, the fees are more reasonable due to the number of features implemented in the company's sandals, sneakers, and boots.
All shoes come with OOFoam technology and a proprietary footbed. Some designs are built with insulation, traction, and 4-way stretch fabric for added flexibility. The University of Virginia School of Medicine Speed Clinic has backed up Oofos' claims, so you can rest assured that they're legit.
One customer on Trustpilot attested to Oofos' level of comfort, "I simply cannot believe that I finally found a pair of shoes that alleviated all my pain. The structure of the footbed corrects my posture, gives me arch support, alleviates my planters fasciitis, gives the bottom of my feet plenty of cushioning so it doesn't feel like my bones are protruding."
Despite their differences in cost, I think it's safe for this Oofos vs Crocs review to say that they're definitely reasonable given the quality. But, if you're not completely convinced, I suggest you stay tuned for our next segment regarding customer feedback. 
Oofos vs Crocs: What do Customers Think?
Crocs have definitely captured the public's attention for its comfortable yet controversial design. In addition, Oofos is one of the higher-ups in the orthopedic footwear market. There's no use in arguing; both shoe brands are very successful—but how do they fare in terms of genuine customer feedback?
This Oofos vs Crocs review is here to answer that pivotal question, and it's best summarized in a point-form list:
Oofos:
Women's Oocloog Clog: 1,193 reviews with 4.3/5 stars
Men's Oomg Eeezee Low Shoe: 50 reviews with 4.5/5 stars
Women's OOlala Sandal: 1,441 reviews with 4.2/5 stars
Trustpilot: 19k reviews with 4.6/5 stars
Zappos for the OOmg Low Mesh: 226 reviews with 4/5 stars
Amazon for the Unisex OOriginal Thong Sandal: 40 reviews with 3.3/5 stars
Common customer feedback:
Comfortable and supportive
Helpful for people who have plantar fasciitis and other forms of foot pain
Great for workers on their feet all-day
Thumbs up from several podiatrists
Some customers weren't a fan of the amount of support offered
A few reports about poor customer service
Crocs:
Women's Classic Tie-Dye Graphic Clog: 4,098 reviews with 4.8/5 stars
Men's LiteRide™ Pacer: 2,174 reviews with 4.5/5 stars
Women's Classic Neo Puff Luxe Boot: 73 reviews with 4.5/5 stars
Consumer Affairs: 362 reviews with 3.7/5 stars
Zappos for the Crocs Classic Clog: 28k reviews with 4.6/5 stars
Amazon for the Unisex Adult Men's and Women's Classic Clog: 259k reviews with 4.8/5 stars
Common customer feedback:
Comfortable and great for running errands
Customers raved about how customizable they are when paired with Jibbitz
Fashionable (according to some people)
Breathable
Some reports of peeling or fading paint
A few customers weren't happy with its level of comfort and support
For both brands, there seem to be issues regarding customer service, delivery times, and refund policies. But, there's nothing too concerning, considering that the number of negatives pales compared to the number of positives shared online. Ultimately, Oofos and Crocs are respected footwear brands to support.
Oofos vs Crocs: Promotions & Discounts
So, have you settled on a shoe yet? If not, perhaps it's time for a bit of convincing—and that can be best achieved by featuring a few deals and steals offered by both brands.
In encouraging news, it seems that they're relatively avid in promoting sales and discounts on their website, which definitely sounds promising for any budget-conscious customer.
Oofos:
Offers a Last Chance section where select shoes are provided at a discounted price
Customers can get $15 off by sharing the brand's affiliate link with their friends and family
Provides a rewards program in which members can get exclusive access to insider perks. Those who sign up automatically get $5 off
Crocs:
Has a sale outlet in which discounts go as low as 50% off
Is currently is hosting a Buy More Save More promotion: $10 off $50, $20 off $75, and $30 off $100
Customers can sign up for their newsletter to get 15% off
Buyers can join the Crocs Club to receive 25% off their next purchase
Offers discounts for the military, teachers, students, and healthcare workers
With deals as juicy as this, you'll be happy either way. But, for those who aren't totally persuaded yet, this Oofos vs Crocs review will outline some key points regarding each brand's shipping and return policy.
Oofos vs Crocs: Shipping & Returns
Disappointment sucks, but there are ways to lessen the blow. For one, it's best to comb through a brand's shipping and return policy before committing to checkout. Who knows? Maybe that cheap sandal entails a hefty delivery fee. To help mitigate any frustrations, this Oofos vs Crocs review will feature a few important points provided for each company.
Oofos:
Free standard shipping on all orders
Complimentary USPS Priority shipping for non-continental locations (Alaska, Hawaii, APO, and US territories)
Provides other delivery options such as 2-Day and Express
International shipping in select countries (Canada, Denmark, Australia, etc.)
Issues a tracking number alongside a confirmation email
Offers a 30-day return and exchange policy with a prepaid shipping label
6-month warranty on all Oofos shoes
A few concerns regarding the brand's return policy
Crocs:
Free shipping on orders that total $45 or more
Standard delivery costs $7 (currently providing complimentary shipping for those who order before Christmas)
Wait times usually entail 1 to 7 business days
Offers other shipping options such as 2-Day and Next Day
International delivery to select countries, including France and Italy
Issues a tracking number to help customers keep tabs on their purchase
Has a 45-day return policy with a prepaid shipping label
90-day warranty on all Crocs
A few reports about delayed deliveries
Thankfully, there seem to be no pitfalls regarding both of the brands' shipping and return policies. It's a good thing that they offer product warranties for customers to use, as it'll help ensure any manufacturing defects that customers may come across in the future.
While there are a few concerns regarding their guarantees, you can take care in knowing that Oofos and Crocs aren't deceptive in terms of shipping costs and return policies.
Who Will You Shop With?
After extensive research, I think it's fairly obvious who Oofos and Crocs are made for. While both footwear companies emphasize comfortability and support as their two prime focuses, they ultimately serve different purposes. Need a brief summary of what I've learned so far? My Oofos vs Crocs review has you covered. 
Despite multiple claims on the internet, Crocs isn't meant to relieve foot pain. If anything, it's to be worn as a statement rather than an orthopedic shoe. From tie-dye prints to Jibbitz charms, Crocs are typically bought for its brand name, which leans itself as more of an inexpensive designer company like Louboutin and Balenciaga.
Don't get me wrong, they're certainly more comfortable and practical than any beach flip flop, but they aren't meant to be used on a 24/7 basis. Think of short errands rather than a 2-hour city walk.
Oofos aren't as renowned as Crocs, but they're definitely made for long-term walking. Recommended by health experts and podiatrists alike, each shoe is built with ample sole and arch support for anybody who deals with foot pain. They're expensive, but it's the quality you're paying for.
If you can afford both of these brands, I'd say to reserve Crocs for quick, convenience store errands and Oofos for those picturesque, dock-side walks. At the end of the day, I think we can all agree that you're certainly getting your money's worth. 
---
Check out similar reviews you might like:
Get Access to Exclusive Deals
Subscribe for free to get exclusive deals in your inbox. 100% privacy