Pit Boss Griddle Review
Overview of Pit Boss Griddle Review
Ah, the great outdoors. The smell of fresh pine and dirt is enough to awaken one's senses. If not, how about some bacon grilling on the open campfire? While you're free to station a cast iron cooking stand over the roaring flames, the Pit Boss Griddle can make chef-ing easy. Portable and simple to use, greasing up eggs, hash, and pork belly has never felt so effortless.
Made by the folks at Pit Boss, this best-selling griddle is one of many outdoor kitchen devices sold on the website. They're mainly targeted toward grill daddies, outdoor enthusiasts, and people who just love to cook. It's worth noting that Pit Boss products are made in China, just like other competing brands.
My Pit Boss Griddle review will take an in-depth look at the product, brand, customer ratings, promotions, and more to help you decide if they're worth adding to your next camping trip. To kick things off, shall we look over some initial highlights?
Highlights
Portable and convenient for outdoor use
Equipped to feed a family of 10
Offers 289 sq.inches of cooking space
Covered by a 2-year warranty
Provides Affirm as an alternative payment option
Steak on the mind and limited on time, it appears that your cravings will not be satiated during your weekend camping trip. The cheap metal grate doesn't provide that perfect char, and that pesky cooking stand just won't stay put. The solution? It's the Pit Boss Griddle. Designed with the need for a roaring bonfire, this bad-boy can help quell any appetite with a quick fry-up.
Looking to invest in one? Keep reading this Pit Boss Griddle review; I will give you the skinny.
Pit Boss Griddle Review
There are a few things that an open fire is good for. There are marshmallows, hot dogs, and popcorn. Unfortunately, not all foods can be prepared so easily over roaring flames. For steaks, bacon, eggs, and hash, the Pit Boss Griddle can help ensure an even cook. Yep, there's no need to worry about charred bits and undercooked sides here.
Equipped with a single burner, this bad-boy features a pre-seasoned pan, a non-stick surface, and a simple push and turn ignition for simple use. If it rains on your parade, the Pit Boss Griddle also comes with a fitted cover to help protect your fixings. Held together with four non-slip legs for additional support, it's definitely a more stable alternative compared to those swaying cooking stands.
Offered with 4.7 thickness and 289 sq.inches of cooking space, the Pit Boss Griddle retails for only $99. It's certainly a steal, considering its original price tag of $149.
Performance
According to dozens of online grill daddies, the Pit Boss Griddle takes the cake in convenience and performance. Its level of portability was a hit with many customers, as it provided a painless alternative to heavy-duty kitchen equipment. Others stated that it can easily sear through thick cuts of meat, which include steak and burgers.
The Pit Boss Griddle managed to stay hot, which helped ensure no under and overcooking. After all, there's nothing more disappointing than eating a well-done steak.
Design
The vast amount of cooking space provided by the Pit Boss Grill was a plus for several customers. You can cook several items of food in one go, so you don't have to spend hours chef-ing up a meal.
Other features, such as the foldable side trays and the non-stick surface helped to keep the clean-up process quick and simple. 
What's Included?
While doing my research for this Pit Boss Griddle review, I found out that customers will receive a fitted cover, a protective bag, and a user manual within their order.
It's also worth noting that this grill is covered by a 2-year warranty. Below, I'll share some product specs for buyers to reference: 
Features:
Measurements: 4.7mm in thickness and 289 sq.inches of cooking space
Four non-slip legs
One burner
Push and turn ignition
pre-seasoned non-stick surface
Important Things to Consider Before Buying a Pit Boss Griddle
Despite its affordability, there are a few things to consider before investing in this outdoor appliance. This includes looking into settings, frequency of use, and size. This Pit Boss Griddle review will be sure to discuss these factors in detail for customers to look over.
Frequency of Use
Do you consider yourself a grill god, or do you order Uber Eats occasionally? The Pit Boss Griddle is catered for those who avidly cook.
Price
Compared to BBQ grills, the Pit Boss Griddle can act as a more affordable alternative for those who can't afford a Napoleon or Coleman.
Number of Settings
It's worth noting that the Pit Boss Griddle relies on gas instead of electricity. You cannot smoke or charcoal grill food on the countertop. This is something worth considering for those who want to try out different cooking methods.
Ease of Use
Truth be told, the Pit Boss Griddle is considered a more painless alternative to the average BBQ grill. You don't have to concern yourself about set-up here.
Size
As I previously mentioned in this Pit Boss Griddle review, this product is designed to be portable. Compact in size, it provides a convenient solution for camping and picnics.
Warranty
The Pit Boss Griddle comes with a 2-year warranty. It's definitely something worth considering, just in case you run into a few manufacturing defects along the way.
Portability
This section relates to size. Since the Pit Boss Griddle is quite small, you can easily fit this bad boy into the trunk of your car with ease.
Pit Boss Griddle Alternatives
Product comparison is an important practice for responsible shoppers. With that in mind, I thought it best to contrast the Pit Boss Griddle with other competing models. At the end of the day, it's up to you to make the final decision.
The Royal Gourmet Gas Griddle with Cover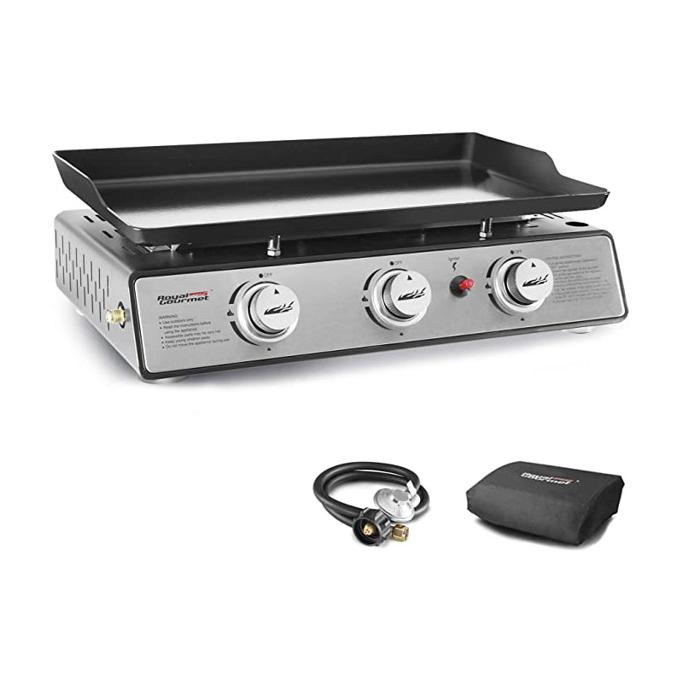 Ideal for family outings, the Royal Gourmet Gas Griddle with Cover can help satiate those cravings for steak, fish, and other grilled meats. It features 3 stainless steel burners and a quick start ignition system for easy usage. If you're willing to commit, the Royal Gourmet Has Griddle with Cover retails for a pricey $172 on Amazon.
The Primst Multifunctional Charcoal Barbeque Grill
The Primst Multifunctional Charcoal Barbeque Grill ensures a perfect sear every time. Powered by burning charcoal, this bad boy imbues the essence of sweet smoke on vegetables and meat. In terms of price, it costs an affordable $81 on Amazon.
I think it's safe to say that the Pit Boss Griddle is the mid-way point between the Royal Gourmet Gas Griddle with Cover and the Primst Multifunctional Charcoal Barbeque Grill. Reasonable in cost, it provides the efficiency of stove-top cooking without needing additional accouterments, such as charcoal and wood.
Pit Boss Griddle Reviews: What Do Customers Think?
Let's get into the real meat and potatoes of this Pit Boss Griddle review. What do customers have to say about this product? Is it any good? Fortunately, I've uncovered multiple positive comments online. From Amazon to independent blogs, it appears that this outdoor necessity is a hit with home cooks. I'll kick things off by sharing some of the ratings I've found.
Amazon: 106 reviews with 4.6/5 stars
Walmart: 11 reviews with 3.2/5 stars
Lowes: 3 reviews with 4.3/5 stars
A good majority of customers found the Pit Boss Griddle to be convenient, easy to use, and effective in frying-up delicious meals. Take it from three happy buyers, who all left glowing reviews on Amazon, Walmart, and Lowes.
"I love being able to cook everything in one place.. I can cook up taco meat and the tortillas on one pice of equipment," one Amazon customer wrote.
"Gave it as a gift and they love it," one Walmart user shared. "Works as good as any grill of a larger size."
"My brother, nephew and I cooked on this guy twice a day, 6 days straight on vacation and it did not let us down," one Lowes reviewer detailed. "We made burgers, eggs, sausage and veggies on it. Much more useful than a grill."
In terms of negative comments to mention in this Pit Boss Griddle review, I uncovered a few complaints that readers should take note of. Some customers stated that it took a while for them to get used to the product. Others weren't too happy about certain features, such as the lack of side handles and the performance of the non-stick surface.
But all in all, the consensus is overwhelmingly positive. Take this as a sign to grill your heart away.
Is Pit Boss Griddle Worth It?
Convenient, practical, and cost-efficient for easy fry-ups—it's easy to conclude this Pit Boss Griddle review by holding two thumbs up towards this product. It does a solid job in preparing various foods. Plus, this portable grill provides a more thorough cook compared to open-fire methods.
Perfect for campers, bbq enthusiasts, and those who don't have space to own a massive grill, the Pit Boss Griddle can act as a nifty quick fix.
Where to Buy Pit Boss Griddle
Prepping for a weekend away? At the time of this Pit Boss Griddle review, I found multiple stores where you can buy this product:
Pitboss-grills.com
Amazon
Walmart
Lowes
Canadian Tire
---
Check out related brand reviews you might find useful:
Get Access to Exclusive Deals
Subscribe for free to get exclusive deals in your inbox. 100% privacy