Revive Superfoods Review
About Revive Superfoods
Revive Superfoods is a subscription-based service that delivers pre-portioned healthy superfoods to your door. Their selection of dishes includes smoothies, oat bowls, supermeals, soups, and falafel pops.
With a sizable following of over 99k on Instagram, Revive Superfoods has gained the attention of the press including PopSugar, Healthline, iHeartRadio, and Breakfast Television.
For those who aren't sure how this brand works, let this Revive Superfoods review be your guide as we'll provide an in-depth look at products, customer ratings, promotions, and more, to help you decide if they are worth checking out.
Overview of Revive Superfoods
With roots in investment banking and comprehensive history in entrepreneurship, Yousuf Soliman had a lot on his plate. Within his busy schedule, he was also on a journey to healthy living. Soliman quickly realized that having a well-balanced diet would provide the energy needed to power through each day.
He decided to turn his newfound interest in healthy living into a viable business opportunity. Soliman wanted to create a company that offered nutritious meals that were quick and affordable so there would be no excuse in resorting to cheap junk food.
From there, Revive Superfoods was established in 2016 in Toronto with the help of Soliman's cousin, Anis Barakat. With a diverse team of officers and managers running the company, Revive Superfoods continues to push the idea that healthy food can be widely accessible.
They ensure products are conveniently packaged for those on the go while guaranteeing tasty and delicious recipes.
"We're in the business of saying no to the status quo and shaking up how people enjoy healthy food. Our product is ready for you when you are… In doing this, my hope is that people will live better given that they are making healthier choices. The more good there is in the world, the better a place it will be."
Before we get into this Revive Superfoods review, let's go over some initial pros and cons of the brand.
Pros
Pre-portioned healthy meals delivered frozen to ensure freshness
Affordable meal options versus visiting the grocery store or local fast-food chains
Variety of meal options with varying flavor combinations, including Revive pink dragon smoothies and tahini falafel pops
Positive customer reviews
Free shipping on all meal plans
Cons
Shipping limited to the US and Canada
How Does Revive Superfoods Work?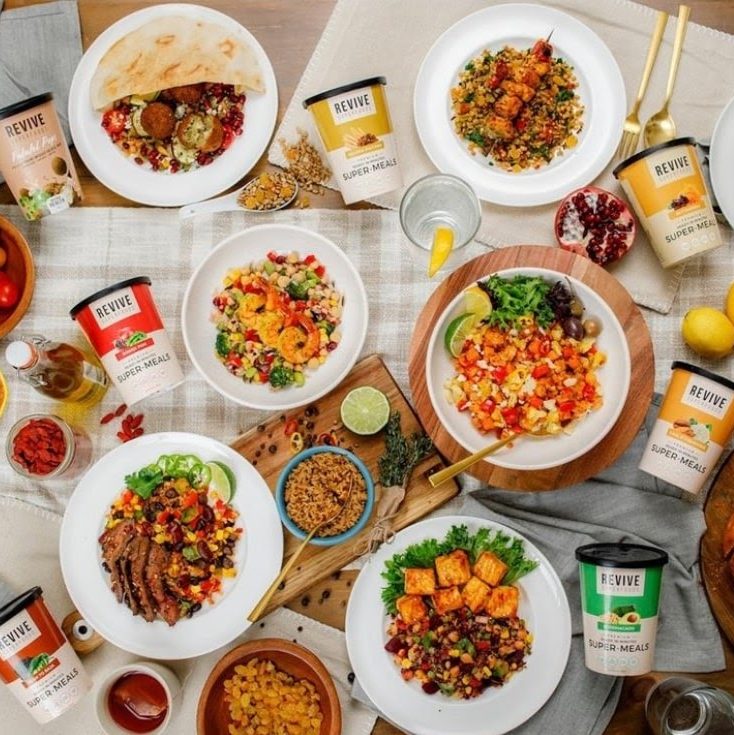 It's often thought maintaining a healthy diet is inconvenient, as a common belief is that it's more expensive than visiting a local fast food joint. With healthy living, there's meal prep involved, which takes a considerable amount of time and effort.
For those who are looking for nutritious meals while staying on budget, signing up for Revive is a great option. Depending on your cravings, Revive Superfoods has a wide selection of healthy meals to choose from.
Currently, they offer a variety of smoothies, oat bowls, supermeals, falafel pops, and soups. If you aren't sure what to order, Revive Superfoods has a preselected box with recommended meals. Customers must pick how many cups they would like to be delivered as it ranges from 9-24.
You can choose if the meals are sent every week or month, except for the 9 cup option, which can be only delivered weekly. It's worth noting that you are not limited to only picking certain cups from a specific category.
Subscribers can mix and match cups to create their very own Revive box. The company does not offer one-time purchases or subscription boxes. Once you fill the box to the brim of nutritious Revive Superfoods shakes and oat bowls, pick what day you'd like the first delivery to be shipped.
Customers can keep track and edit subscription plans from their accounts with full freedom to skip, pause, cancel, or change cups. For Revive Superfoods to fulfill orders promptly, customers must modify or cancel upcoming orders before the scheduled bill date.
Moving forward, we'll provide a taste of what a Revive Superfood smoothie subscription has to offer. From tasty falafel pops to hearty supermeals, the Revive menu features a wide selection of chef-crated choices.
Revive Superfoods Subscription Review
Healthy meals don't always equate to eating boring salads and bland dishes. By signing up for a Revive smoothie delivery service subscription, you have access to delicious, calorie-conscious meals. After deciding how many cups you'd like delivered, you have the full range to pick out dishes offered for the Revive Superfoods Subscription.
Breaking a bad habit is hard, especially if it's delicious. For those struggling not to order a venti frappuccino, the Morning Mocha is a healthier alternative. This Revive Superfoods smoothie is infused with essential proteins containing banana, avocado, cacao, cauliflower, pea protein, and coffee.
If chocolate isn't your preferred sweet, opt for something more fruity with the Berry Patch oat bowl. This hearty bowl of oats is rich in antioxidants and protein, containing gluten-free oats, raspberries, dates, watermelon seeds, blueberries, maple syrup, and more. It's a long stretch from the average oatmeal bowl of milk, syrup, and sugar.
For savory meal options, the Revive Superfood Subscription offers a selection of supermeals. This category is more akin to the average lunch or dinner recipe but with a healthier twist.
For instance, instead of popping by your local fast food pasta restaurant and returning home with a bloated stomach, opt for a plate of the brand's Buttanesca. Inspired by traditional Puttanesca, this meal uses butternut squash noodles instead of regular pasta.
Coated in a savory tomato sauce and topped off with Kalamata olives, capers, and kale, the Buttanesca meal is perfect for when you're craving Italian. This option is also a great source of fiber and keeps your heart healthy and happy.
As a recommended side dish to compliment the meal, add the Tahini Infused Falafel Pops to your order. Made from a blend of chickpeas, cilantro, spice, and onion, the pops are crunchy on the outside, soft on the inside, and a great source of nutrients, fiber, and healthy fats.
If you're craving a lighter meal, the Revive Superfoods Subscription has two selections of soups. Guajillo Tortilla is a rich, tangy recipe with a spicy tinge thanks to sweet corn, pink beans, tomato paste, bell peppers, poblano peppers, and fried tortilla crisps. Perfect for winter afternoons, this fiber-rich soup is sure to provide some warmth.
How Much is Revive Superfoods?
Revive Superfoods has one standard price for all subscription plans. Whether customers choose the 9, 12, or 24-cup options, it costs $6 per cup. There are also no hidden costs as the company covers shipping on all orders.
Revive Superfoods Reviews: What Do Customers Think?
This Revive Superfoods review found that there is a generally positive customer response based on its research. On their website, they highlight a few raving customer reviews where subscribers have noted that their Revive smoothie box meals are both delicious and wildly convenient. Customers also loved that it made healthy eating more accessible.
"Life has been a lot easier in the mornings because of (Revive Superfoods) smoothies! These smoothies are made with premium farm frozen ingredients and are sent right to your doorstep," one reviewer wrote on the Revive Superfoods website.
There are also positive reviews on Trustpilot and ChickAdvisor. On Trustpilot, they have over 1,163 reviews with an average rating of 3.6/5 stars. On ChickAdvisor, there is an average of 4.3/5 stars with over 1,227 reviews.
Most customers have commented that the smoothies taste great and were very easy to make. This Revive Superfoods review also found that products are a hit with children. Happy parents have left positive ratings on Revive Superfoods review Reddit threads.
"Beyond amazing!! From the packaging to the product! They can be dropped off on my front porch in the morning and I don't get home from work until the evening and they are still frozen. They're a delicious way to start the day or even an excellent quick tasty lunch. Bonus is that my picky eater kid loves them too," one reviewer wrote on Trustpilot.
This Revive Superfoods review found a few customer complaints online. On Trustpilot, customers noted difficulty canceling subscription plans.
Others detailed negative experiences with customer service, stating that they didn't help remedy concerns. Additionally, a few customers were not fans of the prices or the offered flavors.
Is Revive Superfoods Worth It?
Is Revive Superfoods legit? Based on several positive customer reviews, this Revive Superfoods review seems to think so. Eating healthy isn't accessible to everyone, as buying nutritious foods can be expensive compared to value meals at fast-food chains.
It takes time and effort to prepare healthy meals at home. With Revive Superfoods, they remove the barriers when it comes to healthy living by making their service affordable, nutritious, and delicious.
Revive Superfoods smoothie recipes and heartier dishes, including oat bowls and supermeals, come in convenient, pre-portioned servings. For those looking to turn over a new leaf with a healthy lifestyle, Revive Superfoods is a good option to consider.
Revive Superfoods Promotions & Discounts
Customers can save $30 off their first order by entering the Revive Superfoods promo code HELLO30 at checkout. The company offers a rewards program to accumulate points and gain access to news and exclusive deals.
For the refer-a-friend program, customers can get $28 cash back for every successful referral.
Sign up for Revive Superfoods
Customers can subscribe through ReviveSuperfoods.com. By entering shipping and payment details at checkout, you'll have a membership account.
FAQ
Who owns Revive Superfoods?
Revive Superfoods is owned by founders Yousuf Soliman and Anis Barakat.
Where is Revive Superfoods located?
This Revive Superfoods review found that their headquarters are located in Toronto, Ontario.
How do you store Revive Superfoods?
Since Revive Superfoods designs its packaging to ensure products stay frozen during delivery, the company recommends storing them in the freezer.
How much is Revive Superfoods?
Each cup for every Revive smoothie subscription plan costs $6. Total prices will vary based on the chosen number of cups.
What is Revive Superfoods's Shipping Policy?
Customers can choose to have meals delivered on Tuesdays, Wednesdays, Thursdays, and Fridays, based on their postal/zip code. Revive Superfoods offers free shipping on all orders.
This Revive Superfood review must note that the company only ships within Canada and the US.
What is Revive Superfoods's Return Policy?
This Revive Superfoods review found that due to their compliance with Food Health and Safety regulations, they do not accept returns once orders have been shipped out of their facilities.
How do I cancel my Revive Superfoods subscription?
On the subject of Revive Superfoods cancel membership, customers are encouraged to contact customer service to initiate the process. There may be additional fees if the company is not contacted on time. For more information, visit their website.
How to Contact Revive Superfoods
If you have questions that were not addressed in this Revive Superfoods review, you can contact the company through:
Revive Superfoods customer service email:

[email protected]

Contact form on the website
---
Explore your options for health supplements for full-body wellness with these popular brands:
Get Access to Exclusive Deals
Subscribe for free to get exclusive deals in your inbox. 100% privacy