Shapermint vs Honeylove: Brand Showdown
We've all got one body—which means we should exercise every opportunity to strut our stuff. I know, not everyone is blessed with the coveted hourglass shape.
But, we've got to work with what we've got. For those who need help in defining their curves and assets, shapewear is considered a clothing must-have.
The right type of undergarment can spell hours of confidence, and that means no muffin tops or excess bulge. Enter players, Shapermint and Honeylove. Both considered shapewear brands, these female-led companies ensure that their pieces are meant to flatter every dress size and shape.
When it comes to specifics, Shapermint is led with a body inclusive attitude. Serving over 1.5 million customers globally, this undergarment label carries a wide variety of slim-fit leggings, tops, and bras. Garnering a following of over 312k on Instagram, this brand is frequently mentioned in several media outlets, including Forbes, The Washington Post, and Stylecaster.
On the other side of the pond, we have Honeylove. Designed to empower women through sculptwear, this clothing brand offers a wide array of sizes suited for every body shape. With a following of over 87.3k on Instagram, this brand is apparently loved by many customers online. This fact is noted by several media outlets such as Forbes and The New York Times.
Strap yourselves in, as this Shapermint vs Honeylove review will see which brand gets the highest score in terms of quality, value, and other company perks. By the end, you'll be equipped to make a more informed decision.
Overview of Shapermint and Honeylove
Shapermint is for women by women. Led by founder Massimiliano Tirrocchi, this Californian-based brand is passionate about instilling confidence through its shapewear line. By operating solely online, customers can save themselves the stress of trying on piece after piece.
Since its debut in 2017, Shapermint has expanded its operations to include a television program, a group of company ambassadors, and a side blog. And, in an inspiring quote left by the brand, it is committed to sharing the word of positivity when it comes to body inclusivity:
"Our products are thoughtfully selected for your already-perfect body to provide on-demand-confidence…all on your terms. So you can spend more time savoring your life and less time stressing over how your clothes fit."
Honeylove started out as one woman's solution to everyday confidence. Working as a vocalist for some big-name EDM acts, Betsie Larkin used shapewear to help her feel beautiful on stage. But not every piece performed as well as it should, as some garments had no fit or structure. Unimpressed with the options she had, Larkin decided to create her own brand.
Related: View our Honeylove Shapewear Review to learn more.
Established in 2018, Honeylove made its home in Los Angeles, California. With a mission to be inclusive and sustainable, this apparel label does its best in marketing to all body types. It also supports a few good causes, including the Dress for Success initiative.
Honeylove states that its core mission is to empower all women, no matter their dress size. "We encourage women to shape their own destiny and break free from societal expectations. We want you to be loud, proud, and confident in expressing yourself."
Shapermint Truekind® Daily Comfort Wireless Shaper Bra vs Honeylove Silhouette Bra
Let's be honest here, folks. Frills and lace are usually signs of discomfort. They're cute and all, but they don't hug your girls as much as the product picture suggests.
For those looking for an everyday piece that promises support, the Shapermint Truekind® Daily Comfort Wireless Shaper Bra offers a relaxed fit. Wireless and bulge-free, this undergarment can serve as a godsend for those couch potato days.
Made out of soft nylon elastane, this set comes with a hook and eye enclosure at the back. Offered in colors nude, black, and white, the $45 Truekind® Daily Comfort Wireless Shaper Bra is currently on sale for only $30.
Honeylove's Silhouette Bra is far from basic. Meant to provide full coverage and support, this brasserie comes with no pokey underwires or shoulder-digging straps. Some thoughtful details, such as a bonded bust band, are included to provide maximum comfort. It also comes with adjustable ties for a more close fit.
Sewn with a fabric blend of nylon and spandex, don't be surprised if you end up reaching for this piece time after time. Available in five different colors, the Silhouette Bra costs a cool $82.
Winner: Honeylove takes the point for this round. To be completely honest here, this was a close call. Both bras offered a similar degree of comfort. While it's more expensive than what Shapermint offers, we can't gloss over Honeylove's bonded bust band feature.
Shapermint Empetua® All Day Every Day Tank Cami vs Honeylove LiftWear Cami
Not keen on single layers? The Shapermint Empetua® All Day Every Day Tank Cami provides a decent amount of coverage around the bust and stomach.
Designed to be smooth and slim-fitting, this design can help hide food babies and muffin tops. It also comes with no wires or excess fabric, which keeps things comfy and bump-free under blouses or dresses.
If you hate the 'digging' notion of other shoulderless tops, This Shapermint vs Honeylove review suggests giving this piece some careful consideration. Dyed in colors white, nude, and black, the $40 Empetua® All Day Every Day Tank Cami is at a bargain for $24.
The Honeylove LiftWear Cami is designed to smoothen out any bumps or lumps under tight-fitting tops. Built with bonded support and thin adjustable straps, this layering piece is made to flatter your body shape.
The best thing about this number is that it comes with no underwires, which can prevent those harsh bruises or scratches from forming.
Best worn under turtlenecks or body-con dresses, the LiftWear Cami from Honeylove costs $107. As a side note, it's offered in colors blue, nude, burgundy, green, and more.
Winner: Sorry Shapermint, but Honeylove retakes the lead. While both pieces offer a bump-free silhouette, the LiftWear Cami manages to take it up a notch by the inclusion of bonded support. Not only are you 'sucked in,' but your girls are given an ample lift.
Shapermint Empetua® Shaper Shorts vs Honeylove SuperPower Short
It turns out that the Instagram bod is not that difficult to achieve. That is if you have the Shapermint Empetua® Shaper Shorts at your side. Made to lift those cheeks and define that waistline, this undergarment necessity pushes those lumps and bumps in the right places.
This piece is built with a 360 sculpting material, which is a blend of nylon and spandex. Offered at a high compression level, there's no need to suck in when it comes to photoshoots or first dates.
Finished off with a non-slip strip to ensure no sagging, cartwheel away with the Empetua® Shaper Shorts for $24. It's worth noting that its original price was $55.
I bet that Honeylove's SuperPower Short is Kim Kardashian's best-kept secret. Made out of a sheer, stretchy material, this undergarment provides a bit of breathability during hot afternoons.
It comes in a series of panels, which is important for compressing the waist, butt, and hips. As an added feature, this piece also has a detachable gusset, which makes it useful during bathroom breaks.
Available in colors sand, mocha, vamp, and runaway, the SuperPower Short by Honeylove is priced at $113.
Winner: When it comes to price and value, Shapermint earns its first point. We liked the Empetua® Shaper Shorts because they provided comfort and structure in a relatively simple format. It also seems that this piece can be worn without the need for a coverup.
Shapermint vs Honeylove: Quality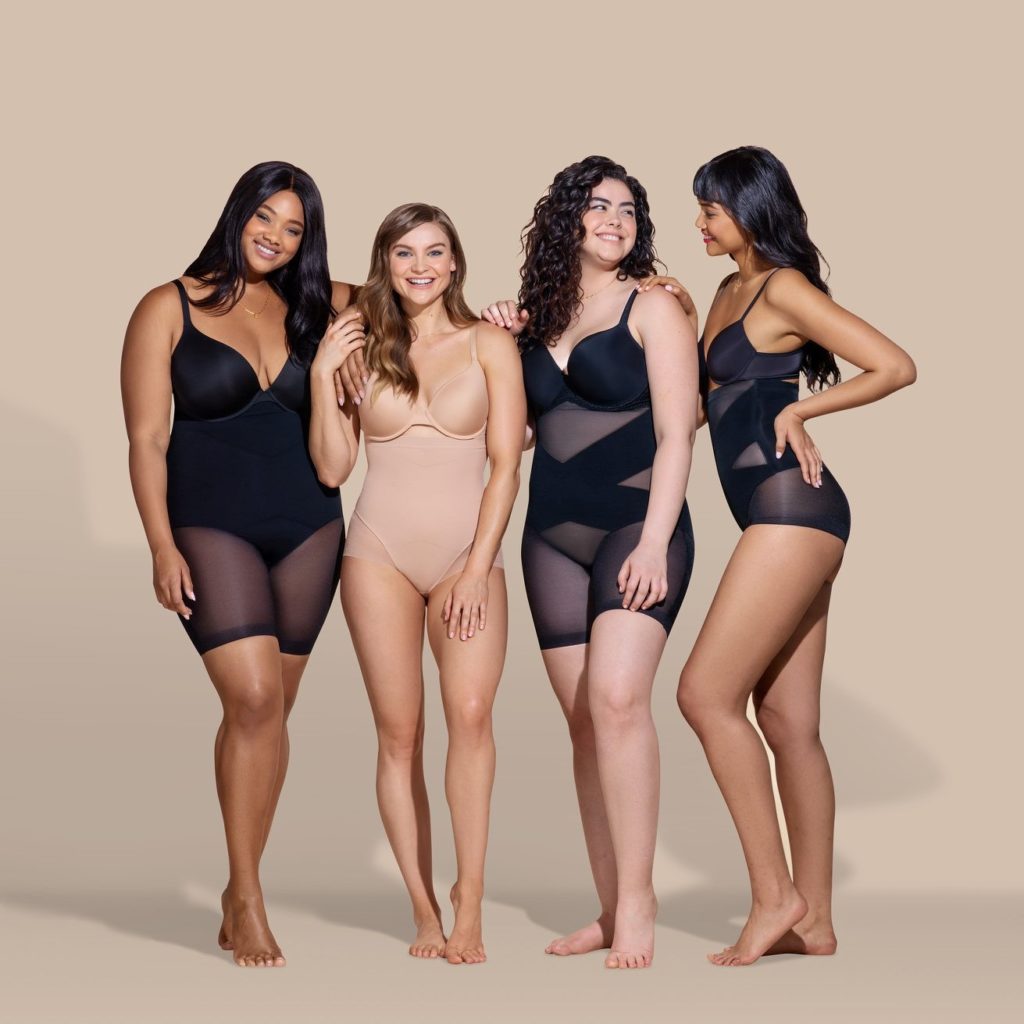 Shapewear is no joke. More often than not it's quite expensive, which means that quality is a must when it comes to an informed purchase.
To help readers make a clear distinction on what company provides the best materials and features, this Shapermint vs Honeylove review will comb through a list of similarities and differences between these two brands.
Shapermint utilizes nylon and spandex as its core fabrics. That should come as no surprise, as most shapewear brands use this type of material within their garments.
To help differentiate itself from the competition, this company included innovative features such as no-slip straps and vitamin-e infused yarns into its camis and tanks. Shapermint also offers differing degrees of compression levels within their 'tummy tuckers.'
Honeylove also uses nylon and spandex as its two primary materials. On top of that, it includes compression levels and 'sculpt-tech' functionality within its garments.
Compared to Shapermint, this brand is more open when it comes to sustainability because it states that it does the best it can to minimize waste. In terms of product effectiveness, each product goes through 1-2 years of testing before it's sold on the website.
Winner: Honeylove wins this round. Compared to Shapermint, this brand is more transparent when it comes to sourcing and sustainability. It's also comforting to know that its garments are rigorously tested for quality.
Shapermint vs Honeylove: Customer Ratings
Customer ratings are usually a tie-breaker when it comes to crowning the winning brand. To help readers ponder on their purchase, this Shapermint vs Honeylove review has scoured the internet to see what buyers are saying about these two companies. To start things off, let's go over a few rankings of some of their bestselling pieces.
Shapermint:
Truekind® Daily Comfort Wireless Shaper Bra: 5,529 reviews with a 4.5/5 star rating
Empetua® All Day Every Day Tank Cami: 496 reviews with a 4.5/5 star rating
Shapermint Empetua® Shaper Shorts: 10,979 reviews with a 4.5/5 star rating
Honeylove:
Honeylove Silhouette Bra: 47 reviews with a 4.5/5 star rating
Honeylove LiftWear Cami: 212 reviews with a 4.7/5 star rating
Honeylove SuperPower Short: 1,328 reviews with a 5/5 star rating
When it comes to outside testimonials, Shapermint seems to be a fan favorite across several reviewer sites. For instance, Trustpilot holds over 14K comments with a general score of 4.6/5 stars. Sitejabber follows behind with a count of 7,096 votes and a rating of 4.6/6 stars.
On the other hand, Honeylove showcases a small number of reviews compared to Shapermint. Its Trustpilot page only holds 78 comments with a score of 4.3/5 stars. In addition, the Better Business Bureau showcases a total of 20 testimonials with a 4.8/5-star rating.
To keep things simple to read, this Shapermint vs Honeylove review has summarized a list of common customer feedback from the testimonials we've gathered:
Shapermint:
Scores mad points in comfort, versatility, and support. Others found its shapewear to be flattering on their bodies
Most buyers agreed with the prices
Encouraging reviews about customer service in terms of fit and finding the right products
Some dismal reports on ordering problems, refunds, and delayed shipments
Honeylove:
Great in sculpting the perfect fit. A majority of customers agreed that its shapewear provided support and comfort
Some buyers found the shapewear to be surprisingly breathable in case of hot days
Positive experiences with the customer service team and delivery methods
A few noted issues in discomfort and noise when worn
Winner: Shapermint takes the cake on customer reviews. Compared to Honeylove, it has more positive reviews in terms of fit, functionality, and comfort.
Shapermint vs Honeylove: Promotions & Discounts
Everybody loves a good bargain. Down below, this Shapermint vs Honeylove review has found a few ways to help readers save a bit of money. Which brand will win in terms of customer perks and promotions? Let's dive in.
Shapermint:
Offers a Black Friday promotion, in which some shapewear sets and garments are 70% off
By inputting promo code: 15OFFNOW, customers can save 15% off their final order
For every successful referral, buyers will be rewarded with a $20 coupon for sharing their affiliate link
If you sign up for their newsletter, you automatically get 10% off
Honeylove:
All single-item purchases come with a 20% off coupon, which can be used for the rest of your order
If you're a frontline worker, the brand will reward you with 20% off your final purchase
In terms of its refer-a-friend program, customers will get $20 off for every successful referral
Winner: It seems that customers save more when it comes to Shapermint. You can't deny the temptation of a sale outlet, which is a feature that Honeylove doesn't offer.
Shapermint vs Honeylove: Shipping & Returns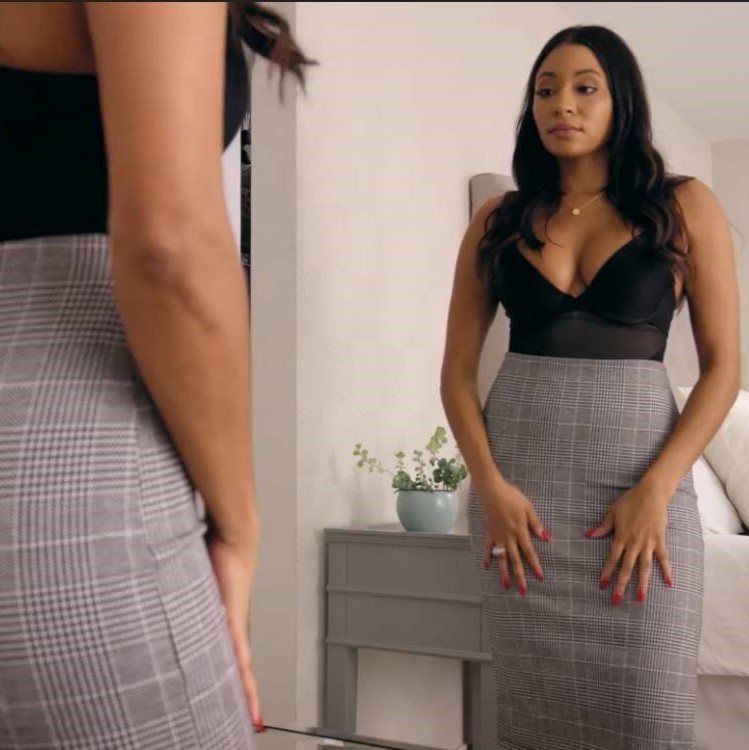 Before you hit checkout, it's best to gloss over the shipping policy of every brand you shop at. That way, customers can avoid curveballs in terms of costly delivery rates or unavailable locations.
Moving forward, this Shapermint vs Honeylove review will look at their terms and conditions in detail to see what they offer.
Shapermint:
Offers free shipping on orders $60 or more. Anything under this amount is charged a flat fee of $7
Provides domestic and international delivery in select locations
Issues a tracking number that customers can use (as given in a confirmation email)
Has a 60-day Confident-Fit Guarantee for their products (with free shipping)
Limited issues on shipping when it comes to customer reviews
Honeylove:
Provides free shipping on orders $75 or more
It also offers international delivery in select countries such as Canada and Australia
Has a tracking number that customers can use
Offers a 30-day return window with free shipping
This Shapermint vs Honeylove review found a few reported concerns about delayed deliveries
Winner: Compared to Honeylove, Shapermint provides a more affordable option when it comes to shipping costs. If it wasn't for this one asset, we would be at a tie, as both brands offer relatively similar policies.
Shapermint vs Honeylove: Price & Value
It's time for the final round. In this last segment, this Shapermint vs Honeylove review will see what brand triumphs in price and value.
As we mentioned before, Shapermint hosts sales from time to time. As a result, most of its pieces are usually offered at a discounted price.
From the product reviews we've provided so far, it seems that a majority of Shapermint garments fall within the $30 to $50 mark. Considering the fabric it uses, customers can get a solid bargain for a well-made piece. Not only are they purchasing a standard nylon and spandex suit, but it comes with nifty assets like non-slip technology and compression panels.
Honeylove is definitely on the expensive side when it comes to shapewear. After combing through its website, we found out that some of its pieces range from the $70 to $80 mark. With that being said, the quality is still there.
Its pieces include a variety of innovative features such as bonded support and detachable gussets. On top of that, a majority of customers were happy with the way their garments performed.
Winner: Sometimes quality lies in simplicity, which is what Shapermint is all about. Considering Its low prices, customers can get a steal for a garment that only does the basics.
We Choose: Shapermint
After tallying up the scores, it seems that Shapermint is the brand to opt for. From promotions to customer reviews, this undergarment label excels in the balance of cost versus quality. Naturally, a good company will issue a high-quality product at a reasonable price.
It's considered bad taste if the label in question is too cheap or too expensive, as it can indicate a wallowing bank account or an easily damaged item. Shapermint manages to hit that sweet spot, as it hones in on simplicity rather than taking on several upgrades. After all, shapewear needs to do one thing only: shape the body.
Overall, if you're looking for an undergarment brand that offers a fair scale of value and cost, this Shapermint vs Honeylove review recommends that you give this company a try.
To learn more about Shapermint checkout our full Shapermint Review.
---
Looking for even more brand showdowns? Then check out these top comparisons:
Noom vs. Weight Watchers Review
Hedley Bennet vs Williams Sonoma
Jack Erwin Boots vs Thursday Boots
Get Access to Exclusive Deals
Subscribe for free to get exclusive deals in your inbox. 100% privacy