Shapermint Bras Review
About Shapermint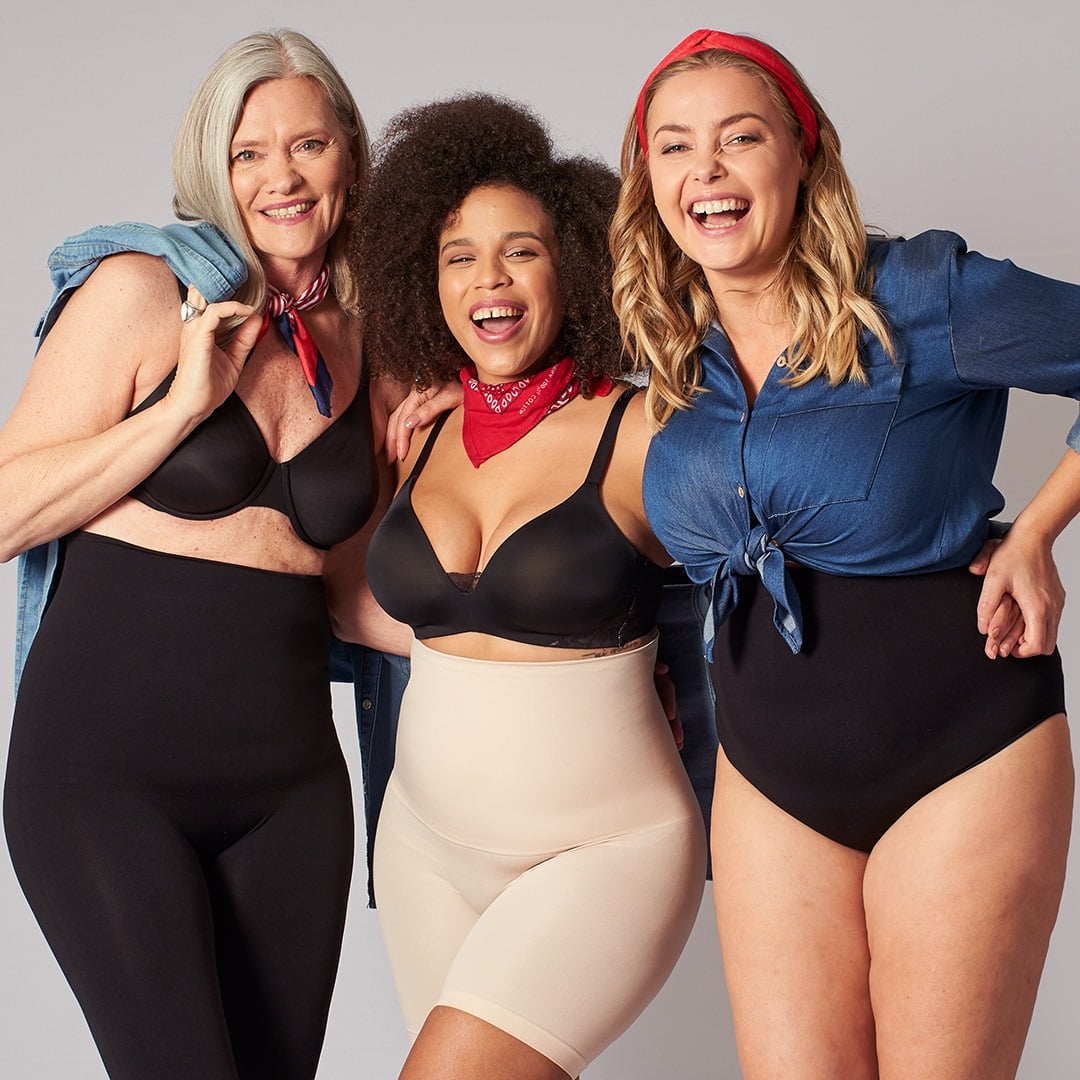 Shapermint is a women's undergarment store that's led with a body-inclusive attitude. Offering an extensive range of sizes, this shapewear brand ensures that you'll find the perfect fit. They carry a broad inventory of intimates, such as tanks, camis, leggings, panties, and bodysuits.
With a following of over 314K on Instagram, Shapermint seems to have brewed up a storm when it comes to diversity and body representation. This has landed them features in several online magazines such as Forbes, Women's Health, and The Washington Post.
So, do they really have a refreshing take on the shapewear industry, or are they far from 'mint condition'? Stay tuned as my Shapermint bras review takes an in-depth look at the brand, its bestsellers, customer ratings, promotions, and more, to help you decide if they're worth checking out.
Why You Should Trust Us
Our mission is to help you make better, more informed purchase decisions. Our team spends hours researching, consulting with medical experts, gathering insight from expert professionals, reviewing customer feedback, and analyzing products to provide you with the information you need.
Overview of Shapermint
One size fits all: a lie that's spread from every department store. How can you possibly create a garment that's flattering for dozens of body shapes out there? Despite hundreds of old-school shapewear brands that cater to one silhouette only, Shapermint was introduced to shake up the market.
Established in 2017, Shapermint made its official debut on the internet. Founded by Massimiliano Tirochii, this Californian brand provides confidence and beauty to women of all dress sizes.
Over the years, Shapermint amassed 1.5 million first-time customers. On top of that, they've introduced a side-blog, team of brand ambassadors, and a television show to help spread their company mission.
Shapermint is committed to making every single customer feel beautiful, as stated in an inspiring quote, "At Shapermint, we're in the business of confidence. We want to see confident, empowered women live life to the fullest and celebrate their curves."
Before I get into this Shapermint bras review, let's go over some initial highlights:
Highlights
A variety of undergarments and clothing options to choose from
Offers an inclusive range of sizes for their pieces
Positive customer reviews
Provides a side-blog, TV program, and additional resources online
Free shipping on orders $60 or more
There's nothing like a celebratory dance in the change room. Shapewear has the power to embody confidence and beauty. That is, if the piece in question does the most in shaping those curves and accentuating those assets.
If you're not keen on muffin tops or excess bulge, Shapermint offers a wide variety of flattering tummy tuckers and bodysuits fit to hide those areas. Let's not forget the buttery-soft collection of leggings and panties on their website.
In the heat of hot girl summer, my Shapermint bras review will highlight a few of their best-selling designs.
Shapermint Review
Make room in your closet. The brand offers an extensive collection of camis, tanks, leggings, and bodysuits designed for endless selfies and belfies. Moving forward in this Shapermint bras review, I will take a look at some of their hottest picks that are worthy of an Instagram post.
Shapermint Truekind® Daily Comfort Wireless Shaper Bra Review
Bras[1]: the modern-day corset. Thankfully, we've graduated from years of whale boning and pokey eyelets. Unluckily, we've managed to keep some of its discomfort through underwires and ill-fitting cups. 
For those who hate the stiff and unflattering fit of the traditional brasserie, the Truekind® Daily Comfort Wireless Shaper Bra manages to combine support and comfort without the use of excess material.
Designed without underwires or shoulder-digging straps, this roomy alternative ensures that your 'girls' remain snug and in place. Seamless and sculpting in shape, it comes in a medium compression level to better shape the figure.
Reinforced with a classic hook and eye closure, the $45 Truekind® Daily Comfort Wireless Shaper Bra is currently on sale for $30.
Shapermint Truekind® 2-Pack Daily Comfort Wireless Shaper Bra Review
Hands up if you're ever guilty of wearing only one bra for the entire week. Don't worry; I'm not throwing any shade your way. In fact, I'm also guilty of this habit. For those who need an extra change of clothes, the Truekind® 2-Pack Daily Comfort Wireless Shaper Bra offers a double set of supporters for the days ahead.
Made out of soft nylon-elastane, this cozy number comes with foam cups, wide shoulder bands, a hook and eye closure, and no underwiring. I recommend pairing it with a set of Shapermint leggings to complete that ultra-cozy ensemble.
Originally priced at $90, snag the Truekind® 2-Pack Daily Comfort Wireless Shaper Bra for a steal at $50.
Shapermint Empetua® High Waisted Shaping Leggings Review
Let's be honest with ourselves here. Those jeans will never see the light of day. Instead, we gravitate to the usual set of nylon skinnies and sweatpants as our go-to options. Complimenting your ever-growing collection, the Empetua® High Waisted Shaping Leggings are made to flatter your figure from torso to toe.
Sewn with moisture-wicking fabric, users can wear this set as the perfect yoga ensemble. It's also built on a medium compression level, meaning that it can hide those lumps and bumps in time for casual dates.
Best paired with the Shapermint cami, get the $83 Empetua® High Waisted Shaping Leggings in two different colors for only $33.
Shapermint Empetua® All Day Everyday High Waisted Shaper Shorts Review
Meant to be worn under body-con dresses or tight-fitting pants, the Empetua® All Day Everyday High Waisted Shaper Shorts aim to give you that hourglass shape. Made with "360-degree tummy-to-thigh smoothing and sculpting" technology, this Shapermint shapewear set can help smoothen out unwanted ripples and bulges for that seamless effect.
You can basically do somersaults in the Shapermint Empetua number, as it's built with high compression and a no-slip strap. Available in 5 different hues, add the $55 Empetua® All Day Everyday High Waisted Shaper Shorts to your daily ensemble for $24.
Shapermint Empetua® All Day Every Day Tank Cami Review
The Empetua® All Day Every Day Tank Cami is far from your ordinary top. Intended to flatten the stomach and smooth out those curves, this set makes for an excellent layering piece underneath blouses or tight-fitting shirts. It's made to be extra-comfortable, which means the absence of any underwiring or digging shoulder straps.
The best part about this top is that it's designed to be breathable. Users can wear this piece throughout each season, ranging from humid July days or as an undershirt for chilly December evenings. Originally priced at $40, the Empetua® All Day Every Day Tank Cami is at a bargain for $24.
Does Shapermint work?
Consider this segment as a spoiler alert of what's to come. Yes, shapewear from Shapermint is considered one of the best in the market. I've come across thousands of encouraging testimonials that vote this brand as an essential for hiding excess bulge or belly fat.
This is especially towards their camis and high-waisted shorts. On top of that, I uncovered minimal issues concerning fit and size. You can thank Shapermint's innovative technology, such as different compression levels and their use of fabrics.
Who Is Shapermint For?
This brand is intended for all dress sizes. Drawing from their extensive Shapermint size chart, it's apparent that their collection is designed for every woman. With that being said, their shapewear is catered to those who are slightly more curvier and 'full-bodied', as most of their garments are suited to compress and smoothen certain areas.
Shapermint seems to lean towards the young adult demographic, which is around the 20+ age range. While customers are invited to wear their pieces on any occasion, shapewear is usually reserved for special events—such as cocktail parties, birthday gatherings, or first dates.
Comparison: Shapermint vs. Spanx
There's no better way to see a brand's list of weaknesses and strengths than pitting them against its main competitor. In this special segment, I've decided to pair Shapermint with Spanx in a one-on-one dual.
Down below, I've compiled a record of similarities and differences between each brand, which can vary from product variation to company perks. At the end of this round, it's up to you to crown the winning victor.
Shapermint:
Offers a wide variety of clothing and undergarment pieces to choose from
Marketed as a more body-inclusive alternative to other brands
Reasonable prices
Provides sales from time to time
Spanx:
Considered more popular and 'reputable' in the shapewear industry
Offers a wide variety of pieces on their website
More expensive compared to Shapermint
Has a permanent sale outlet as an alternative category
Shapermint Reviews: What Do Customers Think?
So, what's the consensus? Can we name this brand as an essential, or are their intimates destined to collect dust in the dresser? From what this Shapermint bras review has gathered so far, it seems that customers from all around the globe are giving their full recommendations.
To start things off, I'll provide a few ratings for their top-selling products down below:
Empetua® All Day Every Day Tank Cami: 496 reviews with a 4.5/5 star rating
Truekind® Daily Comfort Wireless Shaper Bra: 5,528 reviews with a 4.5/5 star rating
Empetua® All Day Everyday High Waisted Shaper Shorts: 10,802 reviews with a 4.5/5 star rating
From camis to shaper shorts, customers are loving Shapermint's attention to detail when it comes to fit. This is especially towards their compression technology[2], which proved effective in hiding excess skin and belly fat. As a result, hundreds of women felt more confident and beautiful when wearing their pieces. 
"The products are super quality, fast delivery, amazing service and they make you feel like a queen. I have learned to love my body the way it is and not feel ashamed of myself. My confidence in myself is coming back," one customer wrote for the Empetua® All Day Everyday High Waisted Shaper Shorts.
In addition, I uncovered some promising reviews on other websites as well. To keep things neat and organized, I've compiled a list of these ratings in point-form for readers to compare:
Sitejabber: 7,047 reviews with a 4.6/5 star rating
Trustpilot: 14,591 reviews with a 4.6/5 star rating
Amazon page for the Body Shaper Tummy Control Shapewear: 1,180 reviews with a 3.7/5 star rating
According to the majority of reviewers online, Shapermint clothing is both comfortable, flexible, and supportive when it comes to the torso and bust area. Most women used their shorts and bodysuits as layering pieces under skirts or tight-fitting pant, which helped to flatter and smoothen out their figure.
"Really a must-have to women with post natal tummy. Has good support without restraining your movement or breathing, stays up and doesn't roll. So happy with my shapermint. I've recommended it to all my friends & family," one Sitejabber reviewer wrote.
Independent blogs, such as Emily Lasko and ClothedUp, also gave favorable reviews towards this undergarment brand. To summarize what both authors had to say, Shapermint excelled in their shipping methods and garment selection.
"When it comes to their products, Shapermint has a wide variety of styles to help you feel confident in all aspects of your body…Whether you find your insecurities rests in your thighs, tummy, breasts, or waist, Shapermint has a product for that," reads the review by ClothedUp.
To start wrapping up my Shapermint bras review, I'm inclined to give this clothing company a positive rating. This is mainly due to their positive reputation online—as their garments proved supportive, comfortable, and confidence-boosting, as stated by several customers.
Is Shapermint Worth It?
Ladies, we all need a boost of confidence. As we live in the Instagram age, it's becoming increasingly difficult to keep up with the latest beauty trends. With that in mind, shapewear grants the luxury of redefining our figure, which helps us get closer to that 'ideal size'.
But, with most brands catering to one silhouette only, it's increasingly hard to find a company that provides options for all body types. Offered as a refreshing twist, Shapermint designs undergarments suited for the real woman rather than the store-front mannequin.
As depicted in their inclusive size chart, customers coming from all shapes and sizes can find something interesting within their collection. With their range of offerings and company mission, it's apparent that Shapermint is savvy about female empowerment[3]. 
If you're looking for a bodysuit or cami that flatters what you've got, keep reading this Shapermint bras review for deals and promotions below.
Shapermint Promotions & Discounts
At the time of this Shapermint bras review, I found out that they are hosting a Black Friday in July sale, in which customers can save up to 70% on select garments. By shopping through this section, you are automatically entered for a chance to win their $25,000 Summer Spree Giveaway.
In addition, buyers can use the Shapermint discount code: 15OFFNOW to receive 15% off their entire order. Members can also receive $20 for every successful friend referral.
Lastly, you can get 10% off at checkout when signing up for their newsletter. As of lately, I was unable to find another Shapermint coupon code that customers can use on their website.
Where to Buy Shapermint
Looking to buy a few Shapermint swimwear sets of your own? Customers can head on over to shapermint.com to peruse through their entire collection. You can also find them at select retailers such as:
FAQ
Where is Shapermint located?
Shapermint's headquarters are located in Irvine, California.
Where is Shapermint made?
While writing this Shapermint bras review I uncovered no information as to where their garments are made. I do know that the Body Shaper Tummy Control Shapewear set is made in China, which I found on their Amazon forum.
What sizes does Shapermint have?
When it comes to their bras, Shapermint offers sizes small to 4XL. For additional specifics and other items, I'd recommend taking a look at the online measurement chart.
What is Shapermint's Shipping Policy?
I'm happy to report in this Shapermint bras review that they offer free standard shipping on US orders that total $60 or more. Anything below this amount is charged a flat fee of $5.
Shapermint also provides international delivery in select countries. To help monitor the status of your purchase, the company will issue a tracking number within a confirmation email.
What is Shapermint's Return Policy?
According to the Shapermint returns policy, customers have until 60 days to send back or exchange their products.
Unfortunately, the company does not provide free shipping under its guarantee. To initiate this process, buyers must contact the brand for further instructions.
How to Contact Shapermint
For inquiries unrelated to my Shapermint bras review, you can contact the company through:
Shapermint customer service email:

[email protected]

 
Submitting a request form on their website 
Using their chat forum 
---
Still searching? Check out our reviews for other top bra brands and see how they stack up!
Get Access to Exclusive Deals
Subscribe for free to get exclusive deals in your inbox. 100% privacy