Tommy John Underwear Review
About Tommy John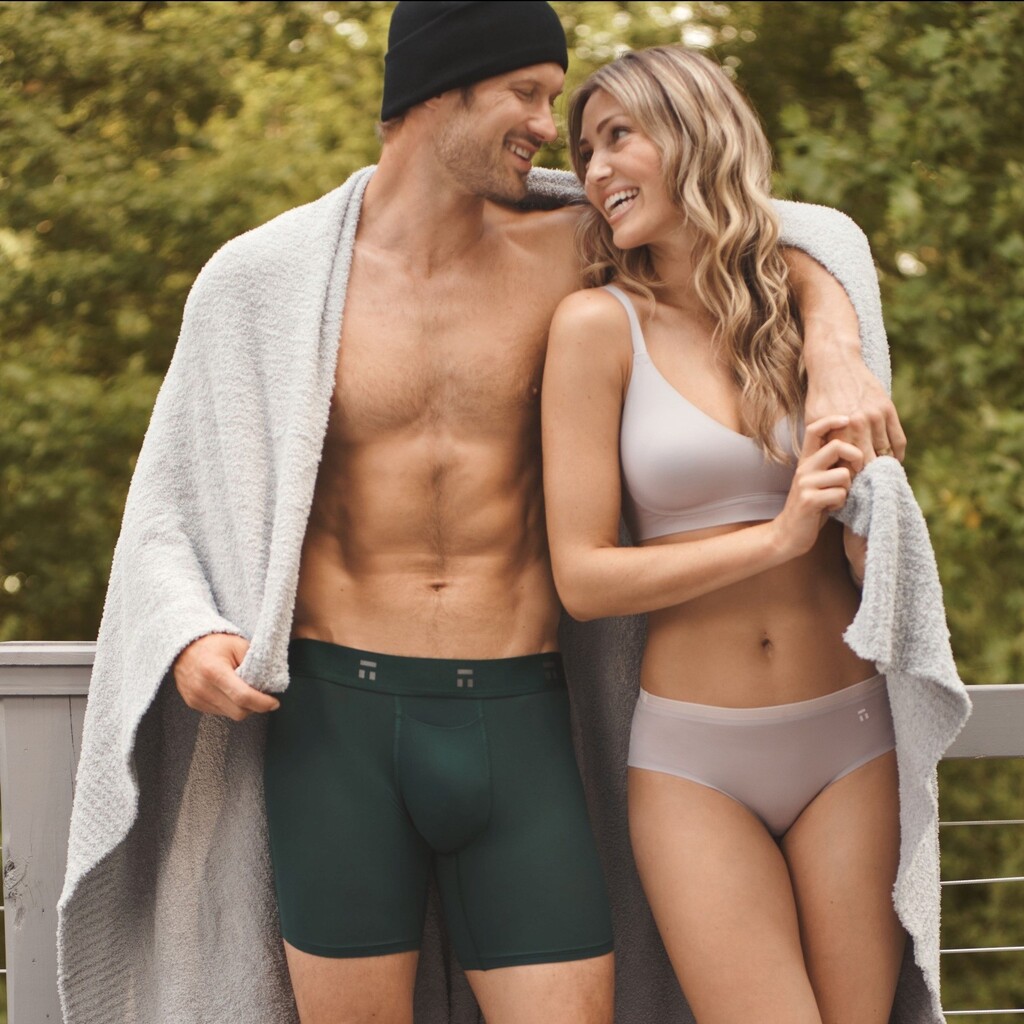 Tommy John is a NYC-based clothing brand designed for women and men, offering reasonably priced underwear, sleeping garments, socks, sportswear, and everyday wear. The following Tommy John underwear review will cover all aspects of the brand to ensure you make an informed decision to purchase their products.
Overview of Tommy John
Tommy John was created by a husband and wife team named Tom and Erin. They had no prior background in clothing design and ended up cashing out their 401Ks, determined to reinvent typical men's garments to be more tailored and fashionable for everyday wear. 
With the creation of the brand, they produced premium, comfortable apparel that works with the movement of your body. Most recently, the brand launched its highly anticipated women's line. Tommy John has risen in popularity since its initial release, with celebrities including comedian Kevin Hart and his wife Eniko Hart promoting their products. 
Brand core values when creating clothing:
Fabric: Proprietary materials designed for optimal performance.
Fit: Adapting to real, moving humans. No rolling, riding up or bunching.
Function: Constantly evolving products.
This Tommy John underwear review examines the benefits and downsides to the brand:
Pros
Extensive underwear and clothing options for men and women
Material is very light, breathable and absorbs no moisture
They have a guarantee where if you are not happy with the first purchase of Tommy John, it's free!
Have multiple retail locations in the United States
Cons
Designs are mostly monochromatic and may be considered too plain
Limited selection of socks
Customer complaints of underwear falling apart after a few washes
Tommy John Underwear Review
For Men
According to a Tommy John underwear review, there are six styles available:
Tommy John Boxer Briefs
Tommy John Boxers
Tommy John Trunks
Tommy John Square Cut
Tommy John Briefs
Tommy John Legging
A Tommy John underwear review revealed fits in different fabrics, each with a unique feel and functionality:
The Tommy John Second Skin line feels as if you are wearing nothing at all, thanks to a 90% silky, non-pilling micromodal fabric and 10% Spandex combination that stretches to support the body. 
The Cool Cotton lineup features an 86% Pima Cotton and 14% Spandex mix, keeping you 2-3x cooler and drying 4-5x faster than regular cotton. 
The 360 Sport line is designed using a blend of Polyester and Spandex, a stretchy combination that prevents riding up and wedgies, even during the most intense workouts. 
The Go Anywhere lineup features the most durable and versatile fabric combination, with a Polyester and Spandex mix providing 4-way stretch for everyday wear. 
The Air Mesh and Air Invisibles product lines are extra light and breathable, designed for everyday wear and travel. They feature Nylon and Elastane combinations, designed specifically to prevent underwear lines. 
Tommy John underwear for men features a comfortable Stay-Put elastic waistband that won't roll, bunch, chafe, or pinch.
Price range: $25-$40 per pair
Buying options: single, packs of 3 or 6, and reduced price Mystery Packs
Available Colors: various shades of grey, black, and dark blue
For Women
A Tommy John underwear review found that the women's line is luxurious and effortlessly comfortable with Air, Air Invisibles, Second Skin, and Cool Cotton options to choose from. Tommy John underwear for women is offered in six stylish fits:
The Boyshort gives you full coverage, including the hips. It's ideal for sleeping, lounging and summer dresses.
The High Rise Brief is great for its added tummy coverage.
The Brief is made to give you full, soft coverage while having a range of support. It's perfect for sleeping, summer skirts and spin class.
The Cheeky has a level of coverage between the Brief and the Thong, offering just a peek.
The Thong feels barely there and stays in place, so no need to stress about wedgies.
The Slip Shorts are versatile and can function as full coverage underwear or workout shorts.
Price range: $22-$34 per pair
Buying options: singles, packs of 3 or 6, reduced price mystery packs
Available Colors: beige, shades of pink, maroon, black, light grey, dark green, teal, baby blue
Tommy John's underwear should be washed in cold water and can be dry cleaned in low dry settings.
Tommy John Undershirt Review
Tommy John undershirts for men are form fitting, featuring a patented Stay Tucked tapered design to stay in place. They are offered in Second Skin, Cool Cotton, and Air in the styles seen below: 
Crew Neck: best worn with a tie and all buttons done up
High V-Neck: perfect without a tie and one button undone
Deep V-Neck: designed to be invisible with two or three buttons undone
Tank: versatile for any shirt and sleeve type
Price range: $35-$58
Buying options: singles, packs of 2 or 3
Colors: white, black, beige
Tommy John Socks Review
Tommy John's socks are crafted from premium Pima cotton blends that keep you cool, dry, and comfortable. InvisiGrip® Technology keeps them in place, preventing sliding and tugging.
The brand's socks have extra arch support and zoned cushioning, enabling superior comfort. Many of the products feature a Comfort Cuff to prevent lines after wear.
For Men
Tommy John offers calf and over the calf socks, dress socks, no show socks, ankle socks, and sports socks.
Price range: $12-$16
Buying options: single or buy 5+ packs and save 10% online
Colors: black, grey, red
Additional patterns: stripes, Xs
For Women
The brand's selection for women includes ankle socks, dress socks, and knee high socks.
Price range: $12-16
Buying options: single or buy 5+ packs and save 10% online
Colors: violet, light purple, red, black, hot pink
Additional pattern options: plaid, argyle
Tommy John Review: What Do Customers Think?
Most of Tommy John products have over 1,000 near perfect reviews of at least 4.5/5 stars. To get the full scoop on Tommy John reviews, we went to other sites for customer feedback. Tommy John was also has positive reviews from Business Insider.
Ratings were much less favorable on Customer Affairs, where the brand has been given 2/5 stars. Many customers complained of their underwear falling part after only a few washes. A plus is that Tommy John makes sure to respond to every negative review.
Where to Buy Tommy John
Online
You can order apparel directly from their website, tommyjohn.com.
Retail Stores
Tommy John is available at many retail stores including Men's Warehouse, Dillard's, and Nordstrom. Access their store locator to find a retail store closest to you.
Amazon
A limited selection of Tommy John apparel is available on Amazon.
Promotions & Discounts
For this Tommy John underwear review, we hunted for the best deals:
Customers get a 15% off Tommy John coupon cope with their first purchase for signing up to the email list.
Military Discount: Tommy John has a military discount of 20% per purchase for those who serve or served for their country, available in the US only.
First Responders: First responders are also entitled to a Tommy John promo code for 20% off, available in the US only.
Student and Teacher Discount: Teachers and students from kindergarden to college receive a Tommy John discount code for 20% off, available in the US only.
Check back on the site regularly for a Tommy John underwear sale.
Tommy John Rewards Program
Tommy John has a program that rewards their most loyal customers. Anyone can join and earn points by purchasing and engaging with Tommy John. Members get early access to new products and can redeem exclusive rewards and benefits, racking up points by making purchases, engaging online and much more. 
Rewards cannot be combined with other discounts. For more information and sign up, visit Tommy John's website. 
Tommy John Sizing
Underwear
Socks
Undershirts
FAQ
Shipping Policy
Tommy John tries to ship their products within two business days, with the exception of US Federal holidays. Tracking information is available via confirmation email after placing an order on the website.  
US Standard Shipping
Delivery within 3 days
$0.00 to $74.99 will have a $6.95 shipping fee.
Anything over $75 will have free shipping.
Hawaii and Alaska Standard Shipping
Delivery 5-7 days after shipping
Orders from $0.00 to $99.99 has a fee of $12.95 for shipping
Orders over $100.00 get free shipping
2 Day Express Shipping
Orders from $0.00 to $199.99 will have a $14.95 shipping fee.
Anything over $200.00 will be qualified for free shipping.
Next Day Delivery
Orders from $0.00 to $299.99 will have a $19.95 shipping fee.
Orders over $300.00 will be qualified for free shipping.
International Shipping
Delivery times vary
Subject to customs import duties and/or taxes based on destination country
Orders from $0.00 to $149.99 have a $24.95 shipping fee
Order over $150.00 qualify for free shipping
Return & Exchange Policy
A Tommy John underwear review found that the brand has a "Best Pair Guarantee." With your first purchase of any Tommy John undergarment product (underwear, undershirt, socks, t-shirt and bra) and if the customer is not satisfied, Tommy John will issue a refund or allow for an exchange. 
Rules for the Best Pair Guarantee Policy:
Only applies to the first worn undergarment of each type per customer.
All requests need to be made within 30 days of delivery for online orders or in-store purchases.
If you choose to exchange the product, the item will be shipped for free.
For all other exchanges and returns, the original return/exchange policy will be the standard.
Standard Return/Exchange Policy:
All returns and exchanges must be made within 30 days of delivery or in-store purchases. All items must be unworn, unwashed, with tags and in original packing.
For any authorized exchange/return, Tommy John will cover the shipping for packages being shipped from the lower 48 states. 
Final sale items cannot be returned or exchanged.
Gift cards are nonrefundable and cannot be exchanged for cash.
Only purchases made from Tommy John online or shops will be processed through the company. Anything done through a third-party must be done with that company.
If Tommy John receives worn garments, they will not process the return and will send back the garment to the customer.
Contact Tommy John
For more information, inquiries, questions or to contact the customer service team:
Email: [email protected]
Phone Number: 1 800 708 3490
Working Hours:
Monday – Friday: 9am-9pm EST
Saturday-Sunday: 10am-6pm EST
Website: tommyjohn.com
---
It's always better to have options. Check out our reviews for these top underwear brands:
MeUndies for women and men
Pair of Thieves for women, men, and kids
Knixwear for women
Thinx for women and girls
Get Access to Exclusive Deals
Subscribe for free to get exclusive deals in your inbox. 100% privacy