10 Best Easter Gifts For Kids
Searching For The Best Easter Gifts For Kids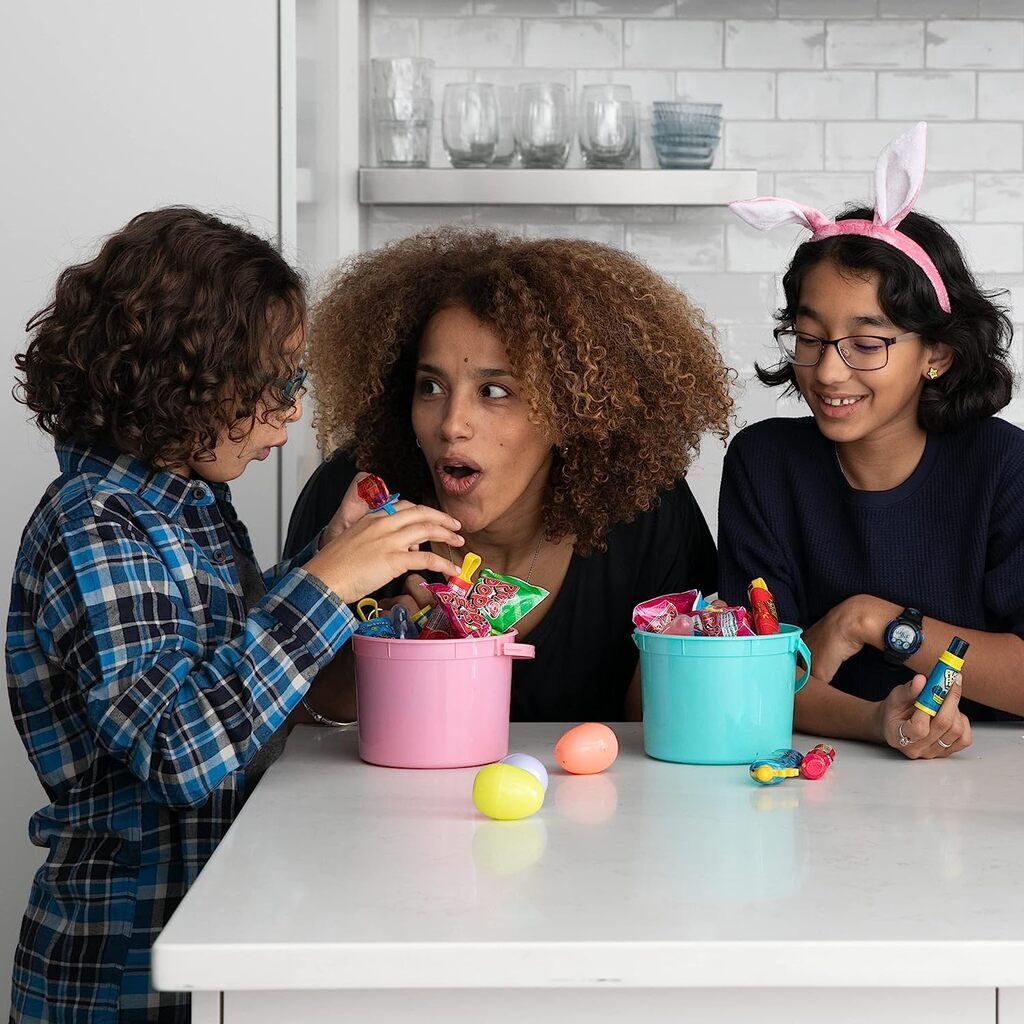 The birds are chirping, the sun is shining, and Easter is just around the corner. If you haven't planned out your children's Easter baskets yet, don't stress, that's why this list of the Best Easter Gifts For Kids exists. It's packed with fun, unique, and affordable options for all kinds of kids and families.
Since Easter is a time to celebrate family–and life in general–you'll find plenty of items that bring your loved ones together.
Of course, there are a few sweet treats nestled among the skill-teaching toys and egg-citing games too, so don't be surprised if you check off every item on your shopping list simply by reading this one.
The 10 Best Easter Gifts For Kids
Hippity hoppity Easter's on its way, so let's get right to it. Coming up, you'll discover our top 10 picks for the Best Easter Gifts For Kids. 
1. Build-A-Bear Peeps
For most kids, having a stuffed toy can be a great source of comfort. They can hold it at night if they wake up from a bad dream, if they're feeling a bit lonely, or when they just want to entertain themselves.
Build-A-Bear not only offers a plethora of lovable characters to take home, but the best part is that your little one can customize these playmates!
So what does the company have in store for Easter? Check out their PEEPS® Plush Collection! You'll find an array of adorable peeps in pink, blue, orange, lavender, rainbow, and even party cake patterns. Your child can decorate them with accessories like bandanas, sleeping masks, and more.
If bunnies are not your child's thing, there's also the Timeless Teddy PEEPS® Chick Gift Set (featuring a teddy with a cute little chick on his shoulder) or the Happy Hugs Teddy PEEPS® Gift Set—both are on sale! Here's a quick tip: don't forget to add the Marshmallow Scent at the very end to tie the whole gift together.
The price range seems to vary from around $22 for just the plushie and up to $30-$40 when it's fully dressed (it all depends on what you add on). There's also an online exclusive offer for a special Giant Rainbow PEEPS Bunny for $70 that's nearly as big as a toddler!
If something catches your eye on the website, you can enjoy free shipping on orders over $50 with the code FREESHIP. But if you prefer to grab your kid and make a day out of it, there are around 126 stores you can visit in person in the US.
Highlights
Kids can fully customize colorful stuffed peeps, bears, or a Pawlette™
Customers can record their voice for a sentimental gift
Marshmallow scent available in this collection
Chick Wristies sold separately for a fun addition
Many stores worldwide
Free shipping over $50
2. MAGIFIRE Playtime Matching Eggs For Toddlers
Easter is all about rebirth and the changing of the seasons, so eggs have always been a go-to. For decorating or eating, I love that the MAGFIRE Playtime Matching Eggs For Toddlers teach organizational and fine motor skills to your little ones instead.
Helping them improve their color recognition, the eggs are smooth and easy for little hands to grab. At 2.2"x1.8" in size, each egg is safe for kids and encourages independent play.
This set is for kids 18 months to 3 years and up, and I think you'll love the BPA-free design and child-safe materials. Including 12 eggs and a plastic carton, this set is self-contained and allows for easy clean-up.
Teach your child something special this Easter with the MAGFIRE Playtime Matching Eggs For Toddlers for $18 (previously $21).
Highlights
For toddlers 18 months+
BPA-free materials
Self-contained toy
Teaches motor skills and organization
Encourages independent play
3. CRAVEBOX Easter Snacks Box Variety Pack Care Package
They love snacks, and with the CRAVEBOX Easter Snacks Box Variety Pack Care Package, you've got the snacks. There are a whopping 50 assorted salty, sweet, healthy, and savory treats in this box, including everything from chips and pretzels to candies and cookies.
Don't fret, there's something healthy in here for you too. All are individually wrapped which makes this package ideal for church functions or large family events.
If you're planning something big this Easter, this is the pack you'll want. What snack brands are inside? Airheads, Pringles, Chex Mix, Nabisco Cookies, Quaker Chewy bars and so much more. Get 50 pieces for just $28 and call your Easter event planned and ready.
Highlights
50 pieces
Chips, candy, cookies & more
Many healthy choices
Individually wrapped
Great for large events

4. Move2Play Easter Egg Toss
It's no secret that kids don't get outside as much anymore. Gone are the days when an afternoon of entertainment meant running around in the backyard. The thing is, all kids want is something fun and engaging, and that's exactly what the Move2Play Easter Egg Toss is.
It simulated the experience of an egg toss, but you won't be left cleaning up any of the mess you normally would. Here's how it works: Your kids will take turns throwing the soft, machine-washable eggs.
Equipped with smart sensors, the eggs determine what is a soft catch and what is an "egg-splosive" catch. If it's soft, you can pass it as long as you want, if not, you're out – but thankfully, no one is covered in egg.
What's more, the egg will shout out 40+ Egg-Mazing puns as you play for even more entertainment. Delivered with 3 AAA batteries, you can get this super fun game for $20.
Highlights
Machine washable
Made from recycled bottles
USA safety certified
No chemicals
40 puns
Comes with batteries
5. Skillmatics Card Game – Found It! Outdoor Edition
Move over Easter candy, there's a new gift in town and it's a ton of fun. The Skillmatics Card Game – Found It! Outdoor Edition is perhaps the most perfect game to play on Easter Sunday and beyond.
It's essentially a scavenger hunt, made up of cards with prompts such as "Something that is heavier than a leaf?" and "Something round." The sky is the limit when it comes to what they find, and you'll be the judge as to if their selection fits the description.
Go ahead and get outside, spend some time in the much-needed sun, and enjoy your kids with this exciting, hands-on game.
Giving them a break from tablets and gaming systems, it teaches them useful life skills such as phonological awareness, shapes, and spatial relationships, and keeps them engaged for hours. Get it now for $13 (on sale from $15).
Highlights
Award-winning card game
Educational and exciting
For kids 4-7 years old
Teaches essential skills
Gets kids outdoors
Quality family time

6. Bazooka Candy Brands Easter Candy Box
Who says chocolate is the preferred Easter treat? The Bazooka Candy Brands Easter Candy Box is packed with mouth-watering Ring Pops, Baby Bottle Pops, and Juicy Drop Pops.
Keeping your kids happy for more than a few chomps, this tasty set is a no-brainer for your Easter Basket. It contains 18 pieces in assorted flavors, each individually wrapped and ready to go. Flavors include favorites such as Cosmic Strawberry Lemonade, Cherry Watermelon, and Blue Raspberry.
Sprinkle a few into your kids' Easter Baskets, hide them around the yard inside large plastic eggs, or better yet, use them as unique decorations for your Easter tree.
Ditch the chocolate this Easter and go for something longer-lasting with the Bazooka Candy Brands Easter Candy Box for $14.
Highlights
18 pieces
Assorted flavors
3 types of candy
Long-lasting
No chocolate
Excellent choice for all kinds of Easter activities
7. The Original EggMazing Easter Egg Decorator Kit
One of my favorite Easter memories of all time is decorating Easter eggs. It was a time to get creative and show off my artistic side while celebrating the season of rebirth. The Original EggMazing Easter Egg Decorating Kit includes everything you need to create unique designs and have fun.
The best part? There are no dyes or weird vinegar smells. This kit uses markers and the tray ensures colors are contained and don't get on your countertops. Spin the tray for extra-special spirals and get the entire family involved.
The kit comes with one EggMazing Spinner and 8 colorful, non-toxic markers for $25. (It requires 4 AA batteries which aren't included).
Highlights
For kids 3-10
Quick drying
Non-toxic
Creates unique designs
Less mess, easy cleanup

8. Filled Easter Eggs With Surprise Toys Inside
I don't know a kid who wouldn't squeal with joy when getting one of the Filled Easter Eggs With Surprise Toys Inside.
An excellent option for large families or Easter events, this collection contains 21 Easter Eggs stuffed with toys they'll love.
My favorite part is the type of toys inside these Eggs – Pokemon! A forever favorite for both adults and kids, children big and small will have a blast becoming a Pokemon trainer and battling their favorites in a friendly duel.
But that's not all that comes in the kit. You'll also get a paint set your little ones can use to paint designs on their eggs or to perhaps create their own rendition of their most-loved Pokemon.
Made of plastic, the eggs are easy to hide around the yard and the toys inside make an excellent alternative to candy and chocolate. Grab the set for $28 (normally $70).
Highlights
5 months to 8 years
21 pieces
Pokemon toys inside
Included paint set
Great alternative to candy

9. Melissa and Doug Burrow Bunny
From the brand NBC called "the gold standard in childhood play," the Melissa and Doug Burrow Bunny is an Easter basket essential. It's super soft with long floppy ears and an adorable face your little one will love.
Handcrafted with high-quality materials, it will be in your kid's favorite memories for years to come. The Burrow Bunny is ideal for kids 3+ and gives them something to snuggle for story time or play with a friend. Sparking their imagination, Burrow Bunny sits up for tea time and makes a good pal on particularly tough days.
Accompanied by a happiness guarantee, you can get this cute, cuddly bunny for $13 (on sale from $19).
Highlights
Incredible soft material
Sits upright
Handcrafted
From a renowned children's brand
An Easter essential

10. Aurora World Rolly Pet – 5" Chickadee Chick
One look at the Aurora World Rolly Pet – 5" Chickadee Chick and it's hard not to fall in love. An absolutely adorable stuffed toy for your child this Easter, it might just be the cutest thing they've ever seen.
The Chickadee Chick is 4.5"x4"x5" and fits easily in a backpack or tucks under your child's arm for storytime. It's perfect for kids ages 3+, and there's a good chance you'll even want one for yourself. Made from durable, plush materials, this well-made toy will become a favorite year-round.
You can tell how soft the Chickadee Chick is just by looking at it, and you can get one this Easter for just $9 (on sale from $10).
Highlights
5"
Super soft
Durable, quality materials
The cutest thing you've ever seen
Perfect for Easter baskets

What Are The Best Easter Gifts For Kids?
There are two answers to this question. The Best Easter Gifts for Kids are anything you think your child will love. Parents often put chocolate and candy in their children's Easter baskets, but the gifts on this list include toys, games, and stuffed animals.
If you are hoping to avoid candy this Easter, go with one of the options on this list that isn't food-based. There is plenty of family-approved games and toys that will get your kids off the couch and playing outdoors.
The Best Easter Gifts For Kids can come in all shapes and sizes, but remember, they need to fit in an Easter basket.
Who Are The Best Easter Gifts For Kids For?
This one is pretty self-explanatory. The best Easter gifts for kids are for kids, however, the ones on this list do have age restrictions. For example, the MAGFIRE Eggs should not be played with by babies under 18 months old.
Be sure to read the age restrictions on each toy or game you choose. Some include small-ish pieces that may become a safety issue. On the flip side, specific games may not be playable by kids under a certain age.
As a parent, I'm sure you already know to shop for your kid's age but a reminder never hurt–especially when the items on this list are all so different.
How to Shop For the Best Easter Gifts For Kids
Candy, toys, games…how do you decide which is the best for your kids. You could go with all 9 options on this list of the Best Easter Gifts For Kids, but if you need a little extra help deciding, consider the following:
Type of gift: If you're boycotting chocolate and candy this Easter, there are tons of options on this list that will bring them joy without the sugar rush. If you don't mind giving them something sweet, there's plenty here too. I also love the option of the assorted snack pack for large get-togethers.
Age range: As I mentioned before, shopping within your kid's age range is not only a matter of safety but also a matter of ability. Some games may be too advanced for them to grasp, while others may be too childish.
Quality: While you're gifting a holiday-specific toy or game, ideally, you'd like them to play with it more than once. Thankfully, all of the items on this list of the Best Easter Gifts For Kids are made from high-quality materials.
Price: My favorite part about literally everything on this list of the Best Easter Gifts For Kids? Everything is super affordable!
FAQ
What can I give my kids instead of candy for Easter?
If you've decided not to give your kids Easter candy this year, you still have many options to fill their Easter baskets with. Most of the items on this list of the Best Easter Gifts For Kids are not candy, and it's very possible that you can still give them food-related items without all the sugar.
If you'd like to give them a healthy treat, choose things such as all-natural fruit gummies or granola bars. To avoid food-related items altogether, opt for age-appropriate toys. Stuffed animals are a great idea for younger kids while interactive games are loved by older kids.
What are the top 5 most popular Easter basket items?
The fun thing about Easter baskets is that you can really put any kind of small item in them. When choosing the Best Easter Gifts For Kids, sometimes parents like to get creative, but often, they stick with tried and true favorites. The most popular include Easter themed:
Stuffed animals
Chocolate
Books
Games
Art & craft supplies
What is a traditional Easter gift?
The traditional Easter gift is an egg. That's why we hide them, paint, them, and have so many different chocolate selections around Easter time. If you'd like to give a very traditional Easter gift, go with an egg of some kind–decorative or edible.
The tradition of the Easter bunny is a newer one, and to follow it, kids will leave their Easter baskets out overnight, in which the Easter bunny will fill them with chocolate, candy, toys, and spring-related items. On Easter morning, kids will wake up and discover their baskets full.
Why do we give Easter eggs for kids?
The egg is representative of rebirth and life. Throughout time, people have gifted others eggs (real or wooden ones) at spring festivals in celebration of the new season. Though now we have included chocolate and candy in our Easter celebrations, the tradition has carried on and remains a meaningful pastime for families around the world.
Final Thoughts
Now that you know what the Best Easter Gifts For Kids are, we hope we've made your shopping a little more convenient. Whether you pick all of them or settle on one, your child is sure to burst with delight on Easter day.
---
Looking for other top brands? Check out these curated lists below:
Get Access to Exclusive Deals
Subscribe for free to get exclusive deals in your inbox. 100% privacy