Amika Hair Products Review
About Amika
Amika is an online brand that manufactures hair care products that are clean and sustainably made.
Ensuring that their formulas are devoid of harsh substances like parabens and sulfates[1], Amika also aims to reduce waste through methods like scaling back their use of non-biodegradable plastic[2].
Targeted at a young adult demographic, the brand makes it a company mission to be as inclusive and diverse[3] as possible.
Established in 2007 in Brooklyn, New York, Amika began as a hair tools brand like so many others.
It wasn't until 2020 that the operational team decided to rebrand the company mission to reflect trending consumer values, in response to activist movements such as Black Lives Matter.
Company leaders Nir and Shay Kadosh, Vita Raykhman, and Chelsea Riggs refocused Amika to embody the principles of inclusivity and diversity by creating products for all hair types.
An online campaign called "All Hair is Welcome" let the public know that the company was adopting a more community-centric approach.
Curious about this brand? Keep reading my Amika hair products review as I take a comprehensive look at their products, customer ratings, promotions, and more to help you decide if they're worth the buy.
Why You Should Trust Us
Our mission is to help you make better, more informed purchase decisions. Our team spends hours researching, consulting with medical experts, gathering insight from expert professionals, reviewing customer feedback, and analyzing products to provide you with the information you need.
Pros and Cons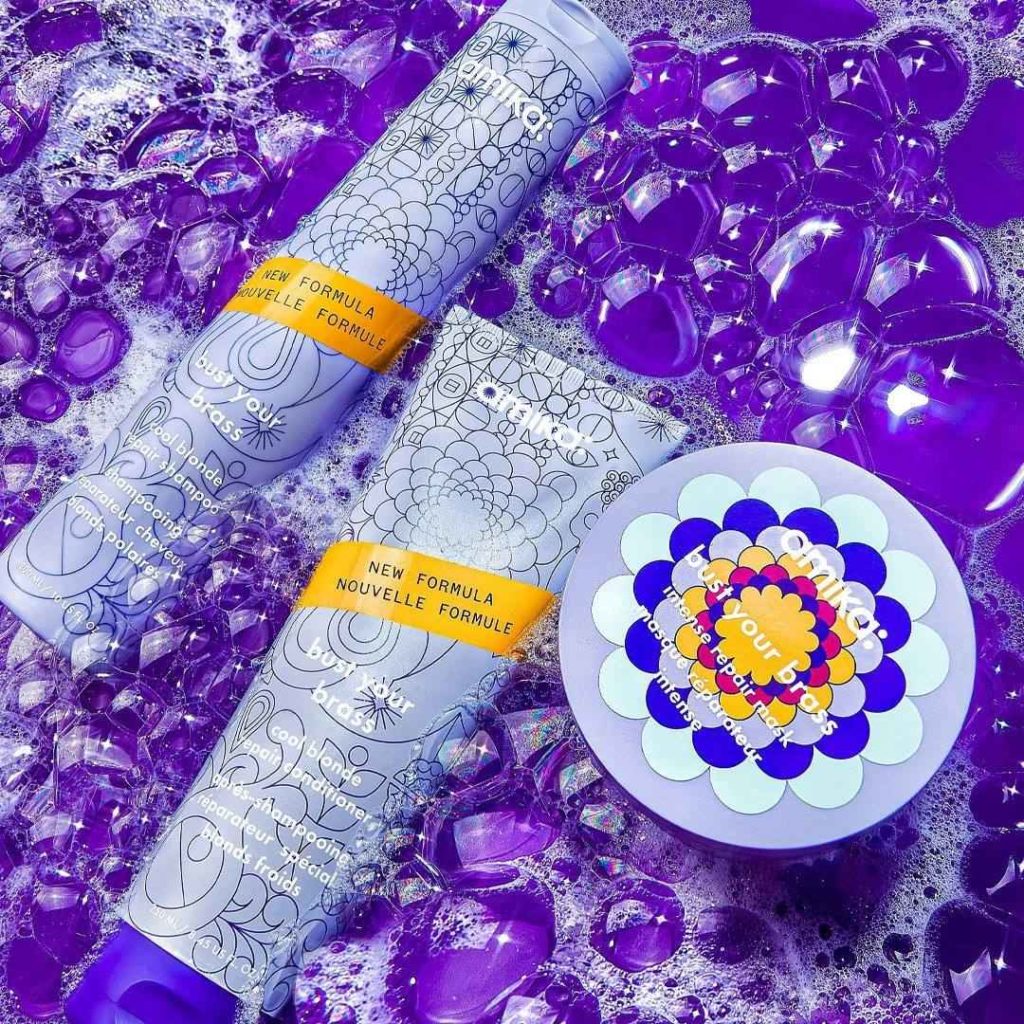 First, let's start off with a quick list of some pros and cons of Amika hair products, so you can get an overview of the brand:
Pros
Wide range of products: Amika offers a wide range of products for various hair types and concerns, so there's likely a product that will work for your hair.
High-quality ingredients: Amika products are made with high-quality ingredients that are designed to promote healthy hair.
Cruelty-free: Amika is a cruelty-free brand, so you can feel good about using their products knowing that they don't test on animals.
Stylish packaging: Amika products come in stylish packaging that looks great on your bathroom shelf.
Cons
Expensive: Amika products can be quite expensive compared to other hair care brands, so they may not be a good option for those on a tight budget.
Fragrance: Some people may find the strong fragrance in Amika products to be overwhelming or irritating.
Limited availability: Amika products may not be available in all areas, so it may be difficult to find them in stores or online.
May not work for everyone: While Amika products have many benefits, they may not work for everyone's hair type or concerns, so it's important to read reviews and consult with a healthcare professional before trying them.
Ingredients
Amika uses a variety of ingredients in their hair care products, each of which has its own set of benefits. Here are some of the key ingredients in their products:
Overall, these ingredients have been shown to provide a range of benefits for the hair, and their use in Amika products can help promote healthy, shiny, and nourished hair.
Benefits
If you're interested in the specific benefits, let's break them down:
Reduces frizz
One of the key benefits of Amika products is their ability to reduce frizz in the hair. A study published in the Journal of Cosmetic Science found that the use of certain ingredients in hair care products, including dimethiconol and cyclopentasiloxane, can help reduce frizz and improve the overall appearance of the hair.
Amika's products often contain these ingredients, as well as other smoothing and anti-frizz agents.
Enhances shine
Amika products are also designed to enhance the natural shine of the hair. Ingredients like argan oil, which is often included in Amika's products, have been shown to help improve hair shine.
A study published in the Journal of Cosmetic Science found that a hair serum containing argan oil improved hair shine and overall appearance.
Promotes hair growth
Some Amika products, such as their Scalp Care line, are designed to promote hair growth. Ingredients like peppermint oil and salicylic acid, which are included in these products, have been shown to help stimulate hair growth.
A study published in the International Journal of Trichology found that peppermint oil improved hair growth in mice.
Prevents damage
Another benefit of Amika products is their ability to prevent damage to the hair. Ingredients like hydrolyzed keratin, which is often included in Amika's products, have been shown to help strengthen and protect hair.
A study published in the Journal of Cosmetic Science found that a shampoo containing hydrolyzed keratin improved the strength of damaged hair.
Hydrates and moisturizes
Amika products are also designed to hydrate and moisturize the hair. Ingredients like shea butter and jojoba oil, which are often included in Amika's products, have been shown to help moisturize and condition the hair.
A study published in the International Journal of Molecular Sciences found that jojoba oil can improve hair hydration and prevent hair damage.
Wavy, straight, or curly, thick, thin, or medium—whatever your hair type, Amika has a wide assortment of hair care formulas and styling tools that are designed specifically for you, from hair masks, serums, and conditioners to wavers, straighteners, and more.
From the Amika hair dryer to the deep-conditioning Amika triple rx mask, my Amika hair products review will give you a selection of the brand's bestsellers to get the ball rolling.
5 Amika Bestsellers
Shampoo is usually the first thing you think of when it comes to hair care, cleansing the hair of oils and stressors.
If you're looking for a formula for your specific hair type, try perusing Amika's collection. Where you'll find a number of options ranging from color-friendly shampoos to toner-control Amika purple shampoo.
Keep reading this Amika hair products review as I give you a look at some of the fan favorites in this category.
Amika Normcore Signature Shampoo Review
The Normcore Signature Shampoo is an all-purpose, no-frills no-fuss kind of formula, but that doesn't mean it's boringly basic. This cleanser ensures that your locks get soft, shiny, and fully hydrated with every lather, no matter what your hair type.
Infused with coconut oil[4], this Amika shampoo is a rich source of antioxidants and vitamins that make it essentially a healthy green smoothie for your hair.
It's also safe for color, Brazilian, and keratin-treated hair, so it won't strip away any of that glamour you've worked so hard to maintain. Follow with an Amika leave-in conditioner for a smooth, clean style that lasts until your next wash.
For those seeking an extra boost of radiance, try pairing it with the Amika flash instant shine mask. The Normcore Signature Shampoo comes in four different sizes and prices:
2 fl oz: $9
8 fl oz: $16
10 fl oz: $35
33.8 fl oz: $55
Amika Bust Your Brass Cool Blonde Repair Shampoo Review
Dear blondes: we admit it, we're all jealous of how your sunshine tresses glitter in the light. So if you'd like to ensure you keep that golden glow, consider trading your standard-issue cleanser for the Bust Your Brass Cool Blonde Repair Shampoo (this is not a trick, I swear).
This Amika formula comes in an ultra-violet pigment which helps keep your shade light and soft.
The blend of wild cherry bark extract, hydrolyzed keratin, and avocado oil also work to restore moisture, elasticity, and luster. Add a dose of the deep-conditioning Amika Triple RX Mask for some additional rejuvenation.
Once you've finished your clean, make us even more envious by using the Amika high tide deep waver to get those classic beachy waves. The cost for the Bust Your Brass Cool Blonde Repair Shampoo breaks down as below:
2 fl oz: $12
8 fl oz: $20
10 fl oz: $24
33.8 fl oz: $70
Amika Vault Color-Lock Shampoo Review
Whether a cute pastel pink or an in-your-face strawberry red, dyeing your hair is a great way to change up your look (and attitude!). Make sure that the vibrant new you doesn't fade away by using Amika's Vault Color-Lock Shampoo.
This Amika color-preserving cleanser uses soybean oil[5], UV filters[6], and an amino acid blend[7] to protect your hair from signs of shading. Antioxidants from the soybean oil also helps hold your color, while the amino acids boost health and elasticity.
Get gorgeous, salon-quality hair with the Vault Color-Lock Shampoo, in whatever size (and price) suits you best:
2 fl oz: $9
8 fl oz: $16
10 fl oz: currently sold out
33.8 fl oz: $55
Amika Perk Up Dry Shampoo Review
Crunched for time? One spritz of the Perk Up Dry Shampoo is all you need to get a full clean on a short schedule. This formula is entirely invisible, so it won't leave any of that unwanted white residue on your roots or strands.
It's great for keeping braids in place or getting a quick post-workout cleanse. To accomplish this, the Amika dry shampoo uses only two key ingredients, rice starch and sea buckthorn[8].
This dynamic duo eliminates dirt, oil, and other impurities while delivering omega 7 fatty acids to your hair for superior hydration. Pair with a little Amika flat iron styling for a long-lasting look for the club or beach bash.
Make sure to include this in your travel bag, and keep it on hand for those times when you're in a rush and a proper rinse is not an option.
Top off that shower-fresh illusion by styling with the Amika deep waver, and no one will be able to tell it's been (gulp) four days since you saw a tub.
The Perk Up Dry Shampoo comes in three varieties:
1 oz: $10
5.3 oz: $25
5.3 oz (with limited edition hair to stay): $25
Amika Polished Perfection Mini Straightening Brush Review
It can be difficult to squeeze your hair styling products into your luggage, what with all the clothes, shoes, gadgets, and bathroom necessities you've already crammed in there.
The Polished Perfection Mini Straightening Brush comes in a convenient, travel-friendly size that can fit in any makeup pouch.
The Amika polished perfection straightening brush has a consistent temperature of 410°F, delivered through ceramic bristles with nylon tips that quickly and evenly heats the hair without damaging it. It also features a dual voltage of 110-240V for those jaunts overseas.
Use after an Amika hair dryer for a sleek, tamed look without the dread of split ends or kinks.
Get the straight hair you crave no matter where in the world you are by with the Polished Perfection Mini Straightening Brush for $35.
Amika Reviews: What Do Customers Think?
Is Amika a good brand? Based on thousands of positive customer reviews, all (or at least most) signs point to yes. On their website, their bestselling products have hundreds of reviews and average ratings of 4/5 to 5/5 stars.
Take the Normcore Signature Shampoo, which has over 910 customer testimonials and a perfect average rating of 5/5 stars. Buyers have noted that this product helped to effectively clean their hair without drying it out.
"The Normcore shampoo worked well to clean down to my roots. Its quality was above my standard and I recommend this product! It left my hair clean and didn't dry out my scalp," one reviewer wrote on their website.
On Influenster, there are 18.1K reviews in total for all featured Amika products. Customers report that the formulas leave their hair feeling shiny and soft and also that they smell great.
"The smell wow! Usually when I blow dry my hair it almost has a burnt smell because it is really thick and curly…But this product makes it so much easier to blow dry and it leaves it so smooth and with volume. 10/10 would buy again," one Influenster reviewer wrote of the Blow Up Spray.
On the Sephora webpage, reviews of Amika products range from hundreds to thousands, all of which showcase positive star ratings. That said, I also found a few negative comments kicking about.
Several buyers on Sephora commented that the Hair Blow Dryer Brush broke after only a few uses.
How should we weigh these negative experiences? Well, there certainly seems to be a pattern with the Hair Blow Dryer Brush, but out of 205 reviews the 1/5 star ratings come to a quarter of the 5/5 star ratings, which make up the majority of the total reviews.
Side Effects
Amika hair care products are generally safe to use, but like any product, some people may experience side effects or allergic reactions.
Allergic reactions: Some people may have an allergic reaction to one or more of the ingredients in Amika products, which can cause skin irritation, itching, or redness. A study published in the Journal of the American Academy of Dermatology found that hair care products were a common cause of allergic contact dermatitis.
Hair breakage: Overuse of certain hair care products or styling tools, such as heat styling tools, can lead to hair breakage. A study published in the Journal of Investigative Dermatology Symposium Proceedings found that hair breakage is a common issue for people with curly or afro-textured hair.
Scalp irritation: Some people may experience scalp irritation or itching after using certain Amika products. A study published in the Journal of the American Academy of Dermatology found that scalp irritation is a common side effect of hair care products.
It's important to note that these side effects are relatively uncommon and are often mild. If you experience any of these side effects, you should discontinue use of the product and consult with a healthcare professional.
Additionally, it's always a good idea to do a patch test before using a new hair care product, particularly if you have sensitive skin.
Is Amika Worth It?
Taking everything into account in this Amika hair products review, I can readily recommend the brand for its effective formulas and unique hair styling tools.
Amika has a great selection of hair care products to choose from, all of which are devoid of the harsh chemicals and substances found in many other commercial brands.
Their styling tools are also both effective and efficient, particularly the brush models which combine two tasks in one to help out people on the go.
What's more, Amika's commitment to inclusivity and diversity is refreshing in light of the self-centered, me-me-me sales tactics used by the majority of the hair care industry.
Amika helps find what's right for you while reminding customers of all the other "yous" out there at the same time.
To that end, Amika has a Hair Quiz on their site that helps customers find which products will work best for their hair type. For hair care products that have a proven track record and are reasonably priced, Amika is definitely worth checking out.
Alternatives
If you're looking for hair care brands similar to Amika, there are a few options to consider. Here are some alternatives to Amika:
Briogeo: This brand offers a range of clean and cruelty-free hair care products that are free from sulfates, silicones, and parabens. Briogeo's products are also vegan and gluten-free.
Oribe: This luxury hair care brand offers a range of high-quality products that are designed to nourish and protect your hair. Oribe's products are also free from parabens, sulfates, and sodium chloride.
Living Proof: This brand offers a range of innovative hair care products that are designed to solve common hair problems. Living Proof's products are also free from sulfates, silicones, and parabens.
Amika Hair Products Promotions & Discounts
This Amika hair products review found out that they have a Rewards Program in which customers can accumulate points to gain access to exclusive promotions and deals. You can also receive 15% off your first order if you sign up for their newsletter.
Additionally, with the Refer-a-Friend Program customers can give their friends $10 off their first order of $59, and receive 1,000 points in their Amika account in return.
So far, this Amika hair products review hasn't come across any other discounts or a current Amika flash sale.
Where to Buy Amika
Customers can buy Amika products by visiting LoveAmika.com. Unfortunately, there is no known Ulta Amika collaboration, but you can find them at other select retailers such as:
Sephora
Walmart
Amazon
Birchbox
FAQ
Who owns Amika Hair Products?
The Amika founding team is composed of co-founders Nir and Shay Kadosh, creative director Vita Raykhman, and brand president Chelsea Riggs. Reading both the market and the culture, in the owners
Is Amika all natural?
This Amika hair products review found out that the brand does use some natural ingredients in their products. Each product page has a drop-down full ingredient list that itemizes any non-natural elements.
Is Amika a clean brand?
According to the "About Us" page on their website, Amika uses only clean ingredients. They have also been certified as cruelty-free by Leaping Bunny.
Is Amika keratin safe?
This Amika hair products review found that a select number of Amika's hair care products are keratin-safe, such as the Normcore Signature Shampoo. Make sure to consult each product page carefully before buying for all the info you need.
Is Amika eco-friendly?
Yes, Amika is eco-friendly. The brand is moving towards only using packaging that includes 90% PCR material.
What ingredient is in every Amika product?
While doing my research for this Amika hair products review, I found out that the brand usually uses sea buckthorn berry in most of their formulas.
How long does Amika take to ship?
Amika uses FedEx as their main courier and offers free standard shipping for US orders $35+, including free samples. Anything below that amount is charged a flat fee of $10. Currently, they do not offer international shipping.
It usually takes 3-5 business days to deliver on top of 1-2 business days of processing time. Customers will receive a tracking number from Amika via a confirmation email so that they can monitor their package.
What is Amika's Return Policy?
Customers can return their orders within 30 days of receipt. To initiate the return process, fill out the return form on the website. For more details on refunds and specifics on the Amika warranty, you can visit their FAQ page.
How to Contact Amika
For questions that go beyond this Amika hair products review, you can contact the company through:
Amika customer service number: 1-866-833-3444 (Monday to Friday from 9:00 am to 5:00 pm EST)
Email:

[email protected]

Chat function on Amika website
---
Here are a few other hair brands to consider in your search for the beach wave, sleek straight, or coil curled look:
Get Access to Exclusive Deals
Subscribe for free to get exclusive deals in your inbox. 100% privacy