Loot Crate Subscription Review
About Loot Crate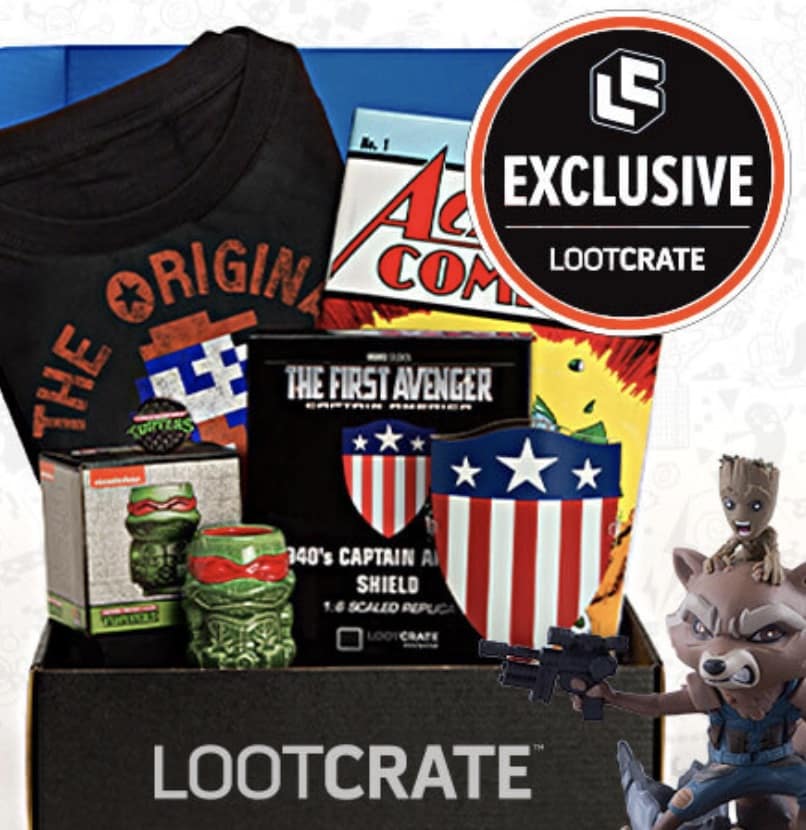 Loot Crate was created to excite a wide range of fans, sending loot boxes full of unique pop culture merchandise to their customers at regular intervals. The box subscription is curated for gamers and nerds, so if you're one or both, you've come to the right place.
Once named America's fastest growing company by Inc. in 2016, Loot Crate fell on hard times and filed for Chapter 11 bankruptcy in 2019. They've since bounced back and resumed shipping their variety of loot boxes to 29 countries around the world.
This Loot Crate subscription review will look at Loot Crate's products, prices, promotions, and what the fans are saying to help you decide if you should join the Loot Crate community.
Overview of Loot Crate
Founded by Chris Davis and Matthew Arevalo in 2012, Loot Crate started with the purpose of giving fans another way to enjoy the things they love. There's a reason this Loot Crate subscription review is being so vague on which fandoms Loot Crate serves: there are SO many. There are 21 different boxes to choose from, many of which feature products from a diverse range of film, book, television, comic, or gaming series so whatever you're into, Loot Crate probably has it.
The loot boxes are designed to be a fun and exciting surprise. You might have a vague idea of what will be in the box, like you might know there will be a Batman shirt, but you'll never know exactly what everything will look like. Plus Loot Crate likes to throw in little surprises like a crate that turns into a proton pack (!). This Loot Crate subscription review didn't even know we had that technology.
It's all to let fans enjoy (and nerd out on) what they love, and this Loot Crate subscription review loves that. The boxes arrive like gifts and Loot Crate welcomes all feedback so that they make sure they're giving their customers the gifts they want. The Loot Crate community gradually grew and grew but then, in 2019, they hit some difficulties that left Loot Crate bankrupt.
Loot Crate Bankruptcy
In August 2019, Loot Crate filed for Chapter 11 bankruptcy protection, disclosing $30 million in debts and a further $20 million in customer orders that were yet to be shipped. They sold to a lender, Money Chest LLC who provided $10 million in funding to help Loot Crate through the process of bankruptcy. They came out the other side and resumed shipping loot boxes.
This process surely took a toll on them and they need buy-in from fans, so if Loot Crate sounds like something you would like, it might be worth signing up to give them the boost. There are also some deals to be had as they look to entice customers.
Pros
A unique subscription overall and with respect to the individual merchandise
It's hard to judge the price of such a unique product but Loot Crate generally (not always) lists a crate value that is generally $10-$15 more than the crate price
Great for collectors
Fans leaving a Loot Crate subscription review love the experience
Wide range of crates to choose from
It really sounds like a lot of fun
Cons
If you don't like everything in the box, the price starts to look pretty large in a hurry
It's all collectibles and clothing (you're not going to receive the movie, or the game, etc.) so it is a bit of a niche product
There were a ton of concerns around crate quality and shipping delays around the time of the bankruptcy
The return policy is vague at best
How Does Loot Crate Work?
We'll get into Loot Crate boxes in the next section, but first, a breakdown of the subscription process:
Pick the crate you want
Select how long you want to subscribe for (subscriptions are generally for 1, 3, 6, or 12 months and come either monthly, bi-monthly, or quarterly depending on which one you choose)
Select your shirt size, shoe size, and waist size (depending on which ones are necessary for your crate)
Input your shipping address, pay, and check out
Receive your crate and enjoy
There is also the option to skip a month on certain boxes if you're going to be away, or aren't a huge fan of that month's box. This just pushes your billing date back to the next month. You can only skip on monthly boxes.
Loot Crate Boxes
Now to the good stuff. There are four categories of Loot Crate boxes:
There are a number of options within each of these categories. Each Loot Box contains merchandise that is only available in that Loot Box and cannot be purchased afterwards. It's all to add to the excitement of receiving the box and increase the collectability.
Pop Culture
The Pop Culture Box is perhaps the riskiest but also the biggest surprise. There's a lot that can fit under the umbrella of pop culture and Loot Crate aims to fit most of it. In lieu of giving one show or movie to organize around, each Pop Culture Box is organized around a theme. For example, the current (up until September 9, 2020) box is the TRAVELERS box containing items from Doctor Strange, Star Trek, and Back to the Future.
The only featured product advertised is a Forward Temporal Demodulation Coil from Back to the Future. If the Pop Culture Box is something you would be interested in, you probably know way more about what that is than this Loot Crate subscription review, so we're going to pass it by. In the past there have been other items like a mini Frodo figure in a Loot Crate Lord of the Rings edition.
The LootCrate box is the original but the Pop Culture category has others. LootCrate DX is an amplified version of the original with more items and a different theme. Currently, it is a medley of Venom, Black Widow, Beetlejuice, and Fallout.
LootAnime is the Anime box (currently My Hero Academia). LootFright has a horror theme (currently A Clockwork Orange). Finally there is LootSci-Fi, which is currently Back to the Future and I can't be sure but it looks like you get a model of the Delorean!
The unique thing about the Pop Culture category is the LootWear box, containing just a single article of clothing (price depends on which article), and the LootRemix box, containing a selection of past items. It's the only way to get old items new, but it's a lottery if you're looking for a specific one.
Pricing and billing schedule for the Pop Culture Box options are as follows:
The Pop Culture Box has less of a single theme but they do offer you a variety of merchandise. It's a little high-risk, high-reward. Some boxes may disappoint while others delight. They also offer options Loot Crate Anime and horror options that are unavailable elsewhere. On the other hand, if you love the idea of Loot Crate but aren't sure about which series you want, the Pop Culture Box is the way to go.
Film + TV
The Film + TV category has more specialized boxes. Each is organized around a single franchise and each box has a theme loosely within that franchise. As an example, the current Harry Potter Loot Crate has a Room of Requirement theme. The current Marvel Gear + Goods box's theme is the favourite of this Loot Crate subscription review. It's Yellow, where – you guessed it – the products are yellow.
The non-Pop Culture categories are newer and as such, it's hard to tell how long Loot Crate will be able to keep up the more specific boxes but the Film + TV Box options have fairly wide-reaching themes. Maybe a Lord of the Rings Loot Crate will appear again in the future.
With their prices per box and shipping schedule, the options in the Film + TV category are:
The positive of the Film + TV Box options is you have a better idea of what you're getting. So if you're a big fan of any of these franchises, you can look forward to such products as the Deadpool Maximum Effort Gym Bag or a scarf from one of the Hogwarts houses in the Wizarding World Loot Crate.
Gaming
The Gaming category offers something similar to the Film + TV category but in gaming. There are four focussed on individual gaming franchises. You can expect boxes organized around the shops of Tamriel in Mercantile from The Elder Scrolls Loot Crate, or a Radscorpion figure from the Fallout Loot Crate.
There's also a generic LootGaming Box that gives gaming fans the unpredictability of the Pop Culture boxes. Past options have included a Halo Loot Crate. Currently, it has a Schooled! theme, where you can find an exclusive Apex Legends mug. It says in large letters on one side, You got schooled! So if you school someone, the mug can tell them for you!
There was an Equip box but Loot Crate ended it. It will soon become the Destiny crate. The Wizkids Games option is unique as you receive a new game (card or board) each time instead of collectibles. This Loot Crate subscription review doesn't have the details on that but the Gaming crates are as follows:
You have options within the Gaming category. If you have a favorite, by all means, get the favorite, but you can also opt for the suspense of the general LootGaming Box, if you're feeling daring.
Limited Edition
The Limited Edition Box gives you something a little different. You know all the crates in advance, and you can pay for them monthly, or all up front which gives you a bonus item or two.
The Universal Monsters Loot Crate gives you four boxes each containing a mask: Creature from the Black Lagoon, Phantom of the Opera, Frankenstein, and The Mummy. Get all four and you'll also receive a mask from both The Wolfman, and Dracula to achieve that dreamed-of completed set.
The Limited Edition Box doesn't have regular shipping intervals as it depends on when you purchase them. The four current options in the Limited Edition are:
Nickelodeon Teenage Mutant Ninja Turtles (Sold Out)
Universal Monsters ($50)
The Fresh Prince ($55)
Pixar ($50)
These are only available on Loot Crate for a limited time so you have to keep track to make sure you get the one you want, but they offer very interesting products with a cool bonus. So if you see one you like, make sure to jump on it.
Loot Crate Pricing
The prices listed are all if you buy just one box. Loot Crate offers discounts if you subscribe for more boxes. These discounts vary but are generally fairly understated. The Limited Edition boxes offer no discount.
Elsewhere, you can get discounts on either just the longest subscription or progressively. The discounts fall in the range of $2-$5 per month and you get a bonus item with select longer subscriptions.
Loot Crate Reviews: What Do Customers Think?
Imagine receiving a box of collectibles for something you really love and that excitement is what customers report both on their site and in the Reddit Loot Crate reviews. Customers love the surprise of receiving the boxes and the unique products they contain. It all sounds like an extremely fun experience to this Loot Crate subscription review.
However, there have been some concerns. In critical Loot Crate Reddit reviews, there are two main areas of complaint: shipping and quality. The shipping complaints are easy to diagnose. They come mainly from around the time Loot Crate was struggling with debt and fell behind on their shipments. Otherwise, there are still some shipping complaints but they're rare. Loot Crate does give a wide range (10-15 days) for when shipments arrive, so if one comes at the start of the window and the next comes at the end, there could be some frustration.
The quality is a separate issue. It again starts around the time Loot Crate started struggling, but the complaint is more that the quality decreased, boxes contained fewer items than expected, and items repeated, which frustrates those who like how exclusive the items are. It seems like this has improved with Loot Crate's finances, but it's worth being a little cautious.
Is Loot Crate Worth It?
Overall, Loot Crate is a bit of a niche product. It's for the enjoyment of fans, those who geek out, to borrow Loot Crate's term, on the things in the crates. It's not a negligible investment so you need to be sure it's something you'd like, but if so, this Loot Crate subscription review concludes that it seems like a great way to get an exciting surprise each month, two months, or three.
Loot Crate Promotions & Discounts
Students get a discount and you can also purchase a $20 Welcome Crate ($60 value) when you join. This is accessed through the Loot Crate vault. There is also 20% off when you level up a subscription (extend it) and plenty of contests for giveaways.
Loot Crate Sign Up
There are two sign up methods on LootCrate.com. The checkout model:
Put an item in your cart and go to checkout
Click sign up
Input your email and desired password
Input your shipping details
Input your payment info and you're good!
And the non-checkout model:
Click Join in the top right
Enter your email and password
FAQ
How to Cancel Loot Crate
Cancellation is very simple. To cancel Loot Crate, go to the Manage Account page. Go to subscription info and then payment info. Click Cancel Subscription at the bottom right, which brings you to a You Could Just Skip a Month page. Click Cancel My Subscription once more on the right of the screen.
Loot Crate Shipping Policy
Loot Crate ships to 29 countries: Argentina, Australia, Austria, Belgium, Canada, Czech Republic, Denmark, Finland, France, Germany, Hungary, Iceland, Ireland, Israel, Italy, Japan, Luxembourg, Netherlands, New Zealand, Norway, Poland, Portugal, South Africa, South Korea, Spain, Sweden, Switzerland, Turkey, United Kingdom, United States.
Shipping varies by destination in both timeline and prices. For an idea, shipping costs $5 to the United States, and $4 to Canada. International orders may incur additional duties or fees which you have to pay upon delivery. When the order ships, you will receive an email containing tracking information.
Loot Crate Return Policy
Loot Crate, as a surprise box service, doesn't offer returns, but if there is an issue with a product, you can submit a claim within 30 days through their help form and they'll resolve the request.
It's a little ambiguous what actually happens, but we couldn't find any high-profile complaints regarding this.
Contact Loot Crate
There is no Loot Crate phone number listed, but you can contact them by:
Clicking 'Contact' at the bottom of the LootCrate.com home page, and then 'Contact Our Support Team'
Email: [email protected]
---
You'd be surprised how many cool subscriptions there are for guys. Check these out:
Get Access to Exclusive Deals
Subscribe for free to get exclusive deals in your inbox. 100% privacy