Lume Deodorant Review
About Lume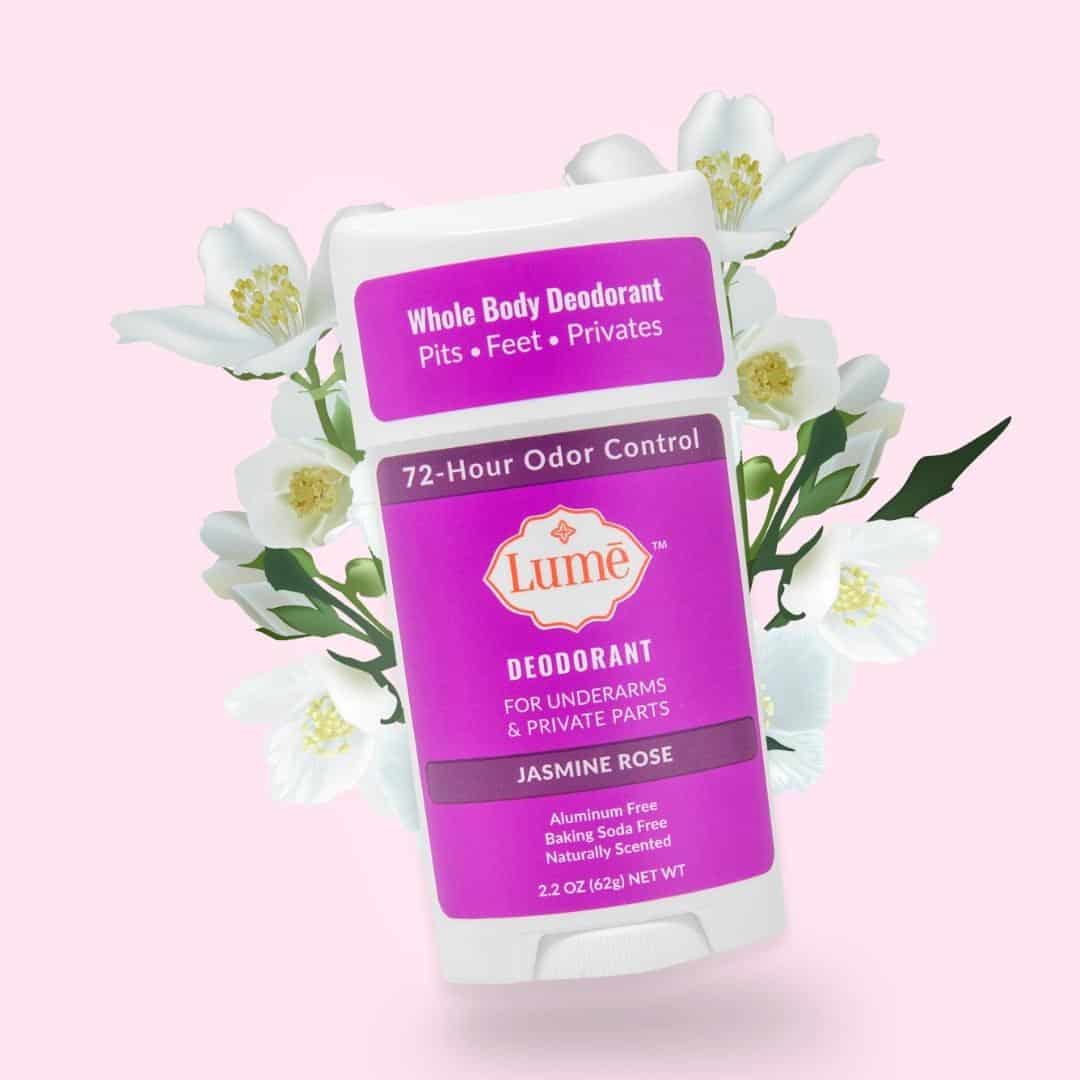 I'm no stranger to the 3pm pit check. The time of the day you worry your deodorant has worn off and you've officially become the smelly one in the office. Whether it's sweat rings or BO, both are a constant fear I think we can all relate to.
Lume is an innovator in the natural deodorant space with its line of vegan, aluminum-free, cruelty-free, and baking soda-free deodorants. Why their products stand out: they're not only intended for the underarms, and can be used effectively on any external part of your body.
Many have been gravitating towards more natural deodorants and antiperspirants as research has shown ingredients in their toxic alternatives to be associated with certain illnesses, such as breast cancer. One study[1] showed that increased deodorant use was associated with an earlier age of breast cancer diagnosis. Results like this are pretty scary since most people use deodorant on a daily basis. But, a natural product, like those that Lume offers, could help ease these fears.
Lume offers a wide range of deodorants, soaps, and wipes for men and women. Good Housekeeping, BuzzFeed, and Adweek have all sung praises for the brand. The efficacy of Lume deodorant has amassed a devoted following of over 145K followers on Instagram, and this number is continuing to grow.
In general, natural beauty products[2] are increasing in demand due to their tendency to be low cost and produce fewer adverse health effects. But for this brand specifically, the Lume deodorant Shark Tank episode, hilariously clever Lume deodorant commercial, and Lume deodorant ad campaigns also helped it pick up much-deserved steam.
In this Lume deodorant review, I'll introduce you to the brand's best selling products, reviews, promotions, and more to see if it's really worth all the hype.
Overview of Lume
Lume was founded by Shannon Klingman, a resident working towards becoming an OB/GYN. During her residency, she met many men and women who lacked self-confidence because of a personal struggle with body odor, and not just from their underarms. Shannon started producing deodorant on her own time, in her own kitchen, to create a solution that would help her patients and clients.
If you're thinking what she came up with some aluminum, toxic mix, I'm happy to say it's anything but. Shannon's goal was to develop deodorant featuring only natural and quality ingredients, with the versatility to be used anywhere on the body. After 10 years of research and mixing up concoctions, Lume was finally born.
After its initial release, Lume has proven to succeed in making those who use it feel more confident. This intrigued Barrie Drewitt, who currently oversees Princeton Consumer Research and has been aptly nicknamed the "Odor Guru." Drewitt was blown away by Lume deodorant and its ability to successfully minimize and eliminate body odor.
How? The brand accomplishes this by removing the bacteria that causes odor upon contact with sweat, using ingredients like aloe leaf juice, a known natural antibacterial agent[3].
So does Lume deodorant really work? Let's find out. Continue reading this Lume deodorant review for a pros and cons list of Lume and its natural deodorant products.
Highlights
Cruelty-free,
Free of baking soda and aluminum
Promotes healthier skin
Offers a variety of natural scents
Doctor tested
Does not leave stains
Products can be used on any part of the body
Clinically proven to control odor for 72 hours
Money-back guarantee if you're not satisfied with your purchase
Free US shipping over $20
Subscribe & Save 10%
Up next in this Lume deodorant review, I'll introduce you to some of the brand's best selling products, and tell you more about Lume deodorant ingredients. Looking for a solution to BO? An alternative to antiperspirant that's healthier for your body? Lume natural deodorant might be what you're looking for. Read on for more.
Lume Sweet Lily Deodorant
Lume's Sweet Lily Deodorant is a whole-body deodorant stick that's suitable for not only your pits but your feet and privates, too. The product is water-based, so the consistency is more like a lotion that you rub in. It's different compared to the solid deodorant sticks you're probably used to but more biologically and environmentally friendly[4].
The Sweet Lily Deodorant is proven to provide 72-hour odor control and is made with naturally derived, skin-safe synthetics with no harsh chemicals. Plus, I love the the fresh scent of lily and gardenia that helps you feel clean and fresh without the worry of pesky residue.
Lume's deodorants contain ingredients such as aloe leaf juice[5], which is known to have antibacterial properties. Part of what causes body odor is the breakdown of bacteria by sweat[6], so ingredients like this can be a lifesaver when it comes to smelling fresh on a hot day. Another helpful ingredient in Lume's deodorant is mandelic acid[7]. This ingredient also has antibacterial and antifungal properties, thereby helping to keep body odor at bay.
If this scent doesn't do it for you, Lume deodorant also comes in a variety of other fresh scents to choose from such as Lavender Sage, Crisp Juniper, or even Unscented. The Sweet Lily Deodorant comes in a pack of two and retails for $24.
Lume Deodorant Tube 2-Pack
I have pretty sensitive skin, so I often opt for unscented formulas. Lume deodorant is conscious of those that need unscented options due to allergies or preferences. Lume is also aware of the fact that some people don't like the feel of roll-on deodorant.
The Lume Deodorant Tube 2-Pack can assist in these concerns with 72-hour odor protection and no essential oils or masking scent oils. Essential oils[8] are capable of causing skin irritation in some individuals. If unscented is not your thing, this Lume pack also comes in a variety of other signature Lume flavors.
Like Lume's deodorant sticks, the tubes are formulated with the same ingredients, designed to "starve out odor-causing bacteria," according to their website. I learned that if the bacteria don't have a chance to access the sweat, then they can't produce the unpleasant odor that so many of us try to avoid.
The tube is designed with the classic Lume deodorant formula and is portable for any moment you need a refresh. Lume recommends using a pea-size amount, and each tube lasts 150 underarm applications and 300 applications for any other areas. The unscented Lume Deodorant Tube 2-Pack retails for $33.
Lume Coconut Crush Deodorant Bundle
The Lume Coconut Crush Deodorant Bundle comes with one tube and one stick of the Coconut Crush deodorant formula. The stick can be directly applied to your underarms, and the travel-friendly tube allows you to control the amount used for other areas of your body.
I think the travel-friendly size comes in handy—especially for jet-setting without checking a bag.
Talking about hopping on a plane, the fresh coconut smell brings the feeling of vacation to your everyday routine. But if that isn't your thing, the Lume Coconut Crush Deodorant Bundle comes in a variety of other scents like Clean Tangerine, Bay Rum, and Unscented. Both products in this bundle provide 72-hour odor control and rub in like lotion for a natural, refreshing, and clean feel that lasts.
The stick offers 110 underarm uses and 220 "anywhere else" uses, and the tube offers over 150 underarm uses and 300 private part uses. A quick note: a dab will do for these deodorants—you don't need much!
The inclusion of the stick and tube allows you to test out both formats and see which is best for you. This Lume bundle retails for $28.
Lume Mini Deodorant Tubes
Scents are very personal. If you're very particular about what you like and don't like, the Lume Mini Deodorant Tubes are an excellent choice. Like the rest of the world, I love samples and have found them super helpful in finding my favorite everyday products.
These Lume deodorant sample tubes allow you to test out Lume's various scents and find the best one for you before purchasing a full-sized product. The Sand & Bloom and Timber & Spice samplers are Lume's best sellers.
Each deodorant tube is 0.75oz, lasting up to 37 underarm applications or 74 elsewhere. Each application of the Lume sampler deodorant offers 72-hour odor control.
The Sand and Bloom Sampler Box offers Unscented, Jasmine Rose, Lavender Sage, Clean Tangerine, and Coconut Crush scents. Whereas, The Timber and Spice Sampler Box contains Unscented, Crisp Juniper, Silver Spruce, Bay Rum, and Warm Vanilla.
Both sets of Lume Mini Deodorant Tubes retail for $30.
Lume Multi-Packs
Now comes my Lume deodorant Multi-Pack review. Another popular seller, each contains 3 full-sized natural deodorant sticks in varying scents. I'll break down what's in each of the Lume Multi-Packs below:
3 Scent Pack (2.2 oz sticks): Silver Spruce, Crisp Juniper, Jasmine Rose
Fall Scent Pack (2.2 oz sticks): Warm Vanilla, Bay Rum, Lavender Sage
Summer Scent Pack (2.2 oz sticks): Coconut Crush, Clean Tangerine, Jasmine Rose
Each deodorant in the Lume Multi-Pack provides 72-hour odor protection, lasts for 110 underarm applications, and 220 uses elsewhere. The deodorant is designed to never stain your clothes with icky residue. Each multi-pack retails for $36.
Deodorant Tube 3-Pack
The Lume Deodorant Tube 3-Pack is very similar to the Lume Multi-Packs, but the difference lies in the travel-friendly size. With delightful scents, I could put one in my gym bag, purse, and bathroom cupboard for a little refresh no matter where I am.
The deodorant tubes offer the same BO-fighting formula as the Lume deodorant sticks with 72-hour odor protection and more precise application whenever (or wherever) you need it.
The Lume Deodorant Tube 3-Pack comes in a variety of scents, lasting for up to 150 underarm uses and 300 uses in other desired places. Use when you travel, on the go, or before a stressful work meeting to tame your stress sweats. This Lume deodorant pack rings in at $50.
Lume Clean Cotton Deodorant Wipes
The Lume Clean Cotton Deodorant Wipes contain the same formula as Lume's natural deodorant, in an oh so convenient wipe form. The biodegradable, compostable, and disposable wipes can be used on any part of your body where you experience odor.
I think these Lume wipes are an excellent option in between showers, after a workout, or when you need a quick refresh on the go. Rely on it if you must, but there is no guarantee of lasting odor control with this wipe.
Lume Clean Cotton Deodorant Wipes come in a clean cotton scent with soothing botanicals for dry or irritated skin. These wipes come in a pack of 3, each containing 15 wipes, priced at $17.
Lume Sun & Sand Soap Bundle
The Lume Sun & Sand Soap Bundle is naturally scented with essential oils and botanicals. These soaps are free of SLS, parabens, artificial dyes, and phthalates and infused with sustainably sourced plant-based oils. They're hypoallergenic and safe for all external use. What's not to love?
Lume's soaps contain only 10 ingredients. Among them is sodium palmate[9], which is known to be safe and gentler than other common soap ingredients. Another gentle but effective player in this soap blend is sodium cocoate[9]. Both of these ingredients are plant-derived.
I've read that Lume soaps are sudsy and moisturizing, plus great as a base for shaving. I've been burned more than once shaving with regular soap, so this little detail comes in handy.
Lume Sun & Sand Soap Bundle contains Jasmine Rose, Lavender Sage, Warm Vanilla, Coconut Crush, and Clean Tangerine scents in 5 oz bars. This bundle retails for $27.
Lume Deodorant Subscription
For devoted lovers of the brand, Lume offers a subscription program. Signing up for a subscription entitles you to a 10% discount on most products (some are ineligible for discounts).
You can choose to receive a delivery every one, two, or three months. It's a convenient and easy way to get your favorite Lume products delivered right to your door in a matter of days (within 2 business days to be exact).
Lume Deodorant Reviews: What Do Customers Think?
So, what do customers think of Lume deodorant? Between comments on the brand website and all of the Lume deodorant reviews Amazon has, I've gathered that many people love the product and sing its praises.
Take a peek at these ratings from lumedeodorant.com:
Solid Deodorant Stick: 4.7/5 stars, 7,224 reviews
Cream Deodorant: 4.7/5 stars, 2,873 reviews
Cream Deodorant Bundle: 4.7/5 stars, 3,379 reviews
Deodorant Wipes: 4.8/5 stars, 2,201 reviews
One Lume deodorant review that reads, "from literally day one I was floored with how great this works – it works better than the extra strength stuff I was using before- and can we talk about how my feet don't stink??" It's become a game-changer for many. Eliminating BO successfully from not only their underarms but other parts of the body as well.
While snooping around on Amazon for this part of my Lume deodorant review, I also discovered impressive ratings. Lume deodorant sticks garnered 4/5 stars out of 3,469 reviews, and Lume deodorant tubes have 4.2/5 stars out of 1,439 reviews. Here's what one shopper had to say:
"I can be a real stinker. I went aluminum free about six months ago…As spring hit, I was actually going to go back to the regular brand aluminum based when I saw this on Amazon. I've been using this for a bit now and I have even surprised myself at how stink-LESS I am. This stuff is going the job, including when I'm working in the yard."
Swapping over to Influenster to check out the Cream Deodorant, I found a 4.1/5 star score from 109 shoppers. Here's how it breaks down:
5 stars: 50%
4 stars: 23%
3 stars: 16%
2 stars:5%
1 star: 6%
One Lume Deodorant review read: "It smells great almost kinda hippy like but clean. The smell goes away but you have no body odor or stink later on. No rash and you can use it anywhere you have a body odor issue. Great products and I will continue to be a Lume shopper!"
I found a ton of positives about Lume, but with good always comes a little bad. Not all users had the same experience.
Not everything will work for everyone, and some people have ultra reactive and sensitive skin. It's important to do your research before purchasing and consider any allergies or sensitivities you may have to a product.
Is Lume Deodorant Worth It?
Perhaps you've seen a Lume deodorant ad, and you're wondering whether or not you should buy it. Based on what I've seen while writing this Lume deodorant review, the brand's products provide many people with a serious confidence boost when it comes to BO.
Lume deodorant is a versatile all-body product, completely natural and safe for the skin. When you combine safety, multi-functionality, and countless positive reviews, Lume deodorant comes out on top.
Sometimes finding the right product for you requires a little trial and error, or initial research to make sure that it's right for you. If you have allergies or sensitive skin, keep this in mind when consulting Lume deodorant ingredients. Many people describe Lume as life-changing, so I think it's worth a shot.
Lume Promotions & Discounts
Though I couldn't find a Lume deodorant discount code, I did see that by subscribing, you'll save 10% on every order. Orders over $25 ship for free. To receive alerts for a future Lume sale, subscribe to the Lume newsletter on the website.
Where to Buy Lume Deodorant
Shop the full product collection on the brand website, LumeDeodorant.com. Alternatively, you can purchase products from:
Lume deodorant Amazon
Lume deodorant Walmart
Lume Subscription Sign Up
To subscribe for recurring Lume deodorant shipments, follow these steps:
On the Lume website, choose a product that you would like to purchase. Click 'Subscribe' (note that not all products are eligible for subscription).
Choose the quantity that you like, as well as your delivery schedule (every 1, 2, or 3 months)
When you hit 'Subscribe Now' your discount will be applied at checkout
FAQ
How does Lume deodorant work?
Lume works by eliminating odor-causing reactions on your skin's surface. By creating a barrier that blocks fluids like sweat, urine, blood, and semen, it prevents body odor occurring as a result.
Is Lume deodorant safe for private parts?
Yes, Lume is safe for private parts. It's safe for all external areas of your body.
How long does Lume take to ship?
Shipping within the US will take 3-5 business days via USPS and is free with purchases over $20. Lume also ships to Canada, with an additional fee. Canadian orders may take anywhere between 7-21 business days via USPS and the price will vary depending on your location.
Once you place an order, Lume sends a confirmation email containing a tracking number. You can check the status of your order by inputting this number into the order tracking page of the Lume website.
How do I return Lume deodorant?
Lume honors returns but does not do exchanges. Products are eligible for return within 30 days of purchase. But, Lume wipes and soap are final sale and cannot be returned.
You'll receive a full return but just keep in mind that it's your responsibility to cover the return shipping. International orders do not qualify for returns.
To initiate a return, simply contact [email protected]. Once your return is approved, customer service will send you a return label to get your return started.
How do I cancel my Lume subscription?
You can cancel your Lume subscription by signing into your Lume account and navigating to your subscription preferences. Alternatively, if you didn't create an account, you can shoot an email to [email protected] to initiate the cancellation process.
How to Contact Lume
If you have any questions beyond what I included in this Lume deodorant review, you can contact the team via:
Contact form on the website
Email:

[email protected]

Mail: P.O. Box 165, Chaska, MN 55318
---
Explore your options for natural skincare. Check out these popular brands:
Get Access to Exclusive Deals
Subscribe for free to get exclusive deals in your inbox. 100% privacy