Revaree Review
About Revaree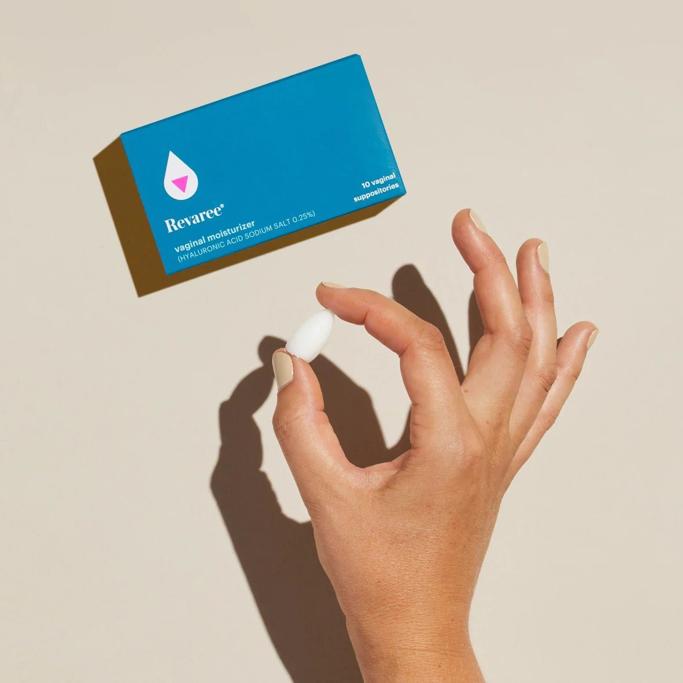 Revaree is a hormone-free vaginal suppository for women that Bonafide Health sells to help with vaginal dryness and atrophy, a common problem for women as they age.
Bonafide Health has 12.5k Instagram followers and has received worthy mention in the media, including Good Morning America, New York Times, Doctor Radio, and Allure Magazine.
According to their website, Revaree is recommended to women by over 5,600 doctors to address concerns relating to their vaginal health.
In this Revaree review, I'll take a closer look at the brand, product, health benefits, customer reviews, and promotions to help you decide if Revaree is what you need to make meaningful changes to your health and life.
Overview of Bonafide Health, Creator of Revaree
Bonafide Health is a non-prescription pharmaceutical company founded in 2011 by Mike Satow. With a team of over 50 experts and the slogan "stronger by nature," Bonafide Health aims to address the concerns that women experience throughout their lives using safe, hormone-free, and clinically proven ingredients.
Before diving deeper into this Revaree review, here are some key highlights about the company:
Highlights
Research supports hyaluronic acid for vaginal dryness
Hormone-free approach to vaginal health
Natural ingredient
Rewards program for additional savings
Made in the US
Easy to use
Positive, life-changing reviews
The spotlight of this review will shine on Revaree, a product Bonafide Health makes to improve sexual function and satisfaction by addressing discomfort associated with vaginal dryness.
However, it is worth mentioning that Bonafide Health offers a wide range of products from essential vitamins and minerals to specialized products to support women's health. OK, let's get into it!
Revaree Review
If you struggle with age-related changes to vaginal health and sexual intimacy, here is your reminder that you are not alone. Approximately 50% of women experience changes in vaginal health before, during, and after menopause, as this study shows.
Women experience symptoms associated with vaginal dryness, including itching, pain during intercourse, and recurrent urinary tract infections.
Although you may not be able to reverse the physiological changes that occur with age, this Revaree review is here to tell you that there are safe and effective ways to keep your sex life youthful, playful, and satisfying.
Revaree has proven its effectiveness in reducing vaginal dryness and improving comfort during sexual intimacy. You can purchase one box, which includes 10 vaginal suppositories, for $60.
As a hormone-free suppository, you can rest assured that you are inserting a product into your body that is made with ingredients that will not be harmful to your health.
If you are satisfied with Revaree and want to make a longer commitment, you can save 25% by subscribing to their monthly plan, which will cost $45 per month. You can also choose the three-month subscription option for even more savings, dropping the cost down to $40 per box.
Who Is Revaree For?
Vaginal dryness is associated with a reduction in estrogen. So Revaree is frequently recommended for women experiencing menopause and other factors that may change estrogen levels, including:
Revaree is a great option for those who are looking to support their vaginal health but are uncomfortable with the thought of using estrogen or hormonal therapies. Revaree is made using hyaluronic acid, resulting in no hormonal changes.
But, if you're experiencing vaginal dryness, itching, or discomfort during vaginal intercourse, it's always best to talk to your doctor first.
What Are the Benefits of Revaree?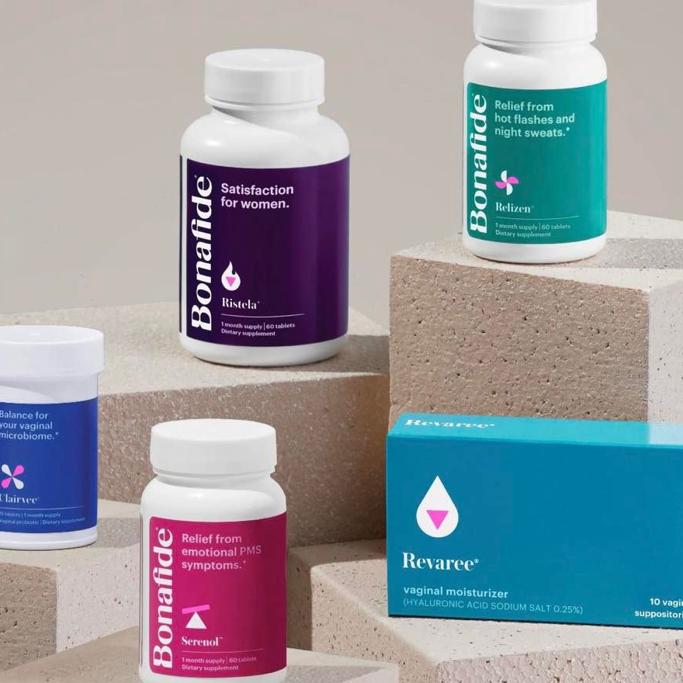 Revaree is a lubricating suppository that moistens the vaginal canal and improves symptoms associated with vaginal dryness, including pain and discomfort during sexual intimacy.
According to Bonafide Health, women using Revaree experience improvements in vaginal dryness, itching, and pain during intercourse.
Studies show that using hyaluronic acid suppositories effectively decreases vaginal inflammation and tissue damage associated with menopause and cancer therapies.
This Revaree review believes it's important to consider benefits beyond the physical ones. Sexual function plays a significant role in confidence and healthy relationships, giving Revaree the potential to benefit your quality of life and relationship satisfaction.
How Does Revaree Work?
During menopause and other stages of life that cause hormonal fluctuations, estrogen levels can decrease significantly. Because estrogen plays a key role in regulating the female reproductive tract, a decline in estrogen levels may lead to vaginal atrophy.
This is a common condition in which the vaginal walls become thin, dry, fragile, and inflamed.
Hyaluronic acid primarily works by maintaining moisture by collecting water molecules, which help to lubricate and rejuvenate dry and damaged vaginal tissue, making it an excellent alternative to hormonal therapy for women suffering from vaginal atrophy.
Hyaluronic acid also plays an important role in tissue regeneration and the processes associated with wound healing, which contributes to its ability to repair the damage resulting from vaginal irritation.
What Are the Ingredients In Revaree?
Hyaluronic Acid: This is the main ingredient in Revaree, and is a naturally occurring polysaccharide molecule. Hyaluronic acid comes from mesenchymal cells, which contribute to the makeup of the endometrium, a layer of tissue that lines the uterus.
This molecule is known for its water-retaining properties and ability to reduce inflammation and increase tissue moisture.
Each suppository contains 5mg of hyaluronic acid sodium salt and semi-synthetic glycerides, a compound used in suppositories.
How to Take Revaree and Dosage
Revaree is a vaginal suppository, meaning that you insert it directly into your vaginal canal. Bonafide Health has made its product easy to use and designed it for your comfort.
Here are some basic steps you can follow when you are ready to use Revaree:
Remove the suppository from its packaging
Find a comfortable position
Hold the suppository between your thumb and pointer finger
Place the suppository in the vaginal canal and use your finger to insert
Lay down in a comfortable position to prevent fluid leakage as the suppository dissolves
For best results and maximum relief, insert one suppository into your vagina at night every 2-3 days for 30 days.
Revaree Side Effects
As far as this Revaree review can tell, there are little to no Revaree side effects. The most reported side effect has been mild vaginal irritation with use, and it is difficult to determine if this is from hyaluronic acid or the underlying vaginal irritation.
Revaree Reviews: What Do Customers Think?
I've come to the point in my review where it's time to find out what customers are saying about this suppository. The usual sources like Trustpilot and Better Business Bureau had no reviews, so I found the best Revaree reviews and customer testimonials were from Bonafide Health's website and Amazon:
Bonafide Health: 4/5 stars based on 708 reviews
Amazon: 4.4/5 stars over 1,463 global ratings
Customers describe Revaree as a "lifesaver" and a "gift from the heavens!" which is high praise for a health supplement. One happy customer left an amazing success story on the brand website:
"After my hysterectomy, things gradually began to deteriorate. Despite many different creams, pills, lubricants, and treatments prescribed by my doctors, intimacy became so painful and anxiety-causing that we simply gave up. I struggled with self-esteem and depression. I felt completely defeated and had just given up."
They went on: "I stumbled across Revaree and decided to try one last thing but was very skeptical. I used the product for 3 weeks and noticed great relief of symptoms. Then I dared to test the waters: IT WORKED!!!!!"
"For the first time in a decade, intimacy was possible and comfortable! I am writing this review with tears on my face because Revaree gave us back what we had lost. I cannot say how thankful I am! I will be a loyal customer for the rest of my life."
Customers give credit to Revaree when it comes to noticing improvements in their intimacy and marriage. One satisfied customer wrote:
"Revaree really works. I am 67 years old and have dealt with dryness and pain during intercourse for a long time. I have used many other creams and nothing worked for me. After using three suppositories I had relief from both symptoms. Revaree brought romance back into my marriage. Thank you Revaree!"
This Revaree review is pleasantly surprised by the number of glowing reviews customers have left for it. I'm always happy when customers see real results and improvements in their health and happiness.
Is Revaree Worth It?
Are you tired of vaginal dryness and discomfort getting in the way of your sexual enjoyment and intimacy? If so, this Revaree review can confidently say that it's worth trying.
Research shows that hyaluronic acid suppositories effectively reduce vaginal dryness, inflammation, and discomfort in women experiencing vaginal atrophy.
There's also no red flags surrounding Bonafide Health, the maker of Revaree. They appear credible when creating products using safe, effective, clinically proven, hormone-free ingredients.
I'd like to see more information about how the brand started but that's a minor detail.
Revaree Promotions & Discounts
At the time of writing this review, I couldn't find any other Revaree coupon or discount. But, they do seasonal discounts from time to time, so always keep your eye out for some deals!
You can also save on your Bonafide Health purchases by signing up for the Bonafide rewards program. With your membership, you can collect and save points with each purchase. When you accumulate enough points, you can receive special discounts on your products.
Where to Buy Revaree
At this time, the best place to buy Revaree is directly through the Bonafide Health website.
FAQ
How many Revaree should I use daily?
You can use one Revaree suppository every 2-3 days.
Is Revaree vegan?
It is not clear if Revaree is vegan. So it's best to reach out to the Bonafide Health customer service team directly to ensure that there are no animal products used in the production of Revaree.
Is Revaree gluten-free?
Revaree appears to be gluten-free. However, if you have a gluten intolerance or allergy it is always best to double-check with the brand.
What are the supplement facts of Revaree?
Each vaginal suppository contains:
Hyaluronic Acid Sodium Salt: 5mg
Semi-Synthetic Glycerides
What is Bonafide Health's Shipping Policy?
Bonafide Health offers free shipping on all subscriptions and US orders over $20. Your order will most likely arrive within 2-3 business days with the standard shipping option.
What is Bonafide Health's Return Policy?
If you are unhappy with your Revaree purchase, you can contact the Bonafide Health customer service team using one of the methods below. However, the brand does not offer a return or refund policy.
If you have a subscription you would like to cancel, you can do so at any time. To avoid extra charges, you must cancel your subscription at least 5 days before your next payment is due.
How to Contact Bonafide Health
I hope you found what you were looking for in this Revaree review. To get in touch with the team at Bonafide Health, you can use one of the following methods:
Email: [email protected]
Phone: 833-266-2343
Text: 415-319-9551
Instant Chat: Help Center
Contact Form: Here
---
For more women's health products, check out these brands:
Get Access to Exclusive Deals
Subscribe for free to get exclusive deals in your inbox. 100% privacy