Simple Intermittent Fasting Review
About Simple
With Simple, losing weight and getting healthy is all in the name. Proving that intermittent fasting can be healthy, and—dare I say it?—fun, the service delivers a thoughtful, informative, and customizable experience to help you responsibly reach your goals.
Sound too good to be true? Maybe its 300k followers on social media or 6 million users will give you an idea of how many people love Simple's…well, simple approach.
If you're ready to learn more, I've got all of the must-knows about the app packed inside this Simple intermittent fasting review.
You'll get to know the folks behind the service, what it's like to use — and let's not forget the gem that is customer feedback. Good to go? Let's dive in.
Overview of Simple
Unlike restrictive diets, the laws of intermittent fasting encourage eating—just in a recommended time window. For many, that means following a 16:8 fasting to feeding plan, wherein you fast for 16 hours and eat freely for the following 8.
Of course, there are 14:10, 18:6, and even 20:4 plan options too. But the first thing I noticed about Simple was its casual (yet structured) direction of fasting, almost as if they wanted to help you stick to what's realistic for you and help you succeed…imagine!
In a world of rigid diets, this science-backed way of eating works to support your body, and many users actually report finding it quite easy after the first few days.
So what's the deal with Simple? It was developed by Alex Ilinskiy and Mike Prytkov to provide a truly simple approach to a conceptually daunting diet.
Launched in 2019 in Cyprus, Simple is available around the world. Explaining the science behind intermittent fasting in a digestible format, the sleek app helps you stay on top of your habits by tracking, monitoring, and learning.
What's it like? I'll tell you all about it in this Simple intermittent fasting review, but first, let's check out the service's highlights.
Highlights
User-friendly app
Simple approach to IF
Fun, informative science-backed info
Free basic option available
Subscribe today for $1
Before I get this thing rolling, if you're new to intermittent fasting, you may be wondering what the way of eating is all about.
Linked to easy weight loss, a longer life span, and improved cognition, if you're looking to make one simple diet change to experience better health, many experts say it should be this one.
Now that I've covered the basics, it's time to get into the inner workings of this Simple intermittent fasting review. Below, I'll take you through what's offered in the app and what it's like to use it.
Simple Life App Review
Everything about Simple is so straightforward I'm going to need a thesaurus to find some more exciting variations for the term. "Plain sailing" comes high on the list, and I think that's a great phrase for how easy the app makes it to stick to your fasting goals.
What's different about Simple? It's all about helping you create long-term results—something that's so unlike the temporary effects that fad diets promise.
Welcoming all food types into your diet, the process involves eating a normal, balanced diet without fearing offsetting your macros or going over your maximum 50 grams of carbs per day (for reference, a medium-sized potato has 37). To start using Simple, take the quiz and download the app.
After a few set-up questions, you're free to roam your dashboard and explore the tabs. Here's what you'll find in each.
Simple Tracker Tab Review
This tab is where you'll track your diet and exercise. Simple will walk you through the steps of using each of the features available through the Tracker Tab, so you'll find a quick breakdown of what's inside.
Water Tracker
Activity Tracker
Personal Health Insights
Fast Timer
You'll also update your weight loss progress and check off daily tasks in this section of the Simple app. Helping you to learn about how intermittent fasting affects your body, the service makes it easier to understand, and therefore, stick to your new lifestyle.
Simple Explore Tab Review
I'm obsessed with this tab. This section is where you'll explore articles, news, and coursework—but don't worry, it's all delivered in a fun, easy way. There's no college degree required to understand any of it. Pick through categories like:
Brain Clarity
Understand Your Body
Hunger
Fastic Basics
Educating you so that you can understand what's going on and how intermittent fasting supports a healthy metabolism, the Explore Tab is where it's at if you want to know more about the lifestyle and crush your goals.
Simple Content Review
What can you expect in terms of Simple Content? Just that. It's really simple content delivered in a user-friendly way.
Along with graphic-driven articles, Simple offers cool content like flashcards that teach you important concepts in a matter of seconds.
You'll also get the chance to explore success stories and browse healthy recipes. This app is content rich with tons of really helpful information.
Simple Subscription Review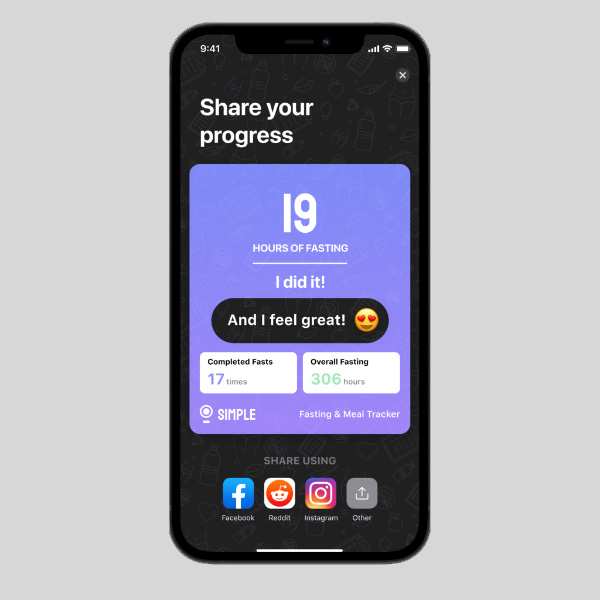 Though Simple offers a free basic service, you'll have free range of the app's features when you subscribe.
Delivering personal intermittent fasting plans, subscribing means you can roam through endless guides and activities on the app and access expert-led education and motivation to keep you on track.
So, how much is the subscription? If you sign up as soon as you finish the quiz, you can start your first week for just $1. Normally, Fastic costs about $20 per month. After you finish your trial, you'll have some options, namely deciding whether you'd like the 12-week or annual membership.
12 weeks: $41/term
Annual: $68/term
Who Is Simple For?
It's recommended that you consult your healthcare provider before you start any new diet or fitness program. You should not join Simple if you are:
Pregnant or breastfeeding
Have an eating disorder or a BMI of under 18.5
Have a health condition like diabetes
Are taking prescription medication
If you want to get healthier, lose weight, and are interested in long-term results, Simple comes highly recommended. Approaching the lifestyle from a fun and informative angle, it's great for newcomers or those who thrive with accountability.
Simple Reviews: What Do Customers Think?
No Simple intermittent fasting review would be complete without customer feedback, and that's precisely what you'll find here. Scoping out the web for helpful comments and ratings, you'll read real users' experiences with the app below.
My first stop? Trustpilot. With 4.2/5 stars from 865 users, check out the snapshot here to see how that score breaks down.
Excellent: 60%
Great: 18%
Average: 9%
Poor: 2%
Bad: 11%
The brand's Trustpilot profile is filled with comments about how easy the app is to use, the success it brings, and appreciation for the information doled out. One Simple intermittent fasting review read:
"Nice app with lots of great features also in the free version! Cannot recommend it enough. Thinking about upgrading to the premium version. This is really nice, helpful and indeed SIMPLE."
With a nice flow to it and helpful notifications, the app is loved by many. Does this reputation hold on other platforms?
I headed over to the App Store to find out and saw a 4.8/5-star score from 117,554 users. That's pretty great if you ask me. One Simple intermittent fasting review read:
"It's got everything…to tracking my meals, adding ingredients/foods I'm eating at what time…It's got so many details. You can adjust the plan, make it your own. You can start with something easy and work your way to longer fasting periods when you're comfortable. I'm super impressed with the app and I'm excited to stick to it."
That's something I loved about this app too. It meets you where you're at and guides you into the lifestyle gradually. Nothing like the shock of eliminating 95% of the carbs you're used to.
My last Simple intermittent fasting review comes from the Google Play Store. The app received a 4.4/5-star score from 42,179 folks there. Here's what one had to say about it:
"I love it! I've done self-guided IF and using the Simple App, I've learned SO MUCH and ultimately, I haven't been doing it right all along. I love the insights and the layout of their slideshow articles…In just 12 days I've dropped 5.2 pounds!"
It's very possible to do diets wrong. That's why so many people don't see results. Using a service to guide you the right way is key to getting the results you're after.
You'll have access to basic features in the unpaid preview, but subscribing will give you a customized, more informative experience to drive your desired outcomes.
Simple vs Fastic
You came to this Simple intermittent fasting review to find out about the service, right? But to show you what makes it different from other options out there, I thought I'd do a quick comparison between it and another similar service, Fastic.
I've reviewed Fastic before and it's an awesome service. It's quite comparable to Simple, but there are a few key details that may make you choose one over another.
Just like Simple, Fastic offers a free basic option for its service with the chance to upgrade should you want access to advanced features. Both of the apps are centered around intermittent fasting, and both of them approach it from a knowledge-based level.
I found that both services have similar graphics even—cute figures and bright colors that make reading the information a little more entertaining. So where do the differences come in? Mostly in membership price but also in the way they deliver information.
With Simple, you'll enjoy realistic, moving images along with bullet-pointed snippets of information. Fastic is a little lengthier in its explanations. As for the prices, Fastic offers plans for $4.60/week, whereas Simple is offering plans for $1.40/week.
Is Simple Legit?
It's my job in this Simple intermittent fasting review to give you the full scoop, and that means looking into any potential red flags. I checked out numerous sites in search of them and didn't come out with much in the way of negative reviews.
It seems that most negative Simple intermittent fasting reviews are from those who just don't vibe with the app. Not every app will be for everyone.
That's why I love that Simple offers a preview of its app for free. Bypass subscribing and check out the app with a few "x" clicks in the top-right hand corner of the screen. Subscribe if you want more content. It's as easy as that.
Is Simple Worth It?
Getting to know Simple was like finding a mentor. Not only would it help me stay accountable and on track, but it would teach me valuable lessons along the way in an easy-to-understand format—and that's super helpful for those new to the whole fasting concept.
The cool part? You can use Simple for free. That's right. You won't have access to your custom plan, but you can sneak peek at the app to see if it's the right fit and play around with the Tracker and Explore features. If you do decide it's a good match, you can subscribe at any time.
Simple's plans are super affordable and I love that you don't need any fancy foods or recipes to start, you don't even have to change much to begin. The app works with you, where you are now and will ease you into a tighter fasting window over time. Engaging, informative, and easy to understand, I give Simple two thumbs up.
Simple Promotions & Discounts
If customer reviews are the hot fudge to this diet-friendly sundae, then consider promotions the cherry on top.
Since no Simple intermittent fasting review would be complete without the fun toppings also known as deals, I scouted the site to see what I could find.
You can use the basic features of Simple for free!
Sign up today to pay as low as $1 for your first week
Save up to 88% on Book Bundles
Thinking those bullet points look a little lonely? They're not. Deals like those stand just fine on their own—no Simple intermittent fasting promo code is needed.
Where to Buy Simple
You can start your streamlined approach to intermittent fasting right at Simple.life. To enjoy the service's user-friendly app, you'll need to download it from the Google Play Store or App Store.
FAQ
Who owns Simple?
Alex Ilinskiy and Mike Prytkov founded Simple. Setting out in 2019 to make intermittent fasting more approachable, the two took an AI-centric approach to customize the user experience.
How do I cancel my Simple Subscription?
Simple is an auto-renewing service. That means even if you have a monthly subscription, it will automatically renew at the end of it.
To cancel your account, you'll need to do so 24 hours before your next billing date. Follow these steps to do it:
Head to your account on simple.life
Scroll down to 'Membership & Billing'
Click 'Cancel membership'
If you signed up through the Google Play Store or the App Store, make sure you go through your account on either of those platforms. Canceling directly through Simple will not cancel your subscription set up through either of these 3rd party services.
What is Simple's Privacy Policy?
No matter what app you download or website you visit, your personal data is going to be collected. That's simply the name of the game with any digital service, or well, any service.
What's required? Since Simple is a diet app, you can expect all the regular information to be collected like:
Personal information (Name, gender, date of birth, weight, height, eating patterns, etc.)
Diet & Activities (meal intake, hunger times, activity patterns, etc.)
Along with this personal information that you'll input, when you use Simple, its website and app will automatically collect information about your use habits, such as:
Device (mobile device, hardware model, operating system, etc.)
Location (IP address, time zone, etc.)
Application usage (how long you use it for, when, where you click, etc.)
Simple may use 3rd party tools to help customize and personalize the app or will use your data to generate statistics. In most cases, the service will use your data to help offer and improve your experience with its app, process payments, and recommend information of interest according to your browsing habits.
You have the right to revoke your consent for Simple to use your data, just keep in mind that withdrawing it all may result in not being able to use the service or app.
What is Simple's Refund Policy?
All payments you make to Simple are non-refundable, so keep that in mind when signing up. You'll have options to join for a month, 3 months, or a year, and even if you cancel before the end of your subscription term, you cannot get your money back.
Try the service's month-to-month option if you'd like to test the waters before committing. If you find that it's not for you, be sure to cancel your account 24 hours before your next billing date to avoid the recurring charge.
How to Contact Simple
Need information I didn't include in this Simple intermittent fasting review? Get in touch with the brand by emailing [email protected].
The brand's customer service team is pretty responsive, so you can expect a reply within 24 hours.
---
Check out some other articles you might like:
UMZU Natural Supplements Review
Get Access to Exclusive Deals
Subscribe for free to get exclusive deals in your inbox. 100% privacy