Tonal Gym Review
About Tonal
Tonal is a relatively compact, wall-mounted machine that offers the "gym experience" without the commute, monthly fees, and shared locker room.
With Tonal, you can get a full-body workout without ever having to walk out the front door. The mini-gym includes pre-set workouts and adjustable equipment with the innovative ability to analyze and correct your form.
No one is motivated to work out 100% of the time. Active individuals don't exercise because they are always motivated; they exercise regularly because they have found ways to ensure they exercise even when not motivated! Active individuals create habits, environments, and systems – such as investing in Tonal and having an accountability buddy – that nudge them towards exercise. 
But why should you exercise? Have you ever heard the popular adage "movement is medicine"? Physical activity positively impacts your current (and future) body and mind.
Physically active people – regardless of age group or ethnicity – have higher cardiorespiratory fitness, health, and wellness levels and a lower risk of developing several chronic medical conditions, including cardiovascular disease.
Need more incentive to pause Netflix to go for a walk? Physically inactive individuals have a 20% to 30% higher risk of global mortality. 
As mentioned above, the benefits are not only physical. Exercise reduces anxiety and depression. It improves self-esteem, cognitive function, sleep quality, energy, stamina, and stress management skills. Possibly the best part is that you don't have to overhaul your life to get these results. Thirty minutes of walking three days a week will pep you up! 
Another systematic review found that exercise reduces symptoms of anxiety in patients with panic attacks and other anxiety disorders. Moreover, patients treated with antidepressants experienced better outcomes when incorporating physical activity into their routine.
In this Tonal gym review I will take a close look at the brand and its equipment, membership details, customer feedback, and more to help you decide if this exercise brand is worth the buy.
Recent Studies About the Benefits of Physical Exercise
Improved cardiovascular health
According to a 2018 study regular exercise can help to improve heart health by strengthening the heart muscle, reducing blood pressure, and improving circulation.
Increased muscle strength and flexibility
As reported by a 2017 study exercise can help to build and maintain muscle mass, which can help to improve balance, coordination, and overall mobility. It can also help to improve flexibility and range of motion, reducing the risk of injury.
Reduced risk of chronic diseases
According to a 2017 study regular exercise can help to reduce the risk of chronic diseases such as diabetes, heart disease, and certain types of cancer.
Improved cognitive function
As per 2021 research findings exercise has been shown to improve cognitive function and reduce the risk of cognitive decline in aging individuals.
Improved mental health
As reported by a 2019 study exercise can help to reduce stress, anxiety, and depression, improving overall mental health and well-being.
Increased social interaction
As per 2021 research findings participating in group exercise classes or activities can provide opportunities for social interaction and help to reduce feelings of isolation and loneliness.
Pros & Cons
This Tonal gym review will now pros and cons some pros and cons of the brand.
Pros
Innovative resistance system: The electromagnetic resistance system is a cutting-edge technology that provides smooth and precise resistance adjustments, enhancing the overall workout experience.
Automatic adjustment to users' bodies: The smart technology of the machine automatically adapts to the user's body, ensuring optimal positioning and alignment during exercises.
Preset workouts and adjustable equipment: The machine comes with pre-programmed workouts, making it easy for users to get started. Additionally, the adjustable equipment allows for customization and modification to suit individual preferences and fitness levels.
Personalized features: The machine offers personalized features like spotting and form correction, providing guidance and feedback to improve exercise technique and prevent injuries.
Multiple user support: The machine supports multiple users, making it suitable for households with multiple individuals interested in using the equipment.
Quick installation: The machine can be installed quickly in under an hour, allowing users to start their workouts without significant delays.
Access to on-demand classes: Membership provides access to a wide range of on-demand classes, including yoga and boot camp, offering versatility and variety in workout options.
Payment plans available: The availability of payment plans for different durations allows users to spread out the cost of the machine over time, making it more affordable for some individuals.
Compact design: The machine is designed to be conveniently compact, requiring a specific amount of space for installation, which can be suitable for home use.
Cons
Space requirements: The machine requires a significant amount of space for installation, including a minimum of 7 feet, 10 inches of vertical space and 7 feet of width. This may pose limitations for individuals with limited workout space at home.
Cost: The innovative features and technology of the machine may come with a higher price point compared to other home workout equipment.
Dependency on technology: As the machine relies on smart technology for automatic adjustments and personalized features, any technical issues or dependencies on software updates or connectivity could potentially impact the functionality.
Limited exercise options: While the machine may offer a range of preset workouts, it's important to consider if it covers all the exercise modalities and variety of workouts that align with individual fitness goals and preferences.
It's essential to carefully evaluate these pros and cons, consider personal fitness goals, preferences, and budget before making a decision to invest in Tonal or any other fitness equipment.
Features
The innovative electromagnetic resistance machine offers several notable features:
Electromagnetic Resistance
The machine utilizes electromagnetic resistance, a state-of-the-art technology that provides smooth and precise resistance adjustments during workouts. This allows for more controlled and effective strength training.
Automatic Adjustment
The smart technology integrated into the machine automatically adjusts to users' bodies. It ensures proper positioning and alignment, optimizing the effectiveness and safety of each exercise.
Preset Workouts
The machine comes with a variety of pre-programmed workouts designed to target different muscle groups and fitness goals. These preset workouts provide convenience and guidance for users, making it easier to follow structured exercise routines.
Adjustable Equipment
The machine features adjustable equipment, allowing users to customize settings and adapt the equipment to their specific needs. This flexibility accommodates different fitness levels and preferences, providing a personalized workout experience.
Smart TV Integration
Users can follow workouts on their smart TVs, enhancing the viewing experience and making it easier to follow along with exercise instructions. The machine's smart technology can sync with the TV, providing real-time feedback, spotting, and form correction.
Multiple User Support
The machine supports multiple users, making it suitable for households or shared workout spaces. Each user can have their own profiles and settings, tracking their progress individually.
Quick Installation
Setting up the machine is quick and straightforward, with an installation process that can be completed in under an hour. This allows users to start using the equipment promptly without significant delays.
Access to On-Demand Classes
Membership or subscription to the machine's platform provides access to a vast library of on-demand classes. These classes cover various fitness disciplines, including yoga, boot camp, strength training, and more. Users can choose from a wide range of workouts to diversify their training routine.
Payment Plans
The machine offers flexible payment plans, allowing users to spread out the cost over a specified period. This option makes the equipment more accessible and affordable for individuals who prefer a payment installment approach.
Compact Design
Despite its advanced features, the machine is designed to be compact and space-efficient. It requires a minimum amount of space, ensuring it can fit into home gyms or smaller workout areas without occupying excessive room.
These features collectively contribute to a comprehensive and interactive workout experience, providing users with convenience, versatility, and effective training options.
Tonal Gym Workout Machine Review
What does the Tonal system include? This smart home gym is packed with features, despite its compact size. The machine includes:
Digital weights that provide resistance up to 200 pounds
Interactive touchscreen display (24 inches)
Adjustable arms that support upper and lower body movements
Playlist access through Apple Music and Tonal Radio
Users can add onto the system with Tonal's Smart Accessories Bundle to take workouts up a notch, featuring:
Rope with custom-T lock
Workout bench
Roller
Workout mat
The smart machine learns from your workouts and automatically adjusts to your body to measure reps, sets, range of motion, time under tension, power, and volume.
The Tonal gym is incredibly easy to set up since it's delivered and installed by professionals. It comes with a bit of a caveat, though—users must commit to a 12-month subscription when purchasing the machine. We'll get into the membership next in this Tonal gym review.
How Does the Tonal Membership Work?
The Tonal subscription includes unlimited access to hundreds of expert-led programs and personalized features that are not available without the membership.
One Tonal membership provides unlimited user access for your entire household. Others can create personal profiles with individualized reports and progress tracking.
After the initial 12-months, the subscription operates on a month-to-month basis that you can pause or cancel any time. Without the membership, you'll still have access to weight adjustments, safety features, and WiFi for receiving updates.
This convenient machine completely reshapes workouts. By providing equipment, workout routines, expert advice, and tracking in one device, Tonal helps you achieve results faster and more efficiently.
Trainer's Tip: listen to your body, progress appropriately, and pay attention to the instructor's form tips. It can be easy to let your ego take over. Get the basics down. Make sure to meet yourself "where you are" vs. where you wish you were. The form is key. Nothing will derail fitness progress like an injury. Lastly, talk to your doctor before adding anything new into your life!
This Tonal gym review provides specs on the membership plan and how it can change your routine, body, and lifestyle.
Tonal Membership Features
As a Tonal member, users have access to pre-set programs including strength training, boot camp, yoga, pilates, cardio, pre-and post-natal workouts, meditation, and balance control.
Within these programs, there's access to personalized features such as your Tonal energy output, strength assessments, weight adjustments, and spotter modes.
The membership also provides suggestions and videos that demonstrate proper form. Users can keep track of how they're doing through workout performance reports provided by Tonal.
How Much is Tonal?
The Tonal price for a one-time purchase with a credit card are listed below:
The machine is $3000 and accessories are an additional $500. Professional installation costs $250.

Membership is $50/month and includes unlimited profiles. This ultimately saves your household gym membership fees.
If you'd prefer to finance your Tonal cost with monthly payments with Affirm, the prices are listed below:
12-Month Financing $400/month
18-Month Financing $265/month
24-Month Financing $200/month
36-Month Financing $150/month
The financing prices are inclusive of delivery and installation, accessories, and membership fees for the duration of your payments.
Who is Tonal For?
Tonal is designed for individuals who are seeking a comprehensive and personalized strength training experience. It caters to a wide range of users, including:
Fitness Enthusiasts: Tonal appeals to individuals who are passionate about fitness and strength training. It offers advanced features and technology that can challenge and support their fitness goals.
Busy Professionals: Tonal provides a convenient solution for busy professionals who may have limited time to visit a gym or attend fitness classes. It allows them to engage in effective strength training workouts from the comfort of their own homes, saving time and eliminating the need for commuting.
Home Gym Owners: For those who have dedicated home gym spaces, Tonal offers a compact and versatile equipment option. It can be a valuable addition to their existing workout setup, providing a comprehensive strength training solution.
Individuals with Limited Space: Tonal's compact design makes it suitable for individuals with limited space for exercise equipment. It can be placed in smaller workout areas without taking up excessive room.
People with Varied Fitness Levels: Tonal accommodates users with different fitness levels and abilities. Its adjustable resistance and customizable settings allow individuals to start at their current fitness level and gradually increase intensity as they progress.
Tech-Savvy Individuals: Tonal incorporates smart technology and interactive features, appealing to individuals who enjoy integrating technology into their fitness routines. The integration with smart TVs and the availability of on-demand classes provide a modern and interactive workout experience.
Multiple Household Users: Tonal supports multiple user profiles, making it suitable for households with different individuals who want to engage in strength training. Each user can have their own settings and track their progress separately.
Overall, Tonal is designed for individuals who value convenience, effectiveness, and personalized workout experiences. It provides a comprehensive strength training solution with advanced features, making it suitable for a diverse range of users.
Alternatives
While Tonal offers a unique combination of features and technology, there are several alternatives available for those looking for similar home strength training solutions. Here are some notable alternatives to consider:
Peloton: Peloton offers a range of home fitness equipment, including the Peloton Bike and Peloton Tread. While their focus is primarily on cardio workouts, they also provide strength training classes through their digital platform, Peloton Digital.
Mirror: Mirror is a full-length interactive fitness mirror that streams live and on-demand workouts. It offers a variety of workouts, including strength training, cardio, yoga, and more. Mirror provides real-time feedback and personalized coaching during workouts.
Tempo: Tempo is an all-in-one home fitness studio that combines strength training with AI-powered technology. It provides interactive workouts, real-time form feedback, and tracking of strength progress. Tempo offers a wide variety of workouts, including strength, HIIT, mobility, and more.
NordicTrack Vault: NordicTrack Vault is a home fitness system that combines strength training, interactive coaching, and storage. It features a variety of workouts, personalized coaching, and equipment storage space. It offers a range of strength training classes and exercises.
Bowflex Home Gym: Bowflex offers a range of home gym equipment, including the Bowflex Home Gym series. These machines utilize resistance rods or spirals to provide adjustable resistance for strength training exercises. They offer a variety of workout options targeting different muscle groups.
Hydrow: Hydrow is an indoor rowing machine that provides a full-body workout experience. While it focuses primarily on rowing workouts, it also offers strength training and cardio classes. Hydrow provides a connected and immersive workout experience through live and on-demand classes.
When considering alternatives, it's important to evaluate factors such as available workout variety, technological features, equipment size and compatibility, pricing, and overall user experience.
Each option may have its own strengths and limitations, so it's beneficial to research and compare them based on your specific fitness goals and preferences.
Tonal Reviews: What Do Customers Think?
This Tonal gym review will look at reviews on the company website, Reddit, and Product Hunt, which discuss the compact design, smart features, easy installation, plus cons including repetitive content and expensive equipment.
On the Tonal website, 91/105 customers rate the equipment and programs 5/5 stars. Many reviews praise the easy setup, such as this one: "the installation was professional, quick, and friendly."
Other reviews on the site compliment the flexible and compact design. "It takes up no space. I can work out how I want – when I want. From creating custom workouts to individual workouts to weeks-long programs, it's all there."
Tonal gym reviews Reddit users post mostly speak of positive experiences. For instance: "I've just completed my first 4-week program and started up another. My strength score has gone up nearly 15% in ~6 weeks and I can see and feel a difference. It's a solid workout and a very well-designed machine."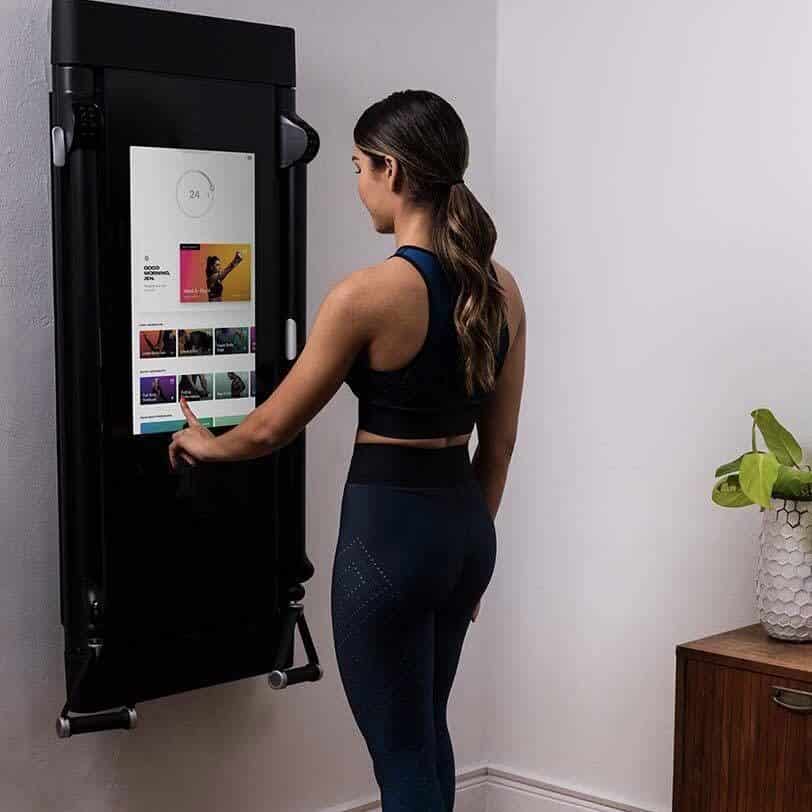 A separate Reddit thread notes the repetitive content that make workouts mundane. Several testimonials convey sentiments like: "the content gets a little stale if you're a part of the programs….That makes some of the instructors' little anecdotes a bit annoying after a while."
Product Hunt contains 65 Tonal reviews that discuss the pros and cons. Fans of the programs have comments like "[there's] a coach for everybody" and the membership is "super convenient."
While happy customers note that the mounted device takes up little space, others are concerned about the long-term wall support. Some users complained about the price (it is on the high-end of the spectrum).
Is Tonal Worth It?
This Tonal gym review came across numerous testimonials on the exercise progress and results associated with the machine. On the other hand, some users feel that the programs are repetitive and lack variety. From our research, it's clear that the positive reviews heavily outweigh the negatives.
According to the brand, Tonal is a space-saving, all-in-one option for those who wish to change up their fitness routine, avoid gym fees, and eliminate transit times. Tonal equipment is definitely an investment, but financing offers accessible payments, especially when split between household members.
Plus, working out at home is not only convenient but effective. A clinical study[4] conducted at the University of Birjand compared the effectiveness of home-based training programs with gym programs in men with hypertension. 46 participants with hypertension were assigned into three groups. One group received gym-based training, another group home-based training, and the third group received no training.
The home-based and the gym-based programs equally and significantly increased the functional aerobic capacity, flexibility, and lower limb strength of participants when compared to the control group.
So, is Tonal worth the money? Only you know what fits your life realities, goals, fitness history, and fitness personality, but if you're looking to work out at home and see value in the smart features and programs it offers, we think this machine is a solid choice.
Tonal Promotions & Discounts
There are currently no Tonal promotions, but keep an eye on their website and social media platforms for future sales.
Sign up for Tonal
To sign up for the membership, head to Tonal.com and follow these steps:
Click Pricing in the top right corner of the webpage
Choose whether you will be making a one-time purchase or if you will be financing your Tonal Gym
Click Checkout
Enter your billing and shipping information, and click 'Place Order'
Use your Tonal login to set up your personal account
FAQ
Where can I try Tonal?
You can book an appointment online for an in-person demo at Tonal's flagship store in San Francisco. Visit the Demo Booking Page for more information.
Can I install Tonal myself?
When your Tonal machine arrives, the installation team takes care of the setup. This includes WiFi and Bluetooth connection, account activation, and Tonal language preferences.
How long does Tonal take to install?
Your Tonal will be delivered in approximately 4 weeks after the order has been placed and the installation process takes under an hour.
Can I install Tonal in a garage?
You can technically install Tonal in a garage, but keep in mind there are wall and height specifications required for installation. For example, you cannot install the machine on brick or plaster surfaces. For more information, check out the Installation page on their website.
How much room do you need for a Tonal?
Tonal dimensions require at least 7 feet, 10 inches of space to stretch its arms out fully and you'll need 7 feet of width (3 ½ to the left and 3 ½ to the right of the machine). The machine is installed 27 ½ inches from the floor. Tonal stud requirements are 2 x 4 inches.
Can you use Tonal without a subscription?
You can use Tonal without a subscription after 12 months if you made a one-time purchase, or after your financing term is over.
How do you move your Tonal arms?
To rotate the arms, press and hold the button near the middle of the arms and push/pull on the arm until it rotates. You will hear a click each time it rotates.
What is a good Tonal strength score?
The minimum strength score for the Tonal is zero with the top score being 1000. The average score for men is between 300-550 and between 175-275 for women.
How do I cancel my Tonal subscription?
To cancel the Tonal subscription, head to the website and submit a request. Alternatively, you can call 1-855-MY-TONAL.
How long does Tonal take to ship?
Tonal only offers shipping within the 48 contiguous states. Purchase requires completing an assessment survey and results can take 7-10 days. Delivery normally takes about 4 weeks, though current delays may push it to 10-12 weeks.
Customers receive shipping updates throughout the entire process. Once delivery has been scheduled, you'll receive a time slot for installation. On the day of your installation, a member of the Tonal gym team will call 30 minutes before they arrive.
What is Tonal's Return Policy?
Tonal comes with a limited 3-year warranty that covers product defects. To qualify for the warranty, you must have purchased the home gym from an authorized Tonal retailer in the US. This Tonal gym review notes that proof of purchase is required.
Tonal equipment can be returned within 30 days of installation. Your refund will include the price of the machine, taxes, accessories, delivery, and installation fees. Proof of purchase is required to initiate a return. To start a return, email s[email protected].
How to Contact Tonal
If you need any other information that this Tonal gym review did not include, reach out to them via Contact Form on the website or call 1-855-MY-TONAL.
‌
---
Add to your home gym setup with these popular exercise equipment brands:
Horizon treadmills
Onnit kettlebells
Crossrope jump ropes
P.volve workout kits
Get Access to Exclusive Deals
Subscribe for free to get exclusive deals in your inbox. 100% privacy