Ulike Review
About Ulike
Ulike is a hair removal device that fits in the palm of your hand. You may think that sounds like a razor, but it's more like holding a Ulike camera to your skin and snapping photos, except those photos are lights that keep hair follicles from growing when you don't want them to.
There have been over 3M Ulike sales in more than 17 countries, with many customers singing the product's praises. In fact, more than 15k people follow the brand's Instagram page, championing the painless and remarkable results of the product.
This Ulike review will see how legit those praises are by looking at the technology behind Ulike, what customers think about them, and how much the products cost. Before I get into that, allow me to go through the brand's highlights.
Highlights
Long-term results
Painless hair removal
More affordable than other hair removal treatments
The process can take as little as 10 minutes daily
Recommended by dermatologists
FDA-approved
International shipping
Free shipping
Why You Should Trust Us
Our mission is to help you make better, more informed purchase decisions.
Our team spends hours researching, consulting with medical experts, gathering insight from expert professionals, reviewing customer feedback, and analyzing products to provide you with the information you need.
Ulike Sapphire AIR+ IPL Hair Removal Handset Review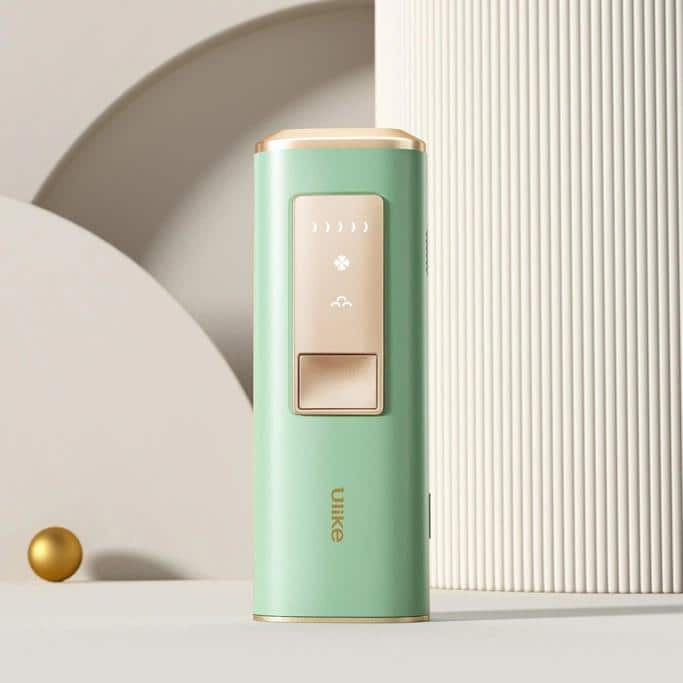 This product will hold the spotlight of my Ulike review. Although body hair is more readily accepted and embraced these days, some people like having the option to modify theirs.
Much like how we style the hair on our head, how we trim (or don't trim) our body hair is another vessel through which we can express ourselves.
For some, smooth and hairless skin is their ideal look, and that's who the Ulike Sapphire AIR+ IPL Hair Removal Handset is for. It can provide you with stubble-free, smooth-as-silk skin in as little as four weeks and, more importantly, keep it year-round.
It's built for the entire human body so you can use it to get rid of pesky hair that grows in the most annoying crevices.
It has five different levels to accommodate for differences in skin thickness since not all body hair is grown equally. Think about it; your underarm hair is thicker, longer, and curlier than your leg hair. Well, it is, if you're anything like me.
The Ulike Sapphire AIR+ IPL Hair Removal Handset is available for $339.
Ulike also distributes two other variants, the Ulike Sapphire AIR+ Dark Green IPL Hair Removal Handset for $359 and the Ulike Sapphire AIR White IPL Hair Removal Handset for $309.
Each removal handset can be acquired with an American plug, a British specification plug, or a European standard plug.
Customers say: "This IPL(Intense Pulsed Light technology) device is definitely worth for its price, Painless hair removal, smooth skin can last around 5 weeks after each use.A lightweight device easy to use and operate.I have a sensitive skin and i used get acne and rashes on my legs and hand after each section of removing hair with a razor , straps or Epilator however i did not had any issue using this IPL hair remover."
How Does The Ulike Hair Removal Handset Work?
In this section of my Ulike review, I'll go through the science behind the devices. They differ from other hair removal methods by using cooling technology rather than heating principles. Ulike's Ice-Cooling Tech is based on intense pulsed light (IPL) therapy.
IPL is safer than laser hair removal because it doesn't damage the skin and you're not putting an ultra-hot laser up to your sensitive, precious skin.
Instead, you're flashing light onto your hair follicles, and that light transfers into heat energy. That energy can remove hair follicles and slow down their ability to repair and regrow.
The other half of the Ice-Cooling Tech equation is the custom-made sapphire head. Not only does it prevent UV light from penetrating the skin, but it reduces the heat of the light to 10 degrees Celsius. This makes the process virtually painless so you can give yourself a cleaner, closer, hair removal.
Each Ulike Sapphire AIR+ IPL Hair Removal Handset setting is designed for a separate body part.
You'll progress through levels one to five as it moves around your body. Each level has a different active time, but you can get through all your body hair in roughly ten minutes. Here's how the levels break down:
Level 1: Face – requires one minute of treatment
Level 2: Bikini – requires one minute of treatment
Level 3: Armpits – requires two minutes of treatment
Level 4: Arms – requires three minutes of treatment
Level 5: Legs – requires three minutes of treatment
You should use the treatment every day for at least four weeks. Later in this Ulike review, I'll tell you whether or not customers found the treatment plan effective.
Who Is Ulike For?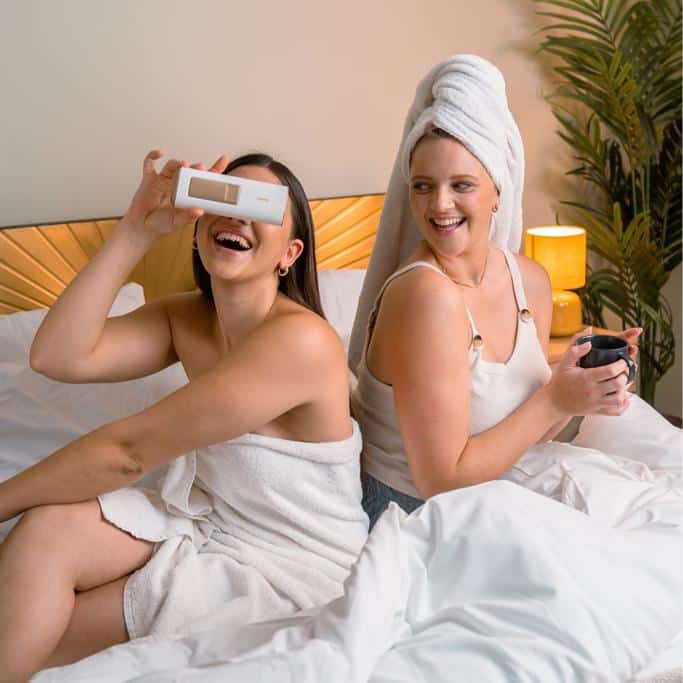 The items in this Ulike review are great for people who don't respond well to typical hair removal treatments like waxing, shaving, or laser hair removal.
Ulike Reviews: What Do Customers Think?
Here are the customer scores from Ulike hair removal reviews on the brand's website:
Ulike Sapphire AIR+ Dark Green IPL Hair Removal Handset: 4.8/5 stars based on nearly 30 ratings
Ulike Sapphire AIR+ IPL Hair Removal Handset: 4.5/5 stars based on more than 20 ratings
Ulike Sapphire AIR White IPL Hair Removal Handset: 4.5/5 stars based on more than 25 ratings
Additionally, I noted down Ulike review scores from other customer-feedback-based platforms:
Site Jabber: 4.8/5 stars based on more than 50 pieces of customer feedback
Amazon: 4/5 stars based on more than 560 pieces of customer feedback on the Ulike IPL Laser Hair Removal Handset for Women and Men
Trust Pilot: 3.2/5 stars based on one piece of customer feedback
Overall, customers were surprised by how well the devices did as they were advertised. Not only was hair removal easy, but it persisted. One customer wrote the following on a Ulike Amazon product:
"The device works really well. It's been a few weeks now and my hair is noticeably less coarse as it grows back in! I was really pleasantly surprised by the cooling function because I hadn't used a hair removal device with that feature. I would recommend it!"
Some buyers pointed out that the products worked so long as they remained consistent. They said their hair began regrowing if they stopped using Ulike for a few days.
"I followed the directions, shaved, then did a full pass on each leg. A week later, nothing. As in, no stubble. No regrowth. I was amazed. At week 2, I got some new regrowth and repeated the process. For those who are not aware, not all hair follicles are growing at the same time, so it will take several cycles to impact all active follicles but I can say this undoubtedly does work," read one positive Ulike review.
Lastly, customers pointed out that Ulike's products are painless. Users barely felt anything as they shaved even after repeated uses.
One buyer wrote, "I have used several laser hair removers before, but this one is the best! The light speed is fast enough, I don't have to wait or spend a lot of time. The most important thing is, it is not painful! It has icy cooling, which is very comfortable, I didn't feel any burning on my skin. I really recommend this!"
Is Ulike Legit?
Ulike is a safe company to shop with. Their packaging and delivery service earned praise from multiple buyers and there weren't many complaints about delayed orders.
Is Ulike Worth It?
Ulike's products are luxurious, as you can tell from their price. If you're looking for a standard device to remove body hair then there are razors and shavers that are much more affordable.
However, if you must have the best-in-class, then you won't find a better item than what's in this Ulike review.
How To Choose The Best Hair Removal Product
Before you pick up one of Ulike beauty tools, ask yourself these questions:
What is your budget? Those with less money to throw around should look at affordable options that prioritize getting the job done over flashy features.
What type of body hair would you like to remove? Different strands of hair require different levels of care.
How do you respond to other hair removal treatments? Razors may irritate you, but have you tried spas or other remedies?
Ulike Promotions & Discounts
If you're looking for a discount, use the code UlikeNewYear to save $20 on your Ulike purchase.
Where To Buy Ulike
Besides ulike.com, you can also purchase their items at Amazon, Lotte, and Walmart.
FAQ
Who owns Ulike?
Unfortunately, it's not publicly available who owns the Ulike app or the brand.
Is Ulike hair removal permanent?
You might worry you will become a sphinx cat after using this device, but that's not the case. While the results are long-lasting, you may have to maintain a regular routine to keep the results.
Is Ulike available on iPhone?
There is a Ulike app available on iPhones but it's different from the services outlined in this Ulike review.
What is Ulike's Shipping Policy?
Ulike offers ground shipping (which takes 5 to 7 business days) and expedited shipping (which takes 2 to 4 business days). They ship internationally but only provide free shipping to North America, Europe, Asia, and Australia.
What is Ulike's Returns Policy?
Ulike offers a 90-day window post-receipt in which you can return your purchases. However, they'll charge a 10% restocking fee for unopened products and a 30% restocking fee for opened products.
How To Contact Ulike
If you have any questions after finishing this Ulike review, you can send the brand an email at [email protected].
---
Next, explore some related reviews you might like:
Get Access to Exclusive Deals
Subscribe for free to get exclusive deals in your inbox. 100% privacy