Lipozene Review
About Lipozene
Lipozene is a weight loss supplement that works to reduce your weight without having to change anything about your current lifestyle. With over 35 million bottles sold, it is a product you'll want to get your hands on if you're looking for an easy solution to a heavy problem.
Weight loss supplements can be tricky to buy since there are so many out there, all promising the goal of dropping pounds at a snap. But when it comes to Lipozene, it really seems to be that simple!
Through the analysis of this product, the brand, customer ratings, promotions, and more, this Lipozene review will help you decide whether or not you want to invest your time and money to try this supplement.
Overview of Lipozene
Lipozene is a product that helps promote weight loss. With its company headquarters located in Nevada, this brand has been developing its supplement product for over five years.
The brand's mission is to provide customers with the ease of weight loss without the hassle of anything that can stop them in the first place.
Apparently, you won't have to worry about changing your routine with diet or exercise. They believe in this so much that they guarantee your money back if you don't see any results.
Lipozene is made in the United States following Current Good Manufacturing Practices. These safety standards ensure that the supplement product is created with proper protocols under quality standards.
As you read, you will find that this Lipozene review explores the brand's details and products to help you make the best decision for your health. But first, let's browse through some key things to know:
Highlights
100% natural active ingredients
Non-GMO product
Does not contain gluten, caffeine, or soy
No prescription required
30-day money-back guarantee
Free bottle included with first purchase
Developed following cGMP guidelines
While you consider both the positive and negative aspects of this weight loss supplement, keep reading this Lipozene review to find out more about how this product's benefits overshadow the rest.
Lipozene Review
Weight loss can be a real pain, and that's true whether you're trying to lose a couple of pounds to fit into an outfit or completely revamp yourself and become a new you. Either way, Lipozene has introduced a supplement that works to provide you with the body that you strive for.
Each Lipozene supplement bottle costs $30 and comes with 60 capsules, which will last you 30 days. The official website is also currently having a promotion where you get one free bottle with your purchase.
Even better, partner companies like Walmart and Walgreens sell it at a discounted price:
Walmart: $20 for two bottles
Walgreens: $27 for two bottles
Considering the free bottle included throughout the website or other retailers, this Lipozene review found that the product definitely seems to be very reasonably priced. Plus, if you aren't happy with the results, Lipozene offers a 30-day money-back guarantee.
Who Is Lipozene For?
As most weight loss supplements go, Lipozene is only for adults. This supplement is perfect for people struggling with weight loss, especially if you struggle with changing your lifestyle habits. Lipozene promises that the pounds will drop off without making any changes.
Lipozene's parent company is the Obesity Research Institute, so this supplement is directly made for people who classify as obese, helping them in their weight loss journey. Obesity can be a serious problem, dangerous to your longevity, and carries other health risks[1].
Although there is usually much more to getting fit than taking a miracle pill, Lipozene's capsules aim to provide an easier route to weight loss.
It's important to note that the brand does not take responsibility for curing any serious diseases and conditions, but rather aids with weight loss on its own.
Another important warning is for people who are pregnant, nursing, taking medication for any serious illnesses, have a weakened immune system, or have any serious allergies or reactions. To prevent any serious side effects to those factors, you must talk to your doctor before starting to use Lipozene, as any other supplement.
What Are The Benefits Of Lipozene?
A large section of this Lipozene review will discuss and evaluate the possible benefits of this supplement. The brand's website promises weight loss as their main goal, however when exploring the ingredients and what other areas of the body they affect, there is more to Lipozene than just quick weight loss.
The active ingredient is glucomannan, a dietary fiber from the konjac root, used to help with weight loss, as shown in this study[2]. This fiber has been in use in Asian countries like Japan for generations. According to clinical studies that have researched this fiber, it comes with extensive benefits:
Constipation reduction: with regular intake of the fiber, glucomannan provided people with digestive relief[3]
Lowered blood pressure, blood fats, and blood sugar: reducing these risk factors for heart disease and diabetes can prove to be greatly beneficial[4] as a preventative cure
Overall gut health: feeding the healthy microbes in the digestive tract allows for a lowering of risk factors for many diseases[5]
Lipozene's main goal is to help you lose weight quickly and efficiently, but there are also other related benefits of this supplement that you may not have thought of.
A higher than average weight can cause many problems throughout your body, and with weight loss as the ultimate benefit of Lipozene, you'll have the opportunity to experience some of the following benefits after you shed the extra pounds.
There is connection between being overweight and experiencing episodes of sleep apnea. Sleep apnea is a breathing condition when your body has to work much harder in your sleep to give you the oxygen that you need, and this can cause regular disruption to your sleep routine. As you lose weight, you will experience[6] decreased episodes of sleep apnea.
As you gain weight, you can increase the LDL cholesterol levels in your body, also known as the bad cholesterol. The more LDL you have, the higher risk there is of health conditions like heart disease and stroke. With weight loss, your LDL levels can go down significantly, making your heart and body much healthier[7] than before.
If you're suffering from any kind of pain from arthritis, weight loss might be the answer[8] to your prayers! When you carry extra weight, your joints have to work that much harder, and this can worsen your arthritis symptoms. With weight loss, you'll notice that your pain is significantly lower, and it's much more manageable than before.
How Does Lipozene Work?
After we covered the key ingredient, this Lipozene review will explain how the product can achieve its goal. When you take a supplement, glucomannan will dissolve in your stomach and start the weight loss process right away.
By absorbing all the water in your digestive tract, it starts by making you feel full, as shown in this study[9]. This feeling can last for hours, and it can help prevent any intake of excessive food that you don't need. While you're full from the supplement, your body will use the excess weight you're carrying as energy[10], effectively burning off all the unnecessary pounds.
Seeing that the most effective way to lose weight is to control your calories, comparing the food you eat to the calories you burn, the target of Lipozene is to help distract you from eating extra food that you don't really need. The supplement then gets to work in your digestive system.
One important note, however, is that this supplement is in no way a cure to serious digestive or weight-related diseases and conditions, but rather a helpful tool to reach a healthier and happier lifestyle.
What Are The Ingredients In Lipozene?
As mentioned, the primary active ingredient of Lipozene is amorphophallus konjac, a plant compound that consists of a dietary fiber called glucomannan. This fiber works[11] in the digestive tract, particularly the stomach and intestines, where it absorbs the water to provide you with feelings of relief and comfort, all of which eventually lead to weight loss.
Many studies[12] have shown glucomannan's positive effects on the human body, including its ability to reduce constipation. With a healthier bowel movement, Lipozene works to heal you from the inside out.
Other Lipozene ingredients included in this weight loss supplement are gelatin, microcrystalline cellulose, magnesium, silicate, stearic acid, titanium dioxide, and artificial coloring.
How to Take Lipozene And Dosage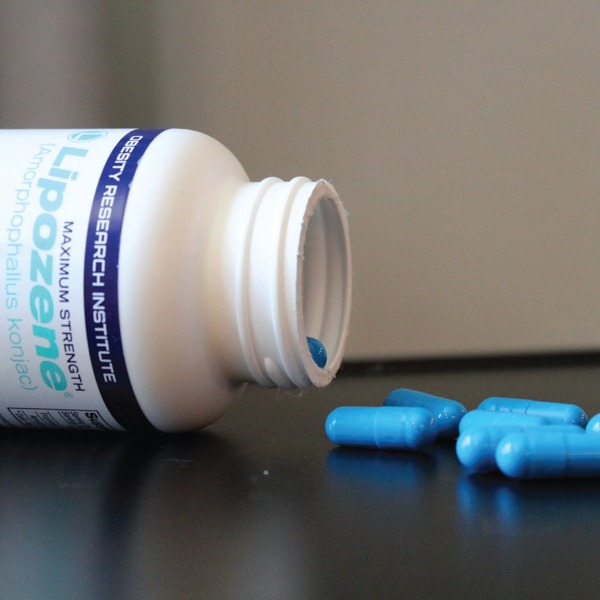 You should take up to six Lipozene capsules a day. Take two capsules roughly 30 minutes before each of your three largest meals of the day. This can be breakfast, lunch, and dinner, but you can also choose when to take the capsules based on when you eat.
For the best results, you should make sure to take the capsules every day. Also, please keep in mind that taking more than the recommended dose can be dangerous, as there may be adverse reactions to ingesting more of the product than what is written on the label.
Lipozene Side Effects
Speaking of adverse effects, whenever taking any type of weight loss supplement, there is a chance of side effects due to the ingredients used, and Lipozene is no different.
The main ingredient of glucomannan generally has great benefits associated with it, however, there is still a chance of experiencing some discomfort from the dietary fiber, along with its other ingredients.
Possible Lipozene side effects may include the following:
Loose stools
Bloating
Flatulence
Upset stomach
Diarrhea
Constipation
In addition, the package label warns users to consume the capsules with sufficient liquid, otherwise, it could cause an obstruction in your throat on its way down. All consumers of Lipozene should take the supplement as it is instructed, as too much of the product could cause a buildup of ingredients and be dangerous to your health.
Lipozene Reviews: What Do Customers Think?
Based on the effects of the ingredients and the generally positive customer feedback, the Lipozene before and after results seem to be quite promising. Because the supplement is sold on a couple of different company websites, there are a couple of different ratings:
Walmart: 3.5/5 stars by 517 reviewers
Walgreens: 3.6/5 star rating after 141 reviews
As you know, the supplement's goal is to provide digestive health focusing on weight loss, and many Lipozene reviews on the brand website confirm that information.
One review by a happy customer stated: "I have convinced so many people to buy this product. I started on it a year and a half ago started out weight 383 lb now I weigh 202 going for 50 more pounds. Thank you so much I feel great."
On Influenster, one reviewer stated that they weren't completely sold on the product until they tried it: "I love this product, I was a little skeptical at first but I used it for about five months. I started out weighing 200lbs and at five months I was down to 170lbs. I stopped taking them for a while but now I'm back on them and I'm at 175lbs working myself down to 145lbs."
A reviewer on Walgreens had a similarly positive review, expressing how the ingredients of the supplement work exactly how they were advertised: "They're great. They help me curb my appetite without giving me an upset stomach."
Although there was much positive feedback from consumers about Lipozene, there were also a fair number of unhappy customers who stated the opposite. The main problem with many lower ratings was from a lack of results after using the supplement and experiencing some mild side effects including bloating.
Is Lipozene Worth It?
Supplements can be tricky because they promise a significant change in your body that sometimes sounds too good to be true. Although Lipozene promises weight loss without any change to your regular diet or exercise, it's important to remember that there is no magical cure for weight loss, no matter what anybody claims.
If you make significant changes to your lifestyle and use this supplement as a helpful tool, it is definitely worth the purchase. With a combination of scientifically proven ingredients, positive customer reviews, and a trial period, this supplement can be added to your daily routine as a significant game-changer.
Lipozene Promotions & Discounts
Purchasing Lipozene comes with a variety of prices, both from the brand website and the retail partners, as we detailed above. So look around as you may be able to find a great deal. Each option we mentioned gives you one free bottle with your regular purchase.
Also, on the official website, when you order Lipozene, you get a gift bottle of MataboUP Plus, which is a supplement targeted to increase your energy and metabolism.
Where to Buy Lipozene
Lipozene can be purchased from its main website. You can also be found at Walmart and Walgreens.
FAQ
How many Lipozene should I take daily?
You should take two capsules with a glass of water 30 minutes before each meal. Don't take more than six capsules of Lipozene a day. For best results, make sure to take the capsules every day.
Should I take Lipozene with food?
Lipozene shouldn't be taken with food, but rather it should be taken 30 minutes before each of your three largest meals.
Is Lipozene vegan?
Unfortunately, no it is not vegan. The website mentions that there may be gelatin included as part of other ingredients in the capsules.
Is Lipozene gluten-free?
Yes, Lipozene is a gluten-free product. Anyone with such dietary restrictions is safe to consume the digestive supplement.
What are the supplement facts of Lipozene?
Lipozene has a serving size of two capsules, with 60 servings per container. Each serving contains the following:
Total carbohydrates: 1g
Dietary Fiber: 1g
Proprietary Blend (made of Konjac root): 1,500 mg
Other ingredients: gelatin, water, titanium dioxide, stearic acid, cellulose, magnesium silicate, and artificial color
What is Lipozene's Shipping Policy?
Lipozene can only ship within the United States and Canada (through their Canadian website only). Unfortunately, they do not ship to any other locations.
What is Lipozene's Return Policy?
Lipozene provides customers with a 30-day money-back guarantee. This doesn't include the processing fee associated with the return. Luckily, one bottle lasts 30 days, so customers can have a hassle-free refund if they find that it isn't for you!
One important thing to remember is that this refund policy is only applicable if the supplement was purchased from the main brand website, and not from any other retail location.
How to Contact Lipozene
If you have any more questions that this Lipozene review didn't answer, you can reach out to the company directly. They are available at different times using the following contact information:
Live chat: 24/7 support on their website
Phone for New Orders: 1-800-850-8818, available 24/7
Phone for Customer Service and Reorders: 1-855-447-2250, available Monday through Friday 7:00 am to 4:00 pm PST, and Saturdays 7:00 am to 3:00 pm PST
Mail: 2777 USA Parkway, McCarran, Nevada 89434
---
Check out similar brands you might like:
Heart and Soil Supplements Review
Get Access to Exclusive Deals
Subscribe for free to get exclusive deals in your inbox. 100% privacy